Reviews
4.9 out of 5 rating
Quality of service

4.9 out of 5 rating

Average response time

4.7 out of 5 rating

Professionalism

4.9 out of 5 rating

Value

4.8 out of 5 rating

Flexibility

4.9 out of 5 rating
97%
Recommended by couples
Awards
17 User photos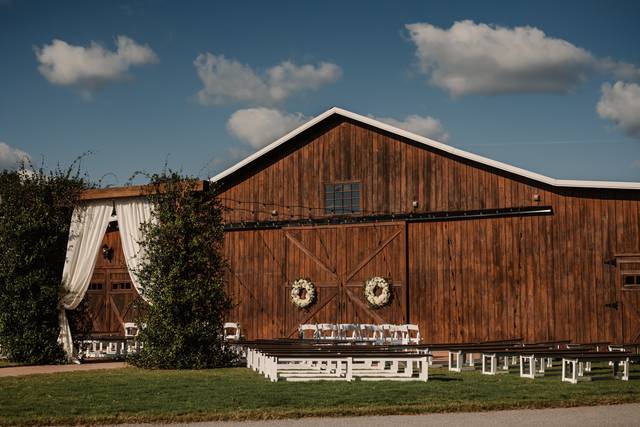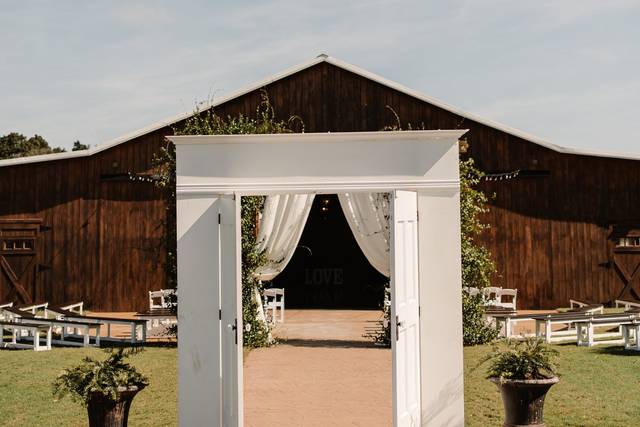 + 13

photos
Katie B.

Married on 10/10/2021

Dream wedding location!

This venue is nothing short of incredible! It was exactly what we wanted to make our dream wedding happen! The location, the property, the staff, the details, everything is just so perfect. The property has so many great spots that make the for the perfect photos. Oh and the sunsets here are AMAZING! Our coordinator Amber with the venue was absolutely the best! She was very quick to respond and on top of everything. She answered any questions I had and was so easy to work with. I am beyond happy that this is where we picked to get married! I am still so obsessed with everything about this place and will forever love this venue!

+ 6

photos

Sarah M.

Married on 05/22/2021

Romantic farm venue

Venue 1074 (The Wright Farm) was absolutely gorgeous and exactly what we were looking for! The grounds are so pretty on their own, there is very little need for additional decor. We had a great experience with the new owners, very accommodating and helpful. And the farm animals were a huge hit with our guests! A beautiful & affordable DIY venue.

+ 5

photos

Annette

Married on 09/30/2017

This venue will leave you speechless. It is absolutely amazing. The Wright Farm was the first venue I visited and the last when I was in the "touring venue phase"of wedding planning last year. The staff was available for any questions we had. When we wanted to do a walkthrough, there was someone always available. I am a person who works in a customer service oriented field and really appreciated how the staff here was the same way.

This was the perfect venue because it wasn't like other venues where we had to go with there vendors. We were able to bring in our own vendors. ALL of our guests are still talking about how awesome the venue was and the calming atmosphere it brings.


Are you interested?

Send a message

Andrea

Married on 03/11/2017

My husband and I got married at The Wright Farm earlier this month on 3/11/2017. It was truly a blessing to be able to work with Hannah and the Wright family during our special day. They were dedicated to us, beyond sweet, and Hannah made sure our day was PERFECT and that everything went smoothly. The Wright Farm truly went above and beyond our expectations. The house was perfect for both wedding parties to get ready in. Its so cozy, and there is plenty of room for large bridal parties. We had our ceremony under the ceremony tree and it was perfect. The barn is absolutely beautiful, and I am still receiving compliments on how beautiful the venue was. I cant say enough about how wonderful the Wright Farm is. If you are looking for a venue for your wedding, choose this one! It is PERFECT and has ample room for a large crowd! Our wedding was a blast and a day we will truly cherish forever. Thank you Hannah and the Wright family for everything! You all are such a blessing!

Ashton

Married on 04/30/2016

Let me just say The Wright Farm is the BEST! I booked my wedding in December of 2014 for the spring of 2016, it was the first venue we toured and the only one! It's every bit of southern charm plus some. The grounds are beautiful, from the ceremony sites to the bridal and groomsmen suite, to the barn! The barn sold me! It's so beautiful, and it's totally open. There's room for everything to be done inside if need be, and I love that! They also allow outside vendors which is great considering a lot of venues do not allow this option. However, they have a preferred vendor list and all of them are amazing as well. The venue also includes all tables and chairs for seating up to 300, and the barn tables are beautiful! They also have handmade benches for ceremony seating which are also so unique and beautiful! Hannah, the Wright's daughter, was my coordinator, and she was so amazing throughout the process. She was helpful and so so sweet! The day of the wedding was perfect and the staff was so nice. I wouldn't have chosen a different venue a thousand times over. I can't thank The Wright Farm and the staff enough for providing such an amazing place for us and our guest. Brides to be, you will not be disappointed, this place is amazing! Todd, Lisa, Hannah, and Olivia thank you all for providing such wonderful services and being such sweet people. The love of Jesus shows in each of you! I will forever be greatful I chose you!

Xoxo-Ashton.

Kaley

Married on 12/19/2015

Using the Wright Farm was exactly what my husband and family were looking for. The Wright family was kind, helpful, and genuinely excited to be a part of our wedding weekend. They provided the tables, chairs, and space we needed and the grounds are absolutely beautiful. Using the Wright Farm is worth it!

The only thing I would suggest, is that if you would like alcohol served at your event, ensure your caterer has the licesening Wright Farm requires. That is the only trouble we ran into.

Karen

Married on 05/30/2015

Recently, we had the joy to see our son and daughter-in-law get married at The Wright farm in Roopville, an hour from Atlanta in West Georgia.
Since it was the fourth wedding in our large family, we had plenty of other venues and experiences to compare it to.
While all of the weddings were wonderful for different reasons, we were particularly impressed with The Wright Farm and The Wright Family for their amazing venue and commitment to excellence. The personal touch was exceptional. They really care about delivering a unique once in a lifetime experience for all of their guests.
The facilities were spectacular. The home is beautiful and everything was spotlessly clean. Even the lawns were manicured perfectly for our special day.
From the moment we arrived until well after dark, we were made to feel special and welcome.
It was great to know that while our wedding was held outside under a huge oak tree, we knew that regardless of the weather, they had facilities to hold the entire occasion inside the well appointed beautiful barn and hall if needed.
All of the chairs, tables and benches were already laid out exactly the way we requested in advance. Hannah and Olivia new every detail of what we wanted to do and were most helpful with their advice. Never once was there a hesitation from any of them to jump in and help wherever they were needed.
We had a day we will never forget in a place that was incomparable. Thank you to the Wright family for their special attention to all of our needs. Especially for the warm welcome and the way we were made to feel "At Home" throughout the preparation, ceremony, reception and cleanup. We would highly recommend this venue for your special day as well.
Ray and Karen Derbecker


Andrea

Married on 05/30/2015

The Wright Farm is a beautiful venue that can accommodate a variety of themes. Todd, Lisa, Olivia, and Hannah do a great job behind the scenes to ensure your day is beautiful. The price includes use of GORGEOUS farm tables & chairs & benches for the ceremony. This is the BEST venue you can have for a variety of pictures and locations to hold your special event. They allow outside vendors, too! BUT I highly recommend their preferred vendors list as it makes your day so smooth when the vendors have an established relationship. I love that they provided me with their guidelines that I could send out to my family to make the day run more smoothly. They truly take the details into consideration when you plan your big day. The Wright Farm went above and beyond on my special day, and they will do the same with you.

Amanda

Married on 05/16/2015

The family was unbelievably helpful!! They were willing to help with anything from set up to clean up!!

The venue as a whole was beyond perfect. The barn was so beautiful!! It was refreshing to know that no matter if every decoration I had fell through, the venue would take care of itself.

The house, where both myself and the groom prepared for the biggest day of our life, was clean and felt like home. The lighting was perfect for make-up & picture of us getting ready. It was comforting to know I was able to look over the farm from the balcony and watch as my day unfolded.

Both myself (the bride) & the groom recommend The Wright Farm for not only your wedding, but any occasion! We hope to use them again in the future!!

Michael

Married on 07/04/2012

It was the perfect place for our wedding. The wedding photos were absolutely beautiful with the very scenic pastures, trees, and fence in the background. We will always appreciate the Wright's sharing their farm for our special day.

Olivia

Married on 05/14/2011

The Wright Farm was the perfect place for my husband and I to begin our lives together! It's quiet, peaceful, naturally beautiful, and The Wrights are amazing to work with! I couldn't have imagined a more perfect place to host my wedding and all of my family and friends LOVED the venue (especially the barn)! Thank You to The Wright Farm for sharing your little piece of paradise with me and family on our special day. We cannot thank you enough!

this venue is absolutely stunning, the pictures do no justice. a lot of other venues don't focus in on the groom and this place gives full attention to the groom as well as the bride, as soon as we saw this place we were sold. its a great price and you get a lot more for your money. Olivia and Hannah are amazing, I had the pleasure of being escorted around the property by Olivia and she answered all my questions without hesitation she really goes through every detail to a "T". they are absolutely amazing. I cant wait to have my big day in October, im so excited.

Venue 1074's reply:

Thanks so much Jourdan! We appreciate the sweet review and look forward to working with you guys to make your day extra special:)

Kelsey A.

Married on 10/08/2016

Our guests (all from outside Georgia) cannot stop raving about how beautiful the farm is and how perfect it was for our wedding. We loved it even more than all of them! There were enough areas on the farm to create a natural progression for our guests from ceremony to cocktail hour to reception as well as space for both the groom and bridal party to get ready. We loved having our wedding there and cannot wait to see all of the pictures! The family was great to deal with from start to finish and were SO accommodating to all of our requests and questions. Having our wedding at The Wright Farm was such a great decision and we will always look back on our wedding and planning time with such fondness because of the sweet family that owns the farm and the beautiful grounds !

We loved working with The Wright Farm! Everyone at The Wright Farm was so helpful and they were so easy to work with. I could not have asked for a more beautiful day at the prettiest venue! It really was the best day ever! Even though wedding planning is stressful, the venue was not a cause of stress at all. They were even able to make a personal dream come true of mine, even though it was no where in our contract...it was just over and beyond. We picked a Sunday wedding because it was cheaper so we understood that we would get less time at the venue but I would have loved to have had more time in order to decrease the stress involved with the day. Overall everything was exactly like we wanted!

Cassie

Married on 03/30/2018

I absolutely LOVED The Wright Farm. The owners and management team are wonderful. It is a bit pricey, without much included in the cost other than the tables. I do wish some of the "extras" that are available to rent would be a part of the total cost of the package, but I would consider that a bonus. It's a wonderful plus to be able to have so much time at the venue on Friday and Saturday. We were able to set everything up Friday after the rehearsal dinner, so that it was a stress free Saturday. The venue also makes for a BEAUTIFUL backdrop for pictures. The guest loved that the ceremony was outside and they only had to walk a few steps into the building for the reception. Having the bridal suite to get in ready in was also something that made for such a calm and relaxing day getting ready. Our hair/make up team, photographer, and videographer all just met us where we were getting ready. It was absolutely perfect.

Alanna

Married on 08/16/2015

The venue is gorgeous and the owners are so helpful! It was perfect!

The Wright Farm is a beautiful venue I would recommend to have your wedding at if you are into the rustic outdoor barn feel. I had my wedding there this September of 2015. The owners are very sweet. The only two negative feedbacks I would give in my honest opinion is they don't give you enough time to set up for the actual day if your wedding is on a Sunday. We couldn't arrive at the venue until noon and the wedding started at 5:30. However,I never had to worry about if my decor wasn't going to get set up in time because I had a wonderful team. So if you are planning to have your wedding on a Sunday,make sure you plan according. The second thing I would say is if you plan to have a late Spring or Summer wedding think twice about planning it in that season. They do not have AC in the barn,but if you are okay with having fans going then this is your place! It just so happen we were blessed with beautiful 75 degree day and never needed the fans! Other than that,we had a great experience with The Wright Farm. There are a few places to choose to have your ceremony at,all being beautiful choices.
One of my groomsmen's shoe fell apart the day of the wedding and one of the owners did everything she could to fix his shoe. Little things like that go along way when you have such a big event going on. Thank you Wright Family for a wonderful experience! We will forever have such a beautiful memory of our wedding day!

Amanda W.

Married on 10/24/2020

Well it did rain but we had the ceremony inside of barn and it turned out gorgeous! The grooms suite had a few flaws. Bridal suite was gorgeous.

The barn was gorgeous! It did rain on my wedding so we had everything inside. They just changed new management. The grooms suite was missing a few things. Some of their lights were out and my husband said it was hard to see in the suite. Additionally they only had one controller for Xbox, no where to hang suits, and only one dart. The bridal suit was very nice and lots of room to work. The only thing I would have liked to see was a makeup light bar above the mirrors to give more light but other than that It was awesome!
Are you interested?
Send a message