51 Reviews
Recommended by 100% of couples
Quality of service

5 out of 5 rating

Average response time

4.9 out of 5 rating

Professionalism

5 out of 5 rating

Value

5 out of 5 rating

Flexibility

5 out of 5 rating
Awards
60 User photos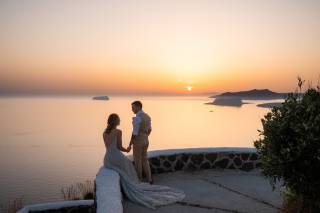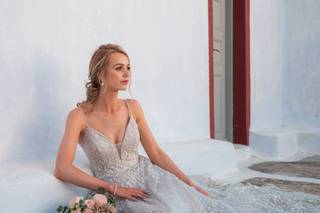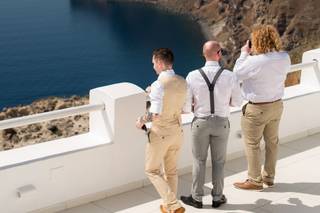 + 56

photos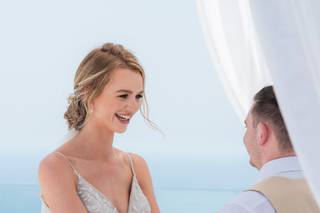 Georgia S.

Married on 05/26/2022

Highly skilled, fantastic

George is brilliant at what he does. My husband hates having photos taken but with George he felt so comfortable and actually enjoyed himself. He captured such natural, loving moments. He's a wonderful person and we loved working with him.

+ 5

photos

Elina O.

Married on 09/09/2020

Amazing people - Made our wedding extra special!

My husband and I can not stop saying amazing things about Giorgos and Katerina. Such friendly people, we clicked from the beginning. They made the whole experience feel so easy and most important enjoyable (so many laughs during the whole night!). They went very out of their way to make us feel special and it all showed in the beautiful pictures we received - such beautiful memories we will cherish. We have become so fond of them both that we now call them our friends who we hope to see back in Greece this summer! Don't even think twice if you are looking for a photographer, you will not regret it!

+ 7

photos

Ventouris Photography's reply:

We are so so happy to read your words! I can't thank you enough and I wish you the very best!! You made our day!!

Shelby L.

Married on 06/01/2020

Extraordinary

Getting photographed by Giorgos Ventouris was an amazing experience in all aspects, from quality in professionalism to friendly conversations. Getting our photos taken didn't seem like a task at all, he was able to turn our experience into a lovely day and a cherishable memory! Thank you!

Are you interested?

Send a message

Lori

Married on 11/22/2019

Santorini getaway

extremely fast response to my email and had a great experience during our shoot. Photos turned out really nice and captured a memorable trip for us!

Ventouris Photography's reply:

Thank you Lori! It was a great day for us too! Your vibes and trust meant a lot! I wish you all the best and hope to meet again in Texas!



Γωγώ ?.

Married on 10/14/2019

Amazing ,professional and personal touch

I had an amazing time with George. We had a potret session. He took as much time as i needed to make me feel comfortable, even played my favorite music! His directions were given in a gentle way and you could feel that he is a professional. If I was to marry again , he would definitely be my photographer! Such a wonderful experience! The result was impressive and you can tell by looking at my pictures that I am at my best!!!

Ventouris Photography's reply:

Τhank you very much for your words and energy Gogo! It was
pleasure working for you and I hope that your portfolio will show to all how great you are!


Katie

Married on 10/05/2019

Amazing honeymoon shoot in Santorini

I couldn't not be happier I reached out to Ventouris photography about doing a shoot per recommendation of an American friend living in Santorini. Giorgos is a super talented photographer and local to Santorini so he knew all the best places for pictures. He's also hilarious and we had such a great time with him. The photos are everything we were hoping for and more. I haven't downloaded the high resolution but attached a quick pic! 100% recommend!

Ventouris Photography's reply:

I can't thank you enough! I will definitely meet you both in the US for sure!! It was an amazing day for me too and I enjoyed every moment!


Nimrod Y.

Married on 07/28/2019

The best photographer!

Amazing person, amazing service and amazing photos l!!!


Ventouris Photography's reply:

Ι thank you from the bottom of my heart Nimrod! It was a wonderful day for me too and I enjoyed every moment with you!

Nisha D.

Married on 06/27/2019

Amazing shots of our Santorini Wedding

Giorgos was kind and respectful to our traditions as he took some amazing pictures of our wedding in Santorini. Now we have memories for a lifetime!

Ventouris Photography's reply:

Attending a Hindu Ceremony for the first time was a beautiful experience. A great group of kind people on Santorini island, at Heliotopos hotel, is a memory that will last for long! Thank you!

Angela C.

Married on 04/07/2019

Bravo bravisimooooo!

I love Giorgos professional photography. He is passionate with his work, he is very dedicated with his work. His personality is infectious and makes you feel comfortable, he is fun, full of charisma and he captures the vision that the client has and makes it realization through his photography. We are so happy with his service, and we can't wait to use him again when we come to Greece. The pictures were beyond breathtaking, once in a lifetime captures and beautiful memories for us to remember forever. Thank you Giorgos & your team for making our wishes come true.!!!! Absolutely, hands down, recommend Giorgos ,you will not regret it! Thank you!!! BRAVO! BRAVISIMOOOOOO!!!!
Coleman & Angela from America 💖

+ 4

photos

Ventouris Photography's reply:

Very Happy happy to meet you!! Feeling blessed for your kind words and energy!!! I hope to meet you again Angela!!


Nada B.

Married on 12/13/2018

Santorini Pics

I loved my experience with George. He was really fun to work with, and I will for sure use him when I go back to Greece next summer!

Ventouris Photography's reply:

I will wait for you and your family Nada!
It was a great day for all and It is really great to know that
you were happy with the photos we made here!


Katherine T.

Married on 10/27/2018

Absolutely beautiful wedding photos!

My husband and I just received our wedding pictures and they are even better than we could have imagined! We felt so fortunate to be married in beautiful Santorini, and even more fortunate to have Mr. Ventouris as our photographer. He was excellent at directing us and coordinating the wedding day to ensure he got the best photos possible.

Looking through the pictures, my husband and I both had the biggest smiles on our faces. We were truly impressed by Mr. Ventouris' pictures and how he was able to capture such great shots of everyone at the wedding. Such a wonderful reminder of our special day!

Ventouris Photography's reply:

Katherine and Tom you rocked! I thank you with all my heart for your kind words! I wish you all the best and hope to meet again in the future!

Stacey K.

Married on 10/02/2018

Amazing photographs! Highly recommend!

We had family photos taken while in Santirini on holiday and Giorgos came highly recommended ans we were very impressed with his talent and professionalism. The pictures he took were amazing and we will treasure them for years!

Ventouris Photography's reply:

Our goal was accomplished Stacey! It was a pleasure for me to work for you and your family! Hope to meet again in the future!


Nikki R.

Married on 08/25/2018

Our guests still ask about you!!

Giorgos was a star from start to finish. He coordinated the pictures perfectly making guests and couple feel completely at ease. Our guests still ask about Giorgos because he was such a hit on the day. He respected our request for a combination of structured and natural shots. We are in love with the final images. Thank you for making our day so special and capturing it perfectly.

Ventouris Photography's reply:

Your energy and trust was a great thing! And I was the mirror of all your good vibes! I thank you with all my heart!

Maria

Married on 08/11/2018

Highly recommend! Great photos. George with his personality gave as natural smiles and great photos too. Better than ever expected!

Samantha P.

Married on 07/24/2018

He is amazing!!

Being in England it is hard to find a photographer which you actually gel with and understands you as a couple. George took the time to observe us as a couple and took us out for a drink and soon understood our personalities. He went above and beyond his role ensuring we had the perfect photos throughout the whole day and night. George even stayed later than he should of and it did not go unnoticed. I recently received my photos back from my wedding day (all 808 of them) and he has just captured the day, in many more memories than I can remember!!

You go all that way for such an amazing holiday and wedding, and I 100% recommend this photographer. He's up for a laugh and doesn't take life to seriously. He instantly made me and my husband feel relaxed.

Samantha England/ Grimsby

Lina

Married on 07/11/2018

Beautiful wedding photos

George was recommended to us and we can only say that we are very happy with our decision to choose him as our photographer. On the day of our wedding George fell down while taking a picture and was hurt. Nevertheless he continued with full power! What a strong and Professional man!!! We are very grateful to you, dear George. At the weekend we received our photos and are very satisfied. Thank you again Dear George and see you soon!!

Senan

Married on 07/11/2018

I usually hate taking pictures and my wife always struggles to make me go through it. Giorgos, made the process easy and fun. Such a good gentleman and great to deal with.
My wife and I thank you! Will definitely recommend you.



Ventouris Photography's reply:

Senan your words mean a lot to me! It was a pleasure meeting and working together in Santorini. Hope to meet again in the future!!


Jane

Married on 07/05/2018

Giorgos is an amazing photographer. I am a perfectionist and have very high expectations and I could not be happier with how our photo shoot turned out. We are so happy that we chose Giorgos to photograph our wedding. He definitely went above and beyond our expectations. He is a true artist and professional. He's also a very hardworking and trustworthy individual. It can be intimidating to have a wedding overseas, but Giorgos always put us at ease. We had so much fun with him during our photo shoot. We will never forget that day. We made a friend for life with Giorgos. I couldn't imagine doing our wedding photos with anyone else. Highly recommended!

Ventouris Photography's reply:

A big - huge thank you for your respond Jane! I wish you all health love and luck for your life! Hope to meet againin the future!!



Digna

Married on 06/24/2018

Great guy and extremely professional experience: HIGH VALUE! :)

Ventouris Photography's reply:

Cant thank you enough Derek!!

Jane N.

Married on 06/15/2018

Giorgios is a rare gem!

I cannot recommend Giorgios enough. He is a true artist in every sense of the word. We are so lucky to have found him as our wedding photographer. I am so amazed by our wedding photos and they totally exceeded my high expectations! He really took care of us on our wedding day in Greece. We found a lifelong friend in Giorgios! Thank you for everything!

Ventouris Photography's reply:

Jane and Andy I thank you very much for your words! They mean a lot to me and as you said we found a lifelong friendship! All the best from Greece to you and your loved ones!


Rachel

Married on 05/30/2018

What a superb photographer! We are absolutely in love with our wedding photos. He is truly amazing and such a fun/friendly person. Very creative!! Thank you for sharing our big day :)

Ventouris Photography's reply:

Amazing people amazing results! Thank you for your trust and support Rachel, it was a great day!


Arvind

Married on 12/17/2017

What a time we all had with Giorgios on the last day of our vacation in Greece !!!!!!!!!!! Visiting Santorini and not taking some time out for some professional photography is something one will definitely regret. But Giorgios didn't let it happen the same with us. Although we were quite late in his busy schedule, he patiently waited and at the end of the day came up with some of his best shots and poses for us.

Ladies insisting for more poses and photos is something which you may come across in each of your photo session I suppose, but may be it was difficult for you with the two beautiful Indian ladies inspired from Bollywood movies ;). In any case we all were extremely satisfied and happy with the time being spend with you and the baby still remembers the name "Uncle George".

Giorgios is a very unique person in himself riding on his stylish motorbike and his photography skills are simply amazing.
He is a man with perfection focusing on very minute details of the photography.

The comment about 4 donkey I am sure Giorgios is going to remember his whole life. We will definitely visit Santorini again next time for post-wedding photoshoot.

Thank you very much once again for your time and efforts.


Heather

Married on 10/20/2017

We are so, so thankful to have found Giorgos for a little after-wedding, honeymoon photo shoot. From email, to phone conversations, to finally meeting in person, he made us both feel so comfortable. I cracked a joke about how awkward I feel in front of a camera, and he immediately assured me that he likes to catch us in natural moments, to avoid awkwardness and stiff poses. And thank you for this tip: take the time to eat and have some espresso Before shooting LOL. His photos came out STUNNING, where he perfectly balanced landscape, architecture, and subjects.

We are so happy to have worked with him, but more importantly we're so happy to have met him. By the end of our time together we truest felt we've made a friend. A friend with a hell of an artistic eye!

Ventouris Photography's reply:

Before everything else we are all human. And trust is one of the elements that builds life time friendships. I thank you deeply for that and your words. For me as a photographer everyone is beautiful in his own unique way and this is what I am trying to bring out in my images. I have to say that you made my day! Till next time - Cheers from Greece!


George is telepathic! George is a Bluetooth! George is a hotspot! You are able to connect in seconds with him. He understands the personality and sets up the stage. A very talented artist who captures moments in It's best and in the most inspiring way. His photos has captured our most emotional moments and now we can relish them forever. Thanks George !

Ventouris Photography's reply:

Haha!!! That is one of the compliments I will never forget! I really enjoyed the moments with you and you are great together! Hope to meet again in the future!

Anna

Married on 09/24/2017

Amazing photographer! He is so funny and flexible! We are glad we picked him for our special day!
Are you interested?
Send a message