22 Reviews
Recommended by 100% of couples
Quality of service

5 out of 5 rating

Average response time

5 out of 5 rating

Professionalism

5 out of 5 rating

Value

5 out of 5 rating

Flexibility

5 out of 5 rating
2 User photos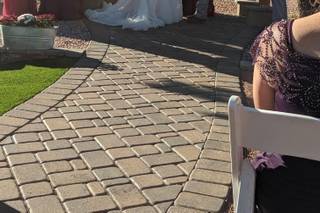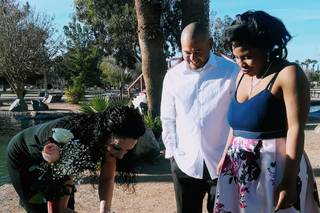 Nicole F.

Married on 12/21/2019

Speechless

We booked Ginny over a year ago for our wedding! Our wedding was 12/21/2019! Hands down, exceeded our expectations! Always stayed in great communication via email, phone, texting! Meet twice in person. What I loved was, she send us a couple drafts for our ceremony to make sure everything was what we wanted and to make sure it was perfect! Her words brought us to tears and my guests also! Over all, very very happy. Highly recommend!

Sarah

Married on 10/26/2019

Truly a blessing

Ginny was an absolute blessing to have for our wedding. She was very detailed and really loves what she does and it shows!

She made our ceremony very intimate and spectacular for everyone that came! The ceremony was beautifully written and no one had a dry eye in our audience!

We did an hourglass ceremony and it was perfect for my husband and I. We would've never known, if Ginny didn't tell us and we definitely appreciated that! Unity candles aren't our thing, so it was great to learn about all the different options and their meanings!

Our ceremony was completely custom to us and what we wanted! She definitely captured our love and our families were highly impressed!

If you're looking for an officiant, Ginny is absolutely amazing and we couldn't have been happier! We are immensely happy and honored that she "married" us, it was the greatest choice we made!

Dr. T.

Married on 09/27/2019

Best Spinatos Wedding!

This was the second time our family has used Ginny's officiant services (she married our daughter and her husband too!). Once again, she was absolutely AMAZING! We exchanged our vows over pizza and cocktails at Spinato's! It was absolutely the best wedding! We couldn't have asked for a better experience! We had a big ceremony in 2010 in Chicago before it was 'legal' for all to be married! Ginny finally made it official EXACTLY the way we wanted (no fuss, no guests, just our kids and us!). It was simple and we had a blast! She even agreed to wear jeans! Absolutely no pressure and no worries! She also arrived early to get a great table in the bar! Thank you so much for our FANTASTIC day! I highly recommend! ❤️

Are you interested?

Send a message

Alexis

Married on 03/23/2019

Ginny is Awesome!!!

After beginning our officiant search relatively late, Ginny came in to save the day. From our first conversation, it was apparent that Ginny has a passion for what she does and did not hesitate to take on the challenge of officiating our wedding. Words can not describe how great she was to us throughout the whole process. Ginny crafted a beautiful ceremony for us that had everyone in tears. The day of the wedding, she even stepped in to help wherever she could to ensure the day was perfect. In the end, it felt like she was part of the family.

Julia

Married on 01/16/2019

Wonderful Officiant

Ginny created a personalized ceremony for my husband and I that exceeded our expectations. She is very professional and her rate is incredibly affordable. I highly recommend her to others.

Karen L.

Married on 11/24/2018

Great Service by Ginny

Ginny was extremely personable and showed great enthusiasm. Ginny kept things on track and helped us by remembering all the little things we totally forgot about. Ginny was very professional and made our small intimate wedding feel very special. Thanks again!

Amanda

Married on 10/21/2018

Absolutely fantastic and personalized

Ginny was everything that I could have asked for in an officiant. She was kind, supportive, and dedicated. She helped my husband and I plan a truly custom ceremony. We wanted something that was original and personalized and with Ginny's help we achieved so much more than I could have ever dreamed of. Not only did she assist us with our ceremony but she provided guidance in so many other areas from flowers, ceremony music, and information on the rehearsal dinner. We are both extremely grateful to have Ginny's expertise available to us. She was dedicated to making our vision a reality and truly cared about us and our big day. I can honestly say that our day would not have been half as wonderful without her and her guidance. I would definitely recommend her to anyone looking for something special.

Brittany

Married on 10/13/2018

Wonderful and Helpful

Ginny is an absolutely wonderful officiant and help. Even after the wedding she helped with the name change process! During the wedding, she was always there to help with whatever should could and was asked for. I would never pick anyone else over her!

Shannon E.

Married on 09/23/2018

Ginny was great!

Ginny went above and beyond to ensure we had an incredible wedding. She was instrumental in writing a unique and personal ceremony.

Shanissa

Married on 02/09/2018

A day to remember! She made us feel so safe in her hands. She did great on a week notice. Amazing job.

Stephanie

Married on 11/04/2017

Ginny was absolutely amazing as our wedding offciant! She worked with us to created the type of ceremony that best represented my Husband and I! On our wedding day, she was even in the mix helping my bridesmaids and other bridal party members get ready for the ceremony. Ginny is a genuine soul who cares for the people she creates her ceremonies for. Her ability to reach you on a personal level to create the wedding ceremony of your dreams is admiring! I highly recommend Ginny to any couple looking for a ceremony that is "uniquely" their own. Thank you again Ginny!

Tim

Married on 10/14/2017

In the months leading up to our wedding, Ginny was instrumental in crafting a ceremony that felt very us!! She made our special day unique and worked with us to make it a perfect day!!!

Mark

Married on 05/05/2017

Ginny was simply Amazing. She went out of her way (literally) to meet with us and plan our special day. She had plenty of great suggestions to meet our high yet simple expectations for a private small ceremony. She was always responsive, took the lead and was early to every meeting. Our wedding was perfect and more then we were expecting. It went smoothly and we will treasure our memories. Thank You Ginny!

Chelsea

Married on 09/02/2012

My husband and I are not involved in any specific church or denomination, so we started Googling and found her among a slew of sort of cheesy, hokey officiants in our area. She was like a beacon of light! Our first "get to know you" meeting, before we had even made a decision, was so comfortable. It was really like she already knew us and we hadn't even signed a contract. When we learned that she was moving to AZ from Kansas City before our wedding, we were DEVASTATED. In fact, I remember Ginny calling me and we were both emotional about it. So, we offered to pay for her airfare to come back, just so she could officiate at our wedding. We didn't want to try and find a new mediocre officiant when we had already found the perfect one. We were elated that she accepted our offer! She made our ceremony so personal, special, unique and easy that I know we couldn't have found elsewhere. Many people asked after the fact if she was a personal friend of ours because of the ceremony she put together for us. Five years later, people still comment on that. And I think that's the type of officiant everybody wants to marry them.

Ginny did a fantastic Wedding Ceremony; it was very personal & romantic. She kept everything organized and on time. We had so many compliments about the lovely ceremony and how personal and intimate it was! Thank you for being a part of our special day! I've also gained a life long friend. I would highly recommend her

Libbie

Married on 09/10/2011

We used Ginny for our wedding September 10, 2011. She was wonderful to work with. She helped with our vows and answered all of my questions. She helped me plan the ceremony because i was clueless. We live way out in the country and she was willing to come out early and helped me with my makeup. She was wonderful at calming this first brides nerves. I have recommended her to my friends and family since that day and will continue to do so!!

Chris

Married on 10/01/2010

Ginny Bartosik was an amazing officiant for our wedding. We had an issue last minute and had to find a wedding officiant a couple months before the wedding. Ginny was very professional in getting back to us and really calming our nerves/putting us at ease because we were contacting her "last-minute".

Ginny gave us her full attention and really helped us focus on what we wanted. She wrote us a full ceremony being respectful of our different believes and family traditions that everyone complemented afterward. The fact that she completely customized the wedding ceremony from scratch shows how dedicated she was to us as her customers and how she wanted us to have the wedding of our dreams. She worked really hard to get the vibe we were looking for and found it with ease.

Ginny was very flexible about what we needed and being able to change her plans last minute to accommodate some last-minute switches and issues that always happen at an outside wedding. Ginny was a great speaker at our wedding and let the ceremony with confidence and professionalism. Ginny should have been paid five times more than she was charging for her service. My wife and I could not have been happier with her service and would recommend her to anyone who needs a quality custom wedding ceremony. If my wife and I were to ever get married again, our first call for an officiant would be to Ginny. She is that awesome.

Kyle

Married on 10/01/2010

Ginny took the time to understand our story, and crafted a ceremony that reflected who we were. Through our discussions she crafted a unique service that made our day everything we had hoped it would be. We'd recommend her because of her personalized approach, strong warm and welcoming presence, and flexibility in working with us to realize our vision for our ceremony. From creating a ceremony structure to helping us with our vows, she was there for everything we asked of her. If you're looking for an officiant, we hope your wedding is as amazing as ours was, and with Ginny we know it will be.

Charlotte

Married on 12/31/2009

Ginny's experience was so valuable as we planned our wedding. She was so professional and kind. Yet she firmly kept us on track during the days leading up to the wedding, during the rehearsal and the day of the wedding. One of the reasons our wedding day was such a success was because Ginny was part of it!

Nathan

Married on 11/18/2017

Ginny was very open to our unique wedding approach. She gave us every opportunity to have fun with our ceremony and was helpful every step of the way. Thanks from Melanie and Nathan!!

Ashley

Married on 04/14/2019

Couldn't be happier with our experience with Ginny!

When looking for an officiant, my husband and I didn't really know where to start, but we are so happy that we found Ginny! She was so great to work with from the very beginning, and was such a big part of making our wedding day perfect.

Ginny truly makes each ceremony uniquely yours! Rather than saying the same thing for every couple, she meets with you several times to get to know you, and then writes your ceremony from scratch! I couldn't believe how much choice we had in the process – it made our ceremony everything we wanted.

Ginny even checked the vows we wrote for each other to make sure neither of us talked longer than the other, and just having her take a look made me feel so much more confident about saying my vows in front of so many people.

I would definitely recommend Ginny as an officiant to any of my friends or family! She was so sweet and really cared about making our ceremony special. :)

Guy P.

Married on 11/24/2018

Just what we were looking for

Ginny was very professional, had great ideas, and was sensitive to our needs. If I had to do it again I wouldn't hesitate to use her again...
Are you interested?
Send a message