72 Reviews
Recommended by 87% of couples
Quality of service

4.3 out of 5 rating

Average response time

4.4 out of 5 rating

Professionalism

4.4 out of 5 rating

Value

4.3 out of 5 rating

Flexibility

4.3 out of 5 rating
4 User photos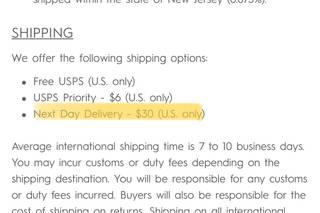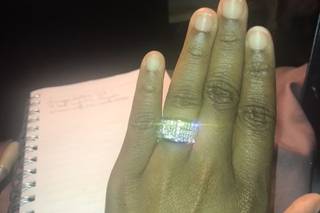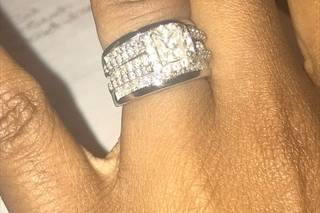 Kate

Married on 09/13/2019

So happy we found this company

As my engagement ring was a square shape, most jewelry stores didn't have any wedding bands to fit quite right. Finally one jeweler suggested TwoBirch for a custom piece. We sent in the measurements and they gave us several options to work with. We found what we wanted AND it was half the price of traditional stores. Awesome experience all the way around!

Annie

Married on 11/09/2018

I'm skeptical of perfect score reviews but TwoBirch deserves it.

I wanted to help my fiance pick out my wedding band so I did the leg work for him. He gave me my budget and I went searching. After searching a few websites, going to a few chain stores and even going back to the jeweler who made my engagement ring I settled on TwoBirch. I went with one of their ring guards. I spoke with someone through their chat services about the size of the ring and how it would look with my engagement ring. It was suggested that I purchase the virtual fitting.

I received the virtual fitting kit in the mail. I completed the process and sent my pictures in. The next day I received an email from Vianca, who is amazing by the way, with a virtual imprint of my ring in several of the ring guards I selected. This was helpful because I was able to tell which ring guard would fit perfectly with my engagement ring. I was told when my fiance was ready to purchase my ring to email the order number and tell them I previously purchased the virtual fitting.

A few months later my fiance purchased my ring. I'm so excited! I open the package and put it on by itself. It fits perfectly! Then I put it on with my engagement ring and it doesn't go all the way down on my finger. It seems the part of the ring where the two rings are welded together is a little small and my engagement ring doesn't sit properly in the space. I contacted Vianca at TwoBirch and explained the issue. She said no problem just return the ring and to send pictures of the problem (UPS lost my ring for a day but that's a story for another day) and she will have the jeweler correct it. I sent the ring back and Vianca notified me that they received it.

Two weeks later my ring came back and it's perfect! The process was so easy. The ring was under my budget and it was what I wanted. Something that rarely happens with me! I will definitely be a repeat customer.

Sean R.

Married on 09/13/2018

Very Hqppy


I can't say enough positive things about TwoBirch. I had an idea of what I wanted to buy for my wife as a gift and Vianca was incredible at answering my questions. She walked me through all of the steps helped me select the perfect gift. The ring is even more beautiful in person and my wife loves it. I highly recommend TwoBirch.

Are you interested?

Send a message

Mary K.

Married on 07/29/2017

I ordered the 3 Stone Anniversary Ring Wrap and the Perfect fit kit after speaking with Jessica virtually about my solitaire and what the best stone option would be for the wrap on 6/12/2017. I received the perfect fit kit shortly afterward and returned it immediately. I received an email on 6/22/2017 with pictures of the mold which looked awesome. I gave my approval and on 6/29/2017 I received an email with pictures of the completed ring and gave my final approval. I received the ring on 7/5/2017 and it looked absolutely amazing with my solitaire. During this process I also spoke with Andrew who was very helpful and professional. The day I received the ring I realized I hadn't requested an appraisal for insurance purposes. I sent an email and within 4 hours I received the appraisal from Vianca. My dealings with all 3 people were what I would consider over the top. I took the ring to my jeweler because I wanted my solitaire professionally cleaned and he confirmed the color and clarity were spot on. Satisfaction doesn't even come close to describing my beautiful ring, the representatives I dealt with and the timeliness of the entire process. I wouldn't hesitate to recommend Two Birch to anyone looking to enhance their current ring. Thank you.

Emily

Married on 12/17/2016

I had a custom ring guard made for my engagement ring and I am in love with it! I used their perfect fit mold to start with and I am so glad I did! They showed me lots of beautiful options with my ring, some that I had picked and some they recommended, and I actually ended up ordering one of their recommendations. The quality of this ring matches those that are hundreds of dollars more expensive. The customer service was top notch too. When I had decided what I wanted I let them know and they made the ring guard custom to my engagement ring from the mold. It compliments my ring so well and fits perfectly. Couldn't be happier!

Just spoke to and worked with Greg and he is PHENOMENAL. We were experiencing a few glitches with the internet and he was extremely accommodating through all of it. This is the place to go for your wedding band. They have so many options and very affordable. I haven't received the band yet as I am awaiting my perfect mold kit but I wanted to leave a review about their exceptional review.

Aaron

Married on 06/06/2016

Wow the customer service is enough to overshadow my amazing ring. They were really quick getting back wit me via email so could catch a sale with a custom order. They split a ring guard design in half so I could get the style I wanted on a single ring. When the order shipped, I received the full ring guard by mistake. As soon I contacted them they got back with me and overnighted the right ring! Both the wrong ring and the right ring were beautiful and great quality. I sent the wrong one back though haha. It fits really close to my ring, but will need to be adjusted slightly which I expected because the wax mold i sent in was kinda messy. I did a bad job but it's no concern to me because I LOVE my little ring. Looking forward to wearing it daily!

Here's one for the grooms looking for a good ring for a good price out there:

I bought my fiance a non-traditional engagement band, so I knew that finding a good wedding band to go with it might be a challenge. She fell in love with the idea of a wrap band, so after a little research I found Twobirch. I first ordered their Perfect Fit mold and they used it to make a model of her ring. They made the mold then sent us pictures of their recommended enhancers to go with it. Vianca was very helpful and kept in touch to make sure things were going smoothly. We chose the wrap we liked the most and I made the order (and lucky me, they were running a 15% off special that day!). It took about three weeks for them to make our custom band and for it to get here, but the wait was worth it. The ring fit really snugly, and looks perfect with her engagament ring. We couldn't be happier with the end result. The ring is very pretty and the diamonds have a nice luster.

I absolutely love my ring guard. It was made to fit my unique engagement and it came out beautiful. The customer service was second to none. I highly recommend them, there rings are beautiful!

Irene

Event on: 12/25/2015

I bought a sterling silver engagement ring and band from my husband for Christmas. This past month I bought an anniversary band to go with it. I absolutely love my set!!! It's gorgeous. I was looking for something to replace my old band, but couldn't afford to spent a lot. The sterling set fit my budget and it beautiful set with black and clear cz. Customer service has been nothing but exceptional. I have had many phone calls and emails back and forth to get just what I wanted!!! Thank you to Maria, Vianca and the whole Twobirch team. Found them by doing search online and saw several reviews on wedding wire...

Kimberly

Event on: 07/18/2015

My original order was received and happened to be the wrong size. Although I was delighted at the level of professionalism and extra supplies to take care of my ring guard and ring, it was the wrong size. I contacted Maria (who was wonderful) and she provided me with a pre-paid return label to send the ring back to exchange it which I did. Within a short amount of time, I received the most gorgeous ring packaged as professionally as the first to include new care supplies. I purchased this ring (sterling silver) as an alternate to my wedding ring when traveling and its cut, clarity, and workmanship are just gorgeous and its presence on my wedding finger is beyond astonishing!! I absolutely love it. So if you have an initial problem with your first order, make sure to give TwoBirch a chance to correct it. They did so promptly and I'm glad I went through with it instead of simply returning the ring for a refund. I will continue to purchase from TwoBirch as the quality of the ring and ring guard I received are delightful. Thank you Maria!! You guys are awesome!!

We just received my wedding band the other day and it is absolutely perfect!!! We ordered the 1ctw Vintage Filigree & Milgrained Wedding Band with the perfect mold kit and it exceeded our expectations! I was able to communicate with Maria throughout the entire process and she was absolutely wonderful. I would highly recommend this jeweler.

Taylor

Married on 06/14/2015

Maria V was EXCEPTIONAL. I was so worried I would not be able to find a setting to fit my fiancé's vision of what he wanted my ring to look like. TwoBirch had it. The exact setting. And Maria helped me step by step through the entire process. I could not be happier with my decision to order my custom ring through TwoBirch :)

Elaine

Married on 06/05/2015

I am so happy I ordered from this company! Maria helped me all the way with my purchase , she is professional extremely patient and very flexible ! I ordered a ring guard which did not fit at first (my mistake for choosing wrong sizing ) Maria sent me a free mold kit to make another one and send to them! I received my ring super fast. Maria is just outstanding and wonderful to work with. She answered all my emails promptly! By far the best customer service experience I have ever had ! Highly higly recommend this company .. And the best thing ....?? I ABSOLUTELY looooooved my ring ! It is Everything I expected it to be .. Affordable prices. GREAT quality.. I'm really no exaggerating !!! Thank you TwoBirch!

Two Birch has so many beautiful choices that I am really happy I did the sure-fit mold. They sent me pictures of several options and quickly got my choice to me. I had ordered a ring guard that once I had it on just wasn't my style, and my exchange was handled promptly and professionally. Maria sent new images for me to choose from of some simpler styles, and today I received the perfect ring for me. I had an excellent experience and highly recommend their product. I wasn't spending a lot of money, but Maria treated me like their most important client. Kudos!

Angie

Married on 02/21/2015

LOVD MY RING!! I get complements on it every time I'm out because it's such a stunner!! Maria was WONDERFUL to work with!! I could not be more pleased!! THANK YOU!!!!

Samantha

Event on: 02/09/2015

I had a 1.5 carat solitaire and this wrap enhanced it beautifully! I had questions which they promptly addressed (even on the weekend). I would recommend 100%!

Kristine

Married on 12/06/2014

Absolutely Wonderful! Received my Claddagh wrap today and its perfect! All communication with your company was prompt and courteous. Would recommend to anyone!

Amber

Married on 11/08/2014

With rings of the same quality and workmanship costing triple the price here in Australia I thought I was destined to end up with a mass produced, ill-fitting wedding band on my big day. Until my fiancé came across Two Birch!
I can't thank Maria enough - the entire service was seemless and well above and beyond my expectations. Maria's communication was fantastic - I was kept in the loop at every stage of the process in creating my ring guard, it was produced and shipped across the world quickly and it turned out perfectly! I would recommend Two Birch to anyone, anywhere in the world!

Nancy

Married on 11/02/2014

I accidentally found TwoBirch and I am so glad I did. We purchased my engagement ring back in 2011 and I could not find a band I liked with it but LONGED for a guard anyways so I kept searching. I do nothing with out research and reviews so I went on the hunt after finding them. After finding out I could return it if it didn't work out and so on and so forth I made the leap. I emailed them to ask them questions I was curious about and after receiving an immediate response and great customer service (this is HUGE to me because I work in customer service) I really knew I wanted to use them. So I ordered the mold and sent it off. Not to long after I got pics and my husband picked a band and when I tell you that I was excited after seeing it in person...that's an understatement. It matched perfectly, fit perfectly, and was more than I could dream of. Due to our budget we went with a sterling silver and CZ Combination Cathedral and Classic Ring Guard and it is a perfect match for my 14k white gold with almost a full carat of diamonds e-ring... I WILL be ordering the same guard but in 14k white gold with blue sapphires running up the cathedral, which I have already contacted and they have assured me they could do. In the meantime I feel no rush because this one is stunning.

I had an excellent experience with TwoBirch. I love how they can customize wraps and guards using a mold of your ring to get a perfect fit. I actually did that with two different rings: my engagement ring and a fake cubic zirconium one and they both were a custom match.

I do recommend that you find out your ring size even if you are sending in a mold. The ring I did before I knew my ring size was actually too small. But once I found out my ring size (I went to Target and had it done for free), the next ring fit perfectly.

Maria is great, she responds in a very timely manner and makes sure that you like everything you are getting, even if it is a matter of personal taste. The other thing that I really like is that you can order their rings in a variety of metals and stones.

I highly recommend TwoBirch and am sure that I will be purchasing from them again at anniversaries to update my ring.

Britney

Married on 09/05/2014

I knew from the day I got engaged that I wanted a ring guard/Jacket. I found Two Bitch online and loved the selection but was initially hesitant to order online. After shopping around at different stores for a year and getting sub quality selection and service I finally emailed Maria at Two Birch. She did some mock ups and sent out the ring mold kit. Once that was back to her she was able to really help me see the vision with my odd shaped ring. Ring jackets aren't just for solitaires! I even shared a picture of one of the guards I found in a store and she had one just like it if not better. I was able to choose my metal, and stone type and color and really create my dream. I had been searching for this band for two years and i'm so glad she had exactly the band I wanted to wear for many wonderful years.
Thank you!

User1778248

Event on: 08/28/2014

I was probably their worst customer, I had a hard time deciding which beautiful design I wanted with my wedding ring. I purchased several, and with every exchange/return Maria was always friendly and helpful. I am totally in love with my ring guard. I received so many compliments on it and it just reconfirms my choice to shop TwoBirch. They have very quality products, prompt service and I have recommended them to all my friends. Thanks again for all your help.

I live in Northern Ireland and was worried about ordering from a company in the States, but I need not have worried at all. I was sent a moulding kit, which I used and sent off to Maria. I received my ring guard, and it was too small! I was really disappointed. However, I contacted Maria who assured me that it would be sorted out. We decided that a curved ring would suit my one of a kind engagement ring better, and with the help of my mould, (which they keep on file for the next order) she sent me pictures of the curved rings with the mould and I was able to pick the one that I liked best! It arrived today and I love it! Beautiful and fits great! Maria was fantastic, and I wouldn't hesitate to recommend this company!

I stumbled upon TwoBirch when I was trying to find a unique wedding band. We had gone to jewelers but couldn't find anything I really liked. I ordered a ring guard (which was beautiful) but when I received it, it just didn't quite fit right with my engagement ring so I returned it. TwoBirch sent me a ring mold for my engagement ring and once they received it I was actually able to work with them to find a ring that would custom fit mine. Once I received the new one it was absolutely perfect. Exactly what I was looking for. They were so easy to work with and incredibly affordable, especially when you consider the custom work they are doing.Highly recommend!
Are you interested?
Send a message