18 Reviews
Recommended by 94% of couples
Quality of service

4.8 out of 5 rating

Average response time

4.6 out of 5 rating

Professionalism

4.7 out of 5 rating

Value

4.8 out of 5 rating

Flexibility

4.8 out of 5 rating
Awards
21 User photos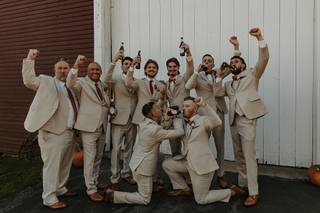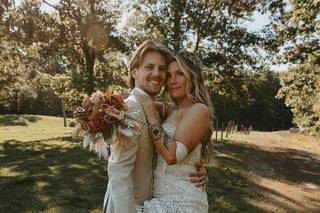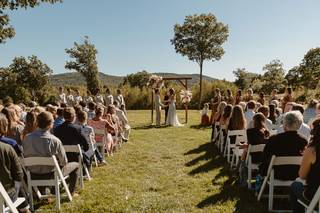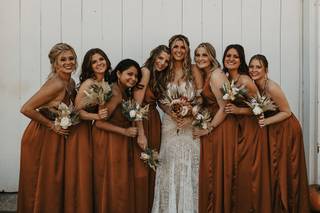 + 17

photos
Riley L.

Married on 09/17/2022

The best of the best!

Tumbledown farms was the first and last venue we looked at. We knew right away this was the place for us. The unique layout allows for a breathtaking ceremony in the field, a bar and picnic tables outside, and a beautiful barn. Not only is this an Incredible wedding spot, it is also a full working farm with a herd of Scottish highland cattle roaming the fields, which added an extra touch we loved! This venue is extremely laid back and flexible which made it incredibly easy to turn the place into exactly how we envisioned it. They have a fully stocked closet with tons of decor, serving trays, and signs which came in handy. Kelly, who had shown us the venue day one, kept in touch until the day of our wedding. She was there for every question and had a solution for every issue.
Come the day of the wedding, the entire team was incredible. The chef Steve, had helped us all morning with lending us paper towels, opening pickle jars, and anything in between! On top of that, the food he made was seriously incredible. The best food we have ever eaten, and a lot of our guest agreed.
The team of girls working the wedding were so helpful and did a great job keeping everything stocked and iced. They even ran out to buy us lemonade when we were in a pinch!
The man who drove the wagon up the hill offered us help with anything we needed and treated all our guest with kindness on their little ride up.
Overall we had a great experience with this venue and team. It was the most beautiful ceremony we could have ever asked for, and the wildest reception we could have ever expected. ❤️

+ 2

photos

The M.

Married on 08/31/2019

Easy, Fun, Flexible

Juliet and her team are absolutely wonderful to work with. They are very easy-going, fun, and flexible to work with. Juliet takes great pride in the services that are provided and is extremely hard-working. The venue is beautiful! Very reasonably priced. We would recommend the venue and "whole package" to everyone.

Amanda

Married on 10/20/2018

The Perfect Rustic Wedding

My dream wedding was the perfect fall day and a rustic barn. I got both of these at Tumbledown Farms!! We paid the extra for the hay wagon to the field out back for our ceremony in which people loved. The views back there of the foliage, mountains & cows were priceless. The food was delicious and so different from your standard wedding food. Guests are still talking about how much they loved it! BYOB was a game changer in terms of what I imagine was a cost savings over an open bar at your traditional venue. Cheryl was amazing from the beginning to the end of the wedding planning process. I could text or email her with a quick question and she would provide timely responses. There is a full closet of décor that past couples have left behind which is great to use. The décor and lighting in the barn is all just perfectly rustic. Tumbledown Farm is just amazing!!

Are you interested?

Send a message

Jordan

Married on 10/13/2018

Fairytale-esque

Our wedding was pure magic and a lot of that is in thanks to Tumbledown Farms, specifically Cheryl and her team. The venue itself is absolutely breathtaking, a rustic chic venue fit for a fairytale, add in the fact that all the catering is farm to table right there at the venue...that's enough reason to have been married there. But honestly Cheryl was such a big part of making our day perfect. From day one she was amazing at communicating with me from timelines to menus, she was totally on top of things and was quick to respond to each and every question I threw at her. Come our wedding weekend, again she was there to assist through it all. She helped run our rehearsal and was there to talk through decorations and last minute details, but the real story comes from our wedding day. Cheryl and her team truly bent over backwards to make our day perfect. The first half of the day rained on and off and I had my heart set on getting married out in their pasture overlooking their farm. She came up with a plan to host the ceremony indoors but when she realized how important it was to me to be married outside, she and her team absolutely made it happen. When the rain was still coming down she came in to the bridal suite just to cheer me up by announcing the birth of a baby cow and naming it in our honor. Cheryl was so incredibly sweet and thoughtful and beyond accommodating. Cheryl herself hopped in a bus and helped get guests out to our ceremony site while it was still raining, and as if the heavens looked down on us, the rain lifted and a beautiful rainbow appeared as the ceremony began. We couldn't have asked for a better day. Cheryl cooked an amazing feast, all of our guests raved about the food and the cider donuts. We had the most amazing wedding and could not have found a better venue to host the best day of our lives.

+ 3

photos

Carol

Married on 08/11/2018

Loved everything about my son's wedding last weekend- Cheryl is awesome to deal with - she puts you at ease throughout the entire process from planning through the event - absolutely thrilled that we held the wedding there!!!

Kaylee

Married on 05/26/2018

Everything was absolutely PERFECT on the day of our wedding. Cheryl is extremely professional and quick to respond with any question/comment/concern you may have. Everyone worked with us to make our day perfect. There were last minute changes, (due to weather) we took a risk and made the ceremony outside before the rain. They were great and fast about moving some things outside! They are extremely flexible as far as visiting the farm prior to the event date and worked perfectly with our coordinator and decoration vendor. (Even though you don't need a decoration vendor at all because the place is beautiful and Cheryl has a decoration closet!) The farm is beautiful, clean, and very well taken care of. The staff is amazing and extremely friendly!! If I had to do the whole thing over again I would definitely do it there again!

Also, a little bit unrelated— their restaurant food is SOOO good!

+ 3

photos

Marissa

Married on 09/30/2017

LOVE LOVE LOVED every. Single. Thing! The barn is so magical when it's all lit up at night. Straight out of Pinterest! Everything is rustic and glowing. The cows in the field, the awesome tractor ride and incredible ceremony views are just part of what makes this venue great. But hats off to Cheryl!! She makes it all happen! So sweet, professional, easy going and over the top helpful! She even sent us photos of everything the following morning :) I am so glad we found this beautiful barn. The food was amazing! So so good, everyone at our wedding raved about how good it ALL was. Cheryl even made sure to bring out a huge spread of apps, cheese, vegetables and drinks while we were taking pictures so we didn't miss out! I can't even explain how fantastic it all was. This is THE place to get married. Thank you so much for making my wedding truly unforgettable.


Brittany

Married on 09/09/2017

Tumbledown Farm was the first venue that we looked at for our wedding and ended up being the last! From the moment we saw the gorgeous barn (complete with a stage, lights and even chiavari chairs) we knew that this was it. From there we were continuously blown away by our contact Cheryl's amazing support and guidance. She was always so sweet and willing to answer any questions that we had and she always made herself completely available to meet in person any time we happened to be up in the area. The other little touches (like the bridal pantry, the fact that this was a BYOB venue, the adorable furry cows and the tented patio space that ended up being perfect for our cocktail hour) all continued to impress us. The food (that is brought over from the cafe) was also so fresh and delicious, too!

The entire staff at Tumbledown is amazing at what they do. They made the whole experience so fun (and dare I say - stress free!) Cheryl truly is a rare find and we feel so lucky that we had a chance to work with her throughout this process. Thank you all!

Emily

Married on 08/26/2017

Our wedding at Tumbledown Barn was more perfect than I could have imagined! Cheryl was extremely helpful and patient with us through the whole planning process. The food was incredible and she even made our own family recipe for our carrot cake. The barn has adorable decorations and we were able to get into the barn on Thursday/Friday to create the flower arrangements. Guests loved that they could go outside and come back inside throughout the evening. If I did my wedding over again, I wouldn't change a thing about Tumbledown! Thank you so much, Cheryl!!

Lauren

Married on 08/19/2017

I knew I wanted to get married at Tumbledown Farm when I saw it for the first time. The barn has the most beautiful, rustic, warm and inviting feeling. Cheryl was such a doll and was always available to ask questions. She is laid back and very accommodating. The evening was beautiful and perfect and everyone was raving about the food. I highly recommend this place to anyone who is looking to leave a lasting impression with their guests.

Katelyn

Married on 10/15/2016

We got married in October and the venue was perfect! Cheryl was amazing and was very flexible and helpful. She always got back to me quickly and helped with any questions or concerns I had, making the entire planning experience pretty relaxing. We did the tractor ride up to the field for the ceremony which our guests loved. After the ceremony Cheryl delivered appetizers and drinks up while we took pictures which was amazing. The entire venue was very flexible with timing since photos took longer than we had originally thought but they didn't miss a beat. We still have people gushing over our food and some at our wedding actually told us they could taste again because the food was so delicious. Everything they serve is farm to table and both the BBQ chicken and prime rib were unbelievable, or guests couldn't stop raving about it. The venue is BYOB which saved us a lot of money. We hired two bartenders we knew and bought only the beer, wine and liquor selection we knew our guests would like (plus you can return any unopened liquor to the liquor store if you overbuy like we did). The entire experience was amazing and I wouldn't change a thing, we had a perfect day and got the rustic barn wedding we wanted!

Tarsia

Married on 09/10/2016

This venue is beautiful if you are looking for a rustic New Hampshire barn wedding! We were married in September and our guests are still raving to us and family about the venue and the food. It's a farm-to-table venue which we absolutely LOVED - fresh, amazing food in a barn from the 1800s was just what we wanted! Cheryl is incredible - super sweet and accomodating and takes the stress out of the day. We did the tractor ride to the ceremony site, which was a big hit. There was TONS of food - which I know some people worry about there being enough when it's a buffett but worry not. The venue is also BYOB - which does make for one more thing you have to do as a bride, but you will save loads of money doing it this way and can ensure your guests have exactly what they like. My husband and I highly recommend this venue!

Tess

Married on 08/27/2016

My husband and I had our dream wedding at Tumbledown Farms! Cheryl was incredibly helpful every step of the way and so accommodating for details big and small. The 1800s barn is truly unique and authentic. Our guests loved the outdoor cocktail hour under the big tent with the fiddle players greeting them after the ceremony. You just can't beat the farm to table menu - Cheryl even created a brand new sweet potato dish for us! Although I think the biggest dinner hit was a toss up between the pulled pork and s'mac and cheese! Another highlight for us was making our grand entrance through the big barn doors with tree branches lined with twinkle lights!

Susan

Married on 08/20/2016

We loved working with Cheryl and Tumbledown Farms for our daughter's wedding. We liked having the venue for the whole weekend so we had the rehearsal dinner there on the night before the wedding in the big tent behind the barn. We also were able to use the barn the day before to make the flower arraingements for the tables. Cheryl offered lots of great advice and really doubled as a wedding planner in many ways. If we didn't want to go along with her advice that was fine and she was so easy to work with. I was relieved of a lot of head aches because I knew that Cheryl 'had my back' in terms of making sure that we hadn't forgotten to consider any important details. The rustic barn and surroundings were perfect for us and we loved being able to customize the interior to our own tastes. The space for the bride to get dressed in was lovely and out of the way. The dinner was yummy and there was plenty of food. The stage in the barn was the perfect size for our favorite local 5 piece band. Many of our guests said it was the best wedding they had ever been too.

Jessica

Married on 07/16/2016

I was in LOVE with this barn! It was exactly what we were looking for! The barn itself was so rustic and beautiful! We had our ceremony in their back field, with the most amazing mountain view! The meat for the reception was all raised right at the farm, which I love! It was a very "Rustic New Hampshire" wedding, which was exactly what we were looking for! Our guests had taken a tractor from the parking lot to the back field, which they hadn't done many times so I guess it was a very bumpy ride. Also, they day was very hot! Every time that I visited the barn it was nice and cool but because this day was exceptionally warm, the barn was really hot and since they didn't have AC it was a little rough. It was just an abnormally warm day! I was a little bit nervous because the owner wasn't as responsive as I would have hoped but everything ended up coming together great! We had soo much fun at our wedding and everything came together so beautifully. The photos look amazing and our guests have nothing but great things to say about the day!

Kelsey

Married on 07/30/2016

We were looking for something local as I am from Brookfield, and Tumbledown Farm was ideal for meeting a lot of our criterias. The barn has such beautiful New England charm! There is plenty of room for parking, and the barn fit all 130 of our guests comfortably with room for a dance floor. The white twinkle lights around the space are beautiful, and we loved having the big white tent outside for cocktail hour. The food was delicious. Our guests particularly loved the pulled pork!

What I appreciated most was how accommodating and flexible Cheryl was. Our style isn't quite as rustic, and we specifically asked if we could add some of our own decorations instead of all the burlap, including renting long tables instead of the round ones provided. We had an old fashioned ice cream truck for a dessert option in the parking lot, and Cheryl was perfectly fine with that too. She let us come and go as we pleased to bring in supplies and set up. She was very open to our ideas, which was wonderful.

Cheryl and her team met our needs, plus supporting our neighbors and having farm fresh food for our meal was fantastic! I will say be cautious booking the space in the summer, as there is no A/C, and the ceiling fans provided little relief. However, Cheryl did bring in a big industrial fan later in the evening, which helped a lot and was a great idea! We were lucky with weather in the high 70s. It's also a working farm, with cows and chickens nearby, so keep that in mind if your guests will be outside. Our day was relaxed, family oriented, and filled with lots of joy. Thanks so much Cheryl and David!



Amy

Married on 10/27/2018

My dream wedding came true

Cheryl and her team are absolutely amazing! Being able to have the barn from Thursday afternoon until Sunday morning was amazing. The barn is beautiful on its own and barely needs any decorations on top of what's in there. But if you need more there is an amazing closet full of great decor from weddings past. Cheryl was on top of everything that weekend and took care of everything for us. The food was amazing and our guests couldn't get enough of it. Thank you Tumbledown Farms for making our special day memorable

Kellie B.

Married on 10/02/2021

Terrible Communication, Unprofessional

I am not the type of person who leaves bad reviews or complains often (or ever). I just wanted to share my experience. I will start by saying that it is a beautiful venue with a pretty good set up, however working with them was an absolute nightmare. And during our wedding there were major issues as well. What we thought would be an exciting time for one of the biggest moments of our lives was turned into a horrible experience.
Starting from the beginning – I received venue info from former employee #1, who was the wedding "event manager" This person I knew from many years ago, so we were offered "friends & family discounts" among many other promises, such as day of coordination service, lodging, serving of meals, desserts, etc. They also had our desired October date available! So of course we signed the contract.

After sending our contract and first deposit in May, we believed that everything was all set with the venue: But much to our surprise, and almost a year later – the first contact we had was next March from a different person, former employee #2. She sent us an email, introducing herself and saying she is the event manager and needed more information from us. We had no idea that there was an employee change, nor did any one reach out to us prior to this. I told her the details and promises that we were given before sending the contract – and she told us that the info were were given is not correct, and that they could not give us the discounts or promises.
We told her that the only reason why we chose this venue was because of the pricing & services offered were because of the now false info we received by Former employee #1. She did, however, offer to waive a couple of smaller fees. As it was now 7 months out from our wedding – with no other local venue available due to the busy season / reschedules from 2020 because of the pandemic, we were essentially forced and left with no alternatives to stick here.

She then sent a new "estimate" with a different menu, & pricing. It was significantly higher, and some of the services no longer offered – AFTER WE SIGNED A CONTRACT. This was extremely frustrating as most reputable & professional business would have honored the contract & pricing. We ended up having to change change to buffet vs plated to afford it now, & sent in our second deposit in March.

After sending the deposit up until JUNE, we were not able to get a hold of ANYONE from there. We had questions & needed more details like any other couple. I sent numerous emails that were never answered. Called a bunch of times, but the phone number was disconnected.
It was now less than 4 months before our wedding, and we had NO IDEA or details about our wedding. It wasn't until AFTER leaving a negative review did they find it necessary to finally contact us. It took that to finally get a call back from them.. The owner called and told us that former employee #2 has not been working there for months now, again no one reached out to us.
He was able to answer a few questions and told us about the new contact – employee #3.
After the meeting, the owner then called me twice ASKING ME TO DELETE MY POSTED REVIEW! This was unprofessional, put me on the spot, and made me feel uncomfortable. Fearing of some sort of retaliation, I removed it as he asked.

We emailed #3 in Aug, just to try to follow up. She said she would reach out to the owner and that ask him questions today. Didn't hear back, shockingly, and then in Sept event she emailed back and said "person#1 & #2 didn't leave much info" about our wedding. And requests that I send her our food, final head count, and where our ceremony would take place & add-ons.

3 WEEKS away and no one has any idea what is going on, ourselves included. We sent her everything and few days later we get a response. Now it is Mid-September. She told us that the desserts are priced PER ITEM per person instead of a sort of platter with everything, as we were previously told and how the menu implied. We had only ordered a small cutting cake for us as the plan was their desserts for our guests – 15 days before our wedding. Was too late to order a cake elsewhere let alone now a large wedding cake. We had to cut out more things in order to have some sort of treat so we went with just donuts (that never showed up).
Our final balance was due on Sept 18th (wedding Oct 2nd) but we didn't receive it until Sept 21st, and it was incorrect, we pointed out the errors and included that the the day of coord isn't on there. It was also $800 MORE for JUST FOOD than our last est & the menus. She said she'd correct it and then said that they no longer offer day of coord." Former #2 did that herself – I am not a coordinator." 10 days before our wedding.
Its the type of place you need a day of coordinator, after scrambling we found someone but we had to pay a lot more. Overwhelming and disappointing. So now, what choice did we have besides just paying the invoice and wait for this day to just be over? Not a way anyone should have to feel about their wedding.
Setting up and rehearsal dinner was the friday – the tractor driver (who shuttles guests back and forth from the ceremony) popped in, we told him the rehearsal plans and asked how we could get my disabled grandmother to the ceremony site, as she is wheelchair bound and not able to climb up the steps to the wagon. He said that they would have a UTV for us to bring her on. He said someone would be there for the rehearsal to help guide us for the next day. No one showed up, including the tractor to bring us to the ceremony site.
Wedding day October 2nd – I won't go into many details here, let's just say that our pre-set tables were NOT sanitary. When it was time for guests to go to ceremony spot, nothing ever showed up to bring my grandmother. And to say that the driver of the tractor behaved absolutely horrific is an understatement. Several of our guests complained about it and on my ride – it was so bad that MY VAIL BLEW OFF, luckily, we caught it, My son was nearly knocked off the wagon and 1 of my nephews fell off the seat. Not acceptable, and quite frankly dangerous.
But that was just the start of our problems with him. I was informed by many guests that this man was also extremely rude. He went up to my coordinator & photographer and WAS YELLING IN THEIR FACES! Downright UNHEARD of any type of establishment, never mind a wedding. We were beyond embarrassed and angry that they were treated in this manner – BY AN EMPLOYEE OF THE VENUE. And then after doing our pictures, it started to rain, and NO ONE CAME BACK FOR ME AND MY HUSBAND.
Getting ready for introductions, no h'ourdervs or drinks were saved for us (as requested) until my cord had to ask them for more food so we could eat too. Also, no one went to get my flowers off of the arbor to transfer to our sweetheart table, until she had to demand mid-introductions.
The donuts that we PAID FOR were never set up, nor made – so we did not have enough desserts for our guests. (We did get refunded for them after) The staff mostly were not dressed appropriately for a wedding, t shirts and yoga pants. The bathrooms were not checked, stocked or cleaned by the venue staff. My coord had to check on it, pick it up, ask for them for more toilet paper regularly

We were supposed to have the venue until at least 10:30pm. By 8:30 pm, waitstaff was already clearing off the tables and it made people feel rushed, so our guests started to leave and lights to the outdoor Pavilion area were shut off by 10 pm. We PAID OUR DJ AND BARTENDER UNTIL 10:30pm already. We were not able to use the space at all - nor use the firepit as planned.
After the wedding, we obviously had to reach out to the owner to let him know everything that happened and to get refunded for the donuts. Schedules didn't line up, so I ended up sending him an email with all of my concerns. How the OWNER replied back to us was the most unprofessional, demeaning, and bullying thing that I ever have seen from a business, and I would have NEVER expected it. He accused us, and how we saw it: insulted us, tried to intimidate and even THREATENED US if we were to leave a negative review. The response we received, in our opinion is in violation of the consumer review fairness act. Well, I refuse to be bullied – so here are my honest opinions and some of the accurately depicted, true experiences we that had with Tumbledown Farms.

Are you interested?
Send a message