11 Reviews
Recommended by 86% of couples
Quality of service

4.2 out of 5 rating

Average response time

4.1 out of 5 rating

Professionalism

4.3 out of 5 rating

Value

4.3 out of 5 rating

Flexibility

4.4 out of 5 rating
8 User photos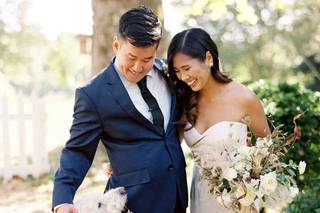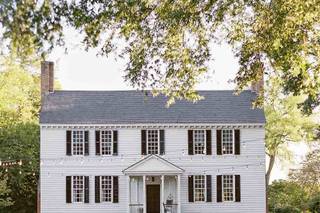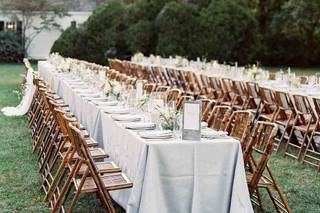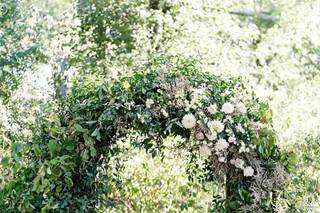 + 4

photos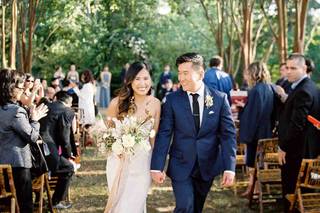 Featured

Silvia Y.

Married on 04/10/2021

Excellent to work with them!

Excellent to work with them, very flexible, excellent communication! Would definitely recommend!

Historic Tuckahoe's reply:

Thanks so mush for your kind words, Silvia! Your beautiful wedding was one for the record books, I'm so grateful you chose to celebrate with us!

Brooke S.

Married on 08/14/2021

It's a plantation who wouldn't love it!

Tuckahoe staff has been 100% there since day one! They really helped throughout the whole wedding! Thank you to Carolyn the driver!!!
Thank you to missy the caretaker for checking on me every chance she got. And thank you to Holt for everything we truly couldn't have done it without her!!!

Lauren

Married on 10/20/2018

A piece of VA heaven

My fiancé and I looked all over the eastern seaboard for the "perfect venue". I was beginning to think it didn't exist until I stumbled upon a photo of wedding guests in a beautiful garden and these perfectly arched crape myrtles that created the aesthetic of an outdoor church. We made an appointment, met with Rita, and fell in love instantly. Truthfully we never wanted to leave. The venue is the perfect amount of virginia history, garden party, with the ability to create upscale elegance that someone could hope for. Our wedding was magic, with the venue providing all the necessary inspiration. The contract seemed fairly common sense, the price reasonable for the blank canvas of the outdoor setting, and the staff were great to work with. Rita was probably the fastest to respond of everyone I worked with for the entire wedding, which was always reassuring. It was convenient for guests to downtown Richmond (we were destination) and left everyone speechless. If we could do it all over again we would! Thanks again guys!!

Are you interested?

Send a message

Linda

Married on 09/30/2017

We liked how charming and quaint Tuckahoe Plantation was. A hidden gem in Virginia and there were so many corners of the grounds to explore.

With working weddings myself, was drawn to the natural light of being outdoors. We fell in love with the grounds at Tuckahoe Plantation. We definitely knew that we wanted our dog, Bear to be part of the special day. With it being a pet friendly venue, it was certainly a right choice!

We strived to create an intimate and warm vibe with the ceremony nested behind the gardens between natural arches of trees to long al fresco tables during dinner located right next to the historic home of Thomas Jefferson.


+ 5

photos

Kacie

Married on 09/17/2016

Tuckahoe is the DREAM outdoor, historic location. Bonnie and her team are total professionals, dedicated to making sure every wedding is exactly what the couple envisions. We worked together to meet on both the creative vision and budget goals that we had for our wedding. The team is able to accommodate weddings of all sizes and scales, without sacrificing quality. There was a lot of communication leading up to the wedding, and I felt complete confidence in their ability to bring my vision to life. The wedding was beyond my wildest dreams, and I am still getting people saying it was the most beautiful venue they'd ever been to.

Bonnie also recommended a suite of other vendors, most of which we used. They are dedicated to quality, and it shows big time!

Cristin

Married on 09/10/2011

This was a gorgeous spot for my wedding ceremony. All the guests loved it and said it was the most beautiful garden wedding they'd ever been to. I have nothing but good things to say. I just wish I'd had my reception there too!

Heather

Married on 06/04/2011

Tuckahoe Plantation is the most magical place on earth. Not only does it have historical significance as the childhood home of Thomas Jefferson, but the grounds are stunning. The wedding arbor was gorgous, the cocktails in the gardens delightful, and our reception absolutely perfect. All the wedding guests commented that it was the most beautiful wedding they've ever seen. If you are lucky enough to have Tuckahoe available on your wedding date, BOOK THEM IMMEDIATELY.

Heather

Married on 09/28/2013

Tuckahoe Plantation is a DREAM venue for both a ceremony and reception! We heard about it from a friend and we both fell in love with it immediately. While it's a bit more costly for a venue-only location (they don't provide any catering or rental services, although they do offer select additional services for an additional fee), it was perfect for our day.

We specifically liked that they were flexible with any vendors we wanted to incorporate for our day and even gave us cost-saving tips, such as suggesting we supply own alcohol by buying it at Total Wine, which has a great return policy. The ceremony location is lined with overhanging crepe myrtles with an arbor on site and is hidden down a path of boxwood hedges so you don't see it when you immediately walk up, which is a nice surprise for guests! You have your choice of 3 reception locations, all of which are great choices. We also added the House Tour service for our guests, which goes through the history of the plantation and Thomas Jefferson, which everyone seemed to enjoy during cocktail hour. You do have to supply your own "restroom facilities" (read: restroom trailer) if you are having more than 100 guests, which is an added cost, and you have to think about lighting options but honestly, you can get very creative with how you want to decorate for your day.

They have an on-site coordinator, Mary, who is very helpful answering any and all questions you have. I will note that you should not rely on her as your day of coordinator - definitely look into/hire someone else for that. She does coordinate lighting on site (if you select that additional service offered) and reaches out to your rental vendors to confirm delivery times though. She can be a bit forgetful, such as asking for my final payment for the venue as I'm there setting up when I had paid it the week before and had already been deposited, but if you just remind her and are organized/have your stuff together, it's not a big deal.

Paige

Married on 10/02/2004

The venue really made my wedding. I will say it was difficult tracking them down at first to discuss schedules, but everything else was perfect.

Claire

Married on 09/22/2018

Didn't Go as Planned with Coordinator Provided by Tuckahoe

We chose Tuckahoe Plantation, because it was so gorgeous, and unique. It's located so far from the road that you get total quiet (except for the occasional train). It offered a beautiful flow of ceremony to cocktail hour to reception, with things for guests to explore and enjoy in between. We chose it happily, and we opted for a coordinator provided by Tuckahoe Plantation. The coordinator was very knowledgeable of Tuckahoe, and was helpful during the planning process, but execution wasn't great on the wedding day in our opnion.

The event began late, not due to me or anyone in the wedding party getting ready, but because the reception area wasn't set up in time. This is unfortunate when everyone is ready on time, and we have the venue for a limited amount of time. The reception took a long time to set up, even with several of our guests helping to set up.

We had a welcome station that was supposed to be set up in the garden area on the steps just above the ceremony area. We were supposed to have drinks stationed there, and our greeters were telling guests to expect it there. It wasn't set up, and there were empty tables there. I mapped this out with our coordinator at our site visit, and she was working directly with the caterer. I don't know where the miscommunication occurred, but that was supposed to attract guests to get programs, lavender to throw. Instead, my nephews had to set out programs on each seat and hand out the lavender, because no one had seen or gotten any of these things. And, there were items there that were supposed to be in the reception area. They were moved to the reception later on at my request.

We also bought about two dozen shepherd's hooks, lanterns and candles, standalone candles and a bubble machine, which were all supposed to be set out for reception decoration. None of this was set up. Because these things were not used, the cigar area that we set up for guests wasn't really lit at all, and anything away from our lighted tent wasn't lit.

Lastly, we paid for a fire pit through Tuckahoe to be lit and managed by their staff. It wasn't lit until I had to ask a wedding guest for help to find the coordinator and see if we could light it, because I couldn't find her, and had no way of getting in touch.

We faced other issues that are to be expected on a wedding day, but nothing major. But there were many things that were avoidable, and characteristic of a lack of coordination rather than expected mishaps.

Overall, we put a lot of thought into each detail, spent a good deal of time planning, and paid a significant amount of money for all of these elements, and we didn't get them. So, while we liked the venue, our experience on the day as it wore on was us wondering, "oh, will that work?", "did we actually get that set up?", "did people know about that?", which is not what we wanted after a year of planning, a lot of discussions, and money spent.

I contacted aTuckahoe about my experience and they apologized, but offered no concrete explanations behind why this happened or how they planned to prevent this in the future.

I've noticed that wedding rates for next year have dropped. I don't know the reason behind it, but this means that I paid more than future brides for this experience.

Maegan

Married on 09/22/2017

If I could give this venue 100 negative stars I would. My fiance and I had our wedding booked with them for over 2 years before we got the news that they had cancelled our wedding a little less than 6 months before our wedding. They claimed the Saturday bride wanted her rehearsal dinner there the night before and she had priority. This was extremely frustrating since 1) we booked our wedding before her 2) we originally had the Saturday date but then switched because they said they would give us a better rate for Friday. They had changed coordination planners since we originally booked (which they never informed us of) and claimed they had no record of our deposit or contract on file. After showing proof of all our documents, Lyndee (the new event coordinator), apologized and promised to resolve the issue even throwing in a complimentary lighting package for our troubles. Our minds were put at ease and we continued planning, including sending out our save the dates. Several weeks later, we got a call that our wedding had been officially cancelled again. Obviously this was heartbreaking and extremely stressful. Thankfully our wedding planner, Emmett from Richmond Bridal Consulting, was able to find another plantation in the area that would accommodate us. Tuckahoe promised to compensate us with $200 towards our transportation costs (which quite frankly was not nearly enough compensation). After this, myself, my fiancé, my mother, and Emmett were never able to get in touch with them and we never received any compensation. They also took a very long time to give us our deposit back (after conveniently finding it) and never gave us back our credit card fee from paying for the rest of the venue that we had previously put down. My wedding ended up being beautiful and the other venue was a joy to work with. Although Tuckahoe is a beautiful venue, I strongly urge every bride and groom to not work with the terrible management and people who run Tuckahoe.