Reviews
4.9 out of 5 rating
Quality of service

4.9 out of 5 rating

Average response time

4.9 out of 5 rating

Professionalism

4.9 out of 5 rating

Value

4.8 out of 5 rating

Flexibility

4.8 out of 5 rating
97%
Recommended by couples
40 User photos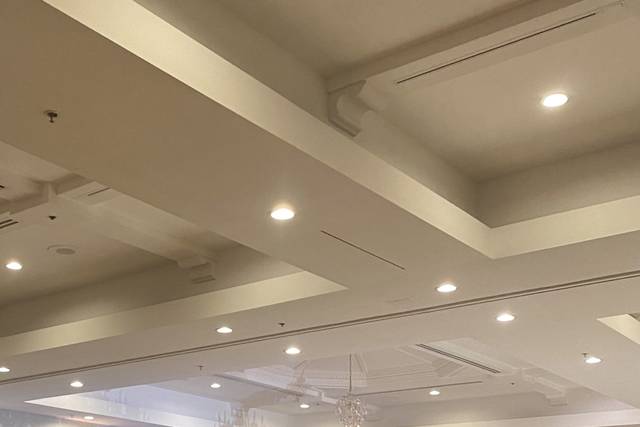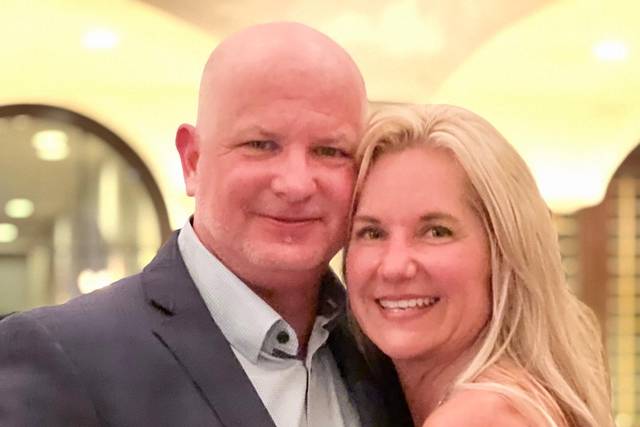 + 36

photos
A B

Married on 05/28/2022

The best venue you could choose

If you're looking for a classy, formal, elegant wedding venue, Trump National Grand Ballroom is the perfect venue. We had our reception there and were so impressed by the space, the staff, and the team. The ballroom itself is gorgeous and provides many of the items needed for a reception (chairs, tables, linens, silverware, etc.). Additionally, the catering is through the venue and our appetizers and formal dinner were phenomenal. The service staff was attentive and polite. The Grand Ballroom has a loggia and terrace outside of it which makes for the perfect cocktail hour. Not to mention the breathtaking views of the golf course and ocean in the distance. Our reception started at 7pm, so our guests were able to see the sunset close to 8pm. It was the perfect night and we are so thankful we chose this venue!

Dennise

Married on 05/15/2022

Wedding reception

Amazing staff! it was an amazing experience and I can say we made new friends with the staff and coordinator. Breanna was amazing and we are so thankful for her. Lili was amazing, everything was perfect the day of our wedding. I would recommend this venue to anyone looking for an amazing view, amazing food, friendly staff. It's perfect. My fiancé and I are so blessed to have been able to have our wedding here and would do it again!

Calena B.

Married on 03/26/2022

Loved the decor it's definitely "Trump"

We enjoyed our pre-wedding party at Trump, Breanna was extremely helpful. Audio needs to be updated at this facility but otherwise it was very nice

Are you interested?

Send a message

Kyleigh L.

Married on 03/25/2022

First-Class Service and Breathtaking Location

Trump National was the perfect setting for a wedding reception. The weather was beautiful and, upon the suggestion of Breanna, we held the cocktail hour outside on the patio before moving to "Trump's Room" with a spectacular ocean view. Planning was seamless with Breanna, service was impeccable and the food was first class (many guests said it was the best filet they ever had)! Even the sunset was spectacular. An all around ideal experience!

Rose

Married on 03/04/2022

Trump National Golf Club was the ideal venue! Working with such professional staff like Breanna Velasco & wait staff was pure delight!

Best staff to work with! The Trump National Golf Club was the ideal venue! Working with such professional staff like Breanna Velasco & wait staff was pure delight!

Joyce H.

Married on 02/22/2022

A Fairy Tale Wedding! Perfection!

Trump National Golf Club was beyond Perfect for my daughter's wedding. The Trump Room's views are absolutely stunning and the room itself is as well. Breanna was outstanding, helping us with every detail along the way. It was truly a fairy tale come true. The staff was amazing and all our guests had a perfect time. I wish we could go back and do it all again!

Heidi H.

Married on 11/06/2021

Amazing wedding experience with Breanna

Trump venue & Breanna was amazing! Made my whole wedding planning experience smooth and seamless. Despite our wedding being postponed multiple times due to covid - it all went well at the end bc of Breanna's help, she's the best venue event coordinator I've worked with. As a covid bride, I went through multiple venues & event coordinators which made planning all that more stressful but Breanna helped walk me through every step of the way... Trump as the venue was beautiful, food was amazing, and service was top notch. Beautiful venue and ballroom. We even had our rehearsal dinner here, which she helped with as well. 10 of 10 from me :]

Giovanni G.

Married on 10/02/2021

Outstanding

We had excellent reception this fall of 2021.
Amazing views, beautiful outdoor patio and great management. Price was very affordable too.
There's no greater location in LA with the ocean view like that. Property is very elegant and large, big parking lot. It's perfect for wedding. We had a package deal with steak and lobster tail, open bar, good size dance floor. I knew, I wouldn't have any disappointment with Trump property, always excellent service. I loved having Sunday brunches there. Management is very friendly and helpful about any needs, and good at small details.

+ 7

photos

Stephanie W.

Married on 09/19/2021

Excellent value!

I had my wedding here in September 2021. It was a fantastic experience. I initially was hesitant to have my wedding here due to the controversy with Trump; however, I am so glad that I did. The venue is absolutely beautiful and the views are unbeatable. The ballroom is large and luxurious. We did not need to add any additional decorations other than flowers on the sweetheart table and centerpieces on the round guest tables for it to look gorgeous. The area for the cocktail hour is also very classy. You also get unlimited access to a large bridal suite that is right next to the ballroom, which was very important for prep and for taking breaks as needed throughout the day. My mom and bridal party especially appreciated this. The food was absolutely delicious! All my guests commented that this was the best food they've ever had at a wedding. Last, the price is actually very reasonable for the quality of food and venue that they provide. They only do 1 wedding a day, so it is very private. I looked into many other venues, including Ritz-Carlton, Montage, and Pelican Hill. This is most definitely the best value.

Ryan

Married on 10/10/2020

Trump National Golf Club LA

Wow! By far the most responsive venue and staff I experienced in sourcing venues. We had a ball park quote w/in 30 minutes of our email soliciting interest. The staff is extremely professional, accommodating and fun. We unfortunately had a lot of changes due to postponing due to Covid but they were so accommodating and responsive. Not to mention the venue is one of the most beautiful spots in Southern California in our opinion! Worked with Lily and Breanna, both are exceptional at their jobs. You are in good hands with anyone at that venue!

+ 12

photos

Mercy G.

Married on 09/07/2020

The wedding was beautiful

The place is beautiful, the service and the food is fantastic

Carclea

Married on 11/18/2018

Wonderful experience!!!

Monika Wotherspoon is the Senior Catering and Special Events Manager at Trump National Golf Club. More than the beautiful view, the beautiful set-up for our reception and the delicious food, she made our special day just perfect.
We had a Star Wars theme for our wedding, and Monika very enthusiastically let us bring the theme to the reception. She was very professional, accommodating, and so warm and friendly that we were so glad we decided to have our reception at TNGC.
Please consider them as your vendor, they will not disappoint!

Grace

Married on 11/10/2018

Absolute Best Venue

I can't say enough good things about Monika and her team at Trump Golf Course! From the moment we met Monika when we were looking for our perfect venue to our actual wedding day, she was an absolute delight to work with. She clearly values each of her clients and approaches everyone with a big smile and warm heart. She accommodated each of our requests for our wedding and personally paid attention to numerous details on our wedding day to ensure everything ran smoothly. She and her team checked in with us constantly throughout the wedding day and seemed genuinely happy for us. The serving team during dinner was also outstanding (multiple guests told us that they were impressed by the service). Monika did not leave until the last clean-up crew had finished. I would not hesitate to recommend Trump Golf Course as a venue to any bride!

Megan

Married on 11/11/2017

I never imagined I would have my wedding reception at a golf course, or in support of our current president. But I'm so happy that we did. Everything was more magical than I could of imagined. The views are absolutely breathtaking, the ocean looks like cerulean glass! The Trump room is glamorous, gold-gilded, and gorgeous! It was perfect for a reception just shy of 100 guests. Monika was so attentive and considerate during the full year of planning. She was very prompt to reply and always made me feel at ease. I'm a huge foodie, and was thoroughly impressed with the food. The pastry chef who designed our cake, did a fantastic job and it looked just like the picture I submitted. I was most impressed with the gracious hospitality, and attention to detail during our special day!

Danny

Married on 10/14/2017

Say what you want about Trump but this location is breathtaking and is one of the most beautiful places to have a wedding.
The catering manager Monika is also very attentive and helpful in making everything happen for us, she walked me and my wife through this and is very caring and generous. Helpful hint given Trump's reputation currently they are more then willing to help you cater to your budget and you probably spend 2-3 times as much to have a venue this beautiful at other locations.

Ashley

Married on 10/07/2017

We had the most amazing wedding day!! Viviana was so perfect to work with, she heard all of our needs, wants and wishes and really made them happen! We felt like she was on our side the entire time, working along with us to make everything perfect! The entire team is professional, helpful, and kind and we enjoyed visiting the venue for each meeting, tour, and tasting!

The food is AMAZING! We still are getting complements on the dishes that were served and how special each of our guests felt the entire time they were on the property.

A huge thank you to Viviana and her team for making our day perfection! If you are thinking about this place definitely go for a tour, you will not be disappointed and will not regret choosing them to handle your big day! Did I mention the photos? Totally breathtaking!!

Sheila

Married on 01/17/2017

Since the beginning, when my fiancé and I was still scouting for reception venues, we immediately fell in love with the Trump room. We had our wedding ceremony at Wayfarer's Chapel and reception here and it was beyond perfection. The room itself is already very glamorous and did not need any decoration to make it look beautiful. All of our guests were raving how delicious the food was. Also, our catering manager (Viviana) was very helpful and patient with us and making it work with our specified budget. We had the best time here! A lot of memories were made! We would definitely come back to celebrate our anniversary! I highly receommend this venue to anyone who wants to have a great view and excellent service!!!

Evelyn

Married on 09/19/2016

After what feels like an unending search (starting in San Diego!), we met with Monika Wotherspoon from Trump National Golf Club for our wedding reception. We fell in love with both her AND Trump's Room on the 2nd floor! Our guests were awestruck (as we were!) with the amazing views from the room and balcony. The photo ops were fabulous! It was definitely a magical evening but it would not have been possible without Monika's help, attention to detail, guidance and just simply her wonderfully engaging personality! She really made sure our evening was perfect! We couldn't have had a better event! Thank you so much Monika!

Lory

Married on 03/26/2016

We loved Trump National and highly recomended ! We came from Florida and choose that place because of its location .
The views were breath taking and our wedding reception room was soo beautiful !
Katie the catering sales manager was so helpful and every staff was very attentive !
The entire staff did such a wonderful job. Everything was amazing! They were professional and attentive. Food was so delicious we had so many compliments from our guests , Thank you chef ! Above and beyond my expectations.
Thank you guys !

Ashlee

Married on 12/06/2015

From searching through hundreds of venues, I instantly fell in love with the Trump National Golf Course. I just did not know if it was feasibly within my budget, and was shocked to find out that it was!

My first visit, I had a fear of other options (guilty!) so I kept looking, but realized that the Trump had the class and elegance I was looking for.

I was so blessed to deal with Monika, my savior. As many reviewers will tell you, she is fantastic. Not only is she SO responsive to emails, she is immensely helpful, and one of the sweetest people you will ever meet!

Appointments to see her were effortless, and she made sure to have everything in order for us, and was completely accommodating! As I said in other emails, when shopping for vendors professionalism, communication, delivery, and quality are what I look for. Monika and the Trump exceeded all of it.

We also had our rehearsal lunch at the restaurant. It was fabulous with it's Ocean Views and fireplace, and not as expensive as you would think. Monika helped us coordinate this as well.

I am so happy to have chosen to work with Monika and have my wedding at the Trump! I am immensely grateful!


Trump Golf Club in Palos Verdes is an amazing venue! After looking at 23 venues in the Los Angeles area my daughter knew immediately this was the place she wanted to say "I do!" She contacted Katie K. at Trump and the planning began! Katie was exquisite from start to finish answering all our questions and taking the time to get to know us and exactly what we wanted for the wedding! She went the extra mile to make sure everything was covered and her response time to any questions was immediate and with a positive attitude! The beauty of the Trump Club speaks for itself. The exquisite ocean views for the outdoor ceremony,the beautiful entryway and loggia area -along with the crystal chandeliers in the ballroom create a fairy tale atmosphere in itself. But what really appealed to my daughter was the privacy that this venue offered giving her a feeling of intimacy-- which she did not find anywhere else! She also loved the bridal suite - and all the beautiful places that were available for photographs! The food was absolutely incredible and our guests keep telling us it was one of the best meals they ever had! The service was also impeccable! By far --this was the perfect venue for the beautiful, elegant wedding our daughter wanted! We could not have been happier with our entire experience at the Trump and our daughter and her husband are on cloud 9!

We were a bit hesitant to hold our wedding ceremony and reception at Trump, given all of the controversy surrounding him (and this was before he announced his run for president). But we're so glad we did because we loved our experience there! The location is beautiful and private; you get the exclusive use of the side entrance for your guests so you don't have strangers traipsing through your ceremony, like you do at a comparable venue down the road. You have water views from both the ceremony site and the ballroom. The food is incredible (we consistently heard from each of our 200+ guests that it was the best food they had had at a wedding reception) and bar packages are very reasonably-priced. The wedding cake was also beautifully-designed and delicious. Most importantly, we loved working with the catering staff, especially Cathleen. She is incredible at her job, which made our planning so much easier. If you're considering this venue, please don't hesitate…you won't regret it! The professionalism and incredible customer service of the staff make the choice well worth it.

Becky

Married on 04/11/2015

The best decision i could have made was having my wedding up in Palos Verdes on a magnificently beautiful spring day and to have my reception at Trump. I did not have a wedding coordinator ( although i did have a day of coordinator) and because of Monika (catering/banquet manager) i didn't need one. She is the best communicator, the nicest person and someone who is on your side through the process. She realizes putting on an elegant and tasteful and fun evening can be an expense but she will do everything in her power to make the process easy and ensure the event turns out in the experience, ambiance, service and food quality just the way you want it to. Our wedding went off without a hitch and we couldn't have imagined better service or quality of the food. Monika and the rest of the staff at Trump are the best and our guests had a fantastic and memorable evening. I have to say, having done a lot of research on event facilities, for this level of quality and elegance, other places were either more expensive or right on par and not sure you would get the amazing scenic photos as you do here. A good value on top of everything else.

My husband and I hosted a wedding reception at the Trump National Golf Course and the event was a tremendous success. I worked with Monika and she was professional and made the planning process enjoyable. She worked with our budget to maximize the value to our guests. The food was very good and tasted like the food presented at the tasting meal. I would highly recommend the venue and the staff.

Veronica

Married on 11/17/2014

I honestly don't know where to start with this review.....

Any bride who is planning a wedding and looking for a reception space, honestly, I cannot recommend Trump National enough!!!! What a dream come true!!

When I originally planned my reception with Trump I was working with their events manager who was amazing, half way through my planning I got an email saying she was no longer with the company! That is enough to stress any bride out! I was then handed over to Monika Wotherspoon....... WOW, she not only met but exceeded all my expectations! She answered every single question I had and went above and beyond!

If I was to do it all over again I wouldn't change a single thing! This Place was perfect! We had a three course meal, everyone was raving about how delicious the food was, it was absolutely delicious! The staff was amazing and attentive, I could go on and on, I'm still on such a high about my wedding and how Trump, Monika and the entire staff made it so PERFECT!!

Monika!!! I love you so much, thank you for making my wedding so special and taking care of us! I wish I could do it all over again!!

Thank you! Thank you! THANK YOU!!!!!!!!!!!!!!!!!!!!!!!!
Are you interested?
Send a message