Reviews
4.6 out of 5 rating
Quality of service

4.6 out of 5 rating

Average response time

4.6 out of 5 rating

Professionalism

4.6 out of 5 rating

Value

4.7 out of 5 rating

Flexibility

4.6 out of 5 rating
93%
Recommended by couples
Awards
24 User photos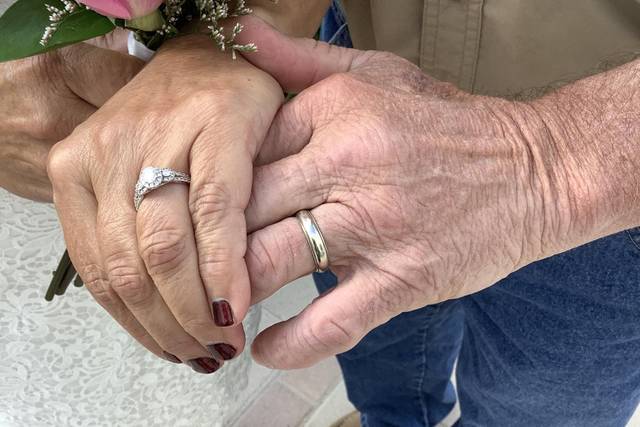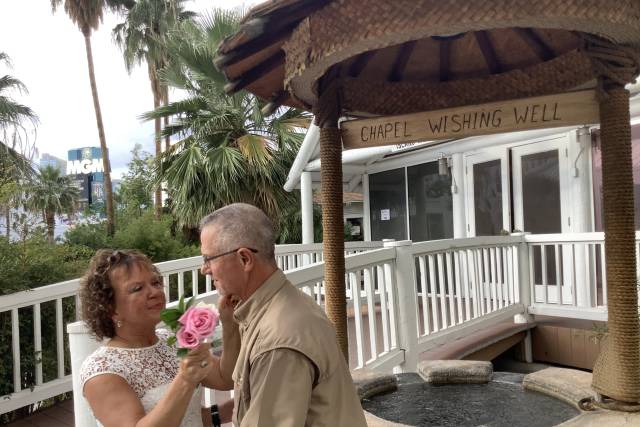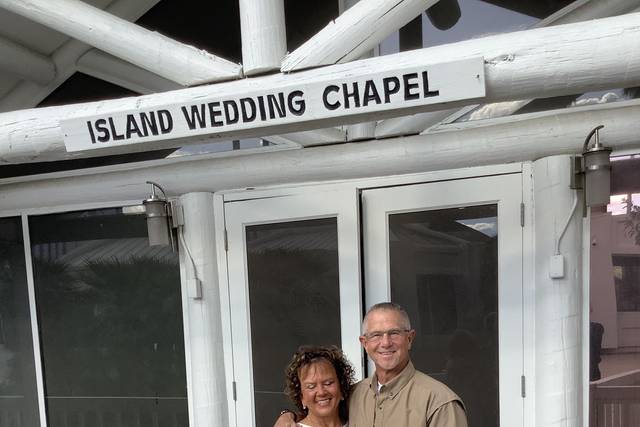 + 20

photos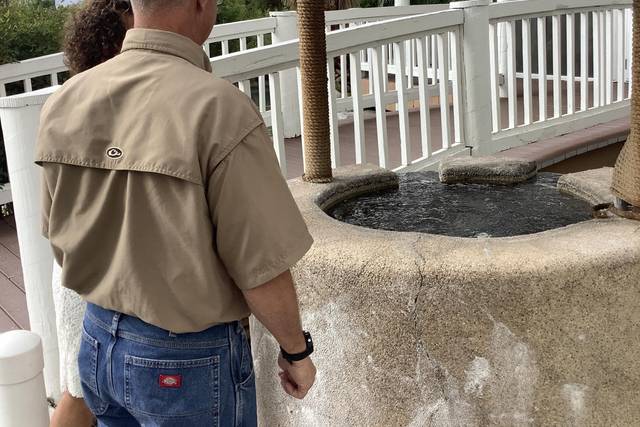 Dee C.

Married on 09/09/2021

The Best Choice!

Our Here and Now Was Awsome with Jeff and Shamai! This was a perfect choice for a marriage for 2. They made us feel like they were our family. Very classy and they took the time to make it more special by listening to our story and including it in our short but sweet ceremony. Amazing! Thank you so much! Dee & Luz

+ 2

photos

Tropicana LV Weddings's reply:

Thank you so much Dee for this incredibly well thought out review. We so appreciate you sharing that you felt like the ceremony was special and that the staff genuinely cared about you and your own unique love story. And yes, each one of our couples certainly does become a member of our family!! Cheers to you and Luz!

Jennifer C.

Married on 05/01/2021

Happily Eloped at the Tropicana bungalow

We were trying to plan a simple elopement in Vegas but the more I looked into the chapels, the more I didn't like this idea. The small chapel's I was seeing were super outdated, and not impressive. I didn't want our elopement/wedding to be like that. I still wanted it to look classy & elegant without paying a fortune. I searched the internet for days trying to find something and then I stumbled upon Tropicana LV Weddings and they had a variety of options which were all very nice. The pricing was fair and it was easy to make payments on and get everything planned from another state. I really liked how simple it was to book this vendor, and how they treated us when we arrived. We chose to get married at The Tropicana in the bungalow and it couldn't have been more perfect. Even though it was just the two of us, we felt surrounded by love. The team (officiant, wedding coordinator, and witness). I would definitely upgrade your photo package if you decide you want photos. I didn't care much for our photos they took themselves, but I did like the screenshots I was able to capture from our wedding video (provided too). If you want something simple, easy and all inclusive this is it! Great service, quick response time, and they made us feel very special on our big day!

+ 3

photos

Bailey M.

Married on 09/27/2019

Courtyard at Tropicana

Everything was perfect! We had our wedding at the courtyard at Tropicana at the end of September. It was beautiful. It has palm trees and cobble stone. Our officiant, Randy, was great! He made our ceremony very personal. Our guests commented on how it sounded like he knew us, even though we had just met. I would 100% recommend!!

Are you interested?

Send a message

Silver

Married on 10/14/2017

Our ceremony was perfect...short, personal, and sweet. My family actually kept commenting about how this is how every ceremony should be. We met with Britany (now on maternity leave) the day before the ceremony to go over the day. We were able to pay all of our remaining fees and tips ahead of time. This was great! Much easier to take care of everything ahead of time rather than having to make payments the day-of. We also got to actually see the Island Chapel (our ceremony location) in person which was great since we had only ever seen it in pictures. We chose the island chapel since we are from Florida and it reminded us of a place we used to stay at in Key West. The room was actually even better looking in person. I didn't add on any flowers or decorations into our package because I figured that nobody would care if there were flowers scattered on the floor but me. I was thrilled to see that the room was perfect for us as-is. My money was much better spent upgrading my bouquet. And the staff was very accommodating in allowing a family member to pick up our flowers early so that we could use them in our pre-ceremony photos at a different hotel. Getting to and from our ceremony was a breeze. And as for the ceremony itself, it could not have gone any smoother and our officiant was great. For somebody who hadn't met us until right before, he didn't stumble once. He gave us standard vows to say "I do" and also allowed us to read our personal vows that we submitted online ahead of time. My only complaint from the day is that our Cashman photographer was not very good. But, I expected this and hired an outside photographer for everything but our ceremony. Photographer aside, the ceremony was absolutely PERFECT and even better than I expected. Looking back, I wouldn't have changed a thing.

Deborah

Married on 02/13/2016

The people, vendors, planners were so awesome to work with and they met our needs and even went above any beyond for us. If I could get married again, I would chose them again.

Brooke

Married on 10/24/2015

Our wedding party stayed at the Tropicana for our October 2015 wedding and it was great! It was newly renovated with a South Beach theme and it was great. We were in the Club Tower and had a nice corner room. It was very clean and quiet. The location is great, as you can walk to anything or hop on the monorail across the street at the MGM. Everyone went out of their way to make sure everything was perfect for our stay. Special thanks to LaDonna at the front desk for all of her help. I would highly recommend this hotel, as the rates were great and it was a wonderful experience from c heck in to check out!!!

Victoria

Married on 05/28/2015

Had the most perfect wedding at the arbor at Tropicana Hotel. Ceremony was just perfect and very personable considering i had never met the minister. Photographer was great and i ended up buying all the photos rather than what was included in package becasue they were fabulous. Would highly recommend this venue and im sure ill be back at one point in future to renew my vows :)

Phil

Married on 03/07/2015

denise and kellie was very helpful we was made to feel very at easy a first class job and a big big thank you.

Brittany

Married on 02/28/2015

My husband and I had our wedding ceremony at the Tropicana. I was a little nervous as we planned it over the phone (actually mostly over email) from out of state. The wedding planners were always so quick to get back to me and made it very easy to plan. When we arrived in Vegas we were able to do a rehearsal the day before and then the day of everything went perfectly! The officiant was great everyone had tears in their eyes during the ceremony (including me!) and the photographer was awesome! We were able to get all of our photos the NEXT DAY! and they came out so great! (and I am very particular about my photos/I was most nervous they would not come out how I wanted) but they came out so nice! I was so happy! I would absolutely recommend the trop chapel to anyone!

Tropicana LV Weddings's reply:

Hi Brittany! We're so excited to hear that you had a wonderful time with us. Thank you for choosing us to share in your special day. We're especially pleased to hear you liked your photos! We hope you'll see us for future anniversaries. Congratulations!

Rosie

Married on 01/18/2015

We recently got married at the Tropicana Hotel and I can say I am very pleased with how it turned out it is A dream wedding come to. I did not expect the wedding to be such A beautiful sight I would recommend this place to anyone and
I am very grateful for Angelica Wilson our wedding planner she is such a blessing. Also everyone else there is such A great help and they are very happy and willing to help its just a great atmosphere there I love it the vibe their is awesome. Couldn't be more happy thank you so much from the Reyes family

Tropicana LV Weddings's reply:

Hi Rosie! We're so glad that you were happy with everything! It was such a pleasure having you and your guests here. Hopefully you can come back for a vow renewal in the future. Congratulations and all the best!

Kali

Married on 01/17/2015

We were blown away by this venue and when our guests showed up they were too! It is such an amazing value for wedding ON the strip! We had the whole outside and inside. The chandelier in the middle with the amazing venue lighting was just insane. And the food! our guests were telling us for weeks how it was the BEST wedding food they have ever had!!

We used the Havana Room at the Tropicana Las Vegas for our ceremony and reception. We could not have been happier. The minute we walked into the venue when we were looking, we knew it would be it. The staff was so unbelievably sweet and helpful. We had guests arguing with each other over which bar tender was more fun. The wait staff was constantly making sure my husband and I had anything we needed. The venue is so beautiful when they have it all set up and lit up. The chandelier is just incredible. We loved having the hallway and the projection screen to show our photos and slide shows. The food was also amazing, which I never say about weddings. The accommodated all of my gluten free needs and the food was amazing. We still have people telling us how amazing the truffled potatoes and butternut squash lasagna (gluten free!) were. It was a really great experience.

Tropicana LV Weddings's reply:

We are so happy to hear that you and your guests had a wonderful time and that they enjoyed our staff! It was a pleasure having all of you here. You were a fun group! We wish you all the best. Congratulations!!

Deb

Married on 12/31/2014

Our Vow Renewal Ceremony was handled beautifully by Tropicana Weddings. We live out of state so Tropicana Wedding staff took care of every detail for us by phone and e-mail prior to us arriving in Las Vegas. Once we arrived at the Tropicana, their Wedding Planner went over the notes with us to ensure every detail was in order. Tropicana Wedding staff arranged for a Reverend who said all the right words for our vow renewal (Reverend Janet Miller). We had a Videographer and Photographer, who did a fantastic job, and our floral arrangements were fresh and beautiful. Tropicana's garden area was absolutely gorgeous for photos after the ceremony. We are very pleased with the service provided and with our choice of location. It was a very memorable experience!

Tropicana LV Weddings's reply:

Hello! We're so happy to hear that you were pleased with everything! We were honored to host your vow renewal. We do hope you come back to see us again very soon! Congratulations and all the best!

We enjoyed our day at the tropicana a lot! They did a good job! It was all awesome.

Tropicana LV Weddings's reply:

Hello! We are happy to hear that you had a great time at the Tropicana! Thank you for the review. Congratulations and we wish you all the best!!!

Dawn

Married on 12/21/2014

Angelica was amazing ! I had some very specific requests and she was able to accommodate each and every one without any kind of hassle or problem - I can't say enough good things about our ceremony and all that was done for us

Tropicana LV Weddings's reply:

Hi Dawn! We're so happy to hear that you were pleased with your experience with us! It was a pleasure having you here. We wish for all the best! Congratulations!

Nina

Married on 12/02/2014

We had a fantastic wedding at the tropicana and both Olivia, our wedding co-ordinater, and the Beach cafe, where we held our meal, were very helpful and quick to respond both before and on the day

Tropicana LV Weddings's reply:

Hi Nina! We're happy to hear that you have a wonderful time with us! It was a pleasure having you here. We do hope you'll come visit us again in the future!! Congratulations and all the best!

Tanika

Married on 11/09/2014

I am from NY and planned my whole wedding via email. Pat from the beach cafe, Angelica and Olivia from wedding services were absolutely wonderful. They provided pictures from the venues and were quick to respond to any questions i had. The ceremony was beautiful as expected and the reception had great food, decor and service! Angelica was extra special helping me overcome my wedding jitters!! All in all my wedding was an experience i will never forget. The pictures came out great and they captured the best moments! (Remember package does not include all pictures you must purchase the rest) The only complaint i have is the wedding video it was hard to hear and you can only see my face during the vows, they should of positioned the camera better. All in all tropicana did an amazing !! Thank you ladies

Tropicana LV Weddings's reply:

Hi Tanika! It was a pleasure working with you and we're happy to hear that we could calm your jitters! We're so pleased to hear that you were happy with everything. We do hope you'll come back to visit us again in the future! Congratulations and all the best!

Kelly

Married on 10/29/2014

We had an amazing wedding at the Tropicana! We had been eyeing the chapel at the Trop for years because of the appealing gardens on the property. So, when we got engaged, it was one of the first places we looked. It was important to me to have great outdoor photos and the Tropicana was perfect for that. We wanted our special day to be about our commitment and love for one another void of the overpriced propaganda of the wedding industry. Weighing a few other locations in Las Vegas, we realized that the packaging and the team at the Tropicana was right in line with our goals to create a beautiful day at a realistic price. There was no hard selling and we were able to order the things we wanted a la carte to fit our needs. They were also very lenient with any changes we made. The girls over there were FABULOUS and could have stolen the show, however the fact that our day was stress-free in a beautiful environment walking down the aisle to the amazingly handsome love of my life far surpassed all my dreams of the perfect wedding leading to the most important aspect of the ceremony… our happily ever after.

Tropicana LV Weddings's reply:

Hi Kelly! We had so much fun with your group! What a fabulous bunch of people you and your friends/family are. It was such a pleasure having you and we're happy to hear that we were able to create your happily ever after. We hope you're able to make that move back to Vegas! Congratulations and all the best!

The staff were friendly and the service was excellent. They catered for my every whim and were lovely to deal with. The venue is particularly beautiful and i couldn't have asked for anything more, it was perfect.

Tropicana LV Weddings's reply:

Hello! Thank you for your kind review. We're so happy that we were able to make your day perfect...that is always our goal! We wish you all the best and we hope you'll come for future anniversaries! Congratulations!

Natalie

Married on 10/25/2014

The Tropicana was AMAZING!! I was extremely nervous planning a wedding from Florida and not being able to see the venues in person but the pictures that were provided by Katie (ceremony coordinator) were all I needed. The staff at the Tropicana is exceptional. Katie, the ceremony coordinator, was so quick in responding to emails and answering every question I had and making sure anything I needed/wanted was taken care of. Trish, the reception coordinator, was just as great. Although there were no pictures provided of the Montecristo banquet room where my reception was held, I was happy and just as amazed at how beautiful Trish and her team made the room look. The Tropicana's grounds make for BEAUTIFUL pictures. We had such a great and beautiful day and I can't imagine having my wedding anywhere else. I'm so happy I held my wedding here!

Tropicana LV Weddings's reply:

Hi Natalie! We're so happy to hear that we were able to create a beautiful wedding for you! We know planning from afar can't be easy and it's always our goal to make it easy for our couples. We wish the two of you all the best! It was a pleasure having you!! Congratulations!

Leanne

Married on 10/24/2014

We were given a magical wedding and will remember this for the rest if our lives amazing location will be back to make more memories x

Rossybel

Married on 10/18/2014

From the moment that we first laid eyes on the Havana Room we knew this was going to be the perfect venue. The Tropicana's Havana Room is like no other venue. It is not your traditional wedding banquet hall with endless amount of round tables. The chandeliers that surround the entire room are breathtaking & had my guest talking for days. However, no matter how beautiful the venue is, it was the people that we worked with that made our special day a fairytale. Olivia directed our ceremony, that was also in the Havana Room, and Jae directed our cocktail hour and reception. Olivia and Jae were absolutely amazing at keeping in contact with me through out the entire planning process. The vision that I had for our big day was beyond perfection.
Our ceremony package included a string trio and our guest loved the arrangement they played. We had a flawless ceremony thanks to Olivia & her assistant Katie. Katie was an absolute doll. Having the ceremony inside of the Havana Room was one our best decisions.
Jae, the reception coordinator, couldn't have been more perfect. Jae is probably the most patient person I have even met. As a anxious, nervous, and stressed bride she knew exactly how to calm me. We exchanged numerous emails back and forth regarding guest count, dinner choices, wedding date timeline, & not once did I ever feel like I was bothering her. Jae was organized & professional so I knew our wedding day was going to be perfect. All of our guest praised the hors devours during cocktail hour and they loved the plated dinner that was served. I can not keep saying how perfect our wedding day was! Also Essey, Jae's assistant, was simply amazing! She kept the evening running smoothly & on time. Also huge thank you goes out to Jeff & his A/V team. The lighting was superb and it felt like we were at a high end club. I forgot to mention the cake we got through the Tropicana was the most delicious cake I've ever had. The evening couldn't have been more perfect!

Tropicana LV Weddings's reply:

Hi Rossybel! Thank you so much for your kind words. We are so thrilled that we were able to assist you in creating your dream wedding. It was an absolute pleasure working with you and we're happy to hear that we could make you feel at ease. You and your new hubby are such a cute couple. We loved having you! Congratulations!

Sarah

Married on 10/18/2014

When the decision was made to get married in Vegas, we were a bit overwhelmed. Wedding planning seemed overwhelming, but planning a destination wedding just seemed crazy! All of the anxiety was erased when we began talking with Katie and Angelica at the Tropicana. They were amazing, prompt, and so easy to work with. The ceremony turned out better than I imagined it would be. Night time wedding In the Terrace provides a wonderful backdrop of the lights of the Las Vegas Strip. I must also give kudos to Tina Basilio who was our point person for the reception. So easy and wonderful to work with. If you are planning a wedding in Las Vegas, I highly recommend the Tropicana!

Tropicana LV Weddings's reply:

Hi Sarah! We're so happy to hear that everything turned out better than expected! We're also glad that you loved the Terrace area. It really is beautiful at night time. Thank you for the kind review. Please come see us again in the future for a vow renewal! Congratulations!

Adloma

Married on 10/11/2014

We had a great experience at The Tropicana! We had a destination wedding in Las Vegas and it was so much more stress-free than if we had been married at home. Our coordinator was great when we requested a different location the day before the wedding due to circumstances beyond either of our control. When the alternate location fell through, our coordinator went above and beyond and upgraded our location to their premium spot at no additional costs. The ceremony and reception were beautiful and we couldn't have asked for anything more. Thank you Tropicana! :)

Tropicana LV Weddings's reply:

Hi Adloma! It was a pleasure having you! We do truly apologize for the circumstances that occurred, but are very happy we were able to find a beautiful location for you that was available and that you were pleased with! We do hope you will come back to visit us again in the future. Congratulations and we wish you all the best!

Alexa

Married on 10/11/2014

The wedding coordinators at the Tropicana are amazing! Olivia coordinated with me through email and together we were able to plan my entire wedding online. I have never been to Las Vegas and the fact that I was planning for my wedding made me a bit nervous, but Olivia set me at ease. She was able to accommodate my every request answered all my questions, even though most trivial questions immediately. I even requested a time change after I signed the contract and she was able to accommodate my request with no problem at all. I arrived to Las Vegas the day before and Angelica met with me to show me the venue and answer any last minute questions I had. The day of my wedding Katie and Angelica took care of everything to make sure that my ceremony was perfect, down to my weird request of wanting to start a song at a certain time mark. This was also the first day I saw my wedding bouquet. I requested to bring my own peacock feathers and other bouquet embellishments and they offered to place them in my bouquet for me! The flowers turned out perfect.

Naturally I was so worried about things going wrong at my wedding day, especially since it was going to be in a location I have never been nor seen. Not only will I always recommend Vegas to get married but I will always recommend Tropicana for the venue. If you want extremely attentive, responsive, and friendly wedding coordinators this is the place to be. The ladies took care of everything, all I had to do was show up. My wedding day was perfect and beautiful and I couldn't have done it without their help.

Tropicana LV Weddings's reply:

Hi Alexa!! Thank you for the very kind review. It is always our goal to make this an easy process for our couples and we want you to feel at ease. We're glad we were able to accomplish that with you! It was a pleasure working with you and having you. We hope you'll come back for a vow renewal in the future! Congratulations!
Are you interested?
Send a message