Reviews
4.9 out of 5 rating
Quality of service

4.9 out of 5 rating

Average response time

4.8 out of 5 rating

Professionalism

4.9 out of 5 rating

Value

4.8 out of 5 rating

Flexibility

4.9 out of 5 rating
97%
Recommended by couples
9 User photos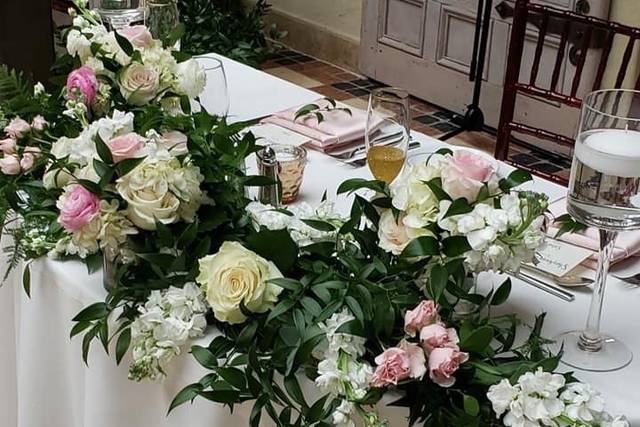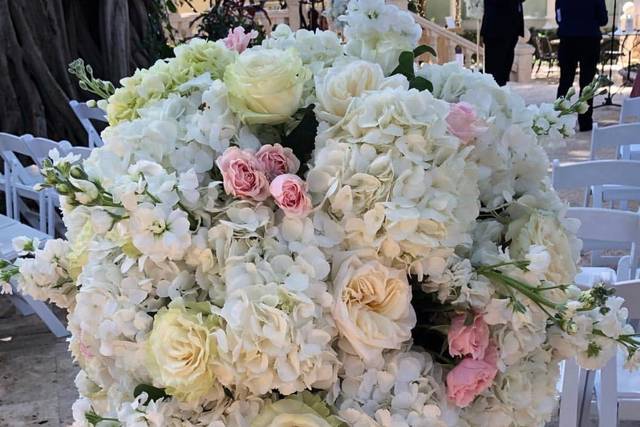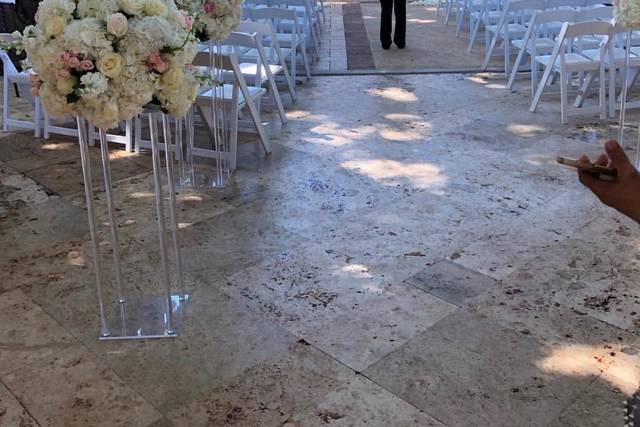 + 5

photos
Tropical Elegance

Can I just say how much I love love LOVE Mixen. He was the first person I had contact with and he made the process so easy for me. He understood my vision from the very beginning and was flawless in his execution.

When I saw my personal flowers on the day of the wedding, I was speechless. The flowers looked amazing, and he even included more expensive flowers in my bouquet that I hadn't initially requested (what a gem!). I was blown away by the ballroom flowers and the cake flowers. The tropical elegance team truly made my special day magical.

Shoshana B.

Sent on 06/12/2019

Stunning wedding flowers!

Tropical Elegance, Inc. made my wedding absolutely beautiful and I highly recommend you use them as your flower vendor for any special occasion. As an out-of-state bride getting married in South Florida, Tropical Elegance made my wedding planning so much easier. Joan and Mixen were very responsive, reliable and paid special attention to detail and my desires. They used video technology for our conference calls to ensure I was pleased with my order. Their execution on my wedding day was flawless and the design and quality of the flowers exceeded my expectations. I am so glad I chose Tropical Elegance for such an important day. My wedding guests are still raving about my flowers!

+ 2

photos

The most incredible floral arrangements

Joan and Mixen at Tropical Floral Elegance we're absolutely incredible, not to mention the florals they provided for our wedding. Joan and Mixen did a lot of custom work for our wedding. We provided them with inspiration pictures that we found online rather then choosing items from their portfolio. I received numerous compliments regarding our florals the night of the wedding. Even the staff who works at our venue and has events every weekend said these were the most beautiful arrangements they have seen. Thank you Tropical Floral Elegance for everything! Our wedding was outstanding!

Are you interested?

Send a message

Amazing service!

We were so happy to find Tropical Elegance and work with Mixen and Joan , who we Skyed with for a consultation since we lived out of town. Its a bit scary when you tell a Florist what ideas you have and trust they understand, but they made it even more beautiful than we expected! Plus they work with your budget and are very versatile. They helped us re-use the flower arrangements for our ceremony in our reception, and it looked amazing!
They are also very patient and kind. Mid wedding planning, we received the bridesmaid dresses and the color was a bit lighter than expected. I had a change of heart and decided to change the colors of our flowers as well as add a few more details to the ceremony. I'm so thankful they were so understanding and listened to my concerns. Never made me feel like a bother and they deliver! Our bouquets and arrangements looked so beautiful and elegant! We highly recommend them for your next event or wedding!

I'm so glad my husband and I went with Tropical Elegance! Joan was a pleasure to work with and made our already beautiful venue even more amazing! Joan is extremely talented and and I felt confident after our first meeting that she would deliver exactly what we wanted, and that she did. From my beautiful bouquet to the exquisite table arrangements, the flower quality and placement of everything was exceptional and Joan went above and beyond to make sure everything was perfect and also worked with our budget and made everything affordable. Couldn't have asked for a better florist. I'd highly recommend using Tropical Elegance for your wedding or any other event!

Karine

Sent on 01/09/2018

I was very satisfied with everything. 5 stars all around. Joan was able to realize what I had in mind and expressed to her. The flowers and candle atmosphere were exactly what my daughter wanted for her wedding. My daughter in law worked with her for her own wedding 1 year ago, and was very satisfied too, that is why I called upon them for my daughter's wedding this year and again we were all very satisfied. I would definitely recommend her and will again call upon Tropical Elegance for their help when my last daughter gets married.

Perfect!! Everything went so well!

Jeannie

Sent on 12/16/2017

Joan, Mixen and the team made my wedding day extremely special. They did such an amazing job. They were very professional. The decor, flowers, setup was beautifully done. They gave me exactly what I ask for. It was such an amazing experience working with Tropical Elegance. I would definitely recommend them to everyone. Next event, I'm calling you.

Thank you

Michelle

Sent on 11/05/2017

Tropical Elegance was absolutely amazing. Joan, Mixen, and the team understood everything we wanted for our special day. Our wedding was November 3, 2017 at The Addison. The flowers and decor were amazing and exceeded my expectations. Very highly recommended!!!

Just wanted everyone to know what a excellent job Tropical Elegance did with our floral arrangements. I know Joan and Mixen put in a tremendous amount of time to make sure everything was perfect. Outstanding work!!!

This company was a pleasure to work with. They did a beautiful job at my daughters wedding. They were aware of my budget and provided beyond beautiful center pieces bouquets and an outstanding chupah. I would recommend them 100%

Jennifer

Sent on 05/29/2017

After speaking to about 5 other florists for my Florida wedding, the decision making stopped at Tropical Elegance. I was so mentally and physically exhausted by the time I met Joan, but she turned it all around. Her shop was lovely and charming, and she was so kind. As we were discussing colors and design visions, she was really listening and getting a feel for my style. There were certain things that I mentioned, that her response was "oh, I already could tell you would/wouldn't like that" which made me feel like she already knew what I wanted better than I did.
She and her office were extremely responsive and helpful. This was was most helpful to me, as I was planning a Florida wedding from overseas. On the day of the wedding, the bouquets arrived a littler earlier than expected, which was great...and they were so beautiful...even better than I had pictured in my head. Being overseas, I felt like I had a little less control over what they would look like, but Joan NAILED it! I'm also so glad I got to see her before the ceremony, as she was there making sure everything was set up perfectly, so I could hug her and thank her.
I highly recommend Joan and Tropical Elegance for your floral and decorative needs. She is kind, flexible, professional, responsive, and easy to trust with the little 'unknowns'. Thank you Joan!!!

Amazing experience. Listened to everything that we wanted. They changed major details that I wanted to change about 2 weeks before the wedding with no issues. Everything looks absolutely perfect and just like we wanted! Would definitely use them again!!!

Lauren

Sent on 04/07/2017

Mixen was incredible to work with. He was very patient with me while deciding on the decor for my wedding and offered several different ideas at various price ranges. Since we had a destination wedding, my fiancé and I weren't able to meet with him in person so he sent us multiple emails with pictures of his inspiration for our day. The pictures he sent were beautiful, but couldn't compare to what he actually created for us. We were truly stunned and felt that Tropical Elegance delivered far more than promised!

User2972742

Sent on 02/12/2017

Simply put, the flowers were one of our favorite parts of the wedding!. We met with Joan only once in person and months in advance of the wedding because we were leaving the country and not coming back until a few weeks before the wedding. It only took one meeting to know we wanted to work with her and to plan the basis of everything. Between our meeting and the wedding we changed a lot of things like expected, and we had I don't know how many proposals remade, but we were able to organize everything just by communicating via email with Joan and through our wedding planner. Joan and Mixen were super understanding and patient and most importantly, they were able to put everything together exactly how we envisioned it and met our expectations and way more!. They also did everything in their power to help us stick to our budget which we were able to do and which we really appreciated. The flowers were just simply gorgeous and they smelled incredible! I wanted to take all of them with me home, and had guests who wanted to do the same!. All the guests kept commenting on how gorgeous and how fresh the flowers were. We had a grid of hanging flowers above us for the ceremony, the aisle decor, personal flowers, we had center pieces for the cocktail hour, welcome table, place card table, a combination of high and low center pieces for the reception and a long hanging center piece for our royal table and everything was just amazing. We'd like to thank Joan, Mixen and the rest of their team for putting everything together so perfectly and making our day feel so special and unique. Can't recommend them enough!

Courtney

Sent on 11/30/2016

Joan and Mixen created the wedding of my dreams on November 19th at Deer Creek. All of the guests, including other vendors, kept commenting on how fragrant the gorgeous garden roses before. One vendor stated, "it has been awhile since we've been to a wedding where the roses actually had a fragrance." I cannot say enough about these two dedicated and caring people. During the planning process we had to reschedule our viewing of the centerpieces due to Hurricane Matthew, they were so responsive and rescheduled our meeting right away. We truly struck the jackpot when picking Tropical Elegance as our florist.

The flowers that were provided by Tropical Elegance for my wedding were absolutely beautiful! The bouquets and centerpieces were exactly what I wanted and the décor for the church was perfect. Joan and Mixen were so helpful throughout the planning process and took the time to understand our vision. Highly recommend!

Bernadette

Sent on 02/13/2017

The Tropical Elegance team was absolutely amazing to work with! Joan and Mixen were wonderful and showed so much patience and professionalism. They answered all of my questions quickly and offered a lot of flexibility when it came to adding/removing items from my order. I came in with a modest budget and they were still able to deliver the vision that was in my head! My favorite thing about Tropical Elegance? I felt like I was working with honest people, not just another "wedding company". I never felt like I was getting taken advantage of or paying for extra items that I really didn't need. Mixen and his team were extremely understanding and patient the day of when I wasn't sure if the wedding ceremony would be happening outdoors or not due to a rain storm which I really appreciated. I was able to take home the bouquets, centerpieces and the vases that the centerpieces came in. Tropical Elegance was hands down my favorite vendor that I worked with while planning my wedding. Thank you for making my big day a gorgeous one!

Tropical Elegance was the best vendor to work with and they were very professional. Just like everyone that starts planning a wedding we had a budget and they were able to work with us and give us exactly what we wanted on our special day. The flowers were absolutely gorgeous and everyone loved them. At the last minute we decided to add the chargers and they were worth every penny. Thank you Joan and Mixen for making our wedding a dream a come true.

Myriam

Sent on 11/16/2016

My guests were in awe! The decor was my primary concern aside from my wedding dress. My wedding was in a gallery and I had a non traditional, over-the-top, modern, expensive wedding vision on a limited budget (under $8-7k). No lie, one florist quoted me $35k and other $17k. I met with a few florists and was skeptical as some didn't understand my concept of hanging flowers and votive candles. If you don't know what I'm talking about, go on Pinterest and put in hanging flowers and votives. Yes girl!! When I met with Joan and Tropical Elegance she immediately understood the look I wanted but I was still skeptical if she truly understood b/c her price was way to reasonable. When I tell you she came through, SHE CAME THROUGH. I had tulips flown from Holland! Roses that looked and felt like velvet (called black majic roses FYI) and an 8 foot hanging bouquet above my sweetheart table! I also had two long royal tables for my guests with a runner of bouquets and candles ,not flower petals, BOUQUETS. My vision was from a bar mitvzah designed by Tantawon Bloom, to give you an idea of the look and the cost I expected. The look I got, the cost was only a fraction of what it looked like it cost. I am competitive person and I wanted my wedding to be like no other. I had the wedding of the year and I'm not just flattering myself. Joan's decor played a huge factor. If you want the basic, traditional wedding- Joan can do it. If you want a princess fairytale wedding- Joan can do it. If you want an over-the-top, unconventional, modern wedding- Joan can do it. I can not thank her enough because I had high expectations and she delivered! I'd write an essay if I could. Just amaze-balls!!

I only cried once on my wedding day and believe it or not, it was when I walked into my venue before the cocktail reception began and before guests started to arrive and saw the incredible floral centerpieces Joan and the team and Tropical Elegance had arranged. I came to them very last minute with a vision and a tight budget and they delivered amazing!!!!!!! They brought my vision to life and gave our wedding day the perfect floral touches I could have ever imagined! The team is professional, knowledgeable, responsive and willing to go above and beyond! I will use this company for any further events! They made our day so much more memorable! Thank you!!!!!!

Kristen

Sent on 06/21/2016

Joan and her team made my vision for my wedding day come to life. Everything was absolutely perfect. Simply beautiful and elegance! Everyone keeps talking about our floral centerpieces, not only how beautiful they were but also how amazing they smelt. They were more than I could have imagined them to be. Highly recommend!!!

Tropical elegance gave us everything we dreamt of and more with our flowers. They were absolutely stunning, and more than what I expected to get for the price. They really listened to exactly what I wanted and got every detail perfect. Our arch was the star of the show, as were the bouquets and center pieces. Even the chair ties and the rose petals along our aisle were more than we had expected and absolutely beautiful. They even gave us lots of added extras for free and made the day extra special. Thank you to everyone on the team! I will highly recommend you to all my friends in the area!

Barbara

Sent on 03/13/2016

I knew that Tropical Elegance was the best choice for my flowers from the moment that Mixen answered my call. He was excellent, with a great personality and experience/knowledge. When we showed up on their doorstep the next day, without an appointment, they were extremely kind and sat down with us to go over what we wanted. I'm not sure that other businesses would have
accommodated us the way that Tropical Elegance did. Joan went over all of the details with us, making sure that everything was exactly the way that we wanted it, right to the time of delivery. The flowers were beautiful, making our day absolutely perfect!!! My husband & I would strongly recommend Tropical Elegance!!!! Thank you, Mixen, Joan, & Staff for making our day "Special"!!!
Jeff & Barb Branch

Brittany

Sent on 03/11/2016

I had a wonderful experience working with tropical elegance! They were always available to answer any of my questions and tweak anything I wanted to change or add. I felt like I barely had to do anything other than say what I wanted and they delivered beyond expectation! I would highly recommend them to anyone who is looking to hire a florist for their wedding or event. Their prices were the most reasonable out of everyone we looked into as well. Thank you, Tropical Elegance, for making our wedding beautiful!
Are you interested?
Send a message