94 Reviews
Recommended by 100% of couples
Quality of service

5 out of 5 rating

Average response time

5 out of 5 rating

Professionalism

5 out of 5 rating

Value

5 out of 5 rating

Flexibility

5 out of 5 rating
4 User photos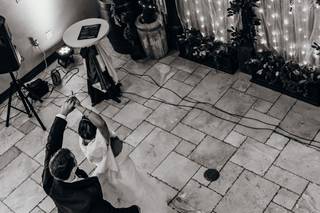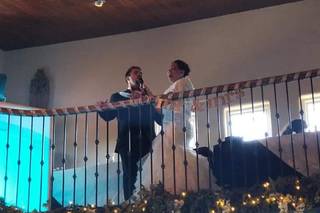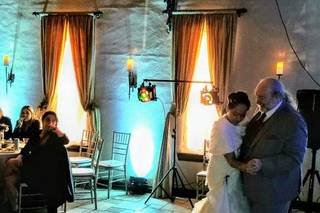 Featured

Chris N.

Married on 11/05/2022

Outstanding Bilingual DJ!

The service from Trivino Entertainment was outstanding. We had a bilingual and multi-cultural wedding so we knew the selection of a good DJ was even more important in order to keep the atmosphere flowing and make sure there was an engaged / lively dance floor from beginning to end. We just provided a set of songs to Trivino Entertainment to give them a flavor of the music and mood we wanted and they took care of the rest. They kept the dance floor packed all night! Andrew and Team delivered the playlist and much more. They kept the timeline on track and accommodated changes with ease all while making sure the night was an incredible memory for us. We highly recommend Trivino Entertainment for your wedding DJ needs. They know that we appreciated all they did to make this memorable night so special to us that we'd happily be a reference and talk to any future couple looking for a DJ.

Jennifer E.

Getting married on 07/10/2023

Memorable Events

I have had the opportunity to attend two events that utilized this company. From the music selection to event coordination, the crew seemed to have taken considerable effort into making everything a memorable event. Whenever I plan to have my wedding in TX I will be contacting them first!

David P.

Getting married on 04/03/2023

Happy Day made Happier

They provided awesome service and were extremely flexible with any changes due to the pandemic. They never complained once and always had a smile on their faces thanks for an awesome day.

Are you interested?

Send a message

Michael R.

Married on 01/20/2023

They were amazing!!!

There were SOO many options to choose from but ultimately went with Trivino Entertainment! Found them in a fb group where another couple recommended them. They took care of our dj, wedding planning, and floral. It was important that all of our vendors were bilingual since a lot of our guests only spoke Spanish. Maria was our wedding planner, Steven was our Dj, and Aimee did our floral. Maria helped us every step of the way, and made sure we got everything we wanted in a wedding. Cannot thank her enough!! Steven played the most amazing music and had everyone non stop dancing!! Aimee charged us a really good price, and absolutely made all of our floral the way we wanted it just by showing her pictures. All in all, Trivino Entertainment went above and beyond!!

Michael P.

Married on 01/14/2023

Trevino entertainment

Trivino was amazing!! I had a destination wedding in Austin so I needed someone to take care of everything since we don't live there. We ended up going with Trivino Entertainment since they offered so many services. Maria was our planner, and she kept us in the loop, and was absolutely amazing!! She gave us a list of vendors to choose from which was not many since we ended up booking wedding planning, Dj, photography, videography, Photo Booth, bartending, and floral. I hear my friends complaining about the amount of stress they are under planning their wedding, but Trivino Entertainment delivered and planned the whole thing just the way we wanted it!! I recommend anyone in Texas getting married to hire Trivino Entertainment

Alex B.

Married on 12/02/2022

Worth Your Investment

My wife and I hired Trivino Entertainment for their DJ, videography, and photo booth services to make our wedding day special and one to cherish. Andrew and Maria were understanding and cooperative regarding our needs. For the music, Steven played our music choices in addition to instrumentals during other moments of our reception. Jeremiah was stealthy throughout the ceremony and reception capturing behind-the-scenes and emotional moments with our guests. We ordered pops with the photo booth offering that our guests thoroughly enjoyed. We would highly encourage anyone to hire this vendor for any event.

Mauricio H.

Married on 09/17/2022

Very Good Very highly Recommended



We found trivino Entertainment on
wedding. After looking at all of their
reviews, we knew we had to have
them for our wedding. Initially we
only inquired about djing, but then
we saw all of the services they
offered. We ended up making our
own package with di, wedding
coordinating, and videography.
They even gave us a discount for
booking SO many services which
helped a lot. Having booked them
for all our services definitely saved
us a lot of time and money. Aimee
was our month of wedding
coordinator. We had weekly calls to
make sure everything went
smoothly which it did. By the type
of questions, and forms she had us
fill out you can definitely feel they
were true professionals that knew
what they were doing. Dj St3ddy
was our D, and he was absolutely
amazing. Hands down simply great.
Felt like I was back at the club in my
early 20's. Jeremy recorded the
whole day and put it into a 3-4
minute reel that we still watch every
day. Can't thank trivino
entertainment enough.


Jeff G.

Married on 09/03/2022

Diamond package is Amazing!

We had an amazing wedding and can't thank trivino Entertainment !! We could not have done it with our you. Your diamond package saved us sooo much time and money. I can't stress the relief of just going to one person for all of your wedding needs. Amber was our wedding coordinator, who organized the whole thing, and made a whole game plan of what needed to do every week. Tom was our dj who just killed the dance floor and our feet. People didn't know whether to keep dancing or go get a drink. Our bartenders were friendly and made amazing drinks. Photo booth was a big hit! We ended up using it as our guest book album. Andres and Jeremiah were our photographer and videographer. They made sure our pictures and video came out better than what we ever imagined. Can't say enough on the amount of time and stress we saved coming to trivino entertainment for most of our wedding services. Highly recommend going this route. All in one package.

Juan T.

Married on 08/20/2022

Spectacular

Definitely recommend Trivino Entertainment for anyone looking for wedding entertainment. Our DJ was Tom, and did everything he said he was going to do in our phone meeting. He had people dancing the whole night! Thanks again for everything Trivino Entertainment.

Nydia G.

Married on 08/03/2022

Affordable & phenomenal!

We hired Trivino Entertainment as our day of coordinator (Maria) and DJ services - Maria was AMAZING! Maria was energetic, professional, prompt, flexible, & readily available. She went above and beyond on making sure our wedding day went PERFECT! Also we want to THANK the DJ! He did a PHENOMENAL job! He listened to ALL of our requests and his playlist was AMAZING! I can't thank your team enough for helping us with our special day! Thanks to Trivino Entertainment we had the wedding of our dreams!

Stuart G.

Married on 07/30/2022

Amazing experience

I got the diamond package along with wedding videography from Trivino Entertainment. Month of wedding coordinator, dj, photo booth, bartender, venue lighting, and games all at one company for a good price compared to other vendors I shopped around at. Dj did such an amazing job, that everyone's feet were hurting the next day from dancing SOO much! Bartenders were always one step ahead, and had memorized everyone's choice of drink by the end of the night. Photo booth was a hit with our guest. We used the phot booth album as our guest book which I definitely recommend. The video produced flowed very well and looked absolutely amazing. Maria the owner/wedding coordinator literally handled everything for me. All I had to do was do my 30-45 minute weekly calls one day a week for a month to make sure everything was perfect which it was!! Words can't express how happy we are that we found this company. Thanks again for everything Trivino Entertainment.

Roy N.

Married on 07/22/2022

Wedding in Austin

Trivino entertainment handled all of my weddings needs in Austin. This was a destination wedding for us, so having them take care of most of our wedding needs was very stress free. Maria was the best wedding coordinator I could every ask for. She thought of everything, and made sure everything was organized and went as planned. She even saved us a couple times with her emergency bag. Steven was the best wedding dj for our crowd. It was a mix of hip hop, rap, and Spanish music. Jeremy's video came out amazing and caught all of our special moments on video. Andres was our wedding photographer who was hilarious and new how to make us laugh and smile for our pictures. Instead of talking to 10 different vendors, I highly recommend just going to trivino entertainment. So yourself the head ache and trouble of finding multiple different vendors. 10/10 would definitely hire them again if we ever came back to Texas!

Priscilla

Married on 06/24/2022

Making our wedding a dream come true

My husband and I hired trivino entertainment for our wedding and all I have to say is, all the reviews live up to the hype. They really are that good. We used their wedding dj, 360 booth, and bartending services. Andrew was our DJ and he absolutely lit up the dance floor. So much so that my cousin even hired him for her wedding next year. All of the guests loved the 360 booth. Something new and different that everyone really enjoyed. Bartenders were professional and fast which was important for us because we have a hard drinking family. Too many good things to say about this company. Thank you soooo much for making our dream wedding come true!

Tj Goaley

Married on 06/24/2022

Wedding savors!!

We saw Trivino Entertainment at a friends wedding and were soooo impressed we decided to book them for our wedding. Dj(Josh), wedding coordinator (Maria), and photographer(Andres), photo booth (Rain). This team of 4 absolutely nailed it. All of our guests can't stop talking about how much fun they had. Maria took care of all our wants and needs. Everything went exactly as we wanted it, our dream wedding!! Their prices were also very good compared to other vendors we saw. Definitely recommend Trivino Entertainment for any one getting married.

Diana A.

Married on 06/11/2022

Top of the Line Service- Smooth, organized, and was able to focus on our special day!

We had a destination wedding in Austin, Tx and didn't know where to look. We went on wedding wire and found trivino entertainment. Couldn't help but notice all of the amazing reviews. Long story short, we booked them for our wedding coordinating and dj services! Amber was so organized, and made sure all I had to do was show up and enjoy my wedding. DJ St3ddy was our dj and he played everything we wanted. It was nice that he called us a week in advance to double check, and see what kind of flow we wanted for the open dance portion. Their set up was one of the nicer set ups, specially with the all white which goes with the wedding theme. Would highly recommend Trivino Entertainment to any one getting married in Austin, Tx.

Ryan

Married on 06/10/2022

The stressless wedding.

I went with the diamond package while adding the wedding officiant. This made everything soooo much easier. I did not have to go to 20 different vendors. The fact that Trivino Entertainment provided the DJ, photo booth, wedding coordinating, and wedding officiant made planning for my wedding that much easier. All of these vendors under one company, which means one bill, one person to talk to. My phone consultation with Maria went amazing! She helped coordinate the whole thing. The weekly calls definitely helped iron out all of the problems. Would definitely recommend Trivino Entertainment to any couple out there looking for multiple quality services. The real one stop shop. Thanks again for everything!!

Alva M.

Married on 05/13/2022

Spectacular and unforgettable

Maria was the month of coordinator for our wedding! She was absolutely amazing from start to finish. From the weekly phone meetings, to being extremely organized. She took care of all of my vendors for me and All I had to do was show up on my wedding. I would recommend Trivino Entertainment to any of my friends looking for a month of wedding coordinator. Save yourself the stress and get a wedding coordinator.

Molly M.

Married on 05/08/2022

10/10 would recommend!

I absolutely loved working with Trivino Entertainment. As a venue and wedding planner, it is a HUGE added bonus to work with professional, kind, diligent, thorough, and FUN vendors. Andrew and Maria were on top of all the details, and they provide so many services beyond DJs. We had their photobooth and yard games along with an incredible DJ who kept their dance floor packed. I would highly recommend their services if you're in the market for a killer DJ. I can't wait to work with them again!!

Chloe

Married on 05/07/2022

Excellent experience!!

I was referred to trivino entertainment from a friend that got married. Josh and Maria were exactly what we were looking for. Maria is so kind, and so organized and absolutely helped make my wedding extra special. She really thought of everything and made sure everything I asked for came true on my wedding day. Josh djed and played all of the music I wanted for ceremony, and reception. He even got on the dance door for all of the line dances which made even more fun. He even played all of the last minute song requests when the dance floor opened up. Would definitely recommend them to any one looking for an amazing dj and wedding coordinator. Now I will be the person doing the referring to friends.

Ray G.

Married on 04/23/2022

Best of the best!

Where do I even begin? We hired Trivino Entertainment for our Wedding last month, and I'm STILLLL over the moon about my special day! We booked their Diamond Package (which, first of all, was the smartest thing we could have done - because who doesn't love a one-stop shop?!). Amy was our coordinator, and she was nothing short of AMAZING! From day one, and from start to finish, she was always prompt and available. Very kind, very patient, very professional, and most importantly - very knowledgeable. She was always one step ahead. Amy put together the most perfect timeline, was on top of all of my weird wedding requests, on top of all the vendors, and completely took care of a bunch of little fires that I didn't even know were happening (thank goodness, because I would've freaked the F out). The day was literally seamless! Josh was our DJ and he crushed it on the dance floor! There was a pile of shoes off to the side because everyone's feet were hurting from dancing so much! He played all the jams - country, hip-hop, mainstream EDM, 90's, top hits. He even took me back to my college years with some 2000s! I was sweating so much, it was so gross (but I loved it!) We ended up upgrading the classic photo booth to the 360 Video Booth and that was hit! I had never done one of those before, but after watching the video on their website, I knew I had to have this! Their booth attendant was super interactive with us, and the guests absolutely LOVEDDD it! It was sooo cool! Last, but certainly not least, Trivino's Bartending Staff was EXCELLENTTT!! We had a pretty big drinking crowd, and we were super impressed with the bar staff's professionalism, SPEED, and friendly smiles. I love that they provided all the drinkware, coolers, ice, mixers, and additional bartop (since we needed more than one bar station!). I love that Trivino's entire team came in, took over, and took charge. Honestly, I don't even want to imagine what my day would've been like without them. Needless to say, I highly HIGHLY recommend them.

Hylton C.

Married on 04/09/2022

A pleasure to work with!

Working with Maria was an absolute pleasure. Communications prior to the event help immensely in order for me to be primed and ready to play my pipes.
Highly recommended and look forward to working with Trivino's again!

Colleen C.

Married on 04/02/2022

Exceptional vendor through & through!

We are SO glad we hired Trivino for our photobooth and lawn games setup at our wedding! They were excellent communicators, super detail oriented, and just generally great vibes at the wedding. The photo booth was a total hit, and I loved that we had a physical album of pictures to take home with us at the end of the night. Lawn games were so fun, really glad we added those on. Excellent value - if you're on the fence, you won't regret it!

Alayna S.

Married on 03/26/2022

Don't Look Anywhere Else

We found wedding planning for an event in Texas while living in California a bit overwhelming and difficult. We reached out to Trivino 4 months before our big date to help us think though the final push to get to our big day. This Team is very deliberate and thoughtful in their communication which was hard with the different time zones. They were fantastic at managing me, my husband (we needed guidance) as well as vendors. We had one vender that went MIA a month before the wedding and the Team kept following up with them (via email, phone, facebook, and Instagram) until we received some sign of life. They also had great ideas for the flow of events and transitioning guests from one event to another. I recommend Trivino Entertainment to everyone I know whose getting married in Texas

Terence A.

Married on 03/12/2022

Terence Abaca

Andrew and Maria absolutely showed up and showed out for my big day! Everything from set up to, throughout the entire wedding to even then saying their goodbyes was nothing short of amazing. We had the whole package: games, Photobooth, dj. They played everything we requested and kept our crowd dancing and crying(happy tears) the whole time. I love them so much, definitely telling all my friends and family. If you're looking for an amazing turn out with the works Trivino is the only way to go!!!

Raul H.

Married on 03/08/2022

Covid 19 wedding

Trivino Entertainment was hired for our wedding, both ceremony and reception. This duo did an excellent job at keeping everything on schedule. They are very organized. Besides the outstanding organization, the sound quality and lighting was more than we could have asked for. They know how to feel out the crowd and play music accordingly to the mood at the time. They even made a some announcements for us in spanish for family members who are spanish speaking only which made the night even more special. We HIGHLY recommend DJ Trivino for your wedding or any other important event!
Are you interested?
Send a message