Reviews
5.0 out of 5 rating
Quality of service

5 out of 5 rating

Average response time

5 out of 5 rating

Professionalism

5 out of 5 rating

Value

5 out of 5 rating

Flexibility

5 out of 5 rating
100%
Recommended by couples
8 User photos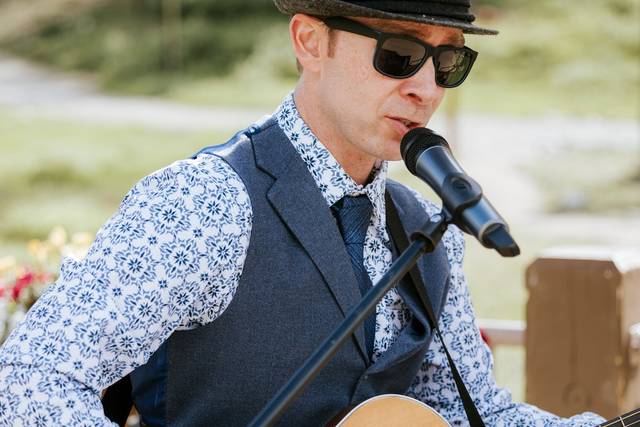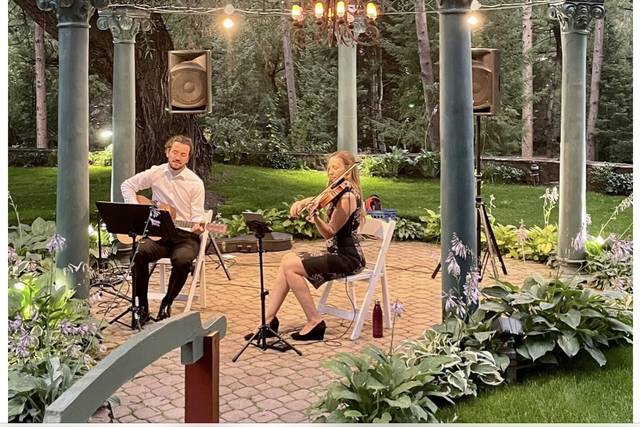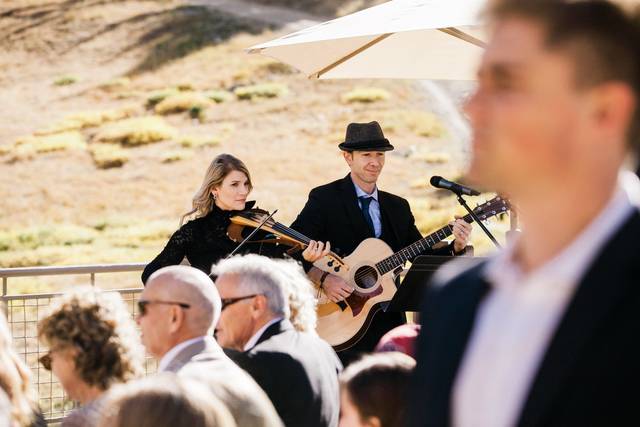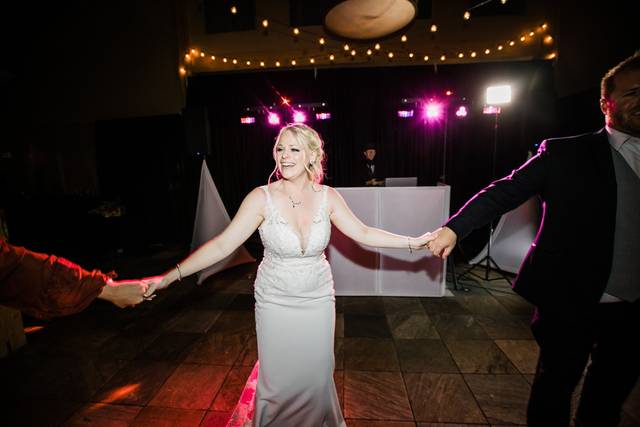 + 4

photos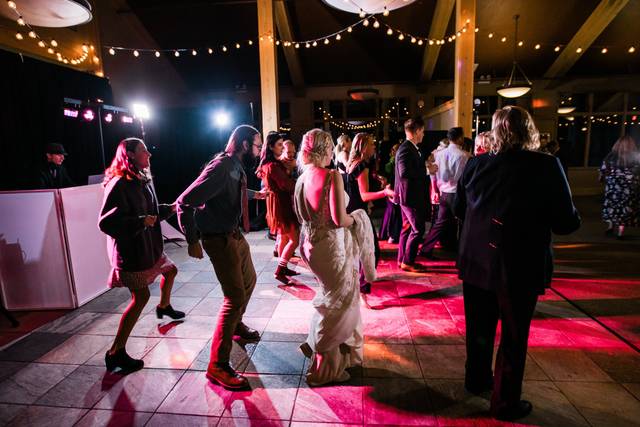 Brooke C.

Married on 11/04/2023

Perfect Live Music for Our Wedding

We hired John and Briana as a string duo (guitar and violin) for our wedding ceremony and cocktail hour and they were incredible! Their music was beautiful—it was the perfect for our walk down the aisle. During the cocktail hour, we loved hearing them play both classic and current music, while allowing our guests to enjoy spending time together. We also had them do the audio for our ceremony, which was excellent. John was so easy to work with. He was so kind, helpful, and responsive. On the day of, John and Briana were incredibly friendly and professional. I would absolutely recommend Trading Post Productions for any event!

Emily S.

Married on 10/07/2023

Communicative and Amazing

Trading post productions was an incredible vendor to work with for our wedding. John was very communicative throughout the planning process and ensured our vision came to life. Dj Paul was incredibly kind on the day of o ur wedding and went out of his way to introduce himself to us prior to the reception. We would recommend them to anyone who wants very kind and talented dj

Ani G.

Married on 09/23/2023

Couldn't have asked for me

Trading Post Productions provided live music for our wedding ceremony and cocktail hour and then a live DJ set for our reception and we couldn't be happier with how it all went from booking to the wedding day. John and his team are incredibly easy to work with and have an extensive repertoire of songs for you to choose from. We were able to customize the live music list to exactly what we wanted. Armenian music was very important to have at the reception to me and my family and John so easily incorporated it into his set and everyone had a BLAST! The energy the whole night was unmatched. He kept everyone on the dance floor and checked in with us throughout the night (very briefly in passing as to not interfere with whatever we were doing at the time) and put all our worries and stresses at ease. Highly recommend them!!

Are you interested?

Send a message

Stephen A.

Married on 09/15/2023

Incredible guitar/violin duo and DJ

John and Brianna were amazing as a guitar/violin duo for our ceremony and cocktail hour at Arapahoe Basin! They were incredible to work with and fantastic musicians. John was a great DJ for our dance party! Our guests were dancing the entire reception. 10/10

Katelyn W.

Married on 07/24/2023

Wonderful!

John was wonderful! So easy to work with and very open to any ideas we threw at him. We even had several guests approach us during the cocktail hour to rave about how good the music was!

Madeline

Married on 07/22/2023

Great experience, hire immediately 😏

John was so much fun to plan and work with! We live states away planning our wedding and he made it seamless. He was very communicative and receptive to our ideas—very customer focused!

We used his services for acoustic music for our ceremony + DJ services for our reception. I feel he went out of his way to make our day special, curated a custom playlist and let us party our socks off! So grateful he was part of our special day 💜

K M

Married on 06/18/2023

Thank you for the amazing party!

Trading Post Production was amazing! We are so glad they can make it for our wedding day. Starting acoustic music ( very nice wedding vibe, we got lots of compliments) then DJ. My families are from Japan, and usually, old Japanese people won't dance. But party was amazing, so even they danced a lot. Big happy surprise to me. Actually everyone danced (and sang) a lot till the end.

Also, the owner of Trading Post Production, John helped edit our first dance music. Our dance instructor gave us an edited version first, but it was a bit unnatural. I thought that edit won't work( you cannot chop a song there!) but John used his magic, and the song sounded amazing. Our dance instructor was asking for a very aggressive edit, so I was truly surprised and impressed by John's skill.
Thank you so much for being part of our wedding!!


Jeff T.

Married on 06/18/2023

Amazing Live Music + DJ Combo

We worked with John Wirt and Trading Post to provide both live music and DJ services for our wedding.  Everything was just outstanding and our guests had the most amazing time.

For live music, Trading Post offers all different combinations of instruments.  We chose to have a violin / guitar duo for the ceremony and the cocktail hour.  The violin as my wife was walking down the aisle was heavenly.  For the cocktail hour, the acoustic vibe was perfect and I got a ton of compliments about the song selection and rendition.

When it came time to hit the dance floor, John got the whole party out dancing, swaying, or jumping up and down depending on the floor.  He mixed and matched our many different genre selections seamlessly and read the room to make sure everyone was having fun.
In the planning phase, working with John was an absolute delight.  You can tell that he really cares about his clients and worked with us to come up with our perfect plan of events and music genres for our special day.

Highly recommended!  

Hannah L.

Married on 05/19/2023

John was amazing

John from Trading Post Productions was AMAZING as the DJ for our wedding. He was beyond helpful leading up to our big day, always offering advice or his time if we had any questions. The day of John made sure everything was good to go as far as set up and he made it a point to talk to everyone who was involved to let them know what to expect and when they'd be speaking. Then came the music and John absolutely killed it!!! He played a few mashup/remixes, his mix from one song to the next was impeccable, and he sprinkled in all our 'must play' songs flawlessly. A few guest reviews are as follows : "your DJ was doing the Lords work" "the best DJ we've heard at a wedding" "he was having just as much fun as we all were" If you are looking for an amazing DJ experience look no further and book John NOW!!

Sarah C.

Married on 05/04/2023

A Musician's Dream

As someone in the music industry myself, music was always something I was concerned about. I wanted live music for the ceremony and a DJ for the reception. John and Briana did our ceremony and then John was our DJ for the reception and we couldn't be happier with how everything went. I haven't stopped getting compliments from guests, particularly on how moving our ceremony music was. Through multiple cancellations and date changes, they stuck with us and we can't recommend them enough.

Brittany G.

Married on 01/21/2023

An amazing DJ!

John made our dinner and reception go so smoothly when he took over our timeline! He did an amazing job MC'ing and running our different games. Everything went off without a hitch with John. We knew from our first phone call we had to book John as our DJ. We highly recommend him! Very thorough, professional, and charming!

Conner G.

Married on 01/14/2023

A Unique Touch Only A Piano Can Provide

My wife and I were extremely fortunate to work with John and Kevin for our wedding in Vail. In lieu of doing traditional wedding songs for our ceremony, we wanted to incorporate songs that were unique and special to us. Our four selections were atypical for piano music, but we felt they would be the perfect fit for our ceremony and asked John & Kevin if they would be able to learn them. They were, and after providing them with examples they worked with us to create versions that were just right, in both pitch and pace. Come wedding day, Kevin was exceptional. The songs were everything we had hoped they would be on a solo piano thanks to his performance, helping add the gravity and tension we were hoping for in our ceremony. Would highly recommend working with both John and Kevin to add a special touch for your wedding day in a way this unique to you.

Lucyann M.

Married on 10/08/2022

Magical string duet

Trading post brought their string duet to play for my wedding ceremony, and it was a magical experience. John kept in great contact up to the day. They have a great list of both modern and classical songs and will offer to learn your song of twice. My wedding was in the mountains and they so perfectly captured the scenery and the day and they sounded so good! Would absolutely recommend.

Megan M.

Married on 09/24/2022

Excellent experience

Jon was awesome. We planned our wedding in 3 months and the DJ was the thing that kept falling to the wayside. Jon was so easy to work with, made us feel confident in his skills with just a few meeting and really kept the party alive. He listened to us about what we liked and then created the mood for the night. Thank you Jon!!

Jacque H.

Married on 07/30/2022

Outstanding Duo

The live music was fabulous and really set the tone for the party as guests arrived. They have an expansive repertoire which we enjoyed through cocktails and dinner. Many guests told us they love their music!

Noelle D.

Married on 06/17/2022

Everything we could have ever hoped for!

I am writing this review with a smile on my face! Our experience with Trading Post started over a year ago when we were reaching out virtually to meet DJ and live musicians for our wedding. The night that we met with John on zoom I remember it felt like such a breath of fresh air. John was passionate, present, enthusiastic and very professional. There was no doubt in our mind that we'd select his team as our entertainment for our wedding day. The months leading up to our wedding, John always made time to write back and forth as we started making decisions about the type of music and songs we wanted to play along with ideas we had to keep our guests engaged throughout the day. He provided excellent feedback and always had a positive mindset towards what we wanted as a couple. Fast forward to the days leading up to the wedding, he made sure we met again to go through every last detail and the schedule so that things could run smoothly day-of. And when the day did come, everything fell right into place. John and our live musicians Briana and Connor, were there exactly when they needed to be to give themselves enough time to set up for the entire day so that they wouldn't have to shuffle anything around between ceremony, cocktail, reception. They made sure they had time to test the mics and make us feel comfortable using them for the ceremony. And of course all of this with smiles on their faces. John was so welcoming and friendly. We felt as if we had known him for years. He brought so much comfort that he had our backs and we were so ready to watch it all come to life. The live music during ceremony had our guests, and us in tears it was so beautiful. The live music continued into cocktail hour which set a wonderful mood for our guests to relax and catch up, look at the beautiful mountains all while listening to the strings. We had so much fun looking through the list of songs John had sent us of the songs that they could perform (which I may add was very impressive). Selecting the songs that were special to us and our events was part of the planning process that Mike and I had so much fun doing, and again John made that very easy for us! The reception ran as smoothly as I could have ever imagined. John had the schedule down and was great at encouraging our guests to be where we needed them to be at all times. Especially when it came to the dance floor. No words were needed from John, his talent of DJing showed immediately. He knew exactly what to play to keep guests encouraged and comfortable on the dancefloor all while staying true to our style which John spent much time getting to know us in order to get it just perfect. He made all of our guests feel like stars out there and we cannot be more thankful for John and his team! If you are seeing this, reach out to them right away to schedule time to meet, you will not be disappointed!

Jamie R.

Married on 06/08/2022

So Talented!

John (Trading Post Productions) and Briana made our small elopement so special. We are from NC and was a little stressed planning a ceremony in CO. After discussing our vision, we knew we were in great hands. John also nailed our special request song and everyone is still talking about it! Trading Post Productions had a lot of great songs in their repertoire and were "Simply the Best"!

Amanda S.

Married on 09/26/2021

You want it all? Trading Post Production will give you just that!

LOVE Trading Post Productions!! John did such an amazing job at our wedding! He went above and beyond to help make our day the best day of our lives! Such a talented group of people. HIGHLY recommend this company, they will not let you down

Sydney B.

Married on 09/04/2021

Exceptional Musical Talent

Briana and John were incredible! Could not have asked for a better musician/DJ.

Jordan A.

Married on 08/21/2021

Fantastic DJ/MC Service!

Couldn't recommend John from Trading Post more highly! From start to finish, he did a fantastic job with both DJ'ing and MC'ing. Having a good MC was of high importance to us, it keeps the guests aware of what the order-of-events are, and helps the whole event run smoothly, and John completely nailed this. He also stuck to the type of music we wanted perfectly all night. My only regret was not booking the venue for a longer dance for John to keep DJ'ing for us

Teagan K.

Married on 07/30/2021

I highly recommend them and would hire them again!

Trading Post Productions was absolutely amazing, and does it all!!-from DJ'ing, MC'ing to performing an amazing acoustic set which all our guests raved about. I could not recommend them enough! Book them!

Holly S.

Married on 07/16/2021

Worth every penny!

John and his wife were absolutely incredible!! It was such an easy process from start to finish and the end result was beyond amazing. The music they played during our ceremony and cocktail hour was BEAUTIFUL!!! we received so many compliments and John did a great job of getting everyone onto the dance floor. I have zero regrets about using Trading Post Productions! 10/10 recommend.

Logan K.

Married on 01/25/2020

They do it all and do it superbly

John and Briana were fantastic on our wedding day. We booked them to perform live music during our ceremony and DJ during our reception. The live music was guitar, violin, and vocalist. They chose a female vocalist for a custom song they learned for us and it came out simply beautiful. John also sang for our recessional song and sounded fantastic!

John was a pleasure to work with throughout, offering his opinions and expertise when you asked for it. He is a sincerely thoughtful and nice guy. We had the pleasure of seeing them in two separate weddings leading up to our own! In each case, and especially during our own wedding, they were simply fantastic.

Elise

Married on 11/16/2019

Organized & Talented DJ and Musician

John Wirt was one of our favorite vendors to work with for our wedding. He was extraordinarily easy to plan things with, and was very prepared on the day of the event. He and his wife are also gifted musicians and did a wonderful job during their live session of our ceremony.

Matthew F.

Married on 11/02/2019

Go with John and Briana, you won't regret it.

John and Briana did an incredible job. The live string duet was perfect for our ceremony and John threw down as DJ for the reception. He played all of our requests, and matched our style perfectly based on the conversations we had leading up to the event. John was always responsive and happy to help with a smile on his face. Can't recommend them enough.
Are you interested?
Send a message