14 Reviews
Recommended by 95% of couples
Quality of service

4.7 out of 5 rating

Average response time

4.9 out of 5 rating

Professionalism

4.8 out of 5 rating

Value

4.8 out of 5 rating

Flexibility

4.7 out of 5 rating
Awards
13 User photos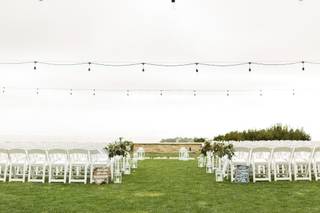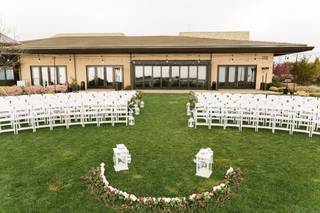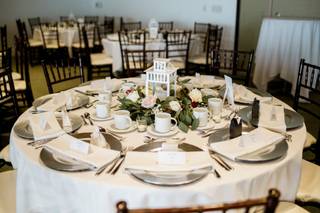 + 9

photos
Featured

Kalli

Married on 07/07/2017

On July 7th, we had our wedding at TPC Stonebrae. We first visited Stonebrae looking for a wedding venue in October of 2016. We were impressed by the price and packages, but mostly the view. Upon meeting with Jennifer, we booked our wedding with Stonebrae right away. Through the entire wedding planning process, we were BEYOND impressed with the professionalism and care we received from the event planning staff, Katie and Jennifer.

Due to the wonderful planning from the Stonebrae staff, we approached our wedding with ease and comfort knowing they would be there if anything were to go wrong. Jennifer was amazing leading all of our vendors, wedding party, and family to make sure everything went smoothly. We appreciate her leadership, professional, and decorative eye as she made our dream wedding come true. Along with Jennifer, every staff member such as the kitchen staff and servers were kind, professional, and caring.

Stonebrae's amazing service was not only noticed by us but by many guests at our wedding. We received many compliments on how beautiful the venue and the view were. Words cannot describe how thankful we are for Jennifer, Katie, and Billy along with everyone else at Stonebrae. Thank you for helping us create our dream wedding!

Jennifer S.

Married on 11/07/2020

Can't wait for our big day!

Randie at TPC Stonebrae is professional and respond promptly. Highly recommended.

Yolanda

Married on 04/20/2019

Beautiful Venue

Randie Hill was successful at making our special day perfect. We had a wonderful experience with all the staff at TPC. The food was delicious and the view is absolutely breath taking.

+ 10

photos

Are you interested?

Send a message

Shannon

Married on 12/02/2016

My best friend held her wedding here a couple months ago, and the service was phenomenal! We had the pleasure of working with Katie M, and she was SUCH a great help the whole way through! The Stonebrae team really knows how to put on a smooth, classy affair from start to finish. They are very helpful and take care of every detail. Katie M allowed the entire wedding party to really focus on having a great time, and enjoy my friend's wedding, rather than helping with clean-up, guide other guests, etc. She was also very helpful and knowledgeable when choosing catering options, (all while being mindful and considerate of my friend's budget). Our friends are still raving about the quality and taste of all the Hors d'oeuvres and entrees! Not to mention, the drinks were great, and the bartenders were very personable, while keeping up with a heavy-drinking crowd!

The ambiance and view alone is spectacular! The surrounding allows you to work with minimal decor, because it's already breathtaking with the view. I want fellow reviewers to know how incredibly impressed I was, and if you're considering TPC Stonebrae for a Wedding and/or Event, you will not be disappointed! Every detail Katie, Taylor, my friend and I discussed prior to her Wedding was present on her day. Thank you so much Stonebrae Team for a fantastic experience!


Jison

Married on 10/15/2016

The most important factors in choosing a wedding venue were having a beautiful venue and delicious food. My husband and I are both foodies. From the moment we visited the venue, my husband and I knew this was where we wanted to get married. The view of the Bay is breathtaking from the Bay View Terrace and Room. We worked closely with Katie Montgomery, the Director of Catering and Events, who is such a delight to work with. She is very responsive to emails and worked hard to make our day as stress free as possible. The food was delicious and all of our guests raved about how much they loved it! We had torrential rains and a severe wind advisory on our wedding day and although we couldn't have our ceremony outdoors as we had originally planned, the plan B as proposed by Katie and her staff turned out to be amazing. Stonebrae helped to make my wedding perfect despite the circumstances.

Marquita

Married on 09/25/2016

I absolutely love this place!!! I met with Lesli to inquire about booking my wedding here next year. This place exceeded my expectations. From the moment I walked up to the time I left I received nothing but exceptional service. I was greeted by Lesli with a personalized sign on one of the tables. It was a great special touch. As we sat and went over the details, I was highly impressed about how knowledgeable and detailed oriented Lesli is. After our meeting she took me and my family around to show us the event space. The views of the Bay are absolutely breathtaking. After our meeting we had lunch at the clubhouse. The food was great. I had the Kobe Beef Sliders, my future MIL had the fish tacos and raved about them, my aunt had the Nachos and my mom had the Calamari. I can not wait to have my wedding here.

Kathryn

Married on 08/20/2016

We booked our wedding with Stonebrae about a year in advance and were in contact fairly often and never had a negative experience. The staff there is amazing and Katie was so helpful throughout the entire planning process. They were very flexible and ensured that everything went just as we wished and planned. We are so happy to have had our wedding here!

Clarissa

Married on 08/13/2016

After looking at several venues my now-husband and I were feeling a little lost in what we wanted. We stumbled upon Stonebrae by accident and decided to set up an appointment to have dinner, view the venue and get an estimate for our wedding reception. From the second we stepped foot in the door we already knew this was the place! The views stretched from south-bay to San Fransiciso and its location tucked away so far up in the hills that you don't hear any of the hustle and bustle of the city. It's a secret hidden bay area gem. Stonebrae's event rooms and outside lawn area really cater to capturing all the beauty. We had our event in the Bay View Room and Terrace and there wasn't one bad seat in the room.

We had the pleasure of working with Katie M and her staff – which were all well experienced and great with communication. Communication was key for us since, I'm assuming like most, weddings can be chaotic and overwhelming. Fear not future brides/grooms, Katie and her team had answers to all our "what if" questions(and we had a lot) at the tip of their tongue that made us feel at ease knowing that they would be on top of any unanticipated day-of situations/issues. Katie was wonderful at helping us flush out details on her own without the need for much direction – which when planning a wedding can be more helpful that you think. We gave her our budget and few ideas of what we had envisioned and she and her team were able to create and even better outcome that what we had in mind! We were in awe and blown away and how elegant everything came to be. They really know how to set up such a beautiful event.

Everything from the staff, quality of food, presentation, prep and décor was on point. Our guests couldn't stop taking photos and commenting on how magnificent everything was. Looking back, we wouldn't have done anything different. On that note – we are in deep gratitude to Stonebrae for helping make our wedding so memorable!

Meredith

Married on 07/11/2015

My clients selected Stonebrae Country Club for the wedding reception and they're selection could not have been better. They hosted an afternoon brunch and the food was delicious. The chef was very accommodating to my client's menu substitutions and the sales staff was professional and patient. I look forward to planning many more events at this venue

Emily

Married on 08/24/2013

This was the perfect place for my husband and I to get married. We both went in to the process kind of apprehensive, not exactly sure what we wanted apart from not wanting a stuffy, super formal wedding. And something in a budget of under 8,000. Kevin, the operations coordinator, was really easy to work with, responsive, and upfront with us about costs and what would be realistic for our budget. You do need to use their on-site restaurant for catering, but Kevin was really flexible about creating a custom buffet for us, and was even open to requests for low sodium/oil.

Our guests raved about the view and how beautiful everything was. You don't have to do a ton of decorating because the area is naturally beautiful, and has an amazing view because you're at the very top of a hill.

The price was really reasonable, but Kevin did mention that their rates were currently lower because there was some construction going on, so I'm not sure how much it will change once that's finished. But even the construction was hardly noticeable.

Overall, this venue was great for our 90 person wedding, but apparently it can comfortably have 150 guests too. Good value, reliable service, and on the day they do a great job of keeping things running smoothly and ensuring that you don't have to worry about the details.

Kelly

Married on 10/29/2016

Stonebrae Country Club was an AMAZING venue, and INCREDIBLE backdrop to our special day. The view from the Bay Terrace is just ridiculous, overlooking the entire bay! We chose to do our ceremony at sunset and were NOT disappointed. Katie Montgomery was awesome and super responsive. She was always there to answer any questions (and I had A LOT) and her staff was very helpful from start to finish. She even helped us find a last minute rehearsal dinner spot when ours fell through.
From our first visit to our tasting, to the actual wedding day, the wait and bar staff was perfect; super nice, accommodating, and always professional.
The food was outstanding. We missed the appetizers at cocktail hour, but our guests said they were fantastic, along with our late night snacks we had passed around 10PM that night.
I'd always pictured getting married in an historic library, or on a beach, etc, so I had a bit of inner turmoil about Stonebrae even after we'd booked it. However, EVERY time we'd go back to look, I fell in love all over again, and with good reason. Our wedding was more than we could have ever imagined, and I truly believe that was greatly due to Stonbrae and their wonderful team. Its been 2 months and our guests are still raving about the view and the food and how "spectacular" everything was (they actually use the word "spectacular" - you can't beat that feeling!).
We would both HIGHLY recommend having your wedding or special event at Stonebrae Country Club.

Ingrid

Married on 05/07/2016

It was a bit tight for guest of 140, a small dance floor, and buffet. HOWEVER, the view is amazing, especially during sunset... my mother in law said it best ''it was fairytale like." (**just as long as the weather cooperates**). It's' great for a small to medium, intimate wedding.

For your wedding, they also take you to special spots on the golf course to take pictures...and it doesn't feel like a golf course at those spots.

Because it is around a residential area up in the hill, it would be wise to make signs to the clubhouse, some of the directions are confusing, especially during the evening and when its foggy.

Food/Drinks- was amazing. We really wanted to make sure our guest had great food and wasn't left feeling hungry. From what my guests tells me, everything was delicious. The staff worked quickly to get our buffet out when there was a miscommunication on what time it was to start. Walker, our banquet captain definitely took care of the problem quickly. With the group that I had, it was a bit hard to get everything to the buffet quickly though, so keep that in mind. BTW, you don't have to have a wedding to eat there. The clubhouse restaurant has amazing food and you can still get an amazing view as well so it's a great way to check it out before you book the venue.

The Bar- we did have a cash bar but they forgot to mention to the guest that the Keg was free, so if you do decide to pay for your guest's drinks, probably be a good idea to make a sign for the guest and to let the bartender know.

Communication with the catering sale assistant/director: Although we had a rough start with the previous director, the new director, Katie and her assistant Taylor were so much better, quicker, efficient and reasonable. Because of them, they made the rest of the planning so much smoother especially when we're planning a wedding from out of state, with a 2 hours times difference, and working night shift too.


Katie M, catering director is on top of her game. She will guide you through options and point out pros and cons of options. The banquet room staff is very responsive. Entrance to banquet room is a little cramped...needs a better foyer like area. Views are great.

Kate

Married on 04/30/2017

Here are a couple things that happened on our day and some advice on how you can avoid them if you book here. We wrote all of these in an email to the venue to which we got a response saying "glad your event went great and we are grateful for your feedback". No apologies.
1. Don't plan on having access to anything until two hours prior to the event. We were told, in writing, that the ceremony area would be set up at 1 pm and the reception area would be set up at 2:30 pm. This was not the case. Having access to things at 3 pm would not have been a big deal if we had planned for it but we didn't plan for it.
2. If things aren't going to schedule don't expect there to be an urgency to get things done especially if there are members around. Members come first and they make that clear.
3. If you book here and do your first look at the bridge, send someone out with the groom and make sure they aren't taking him out there too early. My husband stood out in the sun for 45 min. by himself after I had expressed my concerns about it being too early. Also, put something on the bridge so your dress doesn't snag. Your first look may be cut short by golfers - members come first.
4. Get your own wedding planner - don't rely on the venue's coordinators. This will lower your stress level and someone will be very focused on the details for you.