Reviews
5.0 out of 5 rating
Quality of service

5 out of 5 rating

Average response time

4.9 out of 5 rating

Professionalism

5 out of 5 rating

Value

5 out of 5 rating

Flexibility

4.9 out of 5 rating
99%
Recommended by couples
2 User photos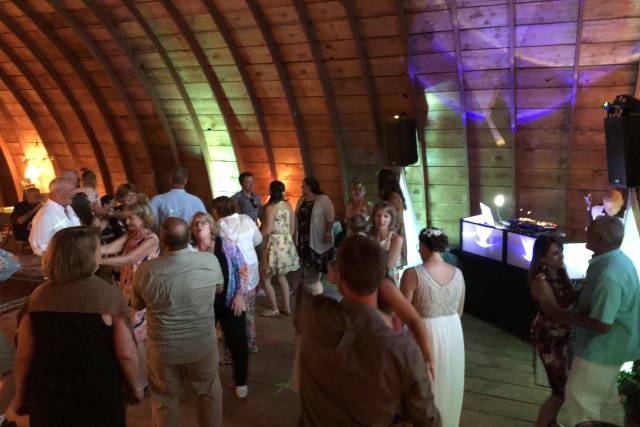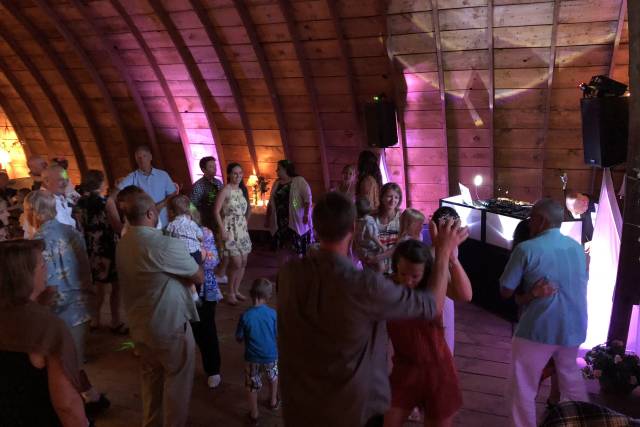 Sara

Married on 08/24/2019

I loved working with TKO and Scott for my wedding. They were very flexible and worked with me on the changes I made to everything. The ceremony and reception were great and Scott was great and keeping everyone on the dance floor during the reception. I would recommend them if you are looking for a quality DJ.

Chris

Married on 09/29/2018

TKO Entertainment - Perfect Wedding

My now wife and I didn't do much shopping around for our DJ. After meeting Todd and a few others we knew Todd would be a great fit. Within minutes of talking with him I could tell that he knew a lot about all generations and genre's of music and that he was passionate about his work as a DJ. Communication with great. Mainly communicated through email but also did some through text and over the phone and he almost always responded within 24 hours. And when it got closer to the wedding day Todd I could tell that Todd wanted it to be perfect for my wife. As for the wedding day, everything went perfect. Todd did a great job of not only playing music and keeping the party going but also helping to officiate the wedding making sure people are where they needed to be. Even a last minute request during the wedding where my cousin wanted to sing my wife and I a song (Todd didn't know about it until that minute) so Todd let her listen to the version of the song he had with his headphones and then she sang the song for the entire wedding. Wedding went perfect and Todd had a big part in that.

Eric

Married on 09/29/2018

Scott from TKO did our wedding and we couldn't have asked for a better DJ. Not only did he have a great feel for the mood of everyone, but he also did an excellent job keeping everyone active. Before the wedding, he was extremely helpful giving us ideas for not only music, but different things that people often have at their receptions in terms of entertainment (grand march, special dances, etc.). We would highly recommend them to anyone looking for a DJ for not just their wedding, but also their event.

Are you interested?

Send a message

Ashlee

Married on 09/22/2018

Todd DJ'd for our wedding ceremony and reception, he was great and we all had so much fun! His wedding planning website is a great tool and super easy to use. All of our requested songs got played and he had everyone up and dancing at some point. He coordinated with our photographer and venue host very well. I would definitely hire him again and strongly recommend him for your wedding!

Chris

Married on 08/03/2018

Todd did a great job for our wedding. My wife and I live in Florida, so we had to do long distance planning for our Madison wedding. However, Todd was very responsive and flexible and made the whole process seamless. We would definitely hire him for other events.

Lena

Married on 07/06/2018

Todd was very thorough teouout the planning process. He was easy to get ahold of and talk to. We had an unconventional wedding and he accommodated all our requests. Everyone enjoyed the variety of music he played. He kept the party going and the dance floor full. I would recommend TKO to anyone looking for a great DJ!

Jace

Married on 05/19/2018

Very professional, accommodating, and works well with bride and groom without being overly questioning. Would recommend Todd to future brides and grooms, or to any events requiring a DJ. Additionally, he did a great job playing a variety of music that hit all age groups.

Kirsten

Married on 05/19/2018

Choosing TKO DJ entertainment was a great decision and we are so beyond happy with the service and professionalism that we received. The online planning website was so easy to use and allowed us to have input in to the music we liked and disliked for our wedding. Todd also did such a great job keeping everything on time the day of and we could not have been happier with everything. Highly recommend!!

Peggy

Married on 09/23/2017

Todd was a fantastic DJ and overall MC for our wedding reception. The dance floor remained packed until the moment we were kicked out by the venue, and we received many compliments from guests about how fun the party was. We had three generations all dancing together to a great mix of music. Thanks so much for helping us have such a memorable night!

Chelly

Married on 09/16/2017

We hired Todd to DJ our September wedding at Tenney Park in Madison. We don't live in Wisconsin, so we communicated with him by phone and email. He came highly recommended by our wedding planner who facilitated communications, which always went smoothly. With our wedding planner, he helped us plan the flow of the ceremony and the reception. His experience came in very handy when we had questions about the order of events during the reception and even the flow of the music, from the ceremony, to the cocktail hour, through dinner, and dancing. He also worked with us to find some tunes we requested that were not already in his library, which put the finishing touches on our special day. Even though you never remember all the moments of your own wedding day, we both have memories of hearing our favorite songs. On the day of our wedding, he arrived on time and set up his equipment just as he described. He smoothly transitioned the reception through cocktail hour, the buffet dinner, cake, and some other special touches, including a birthday and an anniversary we wanted recognized, and ending with dancing all while accommodating our taste in music and our guests' song requests.

Max

Married on 09/15/2017

Todd did a fantastic job! Was very professional from the initial appointment to our final song of the night. Played all the music! Did a great job with introductory of the wedding party and parents. The equipment he used was top notch and never caused an issue. Multiple comments from guests stating how good the DJ was. Glad we chose Todd to help get us married!

Jaclyn

Married on 09/09/2017

We really enjoyed having TKO DJ Entertainment as our DJ! Very interactive and he was integral in keeping our reception on track which made for an amazing evening! We received tons of compliments from our family and friends on how awesome Todd was and how much fun everyone had!

Kevin

Married on 09/02/2017

Todd was great. Very professional. Enjoyed having him at our wedding!

Jonathon

Married on 08/19/2017

Todd was very open to accommodating our requests and helping us to achieve the party we were dreaming of. All of our guests loved him!

Stephanie

Married on 07/15/2017

We were very pleased with Todd. He was very easy to talk to and he was extremely confident in his service and it DEFINITELY showed on our wedding day. We are very thankful that he was able to do our wedding and we would HIGHLY recommend Todd and TKO DJ Entertainment.

Eric

Married on 06/17/2017

TKO DJ Entertainment did a phenomenal job at our wedding. Todd was extremely nice throughout the entire planning process and the day/night of the wedding. He's also extremely thorough, which I greatly appreciated. I would highly recommend TKO for anyone looking for a DJ for their wedding!

Kelly

Married on 10/22/2016

We received many compliments from our guests on how great Todd ran the night! He listened to us at our planning meeting a few weeks beforehand and executed the reception just like we wanted. His website made everything easy to organize. I had so much fun dancing - the night went too fast!

Sondra

Married on 09/10/2016

TKO is one of our top favorite vendors we worked with! He is so detailed and plans your event right down to the very minute! He's an expert at what he does and we would book him again in a heartbeat!

Emily

Married on 09/10/2016

My husband and I were very pleased with the services TKO Entertainment provided us. Working with Todd was very easy! He is very professional, loves what he is doing, and has a great personality. We decided to use the photo booth service as well as the uplighting and head table backdrop. The photo booth was a huge sucess with our guests and the individual who was running it was very fun and super nice. The uplighting looked great and added something extra to our venue. I would definitely recommend these additional services TKO Entertainment provides if you are already considering it. Todd's music selection and planning website is very easy to use and really convenient. Todd did a great job sticking with the timeline the day of the wedding and helping to make sure everything went smoothly. My husband and I wanted to have a lot of current pop music during our reception and Todd definitely delivered! Everyone was on the dance floor for the whole night! We had plenty of compliments on how well he did picking upbeat current music you could dance to. Thank you Todd for all the work you did to make our day special!

Derek

Married on 09/03/2016

Todd did an amazing job with DJ-ing our wedding. He is incredibly prepared when it comes to knowing the fine details needed to get the music portion to run smoothly and also acted as a wedding planner type personality the day of the wedding. He takes time to help round up guests and get them to take their seats and keep the event flowing right along.

He will give you a link to a planning website where you will input the songs for each special song (Father/Daughter, etc) along with must-play songs etc. He really mixed up the music well and had a great feel for the ratio of fast/slow songs to play.

My wife and I always judge a wedding's music success by how many people are out on the dance floor during the call for Last Song. For our wedding that had 160 people, we had about 30 people still out on the dance floor with us at the end, which is more than any other wedding we've been to before for a wedding that size.

We can't say enough about Todd's personality and the service he provided. He won't be the cheapest or the most expensive DJ you will find for options, but he's worth every penny.

Renee

Married on 08/20/2016

Todd, with TKO DJ Entertainment, was fun, easing going and easy to working with! The value for his services were excellent. He ensured all the details for the day were taken care of while we enjoyed our wedding day. We especially liked the pictures he took of all of us while in the middle of dance floor! I'd highly recommend TKO DJ Entertainment for any entertainment needs you may have!

Sarah

Married on 08/06/2016

I plan weddings and events professionally and I chose TKO to be the DJ for my own personal birthday/anniversary party last month. Our pirate was pirate themed and we like to drink and dance, so a DJ that could have fun with us was important. Todd did everything we requested and even showed up to perform in pirate attire!

There were also special touches that we appreciated throughout the planning process. We were doing a choreographed dance during the party and Todd helped us to cut the song exactly how we needed it beforehand to be able to practice from. Later on at night during the party, we REALLY, REALLY wanted to hear a certain song that he didn't have in his inventory but he downloaded on the spot for us. I know that was a big hassle to do so, but it really made our night!

TKO will do a great job making sure your event is exactly what you want. Book with them!

Robert

Married on 07/02/2016

I booked Todd after he was recommended by the venue. I was out of state and didn't get to physically meet him until the day of our service. He was incredibly accommodating as I was a bit of a groomzilla with how I wanted the day to flow. He was beyond professional and great to work with in the planning phase and on the day of. I highly recommend him.

Mary

Married on 06/25/2016

My mom and I met with TKO at the Madison Bridal Expo. Now going to a bridal expo is both great and crazy at the same time. It's overwhelming and there are a TON of people there. I was there to meet with photographers and didn't even pay attention to entertainment (it wasn't a high priority for me). So when it came time to choose someone, I didn't know where to start. But apparently TKO had won my moms approval at the Bridal Expo. So much that she even remembered the DJ's name, Scott. When I called up Todd, the owner of TKO, he was very responsive and speedy. I told him that we wanted to request Scott and he didn't mind one bit! The first time I talked to Scott, I immediately understood why my mom liked him so much. It was because his personality and the way he carried himself, even over the phone, just exudes confidence. If I was worried about anything, he immediately gave me options to resolve the problem. The first time we talked on the phone, we talked for 2 hours. We went through things that I didn't even know were things that needed addressing. I felt completely comfortable with Scott going into the wedding. I didn't even see him until I was on the alter! My music was playing, my husband was mic'd, the Chaplin was mic'd- all stuff that got done without me having to think about it! In fact Scott acted like the wedding coordinator and it was AMAZING. You do so much prior to your wedding that its hard to relinquish control and just enjoy the day but let me tell you. Because Scott was there is didn't even think about anything. He told us what was next and where to go and it felt great!! I cannot speak highly enough of Scott and the whole TKO team. I highly reccomend them!

Shane

Married on 10/17/2015

Our DJ Todd from TKO Entertainment was fantastic. We met with him twice before our wedding date. The first time was to get to know us and get a feel for what the wedding would be like. The second time was to confirm the music we wanted for certain parts of the reception (Grand March, Cake Cutting, First Dance, etc) we also covered what kind of music we wanted during the reception. Todd seemed to care very much about our wedding date and we really appreciated that. He asked us several questions to really figure out what we wanted during our big day. On the day of the wedding Todd was great, he checked in with us when needed, handled moving guests from our ceremony location to the reception and kept the whole night on track. He played his own choices of music during the dinner, the songs were low key and were easy to have conversations over. After that he helped introduce speeches and then handled DJ duties during the dancing. He played all the songs we asked for and kept the rest of the songs he played in line with what we liked. The energy was fantastic the whole time. Along with music he also provided some lighting for the dance floor which really helped. We also hired TKO for a photo booth during the reception. It was great, the set up was a 4 large curtains hung to create the "booth". You got to pick the background color for the booth ahead of time. We chose white and it looked great. When got your photos taken they would let you choose to get them printed in either black and white or color. They also had a lot of great props and let us bring some of our own props in as well. The woman running the booth was extremely nice and accommodating. After the wedding we received a flash drive with high quality photos of every photo taken that night. Along with the physical originals. I couldn't recommend TKO and Todd enough. If you are looking for someone who will care and take your wedding seriously while having fun and making sure people have fun he is the guy for you.
Are you interested?
Send a message