Timeless Touch Rob Boylan Entertainment Reviews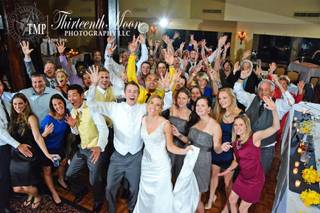 Timeless Touch Rob Boylan Entertainment
Altamonte Springs, FL
View more information
43 Reviews
Recommended by 98% of couples
Quality of service

4.9 out of 5 rating

Average response time

4.9 out of 5 rating

Professionalism

4.9 out of 5 rating

Value

4.9 out of 5 rating

Flexibility

4.9 out of 5 rating
Awards
Kate

Married on 02/21/2015

Rob is the real deal and we are SO happy to have chosen him to be a part of our special day! He was fun, energetic, easy-going and a pleasure to work with, all the while being professional and putting together a great compilation for our ceremony AND reception! He was very helpful in the planning process as well and took the time to meet with us at the venue leading up to the big day. This helped us plan out each step of the evening (especially critical for us as we did not have a planner or even an on-site coordinator). The uplighting he set up helped bring the perfect mood to our venue and of the course the music really took it to the next level! If you are looking for a personal interaction and someone you can feel comfortable with from the beginning, Rob and Timeless Touch are the way to go!

Ally

Married on 10/11/2014

Rob and Michelle are awesome to work with! From the initial meeting they had multiple ideas that really helped us in the planning process. This was the only vendor we used that replied to us in a timely manner and that the planning went so smoothly with.

Michelle really stepped up on the wedding day and helped with coordinating as our coordinator completely dropped the ball. We were so thankful she was able to help.

Then Rob really got the party started at the reception! We all had so much fun and I really hope in the future when I have friends getting married they are able to work with this wonderful team!

Highly Highly recommended!!

Susan

Married on 08/31/2014

We were very happy with Timeless Touch Entertainment. He was very quick to respond to our
emails and phone calls. His booth presentation was very nice and blends in well with any decor.
He was very helpful in suggesting songs for the first dance, cake cutting etc. He arrived on
time and was dressed in a professional manner. Our guests danced the entire night! I would
use him again for another event.

Are you interested?

Send a message

Tara

Married on 08/16/2014

Planning with Timeless Touch Entertainment was always easy and enjoyable. They offered input when appropriate and made frequent updates to timeline or music upon request. They were very responsive whenever I had questions via email or phone. Michelle was tops on wedding day. Rob made dj'ing look easy. This vendor is the real deal. Thank you Timeless Touch!

They were very helpful. They even brought in my outdoor wedding decorations before the rain came.

William

Married on 05/25/2014

They were awesome they teamed up with the photographer and venue all day to ensure everything was going smoothly and as plan. Dj rob was the man he played amazing music and played them at the perfect timing. We feel that having them there it definitely made our wedding memorable not only to us but to all the guest that showed up. I highly and i mean highly recommend them for any event.

Lisa

Married on 05/18/2014

They were awesome! They were so helpful the last week's up to the wedding and the reception was a BLAST! Everyone at the wedding absolutely loved them! I would definitely recommend to anyone without hesitation!

Allison

Married on 05/17/2014

Truly surpassed all expectations! Robert and Michelle were incredible to work with, and went far beyond the call of duty to ensure that our reception ran smoothly when a few shortcomings of our other vendors became apparent. Thank you Timeless Touch for an unforgettable party! Professional, prompt, and hysterical! Really got the party going, even with our guests who aren't big dancers. Would hire and recommend over and over again!

Silvia

Married on 05/10/2014

Rob did an excellent job in not only meeting our needs but making sure the guest had a great time by taking request.

DJ Rob and Michelle did a great job at my wedding! They met with me a few months before the wedding to explain everything I needed to know as a new bride: wedding program, some tips on music, game suggestions, etc. On the day of the wedding, they were professional and made everything went smoothly. Michelle made sure everyone stayed well-informed. The music selection was great and brought everyone to the dance floor...even some of my shy guests. DJ Rob worked with my guests and even downloaded some song requests that were made later in the evening. Overall, I am glad I had Rob and Michelle at the wedding and wish them all the best!

Daniela

Married on 11/16/2013

All I can say is Wow! True professionalism starting from my initial consultation until our last song of the night! Michelle and Rob are Amazing!!! They helped us with every detail in music choice and also the up-lighting of my wedding. They provided me with great suggestions and answered all my emails, texts and calls very quickly! I am so happy that I chose Timeless Touch to be part of our wedding day. My venue was on the beach and DJ Rob did a great job providing music on the beach without clashing with the waves. Michelle is an awesome coordinator! She kept me at ease and made sure the whole night went smoothly. This duo team is the best around. DJ Rob kept the dance floor going all night with great music and awesome up-lighting! Michelle even joined in and taught us the Wobble! How Fun! If I ever host an event, Timeless Touch will be the first ones I'll call for sure. If you're stressed about your wedding, don't worry because when the day comes, Michelle and DJ Rob will have everything under control! I would HIGHLY recommended this awesome husband and wife team! Thank-you again!!!
Daniela and Andres

Christine

Married on 06/09/2013

If you dont want anything to worry about during your wedding and can hear the crowd having fun when your busy doing EVERYTHING else. This is your couple. Rob does a great job and his wonderful wife makes sure of that the entire time. Great couple to work with!

Jennifer

Married on 06/01/2013

I used Timeless Touch Rob Boylan Entertainment as my DJ and for my uplighting. DJ Rob and Michelle make a great team. I was very impressed by there professionalism and how easy they were to work with. I was supposed to get married outside but because of the rain everything had to be moved inside. They worked very quickly to move inside and get the music going for my guests are they were arriving. During the reception I had multiple guests tell me how awesome the music and lighting was. Michelle was great at helping the evening move along from one thing to another smoothly. I loved the music the whole night and the lighting was just awesome! I would definitely recommend them to anyone I know getting married or in need of a DJ service.

Linda

Married on 05/26/2013

Our experience with Robb and Michelle was priceless. My husband and I located Timeless Touch via a referral from the Wedding Knot and after working with both Robb and Michelle, consider them friends. Both are professionals in their own right....Michelle is tops in organization, keeping everything on track, and ensuring everything surpasses your expectations! Robb is a music master...you can tell music is in his DNA because he passionately cared that the music reflected exactly the aura we wanted for both our wedding ceremony and reception. It was pure joy having Timeless Touch as part of the team that created such an amazing event in our lives. My son called it an "epic wedding"...and a lot of that is due to Robb and Michelle.

Ava

Married on 04/27/2013

I have to say hands down rob and michelle are amazing. I friend of mine suggested them to me months before my wedding and from my first meeting I knew that they were going to do an amazing job. I got married 4/27/13 and they were professional, honest, and super cool. They did the music, lighting and monogram for my wedding and I have to say that everything was amazing. I don't have enough words to describe how awesome they were. If you are looking for a great dj that can also do lighting then timeless touch is who you should go with

Eric

Married on 04/13/2013

Rob and his assistant did an amazing job at our wedding. They were on the cheaper side of reputable DJ's I found and they were well worth the money.

I selected songs to basically fill the entire duration of our cocktail hour and reception and he found all of them without my help. This is impressive because many of the bands I listed aren't very popular and it can be difficult to obscure their music. They were very professional and helped the wedding run smoothly but were never an annoyance. I highly recommend them.

Sarah

Married on 04/05/2013

My husband and I got married a month ago, and our guests are still buzzing about our reception and entertainment! From professional first meetings, to last minute details on the wedding day, DJ Rob and his wife Michelle really know how to deliver the whole package. They really do care about every detail of your special day, and enjoy making it memorable for you. We were able to choose from a wide variety of songs to be played, as well as request special specific songs that we wanted as a part of our ceremony and reception. The lighting for the reception was incredible! The room was lit up with vibrant LED uplighting that changed colors throughout the evening. The option to have wireless lighting definitely helped our guests not have to worry about tripping over exposed wires. We were completely 100% satisfied with our experience with Timeless Touch Entertainment! Smooth and affordable service!

When planning my wedding, I had asked a friend of mine who is a DJ to handle the music for the ceremony and reception - which he gladly agreed to do. 4 months before the big day my friend bailed on us due to a scheduling conflict. Needless to say I was frantic! I found Timeless Touch online and they had really great reviews so I reached out to Rob and Michelle and met them at my venue to go over what I was looking for in a DJ. They were great from the begining. Super nice and very attentive and explained everything to me in detail. I had no hesitation in hiring them as my DJ.
Over the next 4 months I stayed in contact and even had a couple last minute changes to my plans. They never flinched and were so easy to work with.

Needless to say I am now happy that my friend had a scheduling conflict. Rob and Michelle were absolutely AMAZING and so much fun. The ceremony and reception were awesome thanks to them and everything went according to plan. The sound and lighting - everything was perfect. I can't say enough good things about Timeless touch. My friends and family continue to make comments about how amazing the DJ was. I will never consider another DJ in the future - all my DJ needs will be handled by Rob and Michelle and I will refer them to everyone that I can! Believe me when I say - you cannot go wrong with Timeless Touch!!!!

Sarah

Married on 12/23/2012

DJ Rob did a phenomenal job at our wedding. I couldn't have asked for a better DJ. Our wedding was lively and so much fun. The dance floor was busy all night. He brought our wedding reception vision to life. Him and his wife Michelle are easy to reach, and anytime I got their voicemail or e-mailed them they were fast to return my messages. If you are looking to hire a great DJ for your wedding day, look no further!

Morgan

Married on 08/05/2012

DJ Rob and Michelle made our event AWESOME! My husband and I had our vow renewal ceremony and had no idea about the small details that would make or break an event. Michelle stepped in and helped coordinate all of the details, from the schedule of events to the perfect song selections from entrance to exit! DJ Rob and Michelle were very professional and personable. The guests loved DJ Rob and the wide variety of music that catered to the different age groups. Our expectations were definitely exceeded; we never imagined our event would turn out so PERFECT! Our guests are still calling us to tell us how much fun they had and how smoothly everything went. We definitely owe the credit to DJ Rob and Michelle and would ABSOLUTELY recommend them!

Rob and Michelle team were wonderful. Michelle helped us planned the wedding reception with lighting, monogram, decor, colors, and scheduling of events. Spend a little extra and get their lighting package...transformed our ordinary hall into an elegant reception. Rob was very professional and accommodating to us and our guests. He had great music choices and transitioned smoothly from cocktail, to dinner, and into the evening. Rob was friendly and interactive with our guests. We had a lot of compliments from our guests regarding entertainment. Rob and Michelle was basically our wedding planner and coordinator. We would recommend Timeless Touch to anyone looking for a stressfree wedding reception. We feel we got a lot more than what we paid! Thank you Rob and Michelle...could not have done it without you two and your team.
Dr. & Drs. Nguyen

Jeanna

Married on 03/24/2012

Rob was very flexible and easily transitioned to last minute changes! He played all the music I requested and helped us organize to have a perfect wedding!

Bob

Married on 03/17/2012

Can't say enough of how pleased we were with Rob and the music he provided for our daughter's wedding. We would definitely contract with him again given the occasion to do so. We highly recommend his services

Sarah

Married on 03/17/2012

March 17th was not my wedding, but I was coordinating and Rob was the DJ and we got to work together for the first time. As a wedding planner, I have worked with many DJs, but even beyond that I've attended a lot of weddings and everyone knows the right DJ makes all the difference. So from behind the scenes as a planner to as a guest trying to enjoy the festivities, as well as being a bride myself at one time, I know all the details of a great DJ and MC. I wouldn't write a review if I didn't fully support this team and who they are as people as well as the service they provide. Rob Boylan is BY FAR the DJ I recommend to everyone in the Central Florida area...and beyond...for their events and weddings to ensure they get exactly what THEY envision and the party they want. When it comes to true sophistication, amazing customer service, professionalism, a great DJ and MC, and just an over all wonderful person to work with Rob is my first choice. His manner is easy to work with, energetic enough to get a crowd moving, and classy enough to control the events of the evening from ceremony into the night. He and his wife Michelle are sweet and awesome collaborators. They truly want your day to be what you want and work with you to make it happen. Call him, you will be so happy you did!! Then write a review and send all your friends! THAT'S how happy you'll be. :)

Samantha

Married on 03/03/2012

Timeless Touch was a wonderful addition to our wedding. From the minute I met with DJ Rob I knew he was going to be the DJ for our Wedding. He was Professional and had great attention to detail. A few days before the wedding I found out our friend that was supposed to sing during the ceremony could not do it. DJ Rob and Michelle stepped in and made all my stress go away. They were amazing from the ceremony to the end of the reception. I don't dance but I did not leave the dance floor all night. They played everything I wanted to and when someone requested something on the do not playlist they did not play it :). They made our wedding so special for us. Thank you Michelle and DJ Rob!!!
Are you interested?
Send a message