Reviews
5.0 out of 5 rating
Quality of service

4.9 out of 5 rating

Average response time

5 out of 5 rating

Professionalism

5 out of 5 rating

Value

4.9 out of 5 rating

Flexibility

5 out of 5 rating
99%
Recommended by couples
68 User photos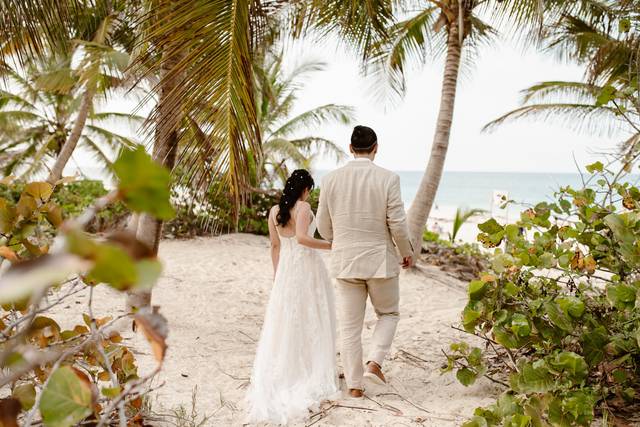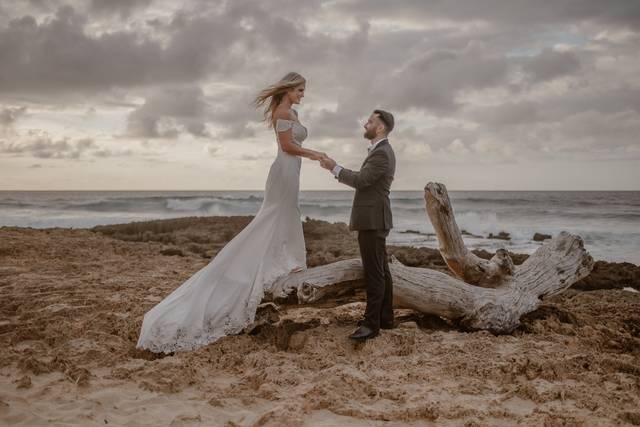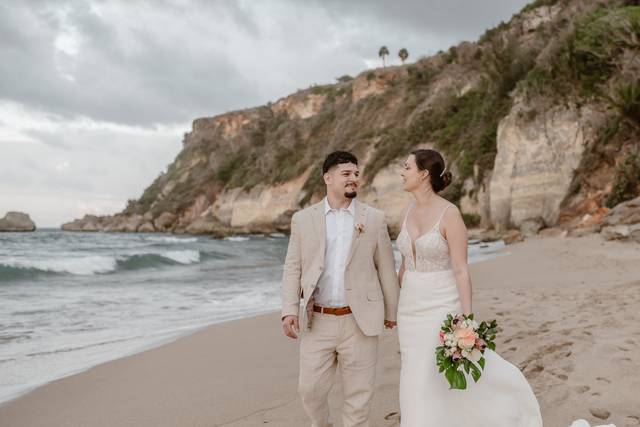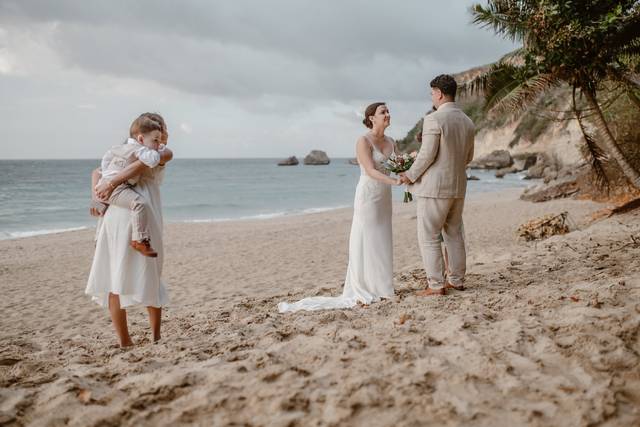 + 64

photos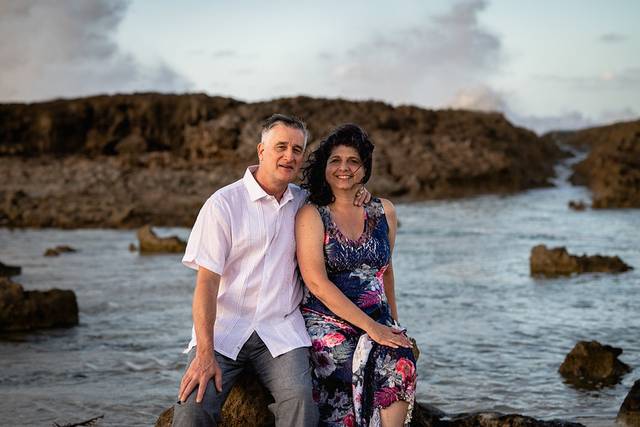 Featured

Elizabeth G.

Married on 03/17/2022

Magical day!

I could not possibly say too many good things about Tie The Knot Puerto Rico! Cristina is a lovely woman and was a pleasure to work with. It was way cheaper and easier than planning a traditional wedding, and it was worth every penny we spent. The communication was excellent, we live in Virginia and working with her made the long distance planning process very simple. She made it happen in 3 weeks, and by the time we got to Puerto Rico two days before the wedding we were able to relax and enjoy ourselves. Her photographer and videographer were both personable and so kind. We never do professional pictures and they made us feel comfortable immediately and our pictures are INCREDIBLE! I let the florist they work with design my bouquet themselves with local flora and it was absolutely beautiful. She sent me a little "couples questionnarie" before the ceremony and I was blown away at how well they used it to create our ceremony despite not even having met us yet. Our wedding day was everything I wanted...the setting in El Yunque was magic, it was special and intimate.
If you're considering eloping to Puerto Rico, hire Cristina and just DO IT! We were engaged for two and a half years and between Covid and the usual wedding planning stress I was having a very hard time even starting the process of planning a "normal" wedding. Elopement was absolutely the right choice for us, and if you're even considering the idea, it's probably right for you too! Tie The Knot Puerto Rico is a fantastic company and Cristina will be there through every step of the process to make it as easy and stress free as possible.


+ 4

photos

Cristina

Married on 06/24/2023

Un sueño hecho realidad

Extraordinario servicio . Hicieron de nuestro sueño una experiencia grata que de seguro atesoraremos en nuestro corazón .

Aline R.

Married on 05/17/2023

Grateful and happy

When we decided to get married, we knew we wanted something stress free but felt a little lost. While searching on google we came across Tie the Knot PR and upon reading about elopements and micro weddings, we knew this is what we wanted. Cristina was very responsive and helped guide us to make the best decisions for our special day. Linetsi did an amazing job writing our story for the ceremony. Our sneak peek pictures are amazing. They both traveled to Culebra in order for us to have our adventure elopement. We are extremely happy with the services they provided.

Are you interested?

Send a message

Mike W.

Married on 04/27/2023

Amazing! Very trustworthy people that took care of every need or worry we had!

Tie the Knot was very professional and super easy to work with. They address all wants/needs you may have and also provide great suggestions for your wedding day.

Haylei B.

Married on 04/14/2023

The best team you'll find!

I didn't know where to start when looking at eloping in Puerto Rico.
I found tie the knot through wedding wire and reached out.
From there Cristina set up a call to get a feel for what I may be looking for.
She wasn't pushy and wanted to give me all the options to make sure she was the best fit for my wedding.
She was always quick to respond or answer any questions.
The ceremony was BEAUTIFUL and Linetsi really used our couples questionnaire to make it all about us. Both my husband and I we're highly impressed with what she wrote, it clearly wasn't a one script fits all.
Cristina was also an amazing photographer - the original reason I was interested in working with her company, the photographs we're just amazing. She really kept things fun and we enjoyed her vision for pictures. The sneak peeks are beyond beautiful.
If you're unsure about who to book, BOOK THIS TEAM. You get what you pay for and you won't regret spending your special day with TTKPR. Thank you both for making our elopement a day we will never forget.

Kurt S.

Married on 03/16/2023

Unforgettable!

Cristina and Linetsi were incredible! Ours was a surprise pop-up wedding, so there were a lot of moving parts. Cristina and Linetsi were flexible and responsive, right up to the day of the event. Then Linetsi's service was thoughtful and personal, even though she hardly knew us. And Cristina's photography was beautiful. The posed and the candid shots truly captured the day. If you're looking for an extraordinary event, I highly recommended them.

Rylee L.

Married on 02/24/2023

Beach Elopement

We were so impressed with the planning, ceremony and photos that Cristina and Linetsi provided us with. We would recommend them to anyone planning to elope/get married in Puerto Rico. They were kind, responsive, knowledgeable and took time to explain the entire process to us and made sure we were happy with everything. Very appreciative of their attention to detail and communication skills!

Lauren G.

Married on 01/03/2023

Wonderful experience - warm and professional

Choosing Tie the Knot Puerto Rico to help us with our wedding was the best decision we could have made! In the weeks and months before the date, Cristina gave us all the information we needed and explained exactly what we needed to provide in terms of paperwork, etc. She also suggested several lovely spots where we could have the ceremony, and was totally flexible and helpful when we arrived in the area. Linetsi officiated an absolutely beautiful wedding ceremony that brought tears to our eyes, and the photo session with Cristina was really special. We are thrilled with the photos we have seen so far, and look forward to viewing the rest soon. Cristina and Linetsi took care of all the details (legal and otherwise) in a professional manner, while also exuding genuine warmth and a personal touch. Thank you for this truly special wedding experience.

Karin F.

Married on 07/20/2022

Great experience

They help us trhu every Step of the way.

Ari

Married on 07/02/2022

Tie the knot

The girls are very organized, professional and patient. I don't regret having them in charge of everything, all was perfect!

Valerie L.

Married on 05/19/2022

Amazing! Everything turned out perfect.

Cristina an Linetsi were amazing! They helped us every step of the way with protocols and legal items to be completed for the certificate. They were always very responsive and listened to everything we needed. They honestly went above and beyond.

The words spoken in the ceremony were also beautiful and full of love, which is what we were looking for in the ceremony. 100% recommended.

Edison F.

Married on 05/19/2022

A memory that will last forever!!

Cristina and her partners were amazing to work with! They made our vow renewal experience unforgettable. Cristina was always available if we needed her and worked with any ideas we had in mind. I would definitely recommend her team if you are looking for a great experience!!

Daiana J.

Married on 05/07/2022

Boda soñada

Ellas lograron nuestra boda soñada, absolutamento todo fue perfecto, tambien su trato y amabilidad desde que llamamos a averiguar por los servicios, nos explicaron cada detalle de manera muy clara y amable, nos atendieron en todo momento, resolvieron nuestras dudas y nos ayudaron en todo el proceso, Linetsi y Cristina tienen una calidada humana muy bella, les agradecemos de corazon todo lo que hicieron por nosotros y la ceremonia de boda tan linda y emotiva, es una fecha que nunca olvidaremos y las llevaremos siempre en nuestros corazones

+ 6

photos

Sharon F.

Married on 02/22/2022

Dream Elopement

Cristina and her team made our wedding process a breeze! They planned everything flawlessly within a week notice. She was so friendly and was really great with communicating even after the wedding. I loved how personal they made our wedding ceremony and they helped us choose the perfect wedding location. We are obsessed with our pictures and video! Definitely spend the extra money for the video! Tie the Knot Puerto Rico definitely exceeded our expectations and we are so grateful for this experience!

+ 2

photos

Isabel O.

Married on 02/10/2022

Sumamente complacida con los servicios, profesionalidad, empatia, rapidez, atención! Todo lo que buscaba!

Agradecida de los servios ofrecidos por Tie the Knok P.R., pude hacer mi sueño realidad, y de una manera tan simple. Todo cordinado a la perfección, atención 24/7, profesionalismo y calidad. Estuvieron al pendiente de cada detalle. Jamas pensé que seria tan fácil con ustedes. Gracias por estar con nosotros desde princio hasta el final, quedo perfecto todo. Los recomiendomiendo al 100%. . Gracias!
🌟🌟🌟🌟🌟

Karla C.

Married on 01/21/2022

A dream come true

They exceeded our expectations. They are very professional, friendly and detailed girls. We delighted with our wedding. They made our dream an unforgettable reality. A complete exoerience without stress. ♥️


Michelle M.

Married on 01/11/2022

Very comfortable and what we had envisioned

Completely grateful and happy with the whole experience with Tie the knot. They gave us exactly what we wanted, very helpful and nice, made us feel comfortable and at easy. Would highly recommend their services

Ricardo P.

Married on 12/02/2021

An amazing and unbelievable experience

Tie the Knot is the most incredible, reliable and effective team that me and my wife met and choose to lead our wedding. They were on top of every subject and details and everything went as schedule. We did not have to worry about anything, they took care of every minor detail. The environment that they created for us felt natural and peaceful. Thanks for making our day so special, exactly as we planned.

Eliana B.

Married on 10/24/2021

Cristina was great. She responded very quickly and listened very carefully to what I was looking for.

The location was beautiful and the pictures came out great. However the photographer was late. Which made the guest a little restless. My brother and sister wanted to walk down with me, only my brother did. Miss communication I guess at the end. However it was a beautiful wedding. Definitely worth it.

Tiffany R.

Married on 09/26/2021

Servicio Perdonalizado!

Tremendo trabajo que nos brindaron, totalmente personalizado a nuestro gusto con nuestras propias palabras. Oficiante realizó unas palabras muy bonitas sobre nosotros todo fue impecable.

Sarah H.

Married on 09/05/2021

Dream Elopement!

We couldn't be happier with Tie the Knot Puerto Rico and how special they made our elopement in Old San Juan. They assisted us every step of the way from the flowers, to the ceremony, to the location, and documentation required in PR. We wouldn't have changed a thing about our special day! We are so grateful to have found Tie the Knot Puerto Rico.

Eileen S.

Married on 07/30/2021

Our experience was amazing!

My husband surprised me for our 16th wedding anniversary to have our Vow renewal in beautiful Puerto Rico. The experience was so magical and unforgettable. Thank you Tie the Knot PR for preparing such an amazing experience for us!!

Marisu P.

Married on 07/23/2021

Wonderful and stress free

Cristina is awesome. Very prompt, professional and knowledgeable. Her tram was also wonderful. Definitely made the process very smooth and stress free. Couldn't have done it without her!!

Cati F.

Married on 07/17/2021

Excellent, always available and definitely fulfill our needs.

Cristina and Linetsi were both very professional and everything turn out perfect. The ceremony was beautiful. They handle the flowers, the cake, the photography (vendors) the documentation. Definitely will recommend.

Gary V.

Married on 07/11/2021

Magical Wedding at the Ruins

My wedding turned out better than I could ever imagined. Linetsi and Christina handled everything. All we had to do was show up. Thank you so much for creating such a magical day for us!
Are you interested?
Send a message