42 Reviews
Recommended by 100% of couples
Quality of service

5 out of 5 rating

Average response time

5 out of 5 rating

Professionalism

5 out of 5 rating

Value

5 out of 5 rating

Flexibility

5 out of 5 rating
6 User photos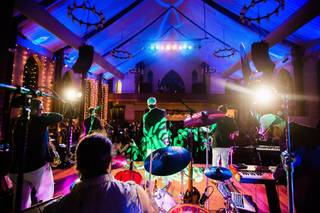 + 2

photos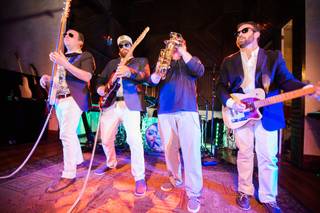 Will D.

Married on 10/23/2021

Absolutely Perfect

This band played at my wedding on 10/23. The energy & overall quality was outstanding. They sounded great and had everyone of all ages dancing.

Gaby P.

Married on 10/05/2019

Three Sheets to the Wind band rocks!

Fabulous band! Great guys to deal with!

Joe

Married on 06/09/2018

Can't go wrong with Three Sheets to the Wind. Very entertaining and tons of fun.

Are you interested?

Send a message

Heather

Married on 03/31/2018

Nothing I say in this review can do this band justice. Choosing Three Sheets to the Wind was the best planning decision we made, besides choosing each other! My husband and I have both seen this band around Richmond many many times, and our wedding was still so much more fun than we could've ever imagined. Yacht rock is the perfect wedding music and these guys do it best. The band is made up of an awesome group of guys who are so talented and entertaining for all ages. From the very first communication, Jack made booking and planning so easy, always professional and responsive. At the wedding, our dance floor was packed from the very first song (when dinner was set out) to the last song (even after the bar was closed). The set list was amazing and I have a feeling our guests will be raving about the band for a long time to come. These guys were the highlight of our wedding and well worth every penny. If you want every guest to feel like a VIP at the concert of the year, this is your band.

Chelsea M.

Married on 03/24/2018

On our first date, our conversation went to music and that if/when we ever got married (who knew it would be to each other then!), we must have a live band. Having said that, and having worked with Three Sheets to the Wind since last summer – I now realize that statement wouldn't be "we must have a live band", and would now be, "we must have THIS live band"! We were married March 24, 2018 at the Kitty Hawk Pier, and worked with Three Sheets since summer of 2017. Every single conversation we had with Jack was delightful. He is easy to talk to, work with, and he thinks of every detail of planning the set list and the day-of Emceeing. The vibe we wanted was fun and party-like for our friends and family, and Three Sheets to the Wind delivered that flawlessly! We went with the 5-piece band including the saxophone, which I would highly recommend as the songs they were able to perform sounded amazing with the sax in the mix too! Jack and the whole band were fun, lively, energetic, and talented musicians! One of our guests is personal friends with many of Hollywood elite actors and musicians, and he said Three Sheets was not only one of the best wedding bands he's ever heard, but one of the best bands ever! They were flexible with us in planning, and even learned our first dance song for us, and sounded amazing! Everyone was out on the dance floor the whole night, and if we could, we would hire Three Sheets for every single event we host from here on out! Thank you Jack and fellas!

Lauryn

Married on 12/30/2017


I wouldn't consider myself a groupie type, nor are my friends but I think all 180 people at our wedding are now groupies of Three Sheets to the Wind. This is the best band that you could ever have to play your wedding. Those aren't my words (although I completely agree) …..those are my guest's words—all 180 of them.

I am from Virginia but got married in Wilmington, NC. I had seen Three Sheets quite a few times before just going to school in the Richmond area. However, I am convinced that the only reason my husband asked me to marry him is because he saw Three Sheets to the Wind at another friend's wedding and he wanted to ensure that he was going to see them again….and soon.

During my friend's wedding, I couldn't get my husband (boyfriend at the time) to stop googly eyeing the band while standing front and center next to the stage, acting like a 11 year old girl at a Justin Bieber concert circa 2013 ….and no, I know what you're thinking……it wasn't the alcohol - it was because they were playing some of the best sounds ever created and incredibly on point for a wedding celebration. And as thought, shortly after that wedding, my boyfriend asked me to marry him. About 1.5 hours after our engagement, we booked Three Sheets (and by "we" I mean "him").

We are already talking about what we can hire them again for….They are absolutely incredible. Topper Dandy is the songbird of our generation. The only thing I regret is not getting a portrait with the band to be cherished for years to come. Without them, your wedding will be just another wedding that is easily forgettable – with them; you will be the envy of all your guests wondering why they didn't hire them first.


Sally

Married on 08/05/2017

A rave review about this amazing band won't do it justice, so it is almost hard! These guys absolutely made our band the best night we could have ever asked for. They were highly entertaining and engaging, personable, unique, and super super talented. Every single one of my out of town friends is desperate to have them visit and show them what yacht rock is all about. I could go on forever, but hands down, the best decision we made!

Gina

Event on: 06/07/2017

Three Sheets to the Wind performed at our 4400 person corporate event at Nationals Park and closed the show with a bang! They kept the energy up and guests loved their playlist. We would definitely work with them again.

Brian

Event on: 06/02/2017

Three Sheets really cranked it to 11 for a great college reunion party! They were a joy to work with, and the crowd of folks from ages 18 to 35 loved them!

Ryan

Married on 04/29/2017

When we started planning the wedding we asked each other, afterwards, what's the one word that we and everyone else there would describe the wedding as? FUN! was the identical response we gave, and we knew no other band could deliver on that as much as Three Sheets to the Wind.

We've seen them perform a few times prior to hiring them and every event we saw them at everyone was having such a great time, dancing and singing along, we couldn't think of another band we'd want to share our wedding day with us.

Very easy to work with, communicative, all above boards, even going out of the way when I had questions that I didn't recall we'd already discussed. The day of they were super professional, prepared, and of course so much fun to work with. We also had Jack emcee our intro's and other announcements and he was great. My best man and a few other people actually mentioned that our emcee did an amazing job and didn't realize he was part of the band.

I know there's a lot that goes into a wedding, and as you are planning yours you'll soon realize that it's more than being on time and saying I do...but I will say that the energy and joy and excitement and FUN a band can bring, I'd never really thought of til we had our wedding, and I can't imagine that day would have been as perfect without this band and these guys being part of it. CHEERS!

Trisha

Married on 03/11/2017

We saw three sheets to the wind at a friends wedding and were totally blown away. I took their info before my fiancé and I had any plans for our wedding. We stayed in touch for months and months. I have been in bands for years myself and have never ever seen musicians with this level of talent. They are truly one of a kind. The price quote was a little more than we had wanted, but considering there were 8 musicians and they were willing to travel from Virginia to NY, we decided to budget accordingly. We couldn't be happier we did. My fiancé was always a little skeptical about my obsession with the quality of the music. During our first dance he whispered to me "oh my god. They are absolutely incredible". TOTALLY WORTH IT! He was hooked from the first note.

Jack is the absolute best. He was so easy to work with and always patient with my questions. He made me feel completely at ease during the process. They really blew everyone at away at the wedding. We had a daytime wedding, but we all rocked so hard, we were in bed by 9:30pm that night. Even our photographers commented that they were the best band they've ever seen. I couldn't walk by the end of the night- my feet were in so much pain from being on the dance floor the whole time, and I wouldn't have had it any other way.

These men are true professionals who have completely mastered this art. We are planning to make a trip to see them play in Virginia in the near future and can't thank them enough for making the trip to be a part of our day. Aside from the actual marriage, they were the best part of the day. Definitely book them. You will be forever grateful you did.

Meredith

Married on 11/19/2016

Booking this band basically guarantees that you and all your friends and family will have the best night of your lives. They are fun, talented, professional and easy to work with. I can't say enough great things about them.

Three Sheets to the Wind exceeded our expectations as our wedding band. We live in Richmond and have seen them in concert many times before, however having them play during our wedding reception was on another level. They traveled to our wedding location in the Outer Banks and were able to set up all of their equipment in what I considered to be a tight space. They were very interactive with our guests who were dancing literally, all night long. We got so many compliments from our guests on how fun and spectacular the band was. I highly recommend them as a wedding band.

One our wedding day the weather was awful and moral was low but when Three Sheets performed, nothing else mattered!!! They gave one of the
best performances ever at my wedding and literally saved the day!!!

Peter

Married on 05/30/2015

It really doesn't get any better than this. The band is incredible!
My daughter told me the most important thing to her concerning her reception is
having Three Sheets play. After seeing them at the NorVA, I was sold.
The wedding was absolutely amazing. The reception was over the top thanks to Three Sheets.
Communication is so important when planning such an important, meaningful event and this band nailed it every
step of the way, from start to finish. The process was very easy and stress free. The band was punctual,
professional, and more than accommodating. EVERYBODY loved them! It was the perfect evening.
People who normally refuse to get near a dance floor proudly danced and had a blast.
These guys are super talented, friendly, gracious and a whole lotta fun!
I would totally do this again.


Jennifer

Married on 05/16/2015

This band is THE best around. The music, the flexibility, the professionalism were all top notch. Nicest guys ever! I recommend them to all of my friends and clients. I can't say enough nice things about them. They're not just the band but part of the experience.

We had Three Sheets play at our wedding this past Saturday, every positive review already written is absolutely, 100% true. From our initial request for information through the end of the reception, the band leader, Jack (aka Topper Dandy), was professional, responsive, and seemed genuinely pumped to have us as clients. At the actual wedding, they were incredible. EVERYONE DANCED ALL NIGHT, even the family members that never dance. We've received more compliments on Three Sheets than on anything else at our wedding, by far.

At our morning after brunch, a friend of ours commented that she drank less than she usually does at weddings, because she was having so much fun on the dance floor she didn't want to leave to go to the bar. And everyone else in the room agreed with her!! I honestly can't think of a nicer compliment than that, and you'd agree with me if you knew how this crew normally reacts to an open bar :)

Just book them, I promise you won't regret it! Oh, and get a bigger dance floor than the rental company recommends, you're going to need it!!



Kate

Married on 08/02/2014

I greatly enjoyed working with Three Sheets to the Wind! They assisted me in surprising my Groom with his favorite Yacht Rock entertainers which was a multi-month process. We received nothing but compliments from all of our guests both young and old. We could not have asked for better entertainment!

As soon as my husband and I began planning our wedding we knew that one of our utmost priorities would be locking in great music that all of our guests would enjoy. We knew immediately that we HAD to have Three Sheets for our reception and we were so lucky to have booked them!

I cannot emphasize enough just how much of a hit they were—no matter if it was the grandparents, fratboy college friends or young cousins, Three Sheets had them all yacht-rocking the night away. Our dance floor was completely packed and we could see people singing along with every word of the songs. It was such a relief knowing that we were in expert hands to Emcee the whole evening and keep the reception flowing smoothly. They were also such professionals to learn a specific song we requested for our first dance—and it sounded amazing. We'll never forget it. We felt like we had our very own concert on our big day—what an honor! If you want a band that will keep all of your guests thoroughly entertained, look no further and book them as soon as you possibly can.

Molly

Married on 05/10/2014

Three Sheets to the Wind was everything my husband and I could have hoped for! They were happy to learn our wedding song and play it for our first dance and also worked on the set list with us! They had the dance floor packed for hours and everyone had a blast! They were professional, flexible, fun, and energetic!

Charlotte

Married on 04/25/2014

When it came time to plan our wedding, the first thing we did was book Three Sheets. After having seen them play at local events, they were our one and only choice for wedding entertainment. Topper was incredibly easy to work with! He was very responsive, flexible, and genuinely interested in making sure the event was special to us. There was some skepticism amongst guests about a wedding band: would the music appeal to everyone? would it be too loud? lousy banter? When the big night came, all doubts were cast away! Three Sheets managed to get EVERY SINGLE GUEST (no joke, literally every guest in the room) on the floor and dancing with their great mix of tunes that appeals to everyone, the sound was set perfectly (I could easily hear conversations with guests around me), and Topper's MC-ing was fun and spot on. After the wedding, I still get comments from guests asking if we can get married again just to see Three Sheets play. If you want a truly memorable reception, get these guys and get it turned up to 11!

User1590820

Event on: 04/05/2014

Yacht rock at its best. A night full of swinging, singing, and sailing. These guys are awesome, and that's an understatement.

Matthew

Married on 03/01/2014

The band is fantastic, funny, and extremely professional. Our wedding was perfect and the band was the best part of our reception. Worth every penny!

User1980818

Event on: 02/21/2014

I have used Three Sheets to The Wind multiple times for different major corporate events at my office and they are always wonderful to work with. The music is great and everyone thoroughly enjoys their tunes, energy, and stagemanship. They are also very easy to work with behind the scenes as well and they always work with us to make sure our entertainment needs and wants are met. They are now my go to band for events.

User1514164

Event on: 01/18/2014

They were awesome! So easy to work with and everyone had a great time. We will definitely call them again next year!
Are you interested?
Send a message