66 Reviews
Recommended by 100% of couples
Quality of service

5 out of 5 rating

Average response time

5 out of 5 rating

Professionalism

5 out of 5 rating

Value

5 out of 5 rating

Flexibility

5 out of 5 rating
2 User photos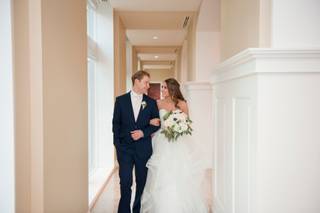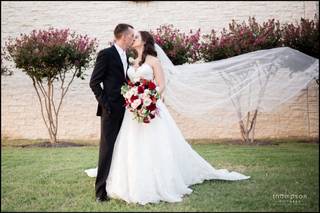 Mario

Married on 08/28/2020

Incredible Videographers & Beautiful Videos!!!

Thompson Pictures was incredible to work with from the very beginning!! Andrea and her team were so professional and always accessible. I was so nervous about choosing a videographer and did so much research prior to making this big decision - Thompson Pictures was the BEST choice and I am so happy that we went with them for our wedding videography! My husband and I were not sure how we'd handle having 2-3 cameras following us all day but it was SO normal, I forgot they were even there!!! We also had to switch our date due to COVID and Thompson Pictures was very accommodating, which was a huge blessing! Even changing from a Saturday date to a Friday date, they were still able to make it work! We received our Highlight Film while still on our honeymoon, which obviously was incredible and such a quick turn around. To summarize all of this, you will not regret hiring Thompson Pictures for your wedding - we surely didn't!! :) Thank you for everything, we will forever cherish these videos.

Traci S.

Married on 06/29/2019

Extremely Happy

Andrea and her team are the absolute best. The day-of everyone was exactly where they should be capturing every moment. They were all very professional and genuinely seemed happy to be a part of our big day. And the editing! so. good. The highlight film they put together makes me cry every time I watch it :) We would def recommend!

Traci H.

Married on 06/29/2019

Just Lovely

Andrea and her team are the absolute best. The day-of everyone was exactly where they should be capturing every moment (and detail). They were all very professional and genuinely seemed happy to be a part of our big day. And the editing! so. good. The highlight film they put together makes me cry every time I watch it :) We would def recommend!

Are you interested?

Send a message

Melany

Married on 06/21/2019

Fun & Simple

I have loved everything about Thompson Pictures. There isn't much involved with meetings / plans; We hired them in 2018, and then had a meeting a week before our wedding and discussed everything! They made everything so easy and their videographers were fun and enjoyable to work with at the wedding! Andrea Thompson does all the editing and has been a joy to work with & talk to when it came to creating our highlight / films of the wedding!

Bethany H.

Married on 06/01/2019

Wedding Videography

I got married in June and had a wonderful experience with Thompson Pictures as our videographer! After spending hours searching for a videographer that was great quality and in our price range, I finally found Thompson and connected with Andrea. As our contact point and the editor of our highlight and full ceremony videos, she was extremely responsive, timely, sensitive to our preferences, and made me feel comfortable that we were going to receive a great product at the end—which we did! The two videographers sent to our wedding and reception were so friendly and not distracting as photographers/ videographers can sometimes be. We are very pleased with the films as they do a fantastic job capturing our special day!

Lauren

Married on 04/06/2019

The best you could ask for

I am so grateful for the team at Thompson Pictures. They were extremely quick to respond and easy to communicate with during the planning process, and even after the wedding. The videographers were so kind and respectful, and did a perfect job capturing all of the beautiful parts that made up our wedding day. I'm so glad I found such wonderful quality for a GREAT price! I'm lucky to have had them capture the day to go back and relive!

Nga

Married on 02/16/2019

Love love love!

They were soo easy to work with and very responsive. We were so nervous and camera shy on our wedding day but made us feel so comfortable. Love the outcome of our wedding videos!

Mallory

Married on 06/16/2018

10 out of 10 RECOMMEND

I have to admit, I was a very indecisive bride, I was so ready to get married I didn't care about little things... such as video songs. I gave reign to Andrea and her team and they wowed me.
I cried again and again watching our videos and reliving our day. I cannot thank them enough!!

Lauren

Married on 05/12/2018

I cannot say enough good things about the Thompson Pictures team! They captured so many amazing moments from our wedding day and put together the most incredible videos that we will cherish forever! Andrea is so responsive and so accommodating, and we had the best experience from start to finish. When looking for vendors, I saw sample videos from other vendors that cost so much more, and I thought the product Thompson Pictures produced blew the others away! I was originally on the fence about a videographer, but man am I glad I changed my mind. Pictures are wonderful, but there are some moments that pictures just don't do justice. To have our vows and so many special moments from our wedding day captured on film for our future children and grandchildren is absolutely priceless! Thank you Thompson Pictures for allowing me to relive the best day of my life over and over and over again!!

Hallie

Married on 04/06/2018

Had a great experience with Thompson Pictures. Easy to work with and the videos they made were excellent! Would highly recommend!

Brooke

Married on 01/12/2018

Thompson Pictures was wonderful to work with!

Andrea and her team did an amazing job! They really cared about our wedding day and making our videos perfect. They asked for our input before the wedding and made sure we were happy with every aspect of the final product! Very professional and great work!

Makayla

Married on 12/26/2017

Thompson Pictures captured our wedding day perfectly! They were so professional and a joy to have them there on our big day.

Tory

Married on 12/09/2017

Wedding Videography

Thompson Pictures did my videography for my wedding in March! They took everything into consideration and made my vision come to life! They captured my day perfectly! Every detail came to life through their editing. I LOVED them!

Graham

Married on 10/21/2017

Andrea and staff were amazing to work with both before, during and after our wedding. She was very easy to get in touch with and provided us with everything we asked for in our videos. Our videographer Trey was extremely professional and went out of his way to capture all our special and unique moments throughout the wedding. Our highlight reel has been a huge hit with our family and friends and everyone has complemented on how well the it was all put together. We just received the final video and we could not believe the quality and sound. All of our songs we picked were perfectly synced with the flow of the video. We couldn't have asked for a better video or experience!

Jordan

Married on 09/23/2017

I Highly recommend Thompson Pictures for your wedding. They did an amazing job Picking the perfect locations for both my engagement pictures and bridal portraits. They did an amazing job capturing our wedding from all angles. It was a pleasure working with them.

Jane

Married on 09/09/2017

We used Thompson Pictures for our engagement photos, bridal portraits, wedding photos, and wedding videography. They were one of the best values for the high level of quality that we received for their services and products. But beyond the stunning photos and the beautiful cinematography from Trey and Andrea Thompson are two amazing people who truly care about their clients and are really pleasant to work with. Their entire team is so talented and professional, and it has been one of the best decisions to hire them for our wedding!

Christina

Married on 07/29/2017

Thompson Pictures was a pleasure to work with! They were great listeners, understood what I was looking for from my wedding video and were so easy to work with. I am highly satisfied with my video and I would recommend them to anyone.

Jacinda

Married on 04/24/2017

We used Thompson Pictures for our videography. We had a tough time restraint that morning and they worked very hard to get the important shots. We have since gotten our highlight video back and are very happy with it. Looking forward to seeing the longer version! Would definitely recommend Thompson Pictures!

Caroline

Married on 03/04/2017

We loved working with Thompson Pictures! They were super responsive throughout the whole process and were easy to work with on timing/planning. On our wedding day, the videographers put us so at ease, we almost forget they were even there! Great service, high quality product - we would definitely recommend Thompson Pictures to anyone!

Jenna

Married on 11/19/2016

Thompson Pictures was amazing to work with. The care about every detail and making sure that you day is captured perfectly. Spending the day with them was amazing, they are very caring and sweet. They are just as excited about your day as you are. Our highlight film was the most amazing video ever, brought tears to my eyes. They captured all the perfect moments that you will want to remember years from now. I would highly recommend them! We also had them do our photo booth, which was amazing! Our guests loved it during cocktail hour and the pictures are priceless!

Catherine

Married on 11/12/2016

They are the absolute best!!!! Highly recommend them for all brides :)

Our pictures turned out amazing! I love that we chose Andrea and Trey! They were very affordable but included EVERYTHING!!!!! I am sooo happy with this vendor!!! Extremely flexible to work with my and my fiancé's busy travel schedules. They give lots of guidance for people not knowing how to pose natural in pictures and really know the "art" of photography. By that I mean: lightening, angles, shadows, etc.

Mandy

Married on 10/22/2016

BEST videography company out there

Andrea from Thompson Pictures, is not only the sweetest woman you'll ever talk to, which is really quite nice to deal with when you are in the most stressful time of your life, but she is also extremely accommodating. I had multiple questions and I felt as if I was being annoying by every little thing I brought up, but she was very patient and kind and made me feel like I wasn't being a nuisance and answered everything and reassured me everything will be beautiful and work out. And boy was she right! We just got back our wedding video and it is so beautiful!!! Watching it made me feel as if we were reliving it again, which is an amazing feeling to have on such an important day of your life. If anyone is wanting to do a video (and I highly recommend it) definitely choose Thompson Pictures. They will work with you on pricing and they truly do want the best for you and will do whatever they can to give you what you want for your special day and make it all possible within your budget and time schedule.


Abi

Married on 06/25/2016

Thompson Pictures is an amazing group to work with! Andrea and Trey are phenomenal! I was really unsure if I was going to be able to have a videographer and they found something that would work into my budget that also included a photo booth! Their prices are hard to beat especially when you have such beautiful quality work! They were so awesome! Leading up to my wedding I worked with Andrea, and she was so great! She answered all my questions and more and was very flexible!!! On the day of Trey arrived promptly and was so fun to work with! He did such an awesome job filming and getting all the shots efficiently and at times it was like he was not even there. He made it feel very easy to just go on with our day! The photo booth was so awesome, there was really fun props and my guests absolutely loved having it! If I could redo my wedding day I would pick them a million times over! The quality of the video was beyond anything I had seen! They put so much thought into it, from the music to just each scene that was put in there! They are such kind and caring people and they gave me a memory from my wedding day that my family and I will cherish forever!!

Kimberly

Married on 06/04/2016

We chose Thompson Pictures for our wedding photography and videography, and it was the best decision we could have ever made and I do not say that lightly. Thompson Pictures was absolutely a blessing from beginning to end! We are truly blown away! From the first time I contacted Andrea to inquire about their services, she was quick to respond, helpful, and sweet. She always went above and beyond to make sure every little thing was being addressed and every expectation was met. Personally, I was not big on having bridals done, but looking back, I'm so glad that I did! Having those pictures to look back, I now realize how important they are to have.Trey did such a phenomenal job and got so many incredible pictures; I couldn't even pick a favorite. For our wedding day, we booked them for 6 hours, and we were provided with 2 photographers and 2 videographers for the entire time! That way, nothing could be missed and multiple perspectives could be captured. Every picture is absolutely perfect, beautiful, and timeless! Their impeccable skill and attention to detail shows in everything that they do, and the pictures and videos are everything we could've ever wanted and more. We received back about 1500 edited pictures, a 3 minute highlight video (also definitely recommend getting the highlight video... it was so neat, and all of our family and friends loved it), and also about a 20 minute feature film. For the price, quality, service, professionalism, and impeccable work, there truly is no better option! They did a phenomenal job and we've gotten so many compliments on everything. They truly could not have done a better job capturing our best day ever and we can't thank them enough!!! Choose Thompson Pictures for your photography and/or videography needs, and I promise you will not be disappointed!
Are you interested?
Send a message