72 Reviews
Recommended by 100% of couples
Quality of service

5 out of 5 rating

Average response time

5 out of 5 rating

Professionalism

5 out of 5 rating

Value

5 out of 5 rating

Flexibility

5 out of 5 rating
61 User photos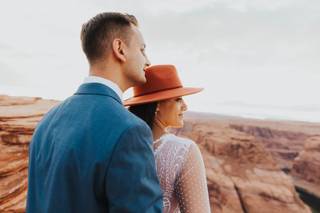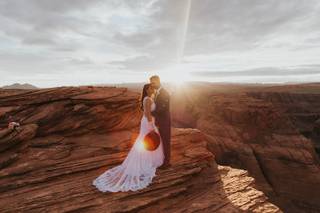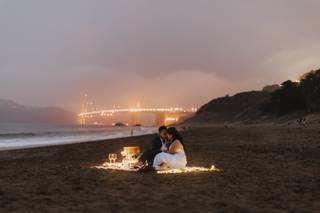 + 57

photos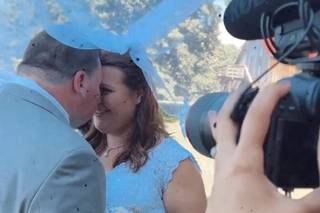 Kaitlyn O.

Getting married on 05/01/2023

Top Quality Work and Down to Earth People

I could not have been happier with what ThiBecs Production did for us on our wedding day. They made us feel so special on our special day and they were so sweet and encouraging. I got everything I asked for and more in our wedding day video! Super special people and professional work. Thanks ThiBecs for everything

Thibecs Production's reply:

Thank you so much for the kind words but most importantly, thank you for having us be a part of your special day!

Danielle K.

Married on 01/21/2023

Is there anything above perfection?

Booking Thibecs was hands down one of the best decisions we made for our wedding. Videography was one of the things I was most particular about getting right. I looked at over 20 videographers and interviewed 4. I kid you not, when I talked to Becca, I knew we found our videographer. She was bubbly and sweet and had the videography style we were looking for. Then at our wedding, we also met Thiago- what an absolute gem! Our entire wedding party fell in love with this team. Our photographer was a bit reserved, so thank the Lord for Becca and Thiago- they helped encourage some great shots and just worked so efficiently and were like flies on the walls- but still managed to capture EVERYTHING, in all the best ways! We got married a little under 2 months ago and got our video after 4 weeks (exactly) and I have probably watched our video no less than 25 times. They were able to capture our weekend so perfectly and took into consideration EVERYTHING we were looking for. Not only are they phenomenal at their jobs, they're wonderful humans. Just absolutely wonderful. If you want the best videographers out there who will also be your bff on your wedding day AND not charge you an arm and a leg, this is your team. You are foolish not to book them.

Arianne G.

Married on 11/05/2022

The Most Fun Engagement Shoot EVER!

Wow! There are so many wonderful things to say about Thibecs. From the moment I contacted them, they were so responsive and flexible, I knew I had to book them. I was able to create a completely custom package that worked for us, and our budget, it truly was a no brainer to book them. We've just had our engagement video session with them, and we truly haven't laughed that hard and had such a good time in a while. That's saying something because we are realllly awkward in front of the camera. We brought along our photographer to the session, and they just clicked so well together, it really put our mind at ease on what we can expect when the big day actually comes. Unfortunately, we were running pretty late to our shoot - and we were very apologetic, and pretty embarrassed by our tardiness. Thibecs was so understanding of our situation, and from the looks of the video, you can't even tell we were chasing sun light. The video was so beautiful, we sat in silence and watched it four times in a row, literally speechless. My favorite part, aside from the most beautiful, unique, and heartfelt video they created, was their personalities during the shoot. Rebecca was our personal cheerleader and we loved every moment of her and her comments, such an amazing hype man! Thiago was our constant reassurance that we weren't as awkward we thought and kept us on track throughout; they followed our photographer's lead, and it all seemed so seamless. I told them to get creative with the video, and they DELIVERED! My guests have commented on the video so many times already, with some even asking for their contact information. Easiest decision ever booking them, cannot wait what they pull out for the big day!!

Are you interested?

Send a message

Carolyn B.

Married on 10/28/2022

A dream to work with!

If you're looking for your sign to hire a videographer for your wedding, this is it… and do whatever you can to make Thibecs the team you work with!

Becca and Thiago are everything you could want in a videography team - professional, communicative, creative, kind, so much fun to work with, and genuinely excited about their couples and having the chance to capture their love stories. From the initial outreach to planning and prep to the big day itself, communication was easy and we felt we had great guidance (and honestly just like an amazing team of personal cheerleaders) the entire time. It was a joy having them as part of our wedding day and we 100% recommend Thibecs to any couples looking for a great/supportive team to capture their big day.

(For real though, we're considering getting remarried every couple months just so we can hire and hang out with Becca and Thiago over and over). Thanks y'all!

Carissa C.

Married on 10/15/2022

It was so awesome having Thibecs as part of our vendor dream team!

Rebecca & Thiago, it was an HONOR meeting, working & getting to know the two of you. You are such a power couple & I'm so here for it! I was beyond impressed with your attention to detail and ability to be flexible when necessary! You were just a breeze to work with and really made the day special in your own way! Oh, and your genuine care for the couple (Sarah & John) and your work shined through! I seriously couldn't do it without you two! It really does take a village & having you as part of our vendor dream team was EVERYTHING. Thank you again & I cannot wait until our paths cross again! BECAUSE THEY WILL. You're the best! Xo, Carissa

Amanda C.

Married on 10/10/2022

Best. Decision. Ever.

My husband and I didn't plan to hire a videographer. We were trying to stick within a budget, and we assumed it was an unnecessary extravagance since we'd hired an exceptional photographer.

One week before our wedding, I was talking with my sister about how my dad's dementia had worsened over the last year. She asked, "have you considered hiring a videographer to record these moments live while he's still somewhat lucid?" Until that moment, it hadn't occurred to us how precious an opportunity this was to capture our entire family together, possibly for the last time. However, we were SO close to the wedding day I thought there was no way we'd find a quality videographer that was financially within reach.

When I came across Becca and Thiago's website, I was completely blown away. I had no idea wedding videos could be so cinematically breathtaking--not merely a highlight reel set to background music, but an incredibly artistic "short" that perfectly captured the energy, feeling, love, and magic of that day. I was also impressed by Becca and Thiago's personal love story and their vibrance. I was certain they'd be booked and/or totally out of our price range. I took a shot, and sent Becca an email that night. I was shocked to get a response back within the hour!! (I think Becca must work 20 hours a day--I've received emails from her at 11pm and 5am!!) Not only were Becca and Thiago available for our Monday night wedding, but Becca was moved by the story of my father and worked with us to provide a package within our budget. From there we had a whirlwind 6-day coordination window to get the details right before our big day!

On the wedding day, Becca and Thiago were even more charming and charismatic in person. We felt like we already knew them. They worked seamlessly with our photographer, and many of our guests remarked at how hard they worked and how much they hustled to be "everywhere at once". That was certainly evident when we got the final product--they didn't miss a single key event, and everything we wanted to highlight was beautifully captured. Perfection.

My only regret was not booking them sooner so we'd had months to develop a deeper relationship with them the way they clearly do with many of their clients. I can not recommend them highly enough. If you are on the fence about hiring a videographer, spend the money and hire ThiBecs Production. Becca and Thiago are an incredible team, and you will NOT regret it!

Ty Comer

Married on 10/08/2022

Thibecs is a MUST

THE BEST.

From the moment we saw their work, we knew we wanted them to be part of our wedding day. We didn't know them personally, but saw their highlight videos on The Knot and had to contact them. Thiago and Becca felt like family and made our entire wedding day experience so much fun. They went above and beyond in their communication, their punctuality, and their day-of responsibilities.

I've never seen two people that are so much fun, but still are about their business. They have mastered bringing the energy while also nailing their footage. We'd hang out with these guys anytime.

Having Thibecs as our videographer was one of the best decisions we made. I never wanted the video to end. These guys are super talented.

Thanks again Thibecs!
We love you guys!!!

Hannah & Ty

Kristi

Married on 09/24/2022

The BEST Wedding Videographer!

From day one, we knew we wanted to work with them. We researched many videographers and were drawn to their work. They were so kind and helpful throughout the process and helped answer all our questions. I never doubted them once. It is hard to find good vendors, when planning a wedding. You just never know in the end what you will actually get. We can honestly say they were absolutely amazing to work with and worth every penny! I can't even begin to explain how great our video turned out. They captured every perfect moment and made it into a story, that we will be able to watch forever. They were also such a fun team to work with and we felt like they were a part of our group. If you're looking for a videographer for your wedding, don't even waste your time looking anywhere else. Invest with a great team that produces over the top-quality video. Thank you so much for everything, ThiBecs!

Maísa L.

Married on 09/09/2022

GREATEST professionals.

Thibecs are PHENOMENAL professionals!! We did photos at Horseshoe Bend and California and had a great time walking around while they captured our day. I cannot say enough good things about them and their work. I strongly recommend them to anyone wanting to plan an elopement wedding breathtaking!!! 10/10

Logan C.

Married on 09/04/2022

10/10 video and experience!

I couldn't begin to say enough positive things about this team. From the first time I spoke to Becca to receiving our wedding video, she made me feel like family. When arriving to our wedding venue day of, Thiago was just as personable and heartfelt. They are both professional, accommodating, down to earth and incredibly talented people to work with. I was on the fence about even hiring a videographer and let me say I have no regrets on choosing to do so and I am over the moon I found Thibecs. Our wedding video is everything I wanted it to be and more with every single segment from our day chosen perfectly. Do not look any further than Thibecs for an amazing vendor experience & phenomenal cinematography

Michelle M.

Married on 09/03/2022

Amazing vendor and amazing experience!

It took us a very long time searching for the perfect local videographers for our wedding. Then we stumbled upon Thibecs and we are so glad we found them! We were drawn to the way their videos told a story and how romantic, fun and vibrant their videos were. It did not disappoint once we received our final product. They were such a pleasure to work with. So sweet, professional, and just awesome people. They answered all our questions/concerns, chose the best music for our video, and captured all our special moments. They are also super helpful with directing our movements (especially for us who are very awkward in front of the camera). Turn around time was also very quick which was such an awesome unexpected surprise. When we watched our video for the first time, it was like reliving the day over again - experiencing the joy, laughter, and love. SOO thankful to have them be apart of our wedding! Would chose them over and over again.

76F9A187Fef85F1Ecffb707Fdb0D4Fb9813Caa5F

Married on 07/30/2022

Cinematic magic

ThiBecs production did an amazing job creating our wedding video! They truly captured every moment of our wedding day and turned it into 8 minutes of cinematic magic! They are so fun to be around and bring an amazing energy with them every where they go. I would 100 percent recommend ThiBecs production to anyone getting married. You won't regret it!

Marisa H.

Married on 06/25/2022

Duo team that you want on your wedding day!

Thibecs-Rebecca and Thiago were the best to have on our wedding day as our videographers. Rebecca was easy to talk to in our meeting before the wedding and the day of the wedding. Thiago made us feel like rockstars and models during our sunset photos. I loved their energy they brought on our wedding day. Can't wait to see our video!

Danielle S.

Married on 05/29/2022

Awesome Videographers!!!

I am honestly blown away by the work the ThiBecs did for my wedding! They exceeded my expectations and more. If you are on the fence about getting a videographer for your wedding, here is your sign to DO IT and book the ThiBecs! This amazing team definitely changed my outlook on videography and I am so happy I was able to work with them. They are the kindest souls and super fun people. You can tell when vendors take pride in their work because it shows and this couple does exactly that. By far one of our favorite vendors ❤

Hayden

Married on 05/13/2022

Can't imagine our day without ThiBecs!

Thiago and Becca were an absolute joy to have as our videographers. I don't even know where to begin! They have amazing energy that kept us very calm and grounded on our wedding day. There is so much pressure on the big day and they were an absolute joy to be around. We really appreciated their creativity and willingness to capture great shots. It was also a special touch to see all the Instagram posts throughout the day because it allowed us to watch a recap the next morning when we were still on cloud 9. ThiBecs brought our dream video vision to life and surpassed our expectations! We literally had family members calling us crying after watching the video. It has been two months since our wedding, and they still manage to bring tears to my eyes by letting me relive the big day through their Instagram posts :) I will be forever grateful to ThiBecs for our wedding video(s) that we will cherish the rest of our lives.

+ 3

photos

Emily D.

Married on 04/30/2022

Amazing !!!!!

Thibecs are literally amazing. They are super professional and kind. The best videographers out there. I would recommend for everyone to hire them! You will not regret it! 10/10

Jo Ann P.

Married on 04/24/2022

Thibecs are THE BEST wedding videographers to work with!

We're so happy to have worked with Thibecs Production!! From our first call to our wedding day, Becca and Thiago were an absolute joy. So warm, caring, communicative, creative, professional and thoughtful throughout the process, they made sure our experience and video was uniquely captured. Absolutely love reliving our wedding day every time we watch our wedding thanks to the beautiful video they created for us.

Tierney N.

Married on 04/23/2022

You need to hire Thibecs Production!

Wow, where do I start? Rebecca & Thiago are probably two of the most kindest, genuine, and considerate people we have ever met. From the beginning they welcomed us with open arms. The amount of talent these two have is nothing short of amazing. Their work is astonishing. Not one moment did we have to worry about feeling uncomfortable or wondering if everything we wanted would be captured. Their attention to detail is impeccable. I really feel I don't have the words to describe them because they were so amazing. From the beginning of planning, until the day of they were right by my side. Making sure to cover all the details of our vision for the wedding and even being a helping hand in whatever we needed. Whether that be advice, suggestions, or just an ear to listen. I couldn't recommend Thibecs Production enough. These two know what they are doing, and they do it extremely well. Everything on our wedding day went so smoothly. They made our family, friends, and guests feel so comfortable. The amount of laughter and calmness they brought to our day was more than appreciated. Rebecca and Thiago truly love what they do, and it shows through every aspect of their work. And it wasnt left at just that. We truly feel as if we gained two new friends. Thank you both for being apart of our day! We truly appreciate you.

Taís B.

Married on 04/17/2022

Perfect experience

wonderful job; super attentive and exceeded expectations... no words to describe such happiness and satisfaction

Agatha V.

Married on 04/17/2022

Meu casamento

Gostaríamos de agradecer e recomendar muito thibeces production fotos maravilhosas, e o carinho e a atenção conosco é incrível, muito obrigada

Katie D.

Married on 04/09/2022

April 9, 2022 Ceremony + Reception

Thiago and Rebecca are everything and more that we wanted in a videographer. They were extremely flexible with all of my flighty ideas in the months leading up to the big day. My husband and I had a guerilla ceremony at Brown's Island and together with my photographer, Kristina Guzman, they helped with the details around what our main vision was. Not only do they have eyes ands minds for creativity, they are a genuinely warm and fun couple. When my husband realized he was missing his keys, they chauffeured us from the ceremony to our reception hahaha

I could hire them to follow me around my routine day-to-day life and they'd still find ways to make a fun, thoughtful video out of it. We couldn't recommend their services enough!

Katherine H.

Married on 04/02/2022

THE best videography team

If I could get married again just to work with Becca and Thiago again, I would. They were that good. Becca and Thiago are absolute professionals and masters of the craft: the video they put together for us captured the spirit of the day perfectly. It'll be a family keepsake for time to come. The video was edited and shared back with us within a week during a crazy busy wedding season for them. And Becca and Thiago went the extra mile to share with us multiple versions of videos with and without some personal family moments. You can see that Becca and Thiago love each other and love their work. And that passion comes through in all that they do: in the preparation conversations, during the wedding, in the post-wedding follow-ups. They take real pride in their work and it shows. And not only are they top notch professionals, they are warm. They are kind. They are funny. They are chill. They are SUCH a joy to work with

Becca H.

Married on 03/26/2022

Incredible

Thibecs Production just created my wedding video and I am struggling to put into words how incredible they are. Thiago and Becca are the most kind, caring, professional, and fun couple to work with. They captured my wedding day perfectly and I'm so impressed with their skills. Not only are they the best at what they do but they are honestly the best people. Hiring Thibecs Production was the best decision we made and I can't thank them enough.

Nitisha K.

Married on 01/16/2022

No wedding should happen without thibecs filming it

There is a reason ThiBecs productions has a 5 star rating here They are absolutely THE BEST videographers my (now) husband and I could have asked for our day long wedding/reception. Here is why,

- This was their first Indian wedding and they were so so amazing! The sheer amount of research Rebecca put in by watching soo many videos on Hindu weddings was impressive. She and Thiago made sure to capture the BIG moments and did not miss any of the important rituals during the wedding ceremony.

- Their editing is the BOMB! I wanted the editing to be soft and as natural as possible. They truly made us look and feel like movie stars in our teaser, cinematic highlight and dances.

- Rebecca is so so receptive to feedback and so hardworking! I am very detail oriented and particular and had a million edit suggestions and she made sure to do her best to meet each one and if not, she had a very good reason not to and made sure to explain that to me in a way I understood. Our videos are perfection!

- We had cold sparklers for our first dance which set off the fire alarms. It was a nightmare to overlay our medley edit on top of it but Rebecca coordinated with our DJ and made sure it aligned perfectly!!

- They are punctual, professional and very easy to work with. They were like ninjas, we didn't even realize we were being videotaped (my husband is camera shy)

- You could see they were genuinely happy to see us get married and felt like a part of our family celebrating with us.


Thiago and Rebecca, we are so thankful for your art and the joy you bring into people's lives. And Rebecca, I'm fighting back tears as I'm typing this. You truly made our whole experience so special.

Morgan

Married on 11/27/2021

The Best Team For Videography

Becca and Thiago are the dream team of Thibecs and who you need for wedding videography! They filmed our rehearsal dinner and wedding day. I am so happy that we did the last minute addition of the rehearsal dinner as we were able to capture numerous speeches from our family and friends that were not heard during the wedding reception! My husband and I watch our wedding highlight video at minimum once a day because we are obsessed with the way it turned out! Our guest that have viewed it said that it captured the mood and essence of the night! Additionally we had a few family members that were not able to make it to the big day however, after viewing our video they said it felt as if they were with us on the day! Becca and Thiago were the best to work with as they were professional, energetic, fun, and have the gift of making you feel at ease through the process. If you would like your wedding to be captured into a movie that you can view and share for a lifetime Thibecs is the way to go! They will not disappoint!
Are you interested?
Send a message