Reviews
5.0 out of 5 rating
Quality of service

5 out of 5 rating

Average response time

5 out of 5 rating

Professionalism

5 out of 5 rating

Value

5 out of 5 rating

Flexibility

5 out of 5 rating
100%
Recommended by couples
9 User photos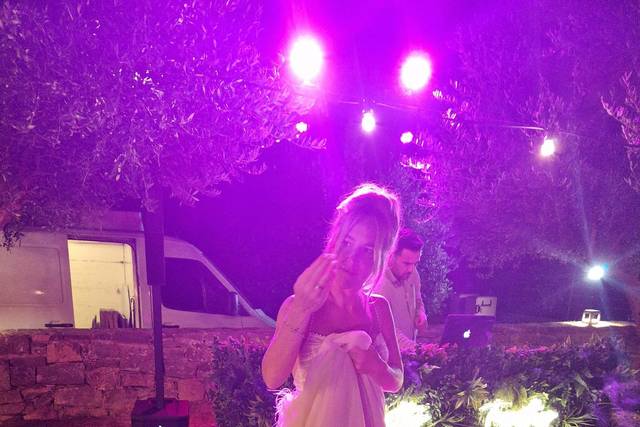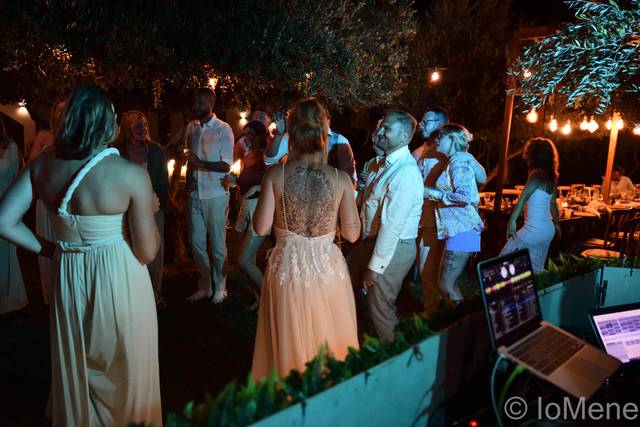 + 5

photos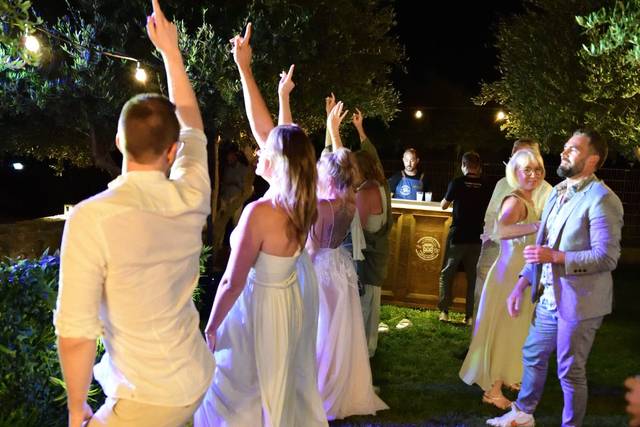 Aristea G.

Married on 09/23/2023

Amazing experience

No matter what I say about Theodorakis Events, it won't be enough. Michael's won me over from our very first meeting, and choosing to work with him was a decision that truly paid off. The service and communication with him were flawless. The setup of the sound system was fantastic! I would absolutely choose him again for our next event!

Cristina L.

Married on 09/16/2023

The energy of our wedding party!

We had the pleasure of having Michalis at our wedding, and we couldn't be happier with our choice. From start to finish,Michalis was the epitome of professionalism. He was incredibly accommodating and easy to work with throughout the planning process.

Not only did Michalis bring their immense talent to the turntables, but he also brought an infectious energy to our party. His friendly and approachable demeanor made everyone feel at ease and created a fantastic atmosphere.

Our wedding party was an absolute blast! He kept the dance floor alive until the end of the party with an incredible mix of music that had guests of all ages dancing and celebrating together. Michalis truly made our special day unforgettable.

If you're looking for a DJ who is not only skilled but also personable and dedicated to making your event a success, we wholeheartedly recommend Michalis. He went above and beyond to ensure our wedding was a night to remember.

Thank you!!!
Fabio and Cristina

Fay S.

Married on 06/04/2023

Η καλύτερη επιλογή για μια μοναδική και αξέχαστη εκδήλωση!!!

Δεν υπάρχουν λόγια για να περιγράψουν το πάθος, το ήθος, το ταλέντο αυτού του ανθρώπου για το έργο που παράγει!!! Ο Μιχάλης Θεοδωράκης είναι ένας υπέροχος άνθρωπος, ένας ασύγκριτος επαγγελματίας, ο οποίος μέσα από την δουλειά του, μας χάρισε την ομορφότερη και καλύτερη βραδιά της ζωής μας!!! Από την μουσική του, την ενέργεια του, το φαντασμαγορικά μαγικό setup του, έως την απέραντη προθυμία και καλοσύνη του να βοηθήσει σε οτιδήποτε περνούσε ή όχι από το χέρι του, ώστε όλα να πάνε κατ' ευχήν στον γάμο μας. Τον ευχαριστούμε θερμά, όπως και όλη την ομάδα του, για την υπέροχη δουλειά τους, είμαστε ευγνώμονες,
αισθανόμαστε ιδιαίτερα τυχεροί και παραπάνω από ευτυχείς που συνεργαστήκαμε μαζί του, ανυπομονούμε να συνεργαστούμε και σε μελλοντικές εκδηλώσεις μας, αφού πλέον η εμπιστοσύνη μας μετατράπηκε σε σιγουριά, πως ό,τι κι αν αναλάβει ο Μιχάλης, θα δημιουργήσει κάτι μοναδικό και αξέχαστο! Αν ο γάμος μας ήταν ένα παραμύθι, Μιχάλη ήσουν ο ναραϊδονονός μας!!!

Are you interested?

Send a message

Harris P.

Married on 05/27/2023

Professionalism, fun and most importantly, a great party!

Theodorakis Events was the best decision we could make for our wedding DJ needs.
Professional services, support at crucial decisions and a pleasant cooperation is what a couple needs when planning their wedding and Michalis and his team truly provided.
The party exceeded our expectations with the great music selections leading to a constantly full dance floor!
We are also fully satisfied with the additional services provided (Mirror Booth etc.) which contributed to a fun and memorable night!
For sure we recommend Theodorakis Events!

Holger O.

Married on 07/22/2022

Humorous , Fair, Funny, Music is his life , Friendly , Helpful

With Michalis every event becomes a party, and for us it was a dream wedding, and Michalis added a big part to that with his way, that it was a DREAM WEDDING for us!!!
Thank you !

+ 3

photos

Eva P.

Married on 07/01/2022

You are in safe hands!

Michalis has a vast experience in organizing wedding events. He is very professional and invests in his equipment to offer excellent sound quality, which particularly if your wedding is outdoors, this can make a huge difference in the final sound outcome. Working with Michalis was great and made us feel we were in safe hands!

George K.

Married on 06/18/2022

Theodorakis Events - The best Team to organize your wedding/ party/ event

We decided to cooperate with MIchalis & his Team Theodorakis Events during our wedding! From the very beginning and our first appointment we had a good feeling about our choice and he and his Team made our Dream come true. Everything was very well organized, the Dj was amazing, flexible and very patient with all of us (demanding audience). Highly recommended Team for Events! Would cooperate with this Team over and over again.

Elena P.

Married on 06/18/2022

A professional pal in your wedding

I could totally do my wedding again, with Mihalis on the decks, having the whole responsibility of everything soundable!
Speaking to him with the eyes, he knows what everyone needs & wants.
Thank you Mihali!

Cassandra K.

Married on 06/12/2022

Excellent professionals with a friendly approach everything was wl organized and exactly how we want to be.

We were very happy with Michalis and his associates! Very friendly approach, he listened carefully of how we want our wedding day to be and made his suggestions. He is responsible for our amazing party!

Pavlina T.

Married on 03/05/2022

Thank you so much! 05.03. 2022

Η καλύτερη δυνατή επιλογή! Μετέτρεψες τον γάμο μας σε ένα ξέφρενο πάρτυ, καλύπτοντας όλα τα γούστα. Το αφήσαμε όλο πάνω σου και ήταν ότι καλύτερο μπορούσαμε να κάνουμε. Ξεπέρασες κάθε προσδοκία! Επικοινωνία, επαγγελματισμός, θετική ενέργεια, ο, τι χρειάζεται ένα ζευγάρι για να σε εμπιστευθεί αυτή την ημέρα! Περάσαμε υπέροχα! Σ'ευχαριστούμε πολύ πολύ!
Μιχάλης, Παυλίνα και μικρή Καλλιόπη

Tolis B.

Married on 01/07/2022

Σε ευχαριστούμε!🙏

Πόσα ευχαριστώ να πούμε στον άνθρωπο που μας έδιωξε όλο το άγχος και μας χάρισε ένα υπέροχο πάρτυ γάμου, με τους καλεσμένους μας ακόμα να μιλάνε για αυτό! 🕺💃
Ήταν ένα δύσκολο καλοκαίρι κ το αποφασίσαμε στο παρά 5, να κάνουμε το γάμο και με αρκετές μειώσεις ατόμων, λόγω της κατάστασης, παρόλα αυτά δεν χάσαμε τη θετική μας διάθεση και ενέργεια και καταφέραμε να περάσουμε τέλεια!!! ✌️
Μιχάλη σε ευχαριστούμε πραγματικά γιατί ήσουν εκεί κάθε στιγμή που σε χρειαστήκαμε ακόμα και για αποφάσεις που πήραμε εκτός της διασκέδασης. ❤️
Σε ευχαριστούμε για τις πολύτιμες συμβουλές σου! 👌
ΥΓ. Εννοείται τον συστήνουμε με κλειστά μάτια σε εσάς που θέλετε να οργανώσετε την τέλεια δεξίωση ακόμα και με Covid 🦠🎉🥇🔝

Maria T.

Married on 09/04/2021

Ο ΚΑΛΥΤΕΡΟΣ

Ο DJ μας Μιχάλης Θεοδωράκης ήταν ένας από τους πιο καλούς "συνεργάτες " στο γάμο ...ο κόσμος διασκέδασε πάρα πολύ και το ζευγάρι εννοείται ! Με το χιούμορ του σε χαλαρώνει ( πράγμα που χρειάζεται το ζευγάρι) και το βασικότερο όλων Επαγγελματίας ! Δεν αγχώθηκαμε στιγμή για τη μουσική τα φώτα και τον ήχο ....Θα τον επιλέγαμε ξανά σίγουρα!

Mary M.

Married on 07/25/2021

Best wedding event ever!!!!

Ευχαριστούμε πολύ τη Theodorakis.Events, και το Μιχάλη προσωπικά!! Ήταν όλα όπως τα είχαμε σχεδιάσει και ακόμα πιο υπέροχα! Παρά τις δύσκολες συνθήκες με την πανδημία, ο γάμος μας ήταν όπως τον ονειρευτήκαμε!! Ραντεβού στην επόμενη δεξίωση μας❤️🎉 😉🍸

Evangelia C.

Married on 07/24/2021

Theodorakis events με κλειστά μάτια!

Δεν υπάρχουν λόγια να περιγράψουμε πόσο όμορφα περάσαμε χάρη στο Μιχάλη! Παρόλες τις αντίξοες συνθήκες που δημιούργησε η πανδημία, ο γάμος μας ήταν καλύτερος από αυτό που είχαμε σκεφτεί! Ο επαγγελματισμός, η οργάνωση και η ευστροφία όσον αφορά το κομμάτι της μουσικής έδωσαν μια υπέροχη νότα χαράς! Όλοι πέρασαν καταπληκτικά και μέσα σε όλους και εμείς παρόλο το άγχος μας! Σ' υπερευχαριστούμε Μιχάλη που ήσουν και εσύ εκεί παίζοντας καθοριστικό ρόλο στο γάμο μας ❤️❤️

Katerina M.

Married on 07/25/2020

Άψογος επαγγελματίας!!!

Ο Μιχάλης καθώς και οι συνεργάτες τους βοηθησαν στο να πετύχουμε έναν μοναδικό και πετυχημένο γαμο!!!Με τη μουσική του το κεφι ήταν στα ύψη μέχρι τις 5:30 το πρωι!!!Μοναδικές επιλογες και φοβερός συγχρονισμός!!! Με το Photo Booth αποκτήσαμε τη πιο συναρπαστικη ψηφιακη απεικόνιση των αγαπημένων μας προσώπων!!!! Εξαιρετική επικοινωνια, επαγγελματισμος, αψογη συνεννόηση!! Προθυμια, to the point συμβουλές, άμεσες λυσεις για ολα τα θεματα που αφορούσαν τον γαμο μας!!! Στηρίζει και εκπροσωπεί επαξια αυτο που λεμε "παροχή υπηρεσιών"
Αγαπαμε Μιχάλη γιατί είναι πραγματικά ο καλύτερος!!!! ❤️ ❤️ ❤️ ❤️ ❤️ ❤️ ❤️ ❤️ ❤️ ❤️

Νίκος ?.

Married on 07/18/2020

Το τέλειο πάρτυ γάμου!!!

Το τέλειο πάρτυ γάμου! Αυτός είναι ο τίτλος που θα έδινα στην δεξίωση του γάμου μας. Ο Μιχάλης Θεοδωράκης και οι συνεργάτες του έκαναν όλους τους καλεσμένους μας να χορεύουν ασταμάτητα ως τις πρώτες πρωινές ώρες! Παρόλο που η κατάσταση ήταν περίεργη με τα μέτρα για τον COVID-19, και ο κόσμος διστακτικός στην αρχή της βραδιάς, τελικά περάσαμε όλοι απίστευτα ωραία! Μιχάλη σε ευχαριστούμε για όλα & κυρίως για τον επαγγελματισμό σου, δεν είμαστε «εύκολοι πελάτες» και πραγματικά μας κέρδισες από το πρώτο λεπτό! Περιμένουμε να ξεκινήσει ξανά η «κανονικότητα» για τα προγραμματίσουμε το επόμενο μας πάρτυ!

Δήμητρα ?.

Married on 01/08/2020

Το καλύτερο party της ζωής μας

Η Theodorakis events το καλοκαίρι που μας πέρασε, αυτό το πρωτόγνωρα διαφορετικό καλοκαίρι που όλα ήταν ρευστά μέχρι τελευταία στιγμή, συνέβαλε τα μέγιστα ακόμα και στο να πραγματοποιηθεί ο γάμος μας μιας και ήταν δίπλα μας, να μας συμβουλεύει και να μας προτείνει λύσεις σε κάθε βήμα της διοργάνωσης. Στην πίστα υπήρχε διαθέσιμο αντισηπτικό για όσους χόρευαν και φορούσαν όλοι τις μάσκες τους. Αλλά το βασικότερο είναι ότι έγινε ένα καταπληκτικό party που μας έκανε όλους να ξεχαστούμε, να διασκεδάσουμε και να χορέψουμε μέχρι τελικής πτώσης!!! Ευχαριστούμε πολύ μέσα από την καρδιά μας για αυτήν την άψογη συνεργασία και ανανεώνουμε το ραντεβού μας για τα βαφτίσια σε λίγο καιρό! Ομάδα που κερδίζει δεν αλλάζει ;) Love U

Vasso K.

Married on 12/28/2019

Excellent!!

Μια υπέροχη εμπειρία η συνεργασία μας, γεμάτη Ευγενία, καλοσύνη και άψογη συμπεριφορά ότι αφορά εξυπηρέτηση, επαγγελματισμό και απαντησεις σε ερωτήσεις αλλά και την εκτέλεση του γάμου! Έγιναν όλα όσα είχαμε ονειρευτεί, και με το παραπάνω, και μάλιστα με χαμόγελο κ χαρά! Ήταν μεγάλη απόλαυση! Ευχαριςτουμε!!

Χαρά

Married on 10/12/2019

Ο υπέροχος dj του γάμου μας

Η καλύτερη επιλογή που κάναμε την πιο σημαντική ημέρα της ζωής μας!!! Μια απλή περιγραφή μας και είχε αμέσως καταλάβει τι ακριβώς θέλουμε!!! Δεν χρειάστηκαν παραπάνω αναλύσεις από μεριάς μας καθώς είχε μπει στο κλίμα του τι ζητάμε!!! Απίστευτη συνεννόηση... Άριστος επαγγελματίας... Ευγένεια και Χαρούμενη διάθεση!!!Ευχαριστούμε πολύ για όλα!!! Περάσαμε υπέροχα!!! 👍👍👍

Μαρία ?.

Married on 07/20/2019

My wedding

Ο καλύτερος dj με διαφορά!!! Πέρασα υπέροχα στον γάμο μου, δεν έκατσα ούτε λεπτό σε καρέκλα, όλοι μας οι φίλοι ήταν στην πίστα όλο το βράδυ χορεύοντας ξέφρενα... απόλαυσα το πρόγραμμα, σε επόμενο event δεν θα λείπεις να είσαι σίγουρος!!! Σε συστήνω ανεπιφύλακτα φίλε μου Μιχάλη!!!Συγχαρητήρια Για την δουλειά σου...

Aggeliki L.

Married on 06/21/2019

Ένας υπέροχος άνθρωπος!!!!

Συναιπης
Ευχάριστος
Λογικός
Επαγγελματιας
Χαρουμενος
Δοτικος
Σύγχρονος
Μορφομενος


Eleni S.

Married on 06/02/2019

Wedding 6-2-2019

Επαγγελματισμός, ασφάλεια , ποιότητα....τι να πω....αν ξανά παντρευομουν πάλι theodorakis events με το haris Για dj Μας.

Fani B.

Married on 05/18/2019

Ο καλύτερος!

Περάσαμε υπέροχα στο γάμο μας και το μουσικό προγραμμα ήταν φανταστικό! Ευχαριστούμε παρά πολύ για τη δημιουργία ενός υπέροχου κλίματος με κέφι και χορό, που έκανε όλους τους καλεσμένους μας να διασκεδάσουν και να το ευχαριστηθούν!!! Το συστήνουμε ανεπιφύλακτα!!!

Lida C.

Married on 12/23/2018

Amazing!!!!

We never had so much fun in an event. Everybody danced their hearts out and had the most amazing time. Sound quality couldn't be better. Would recommend 10/10

Georgia T.

Married on 12/12/2018

The best choice for your party

Michalis Theodorakis was the best choice for our wedding party. His flexibility and awareness kept our guests dancing all night long!!!
Are you interested?
Send a message