64 Reviews
Recommended by 100% of couples
Quality of service

5 out of 5 rating

Average response time

5 out of 5 rating

Professionalism

5 out of 5 rating

Value

5 out of 5 rating

Flexibility

5 out of 5 rating
4 User photos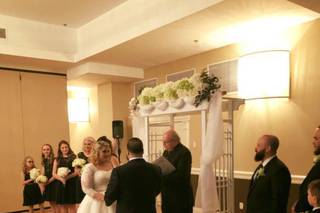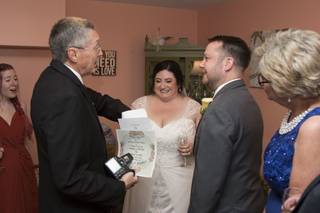 Talia

Married on 10/10/2020

Great officiant

First off let me start by saying that all of our guests loved Bryant. We also loved him! He was very easy to communicate with. The day of everything went smoothly! Highly recommended !

Brittany H.

Married on 09/12/2020

TWO Beautiful Ceremonies!

Bryant was wonderful to work with from start to finish! He was recommended to us by a friend of ours that he married several years prior to us. His prices are very fair, he's patient, informational, and very helpful. He listened to exactly what we wanted and provided us with beautiful ceremony script options that were customizable to fit us. Bryant also ended up marrying us twice because of COVID! He did our actual ceremony on our original date in a small backyard wedding, and offered to come back for our renewal on our new date at an extremely generous price. He made what could have been a stressful process very easy on us. I highly recommend Bryant!

Leslie

Married on 10/11/2019

Best Custom Wedding Ceremony

Bryant provided us with several scripts he has developed over the years and we were able to create a custom wedding ceremony that fit our style. He gave clear guidance on what we needed to do to ensure we had a wonderful event. His delivery was flawless and everyone was very impressed with the ceremony.

Are you interested?

Send a message

Perla

Married on 09/22/2019

Best officiant!

We couldn't have picked a better person to officiate our marriage then the marriage man, he's so sweet and has many years of experience under his belt and therefore made this experience so easy and wonderful. Very affordable as well and you can tell he truly enjoys what he does so it's genuine. Thank you Mr Bryant!

Meghan

Married on 02/09/2019

Friendly, Responsive, and Professional

While you can tell he has been doing this for a long time by his professionalism and knowledge, I didn't at all feel that I was just another bride to him. Our ceremony was beautiful and Bryant was a huge part of that! Highly recommend!

Timothy

Married on 10/07/2018

Bryant Heisinger - a wonderful officiant!

Bryant was an awesome officiant in every way! He is so friendly, warm and welcoming. Meeting with him helped shape the structure of our wedding ceremony. His in-depth experience in officiating countless weddings was extremely helpful in fine tuning the details of what went into the ceremony. Bryant is super-quick in responding to emails, often within minutes! He provides a draft document with words which was used as a starting point for the ceremony.
On the wedding day, Bryant arrived very early and took many photos which were provided the day after the ceremony. Bryant was so calming and helpful, and did a wonderful job during the beautiful, brief ceremony.

Thanks to Bryant, the ceremony was perfect!



Stephanie

Married on 06/15/2018

Thank you!!! Bryant was so responsive and made everything flow perfectly for our ceremony!

Melissa

Married on 04/21/2018

Bryant was AWESOME! He was thorough with the planning process and was more than helpful when we had questions regarding the marriage license, the ceremony and everything in between. Our guests were coming up to us all night saying what a beautiful ceremony we had. We cannot thank Bryant enough!

Georgann

Married on 03/17/2018

I knew I was in good hands when I contacted The Marriage Man, Rev. Heisinger was very responsive. The Ceremony Planner made customization a breeze. We had Rev. Bittner, he arrived early as promised & made the ceremony very special.

Dawn

Married on 01/14/2018

Bryant was an amazing officiant. He met with me and my husband and help us craft a wonderful ceremony. He listened and took time to make the day what we wanted. We had many family members give give us so many compliments. Bryant's extra touches like the pictures he took being sent to us, the special chocolate bar and commemorative certificate were thoughtful touches that you don't get from everybody. He sent our paper in to the city so that our marriage certificate could be obtained expediently. I would recommend him without reservation.

Annika

Married on 10/27/2017

Working with Bryant was great from the first time we contacted him until after the wedding. He is extremely responsive, thorough, and professional. He made everything so easy and explained everything in detail. I would highly recommend him! Thank you, Bryant!

Colleen

Married on 10/13/2017

Working with Bryant was such a pleasure! He made getting married easy. From the very minute you book him, he emails you detailed information on options for creating the perfect ceremony for you and your future spouse. He provides multiple outlines of ceremonies that you can adjust however you want, or keep as is. He makes himself available to talk via phone whenever is convenient for you, including weeknights up until 10pm. Bryant's response time to emails was incredibly fast; he responded within a few hours at most. He even answered all our questions about obtaining our marriage license, and provided us with helpful links via email. Bryant makes you, as a couple, a priority. He is professional, organized, detailed, accommodating, flexible, articulate, and friendly. Additionally, he gave my husband and I a discounted rate because we were referred by my sister, who was also married by him. It was a great value! On the day of our wedding, Bryant was prompt and he performed a beautiful ceremony. Everything was perfect down to the last detail. Do not hesitate to book The Marriage Man!

Danielle

Married on 08/05/2017

BOOK WITH BRYANT!!! He was so so helpful through the whole stressful wedding process! I literally emailed him so much about random questions about the ceremony itself and what to do after the big day to make our marriage official, and he always responded within a day or sooner. We met with him before we booked and he was so friendly and informative, we knew he was our guy! After booking, he sent us a very detailed ceremony "script" with so many different options. It was a BREEZE planning the ceremony with his help! He was also great during the actual ceremony as well. He was very clear and loud enough for everyone to hear him. Book with him!!

Bryant is a true professional and he is amazing at what he does. You can tell he truly cares about his clients. Thank you Bryant for giving us such a touching and memorable ceremony!

Lauren

Married on 07/08/2017

Our wedding venue recommended Bryant to do our wedding ceremony. I called him up, and he offered for us to come to his house and meet him! We were so happy to meet him because we wanted a nice friendly person to do our ceremony. Bryant is great with e-mail communication. I even had him change something the day before the wedding and he was more than willing to!

On the big day, Bryant arrived extra early and I was relieved to know he was there. Before my big day, I assumed that my ceremony would just be okay and I assumed I wasn't going to listen to anything he had to say. To my surprise, Bryant had my attention from the minute he started speaking. Bryant has a great speaking voice to be an officiant! We absolutely loved him and the ceremony was my favorite part of the day (to my surprise!) He had some cute surprises and pictures for us after the ceremony. Definitely hire Bryant to officiate your wedding!!!

Thanks,
Lauren and Ricardo
7-8-17

Amy

Married on 11/06/2016

Bryant was absolutely amazing for our wedding! He gave us everything we needed to create our perfect ceremony and was readily available for any questions we had throughout the whole process! He gave us all the resources we needed to apply for our marriage license and to change my name. He also provided many extras for us including a marriage certificate suitable for framing, a wedding web page with photos from the day, and a personalized gift. We couldn't be happier with the quality of service we received from him!

Amanda

Married on 10/15/2016

I initally contacted Bryant to officiate our wedding, however he was not available and suggested we use Daniel Bittner. What can I say. Bryant was wonderful and very involved to ensure our needs were being met and Dan was a dream. He really listened to what kind of ceremony we wanted and was wonderful at easing any anxiety we had. Dan's presence at our ceremony was soothing and he performed our ceremony without a hitch. He always answered emails in a timely manner and was very organized the day of the wedding. Dan (and Bryant!) will forever hold a special place in our hearts!!!

Erin

Married on 10/08/2016

Bryant was absolutely wonderful- when you consult with The Marriage Man, he will tell you that he is more than happy to answer any question or concern the soon to be couple may have, and he definitely went above and beyond my husband's expectations and my expectations in this department! Bryant was extremely prompt at returning emails, answering emails in depth, and providing general timelines in regards to when various aspects of the ceremony should be completed. Bryant was a huge help in designing our ceremony- to looking for non-religious readings, to offering alternative unity symbols, to assisting my husband and I in writing our vows. He is very charismatic, and did a great job at commanding our guest's attention- in particular, right as my husband and I were about to share our first kiss. My sister in law was in the bridal party and passed out at the same time he pronounced us as husband and wife- to keep the attention on my husband and I and to minimize attention directed towards my sister in law, he did a fantastic job to continue on with the ceremony and to not stop and stare at the situation before us all (i.e. he continued to speak, spoke louder to re-direct the focus of guests, etc). He even stayed around after the ceremony and took candid photos of my husband and I, which Bryant shared with us and we absolutely loved as another way to remember our day! In addition, the "Love is sweet" giant Hershey's bar with our married name and wedding date was a nice, cute touch along with our wedding certificate. An amazing officiant!

Antonia

Married on 09/03/2016

Bryant was an absolute dream to work with. First, I don't think this man ever sleeps! If you send an email, he responds quickly and with such detail; you never have to wait longer than 24 hours to get a response. He sends you a detailed wedding ceremony with various options for customization, but Bryant would also let you write your entire ceremony if that's what you desired! We had a non-religious ceremony, wrote our own vows, and included two readings. Bryant helped us with anything we needed. During the ceremony itself, he was clear, loud, and well-spoken. Our guests described our ceremony was "refreshing." Afterwards, Bryant presented us with some very sweet gifts and took photos. He sent us a private wedding website with these photos as well. In addition, he gave us detailed instructions for how to obtain our marriage license from the municipality we were married in! He made the logistical part of it so easy. Overall, Bryant is such a sweet, sweet man and you can tell he truly loves marrying people. I would HIGHLY recommend him! You will not be disappointed.

Pauline

Married on 08/27/2016

I cannot say enough positive things about our experience with Bryant. Throughout the wedding process he went above and beyond to help us in creating a ceremony that accurately fit us. He was flexible, responsive, and fun to work with. His help was invaluable in making our wedding day a success!

Samantha

Married on 08/12/2016

I do not have the words to describe how pleased we are with Bryant's services. With a lot of vendors, you feel like they're just looking for ways to make more money off of you. With Bryant, it genuinely seems that it's all about his love for helping couples get married. His price was very reasonable and his service FAR exceeded expectations.

At our consultation, he spent over an hour talking about our ceremony vision and giving us comprehensive instructions on applying for a marriage license -- before we even booked him!

He provided a sample ceremony script with interchangeable sections that we could choose what best suited us. He also allowed us to customize the script as much as we wanted. He offered honest feedback and advice without ever being pushy or impatient. And every time we emailed him, his responses were practically instantaneous!

He showed up extra early on our wedding day and brought along many sweet, personalized touches, as well as complete instructions/paperwork we would need to file for our official marriage certificate. He also brought a professional camera and took lots of great photos (which was especially appreciated as we weren't particularly thrilled with our photographers).

The ceremony itself was beautiful and special. MANY of our guests complimented how wonderful he was: clear, well-paced, sincere, upbeat, and meaningful. He made an anxiety-ridden bride feel so comfortable and happy.

Even after the wedding when his obligations to us were fulfilled, we sent some questions about the marriage certificate process, and he still responded to us immediately. Overall, it was truly a pleasure to work with Bryant. He is an experienced professional and, quite simply, such a good, kind person. You will not be sorry for booking him as your officiant!

Miri

Married on 05/01/2016

Bryant was excellent to work with, an absolute professional! My husband and I were married May 1st, 2016. We found out about Bryant through a friend, who's wedding ceremony he had performed, and we decided we wanted to work with him as well. We wanted to say more traditional vows, and Bryant worked with us to customize the ceremony with added personal touches. He was always available to answer any questions that we had throughout the planning process. Our ceremony went smoothly, and we have The Marriage Man to thank for that! We highly recommend The Marriage Man's services as an officiant!

Bryant was a pleasure to work with from start to finish. He was extremely flexible and upbeat and allowed us to customize our ceremony exactly as we wanted. He was always available and extremely responsive to any questions we had. We did not meet Bryant before our ceremony as we were running out of time. We had nothing to worry about at all. He showed up and was dressed professionally in a simple black suit. His voice and tone were exactly right for the importance of the ceremony, but he was also upbeat and friendly.

Thanks for such a wonderful experience! You helped to make our wedding day perfect!

Coleen

Married on 04/23/2016

Bryant was so easy to work with! Our photographer referred us to him and I'm so glad he ended up doing our wedding! My husband and I are not very religious, so we were very particular about what we wanted to be said during the ceremony. Bryant's philosophy is "It's your wedding" and is very accommodating to whatever your preferences are. He is also incredibly easy to work with and easy to get a hold of. If you email him at 10:00 AM on a Saturday, you'll have a response by that afternoon. He's the best and would definitely recommend him to anyone, especially to couples looking for a non-denominational ceremony!

Kaitlyn

Married on 11/20/2015

Bryant was the perfect officiant for our wedding! We met with him and he made it clear that the wedding was our day. He was very responsive via e-mail and made time for us to speak on the phone whenever we needed. He sent us a packet to help get us started in writing our own ceremony and was flexible in allowing us to write our own vows and add them in to our ceremony. He was prompt and friendly and spoke wonderfully. Bryant was also so helpful by filing our marriage license with the township and making sure we had everything set with filing for our license before the big day. He provided us with a certificate for our keeping and even took some photos and sent them over to us promptly.
Are you interested?
Send a message