The Trois Estate at Enchanted Rock Reviews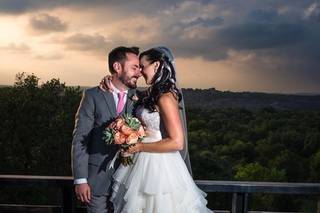 The Trois Estate at Enchanted Rock
Fredericksburg, TX
View more information
8 Reviews
Recommended by 86% of couples
Quality of service

4.3 out of 5 rating

Average response time

4.4 out of 5 rating

Professionalism

4.2 out of 5 rating

Value

4.3 out of 5 rating

Flexibility

4.4 out of 5 rating
Dana

Married on 04/15/2017

We got married here in April and we could of not picked a better place. If you are looking for a very unique and rustic place with an old world charm to get married this is your place! The staff is so nice and really makes you feel like home. They have twelve villas and a building that holds 15 rooms which they call the Lodge. Each villa is different with big four poster beds in them. It is very rustic with big antique furniture in each of them. We rented out all the villas and lodge rooms for my wedding weekend. Since we had the whole place rented out they set up fire pits around the property and courtyard for all of us to have fun and stay up late if we wanted to. It is like a little village and everyone was asking how in the world did we find this place. They loved it! On top of the cool rooms and beautiful courtyard there is a swimming pool in an underground cave and a cute underground chapel. The property has so many cool spots for photos like all the unique huge doors to the villas with the colorful color of the building. I got the best wedding photos. We had our wedding in the courtyard that was lit up with white lights and candles. We even had candles hanging from the big beautiful tree that is right in the middle of the courtyard. It was truly magical! Rebecca is the sweetest lady and was very accommodating to whatever I needed! On top of all that you are right across the street from the beautiful Enchanted Rock. So, the views are amazing and very peaceful being away from the city. You are about 20 minutes to downtown Fredericksburg where there is live music and great restaurants. Also, Luckenbach and tons are wineries are near by. This place is truly amazing and I look forward to coming back for anniversaries to come!

Dana Doolittle
San Antonio, Tx



Angela

Married on 11/06/2016

My husband and I wed at Trois Estate back in November of 2016. Though I am just getting the opportunity to write my review, I cannot say enough wonderful things about Trois!!! Rebecca and Vanessa were both truly a pleasure to meet and work with for our wedding. The property is utterly breathtaking and Rebecca really does so many things to make it feel as if Trois is a second home by the time of the wedding. The energy of the place and the peaceful oasis she and her family have created is nothing short of magical. Our guests couldn't say enough wonderful things about how fascinating and beautiful the venue was and most took advantage of our proximity to Enchanted Rock to get in some hiking and take in some of the phenomenal surrounding scenery. On our wedding day, a huge unexpected storm hit. Our original plan had been to wed and have our reception in the central courtyard and terrace, which though the rain stopped by ceremony time, were thoroughly soaked. Rebecca was kind enough to come out into the rain to find the groom and let him know we were welcome to use the chapel and Grand Hall for our reception and festivities. We had not booked this separate facility and it was an incredibly generous, sweet, and thoughtful thing for her to do when the rain began dampening our plans. Everyone on the team at Trois is so friendly, and they seem to genuinely care about each wedding that will take place at the Estate; it made me feel so relaxed. Our event couldn't have been any more lovely despite the hiccups the rain caused: Trois' staff ensured that the evening was pure magic! Thank you Rebecca and Vanessa!!!

Kelly

Married on 10/11/2014

Rebecca Trois and Vanessa were absolutely fabulous! The venue provided us the perfect place for our fairytale wedding. We had our ceremony in the courtyard and reception on the rooftop overlooking Enchanted Rock. It was gorgeous! The perfect place for Rustic and Eclectic Photography. The 12 Bed and Breakfast's accomodated our wedding party which provided convenience for everyone during our Rehearsal Dinner and Wedding. We felt like we were at our own destination resort. Their staff were very accomodating and available to assist when needed. Rebecca and Vanessa worked well with our vendors and were VERY flexible. Over the last six months, Rebecca has become a dear friend and we will forever be grateful for her hospitality and friendship.

Brent and Kelly Mansfield xoxo

Are you interested?

Send a message

Cindy

Married on 05/02/2009

What a magical place to have a wedding! It was a fairytale wedding. The Trois Estate is in Fredericksburg, Texas in the beautiful Hill Country. It is close to Enchanted Rock (also a very mystical place!) It is a B&B with a wonderful Italian restaurant so guests can stay right on the site. You can choose various places on the estate to hold the ceremony and reception. I chose the courtyard for the ceremony and the rooftop for the reception. There is also a quaint chapel with a grotto cave pool attached. Another perk of the estate is a European Day spa that I highly recommend. The couples massage package is worth every penny! My guests were in awe of the resort. The owner even gave the guests a tour of the grounds and her amazing house. She was so gracious to all the guests and made them feel at home and welcome. Everyone was making plans on going back for another visit or celebration.

Linda

Married on 12/01/2013

Rebecca was the sweetest person ever. She really took the time to get to know us and put so much effort into making sure our wedding day was everything we wanted and dreamed of. All our guests were stunned by the beauty of the Trois Estate. It's something that can't be explained and must be seen for ones self. The view of enchanted rock was spectacular and I really felt like I had an enchanted wedding. Thank you Rebecca for your hospitality to all of us and making our dreams come true!

A beautiful, photogenic location. Guests kept commenting how they felt comfortable and "at home" at the Trois Estate. We used the outdoor courtyard for our ceremony and the rooftop for the reception and dancing. Guests enjoyed watching the sunset and looking at Enchanted Rock from the rooftop during cocktail hour and dinner. No decorations needed with these beautiful views! They do have a larger, indoor location, but this bride & groom are outdoorsy.

The Trois Estate includes many items that other venues charge extra, such as tables, chairs and linens.

We had our wedding in the courtyard and restaurant of the Trois Estate this October and it was absolutely amazing! The venue is so unique and beautiful! Our guests loved walking around the estate checking out the balcony views of Enchanted Rock and exploring the different buildings including the chapel, grotto, and saloon. It was truly a memorable experience. The venue is a decent drive from town, which was somewhat of a negative, but once you get there it's worth it!
We bought out the entire venue for our wedding party for the weekend and it was great knowing that everyone up there was with us and we were all able to just relax and spend what little downtime we had in between setting up for the wedding together. The rooms aren't your run-of-the-mill hotel rooms, so guests should be prepared for a different more natural experience, but all of our guests loved the uniqueness of their rooms.
The staff was very accommodating to our needs. Rebecca was very personable and helpful, Vanessa was organized and quick to respond to any questions, and Jay was great at helping bring everything together. We live in West Texas and had to do everything long distance, which was initially very concerning, but we were very organized and the staff at the Trois Estate made it an easy process.
My husband and I can't wait to go back and stay at the Trois Estate and just be guests and enjoy the natural beauty of the location. If you want a one-of-a-kind venue that will provide the full experience of transporting your guests to a different time and place, go visit the Trois Estate!


Holly

Event on: 06/03/2017

Whatever you do, do not stay here. It seemingly looks nice online and then you get there and there are old boats and cars and trash dumped all over the property. The electricity went out several times while we were there. Your cell phone doesn't work in your room (and there is no landline to call the front desk). We found a scorpian in our room. Wow! And, then there was a rain storm that came in and the roof leaked and got all of my luggage wet, the floor wet, etc... water everywhere. These brand new pants I bought there were ruined and they refused to reimburse me for them!!! Run for the hills from the this place!!! Oh, and when we were having breakfast this other couple told us how their friends had left in the middle of the night it was so awful! We should have headed that advise! If this site has 0 stars, I would rate it that.