23 Reviews
Recommended by 89% of couples
Quality of service

4.5 out of 5 rating

Average response time

4.5 out of 5 rating

Professionalism

4.3 out of 5 rating

Value

4.4 out of 5 rating

Flexibility

4.5 out of 5 rating
Awards
61 User photos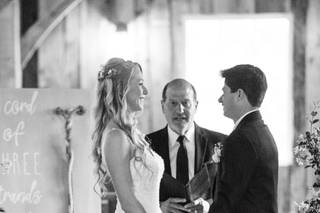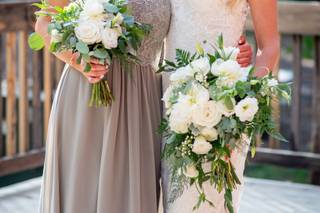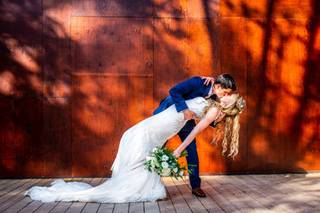 + 57

photos
Caitlin D.

Married on 07/01/2022

Our Magical Wedding at the Swan Barn Door

The Swan Barn Door was our venue from the moment we laid eyes on it. It is a magical venue that reflects the beauty surrounding it. The barn itself is draped in elegance and beauty - from the chandeliers made from the roots of trees down to the swan intricately designed into the wood floors this venue was whimsical, elegant and everything we dreamed it would be. It is family built and has a lot of heart, including in its team. Kari was prompt with communication and her daughter was also present and extremely helpful the day prior to the wedding when we had access to the venue to set up. We chose to have a Friday wedding that included the day before package which worked out splendidly for us. I emailed Kari the week prior to our wedding and received all the answers I needed regarding venue access and last minute final detail questions. The Swan Barn Door catering (Kamado Flo) was absolutely delicious. From all of our guests I heard nothing but praise for the venue and food. It was the easiest and one of the most impactful choices of our wedding and from the bottom of our hearts we are grateful to the Swan Family and their team.
Married July 01 2022
Fans Forever

Warm Wishes,
Mr + Mrs Herder

Heidi

Married on 10/26/2019

Beautiful and amazing venue

We chose The Swan Barn Door for its stunning views (indoors and outdoors) but mainly due to the fact that the owners, Kari and Paul, are very easy going and great to work with. They are very accommodating and respectful of your wants and needs. We highly recommend this venue to anyone!
Heidi and Jared

Laine H.

Married on 08/23/2019

Magical wedding experience!

Right from the first time we visited the venue we knew this was the perfect venue! The barn is beautiful and unique and has such detail that really leaves you in awe.
We got married at the Swan Barn Door in August outdoors behind the barn and the reception inside the barn. The outdoor ceremony was shaded which left our guests comfortable and the sound system was fantastic allowing everyone to hear (rare in an outdoor setting). The Swan family and staff made the entire day run so smoothly that we didn't have to worry about anything. The food, service, venue, and amenities were all amazing!
Amenities: air-conditioned (huge plus for summer barn weddings!), indoor bathrooms, ability to move wedding indoors if weather is not permitting, second story balcony giving extra room for guests to mingle away from music, outdoor wrap around patio perfect for cocktail hour and before wedding hangout.
Food & Drinks: Affordable and delicious! Also offers pizzas for later in reception cooked fresh from their fire brick ovens.
Photos: Our photographer, Carmina Rose Photography, had so much fun with the rustic and elegant setting of the venue! All the photos turned out amazing.
Location: one mile from Chula vista resort and Wisconsin Dells that made this venue convenient for us and out of town guests.
Overall, all guests and wedding party really enjoyed their experience at the venue. Everyone has told us just how magical the entire venue and day was that we are extremely happy we went with the Swan Barn Door!

+ 9

photos

Are you interested?

Send a message

Kelsey

Married on 07/06/2019

Absolutely perfect

The Swan Barn Door made my wedding day the best, and most perfect day to celebrate love with friends and family. There was so much room for the dance floor, the loft provided extra space for games and the outdoor space was so beautiful! The whole place, service and quality was 10/10!!

Hannah

Married on 01/05/2019

Beautiful venue!

Kari did a wonderful job helping us envision and execute our wedding day. We received so many compliments on how unique and gorgeous the venue was, definitely recommend checking out the Swan Barn Door!

Julie

Married on 08/31/2018

We couldn't have been more pleased with our wedding at the Swan Barn Door!! Kari and Paul answered all my questions and were so helpful throughout the process. The outside area for a ceremony is so lovely and the inside of the barn can be decorated as rustic or as elegant as you'd like!! Kari offers many vendors to help make your day your dream come true or you can do it yourself either way it will be gorgeous because of the romantic feel of the barn! We were able to book the day before the wedding to decorate, rehearse and hold our rehearsal dinner outside on the deck. It was all so perfect! I love that the barn has AC and beautiful bathrooms!

+ 3

photos

Avery

Married on 08/18/2018

10/10 would recommend! Such great people!

The Swan Barn Door was such a joy to work with. They were so accommodating throughout the entire process. They allowed us to visit as many times as we wanted as the barn was being built and were always responsive to email questions in a timely manner. Paul & Kari are truly such great people and I'd recommend them & the barn over and over again. We received so many comments on the craftsmanship & detail within the barn. It was the perfect place to have our wedding & I will cherish it forever!

Heather

Married on 11/04/2017

I could not be happier with my expericence with the Swan Barn Door for my Nov. 4th, 2017 wedding. From the very start, they were so accomidating and responisve. Kari helped me with everything from who they recommned for vendors and working with our band, to being open to customizing our bar menu. She also gave us more then enough time for set up and take down, which was a huge stress reliver.
The day of, it was raining so we were unable to utalize the outdoor ceremony space, but Kari and her team gave us a few indoor options and set up the perfect ceremony space in the balcony for us.
All of our guest were blown away by the venue and how beatiful the barn is. The combination of the setting and the amazing Swan staff makes for the perfect event. I highly recommend the Swan Barn Door!

+ 5

photos

Jessie

Married on 09/16/2017

Swan Barn did an amazing job with our wedding! We started looking at the barn Nov 2015 and it was just a hole in the ground come our wedding September 2017 the barn was something we couldnt even had imagined! The kindness and honesty with Kari and the amazing barn they built was something I'd recommend to anyone!

Amanda

Married on 10/22/2016

Paul and Kari were nothing short of amazing. The venue is absolutely stunning and we can't wait to see the entire barn finished. They were beyond professional, flexible, and attentive to our guests (us too). I can honestly say our day was absolutely perfect and a dream come true.

Stephanie

Married on 10/21/2017

Working with Kari was an absolute joy. Everything for our wedding turned out perfect! The venue was beautiful both inside and out! Everything we'd hoped for!

Drew

Married on 06/17/2017

Kari was great to work with. Very flexible and allowing us to visit multiple times. Our big day went flawlessly.

Brittany E.

Married on 12/05/2020

Overall amazing experience, beautiful venue!

The swan barn door is such a beautiful venue with so many unique details, it made decorating a breeze as the place speaks for itself. All our guests had a wonderful time and said it was the most beautiful wedding they have attended. The only downfall overall was that there was no kitchen and a poor area for the wedding party to get ready, but since it is located in such a great spot it makes alternative plans easy. Carrie also knows her food vendors very well- which made the catering process seem almost like there was a kitchen there- it just took a little bit extra planning to get everything together for the wedding day verses a venue that includes everything from the dinner, plates, food, linens, etc. But if you want your wedding where there is tons of accomodations, unique features, LOTS OF SPACE, with a great location this would be the place to go!

+ 5

photos

Kelli

Married on 09/14/2019

Such a stunning venue!

It was so nice having a venue like the Swan Barn Door that is extremely close to downtown Dell's but without the touristy chaos! Perfectly secluded. We had so much freedom to decorate and add our own touches that we wanted to really make our day special.

+ 5

photos

Lisa

Married on 09/04/2016

My husband and I had our reception at the Swan Barn Door in September. We learned in July that the barn would not be entirely completed by our date. Although we were disappointed, Kari and her team were very accommodating and flexible. They worked with us very closely to be sure we would be very happy with the barn (and the cost). And we were! No one noticed anything unfinished. We were creative in our uplighting, string lighting and decoration (Kari's flexibility enabled this) and were able to create what everyone called our "Enchanted Forest" by hanging lights and fabric everywhere, including outside. It was dreamy! The service was impeccable and all of our guests commented on this. We did not experience a single flaw. We loved having our wedding reception here!

Annette

Married on 07/22/2016

The Swan Barn door is a magical place to get married! It is something different then the typical resort in Wisconsin Dells! We were fortunate to be the first ones to get married there, it was very special to us! The owners were very accommodating in letting us do things our own way and helping our day be as perfect as possible! With any new business there are some bumps in the road but over time through experiences and learning the Swan Barn Door will become an even more magical and beautiful place to have your wedding! It is truly beautiful how they have used their wonderful craftsmanship skills to make and build the barn! Kari and Paul were great to work with! I would definitely recommend this location for people looking to have a unique wedding! We had the best day of our lives and it will be something we will never forget!

Britney

Married on 09/09/2017

we Had our reception at the Swan Barn Door and it was beyond beautiful! Throughout the entire night, and to this day people talk about how beautiful our venue was. Kari did a great job communicating with us throughout and made the entire process very easy!

Lisa

Married on 09/02/2017

Our daughter and son-in law's wedding day was a dream come true! We enjoyed watching this breathtaking barn being built from the ground up, using beautiful timber, as well as trees from the venue site. This is no ordinary barn! Booking this venue before it was built was a leap of faith for our family. But, we are SO glad we did! It is gorgeous! We received so many compliments about this amazing place, and the way everything came together. This venue accommodated our entire day. We chose their outdoor ceremony site for the nuptials, with handmade benches, beneath trees and cafe' lights. After the ceremony, our guests enjoyed cocktail hour on the beautiful outdoor deck. We had a lovely dinner and dance inside the barn on the main floor, beneath beautiful, handmade chandeliers. There is also a full bar, and a spacious upper level - making this a venue that can accommodate just about anything you can imagine. Our daughter and son-in-law were so happy with the venue and their special day. At the time of our event, the floor on the main level was still just plywood. But, the Swans accommodated the cost of a temporary dance floor, which was important to us. A couple of things that would help other groups: having the tables and chairs set up ahead of time (we thought they would be, but we had a group of friends who helped us with that); and having a complete kitchen service area with refrigeration. Big Picture - I cannot express how beautiful this place is! The Swans are awesome, kind, hard-working people who put their hearts and souls into the Swan Barn Door, and we hope their family and ours will be friends for life!

Brooke

Married on 08/05/2017

Very beautiful establishment, we loved our locations and overall decent experience

Pang

Married on 08/11/2019

Beautiful Venue

The venue is beautiful! You don't need much decorations to the place to make it beautiful because the place is already beautiful itself. The bridal suite is down in the basement. It's a cute little room but the lighting is dark, so i recommend the bride and bridesmaids to bring their own lighting mirror to do their makeup and hair. I have to go upstairs in the changing area to do my make up and hair there because for one it is crowded due to the many bridesmaids I have and two, the lighting was dark.
There is no suite for the groomsmen, but they offered a big house right next door (3 minute walk) to the venue to rent for the weekend, so my groom and his men dressed up over there instead. Which works out perfectly fine!
One thing I like about Kari is that she is very flexible with what kind of food we bring to the venue. Since my family is not a fan of American food due to cultural differences, she's ok with us catering through restaurants that's not on her list.
One thing I would wish they let us do is open the place a little bit earlier so that we would have more time decorate and give us more time to rehearse. We only have like 1 hr to rehearse, which I feel like it's not enough time for some of us. Other than that, the place is beautiful!

+ 8

photos

Kimberly J.

Married on 09/25/2021

Tour to see venue was extremely unpleasant

I was extremely excited to view this venue and it was actually my top choice. However, the experience just viewing the venue was awkward to say the least. First off, another couple arrived to tour at the same time as us. We walked in just after them and the lady, Kari, didn't even greet us, but said: "Who are you?", which made me think I had gotten the time wrong; we didn't. She seemed completely unprofessional and gave me the impression that we were an imposition to her (she was dressed like she had rolled out of bed). She barely asked us any questions and it was mostly a self guided tour. Very unfortunate and rude experience and I would have hoped that with the potential of paying $6500 for a venue that we would have been treated a lot nicer and with a bit more enthusiasm.

Conni H.

Married on 10/24/2021

Brides beware of owner's attitude...beautiful venue though

I was the coordinator and family member for a wedding in October at the Swan Barn Door. Though the venue is magical, especially when lit for an evening event; but working with the owner/manager/caterer was a nightmare. She was uncooperative and unprofessional bordering on rude. The linens shown in photos are rented through another vendor. Those provided my bride didn't even cover the legs of the tables. The temperature in the barn never warmed until after dinner. The set-up was not ready on time for decoration. The food had different items than chosen by guests and hit or miss was often served not warm. The hosted bar was not offered when guests came in from the ceremony and not announced so many guests ended up paying for their drinks, even though a hefty price had been pre-paid. Brides should beware that this can be a bate and switch situation. In my sixteen years of owning my event company, I had never encountered such an unpleasant situation.

Raquel F.

Married on 02/20/2021

Had to change venues

This was my dream venue we had reserved it for Friday and Saturday ....we had booked this venue before Covid. About 6 months before my wedding I found out that Friday ( I reserved) they had booked it with someone else. We had reserved so far in advance that it didn't show on the calendar they have in their website. So randomly I happen to look at their calendar (6months before my wedding) and seen we were not down for Friday but only Saturday. I understand we are human and things have been insane during Covid but I truly felt unimportant. We communicated with the venue about the situation (communication is slow even not on weekends) and they offered to given us a 1 night free stay in there condo. Which is nice but didn't resolve the actual issues....how am I going to have rehearsal now? When am I supposed to set up for my wedding ceremony and reception? The morning of my wedding? There were not solutions given for the actual problem and when in my mind this was my dream wedding the disappointment was hard to swallow. as well as no phone call apologizing. Just a email saying sorry, 1 night free condo and no solutions. It felt cold which isn't a great feeling when u planned to get married here. I don't have the personality that I could setup for my reception and ceremony the day of my wedding which is why I reserved the Friday before. I did end up canceling altogether with this vendor. Which then caused me to basically replan my entire wedding in 6months which was extremely stressful. Going from thinking your wedding is planned to you don't even know where your having it. My positive is we were able to get our money back in full.
Are you interested?
Send a message