Reviews
5.0 out of 5 rating
Quality of service

5 out of 5 rating

Average response time

5 out of 5 rating

Professionalism

5 out of 5 rating

Value

5 out of 5 rating

Flexibility

5 out of 5 rating
100%
Recommended by couples
47 User photos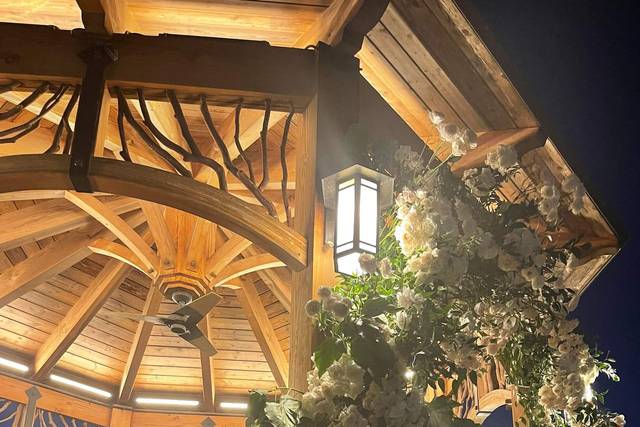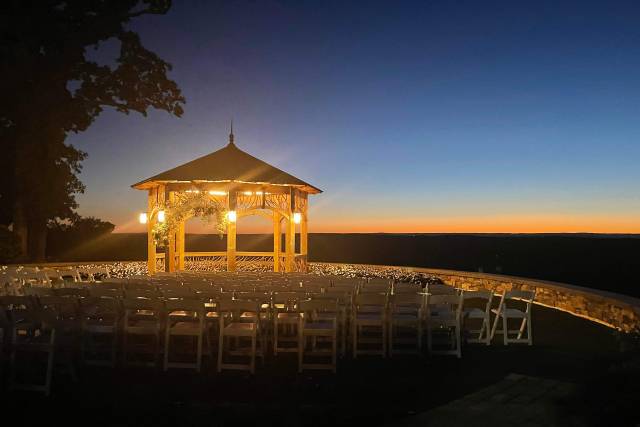 + 43

photos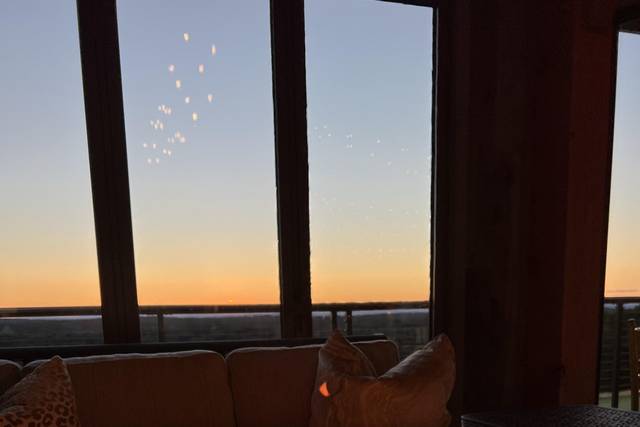 Featured

Susan N.

Married on 09/11/2021

Perfect from beginning to end

I don't even know where to begin! The starting gate from the moment we walked through their doors on our venue tour exceeded our expectations thoroughly. We started out working with Lauren who was amazing and helped us throughout our postponing of our wedding due to COVID and making sure everything we wanted was taken care of. They are so organized and really help with the stress of planning a wedding making sure every detail is thought about and discussed. When Lauren went on maternity leave we were given Chris who was just as amazing. She is organized and responsive and so sweet! She asks you what your vision is and makes sure that it's carried out perfectly. She took care of our entire day and it went off without a hitch. Guests were talking about our wedding and how perfect is was which of course we agreed. From the ceremony to apps, dinner and beyond they made sure everything was amazing I really couldn't have asked for a better wedding team and I can't say enough about the staff there.

The morning of our bridal attendant Emma was outstanding serving us food and making sure our needs were taken care of. I really can't say enough good things about this venue. If you are unsure in any way JUST BOOK IT you won't regret your decision. The day was so perfect and I'm still in awe about how everything was excecuted! Even the tastings were amazing! We became vegetarian halfway through and we were able to do another tasting to try vegetarian options for our wedding. I could go on and on so I will stop but thank you to the staff at the starting gate you all are amazing!

+ 5

photos

Kellie D.

Married on 05/06/2023

The wedding of my dreams

My wedding was an absolute dream. Chris Sullivan and the entire staff at greathorse went above and beyond to make sure this was one of the most memorable days of our lives. My husband is French and they went the extra mile to make sure his family traveling from France felt right at home. The venue is incredible and we had the pleasure of staying in their beautiful lodging for the weekend. 10/10

Stacy A.

Married on 09/23/2022

Gorgeous venue

Stunning venue. The staff was awesome and Chris was great!! Everyone said how gorgeous everything was and the food was amazing ! Great scenery - five stars

+ 3

photos

Are you interested?

Send a message

Kimberly R.

Married on 08/20/2022

The Perfect Venue

The Starting Gate was an amazing place to hold your wedding! The staff is absolutely amazing, they were there to answer any questions you may have during the most stressful time of wedding planning. Kat was an absolute pleasure to work with and made the day run so perfectly! The food- OMG, delicious! I have not heard one negative thing from my guests regarding the food! The atmosphere, the view, the vibe was perfect. You will not go wrong choosing this venue! 10/10!

Karen C.

Married on 08/02/2022

Magical Venue

Our daughter was married on 6/12/22 at GreatHorse. Chris Sullivan was instrumental from the very beginning. I can't say enough about her professionalism, knowledge, and event coordinating. Both myself and husband never worried for an instant, that the day would be anything less then perfect. I literally could never say enough about the extremely dedicated person she is to detail, and ensuring that your special event is done to perfection. What a pleasure it was to work with her. I would without hesitation, recommend GreatHorse for a wedding or special event. Cheers to you Chris! Miss you

Mikala

Married on 06/17/2022

Book your wedding here!

I can't even begin to put into words how amazing working with and having our special day at The Starting Gate was! Between the attention to detail, food, and the view, it's a complete home run!!!!! There truly wasn't one thing I would change about this venue. The event coordinator Chris Sullivan makes your day run so smoothly that you don't have to worry about one single thing. Thank you Starting Gate for making all my wedding dreams come true!!

David C.

Married on 06/12/2022

Incredible Ceremony and Reception Experience- World Class

full disclosure here- I worked with Chris and the team at the Starting gate as I am former alumni of the management team at the Great Horse clubhouse. After a 5 year hiatus away from the property and the business overall- I returned for the celebration of my Neices wedding. I feel its important to say that upfront, because I want this to this review to be as close to 100% accurate and transparent as possible. My role was clubhouse, so my interactions with Chris when I worked there were very limited. okay, now the review.

I have an amazing family, and we've logged some incredible events in the past- But i have to say this one was the best to date. Chris and her team were flawless in their execution and went so far above and beyond all 110 guest expectations- the accolades are still pouring in from all sides of our big fussy family. The food was 5 star, the timing was perfect, the hundreds of transitions that occur with a wedding were all smooth as silk. Chris ran things from the front and absolutely knocked it out of the park for us. The staff was attentive, friendly, competent, and available. The venue is jaw dropping BTW- by far the most epic wedding setting within 100 square miles. Look no further- you've found your wedding spot.

Conor C.

Married on 06/04/2022

It was perfect.

We got married in June of 2022 and cannot speak highly enough of Chris, the Starting Gate team, or the venue itself. It really was just perfect and would recommend over anywhere else. Working with Chris throughout the planning process was fantastic. She was professional, organized, knowledgeable, experienced, prompt on responses, but most of all- honest. She would give sound advice on what has worked and not worked in previous events and why. Chris was honest about prices and options with absolutely no pressure. We did not hire a wedding planner but having Chris and her team as resources was incredibly helpful as we put everything together. I don't think we could adequately express the level of attention to detail the SG staff had on the day of. The little touches of decorations, from the signature drink signs, some extra florals, and the food stations, all helped make the day as magical as we wanted. Every single person we interacted with (from the bartenders to bridal attendants to wait staff) was so nice, caring, and helpful. As we right this, we just joked that we are going to miss talking with Chris all the time! Thank you to Chris and the SG

Amber W.

Married on 05/29/2022

Gorgeous Venue, Incredible Staff, & Food to die for

I cannot say enough good things about this venue!! Chris, the coordinator, is responsive, professional, and made sure our day ran smoothly from start to end. Having a large bridal suite on site at the venue (with food & drinks provided by venue) was the perfect way to start our wedding day! The new sunset deck is stunning and made for lots of great pictures. All of the staff were so kind and professional; they truly helped make our day special. The beer wall and the champagne wall were a huge hit! We still have people reaching out to us telling us how good the food was and how spectacular the venue was!

Stefani C.

Married on 05/01/2022

The best wedding venue in Western Massachusetts

I can't say this enough: the Starting Gate is the best venue in Western MA. We toured twelve venues before choosing the Starting Gate from NH to RI. Of all the venues were toured they made us feel the most wanted and were hands down the most accommodating. Our wedding guests raved "this was the best service I've ever received." Our coordinator Chris Sullivan Latina was so responsive and diligent. I met with her probably six or seven times before the big day (it helped choosing a venue only fifteen minutes away from home as well!) she also responds to emails and calls at lightening speed. Our flower girl and ring bearer were having a hard time getting down the aisle and Chris was so smart to dress in the same colors as the wedding party to help get them down the aisle. The food was amazing and I especially loved the sangria wall! The bridal suite is huge with great lighting! The bridal party started getting ready at 9am but they would have accommodated an even earlier start time if needed. The venue is beautiful and I loved having a different spot on site for the ceremony, the cocktail hour, and reception. There were so many different spots on the grounds to take pictures. I can't thank Chris and the rest of the staff for my best day ever! Everyone should check out this venue for your big day!

Emily M.

Married on 12/31/2021

Perfection!!!

Between the location and staff our wedding was absolutely perfect!!! Chris and her staff truly out due themselves, they did everything we asked for and then some. The venue is absolutely stunning and we couldn't have asked for a better place to get married.

Briana

Married on 10/16/2021

True class and elegance all the way

Let me start by saying this was the absolute best experience I could have ever dreamed about and the team at The Starting Gate at Great Horse went above and beyond to make sure my day was stunning, elegant, & perfect in every single way.

We had looked at several different venues to meet the needs of our 200 guest count wedding. From the first time I met Chris Sullivan, the event coordinator, I knew this was THE place. She is professional, intelligent, and she is an enjoyable woman to work with. She really took the time to understand my glitz and glam vibe. She made wedding planning FUN! She was there every step of the way, e-mail, phone calls, touching base, and making sure we were always on the same page. She made recommendations without overstepping- she knows her stuff!! She is EXCEPTIONAL and SHE is the reason that made me say yes and lock in our date! (And the beautiful venue as well of course)

At our tasting, Chris was there to guide us and give us ideas and share her experiences. She was able to get to know us and our parents a little better and we engaged in great conversation. She is down to earth and comfortable to be around. During our rehearsal she made sure she had the attention of our crazy (in a good way) bridal party. She gave us directions that were easy to follow and we knew exactly what to expect for the next day.

On my wedding day, Chris was there for all of it, the most attentive coordinator there is. She made sure we were on time. She helped with guests, she helped with our processional for the ceremony, she fluffed my veil as I walked down the aisle with my dad, she helped bustle me, she was there for introductions, she was serving on the floor with her staff, she was there moving the cake table when it was time, she made sure everyone was happy and had what they needed, she was everywhere at one time to make sure the night ran as smoothly as it did. She is the person you want on your side as a Bride!

The set up at The Starting Gate provides your guests a seem-less night from ceremony to cocktail hour to reception. The views are stunning and the entire venue is easy to maneuver and handicap accessible! The grounds are well-kept and spotless. The venue is clean inside and out. I really loved that the ceremony space was turf so that our heels didn't sink in the grass and it fit all of my guests comfortably!

The culinary team here is outstanding. The entire night we received nothing but compliments on the hordeurves passed during cocktail hour to the main entrees to even the way the cake was presented. You can tell the chef takes pride in what they do starting with the fine details in how the meals are plated to the raspberry coulis spread on our cake plates! Presentation, taste, attention to detail again all 10/10 just like Chris.

The morning of the wedding my bridesmaids and I got ready in the gorgeous bridal suite. It is spacious and has two bathrooms which was fantastic! — Kat helped take care of us- she served us our light breakfast spread, cleared our messes, made sure lunch was served and always knew when to bring more champagne. The spread was unbelievable, delicious, and even the small details like the cute napkins and signs for food were so nice! Kat was polite and she was discreet in a way that you knew she was there if you needed anything at all. She was fabulous & and she made my morning stress free! She was there not just in morning but for the evening as well. She made sure my fiancé didn't see me before I walked down the aisle and that guests weren't in the reception area went I went down for first look with my dad. She is fantastic at what she does.

The bartenders and wait staff at The Starting Gate were above and beyond as well. They were pleasant and funny!! They made great drinks and every time I looked they always had smiles. They engaged in conversation with my guests and it looked like they were having fun too. Guests would get up to use the restroom or bar, and wait staff would notice and their settings would be scraped clean of crumbs and napkins neatly placed. The wait staff was on the floor but never in the way. The entire team, just nothing but great things to say.

The team here pays attention to the little details and this matters. Did I mention my husband also had a broken leg and they made sure he was comfortable the whole night? Providing us a golf cart with a personal driver, making sure he had something to lean against at the outdoor ceremony space and turning the fire place off for a moment while we ate to give him a break from sweating in his tux! Seriously who could ask for more. This venue is TOP NOTCH from the location, views, dish ware and glasses, options they provide, service, team and wedding coordinator - I couldn't have dreamed of a more perfect experience nor a more magical evening.

Thank you thank you thank you to the entire Starting Gate team for making the small details matter and for being exceptional throughout the entire process🤍 Chris, Kat, waitstaff, bartenders, culinary team, everyone part of my night, you are absolute perfection- truly the best place and will forever hold a special spot in my heart.

Kelsey H.

Married on 07/16/2021

The Absolute Best

The Starting Gate was the most incredible venue. From our first meeting with Lauren, she and the staff (especially Chris and Julie) paid attention to every little detail to make sure our process and the wedding day ran smoothly. Our guests loved the views, the FOOD and the entire party they put on for us. They also provided excellent vendor recommendations. Very very pleased.

Madeleine G.

Married on 06/25/2021

No other place compares to this!

Wow. I am blown away by The Starting Gate at Greathorse. My husband and I knew as soon as toured this venue that this is where we wanted to get married. Lauren and Chris are such a pleasure to work with. They have incredible organization, professionalism and attention to detail. They really made us feel special on our day and all the days leading up to our wedding. I had no doubt in my mind they would make our day everything we wanted it to be. They did more than anything I could have imagined.

Micaela L.

Married on 05/01/2021

Highly recommend!

If you are looking to have the most perfect wedding day look no further than The Starting Gate. We got married May 1st, 2021 and I cannot even begin to tell you how amazing they were. We were under loads of stress from having to postpone our wedding and they took almost everything off of our plate to make it so special. Our wedding coordinator was Chris Sullivan and I must say that this woman is unbelievable - every little detail of our wedding day was immaculate and went exactly as planned because she runs the show! I also want to touch on the food because it is unbelievable, every one of our guests couldn't get over how delicious it was & also the VIEWS - absolutely stunning. Thank you to everyone at The Starting Gate for the best day ever!

Sarah M.

Married on 04/24/2021

Wedding of our dreams

The Starting Gate completely exceeded our expectations! We had the wedding of the dreams October 18, 2020! Lauren and her team went above and beyond to make our day absolutely perfect!! The view, the service, the food, and the drinks were absolutely amazing! I would recommend The Starting Gate to anyone and everyone. Thank you for making our dream wedding reality!

+ 3

photos

Deirdre F.

Married on 12/19/2020

Best Day Ever!

When we began looking at wedding venues last year, The Starting Gate at GreatHorse stuck out, based on the beautiful pictures we saw online. Seeing it in person completely sold us. After that first tour, we knew that's where we wanted to get married. However, little did we know that the picturesque views were not even the most amazing part of having our wedding at The Starting Gate – that was hands down the staff. Everyone was amazing from start to finish – from that first tour, to our many questions regarding COVID-19 changes, to pulling off the most amazing event the day of. Chris was there for us every step of the way. She even talked us down from canceling and losing out on our deposits when we decided we wanted to move our wedding up and have an intimate, safe wedding during the pandemic. She was able to make the wedding of our dreams, even in these crazy times! I am a perfectionist and was anticipating a stressful wedding day, ensuring everything was taken care, but I didn't have to lift a finger! I was able to relax throughout the whole day and the staff took care of everything – it looked even better than I could have imagined! Finally, I can't forget to mention the food! Everything was incredible and all of our guests were raving about it all night. I highly recommend adding the Viennese dessert bar, and everyone loved the macaroni and cheese bar! Plus, thanks so much to the waitstaff and especially Paige for taking care of the groom – he's a picky eater and they were all happy to give him extra of anything he wanted in substitute for something he didn't like. That being said, all of the food was so good he even ventured to try some things he doesn't normally eat! Thanks so much to everyone at The Starting Gate for helping us navigate this last year and helping us pull off the wedding of our dreams – we couldn't have done it without you!

Erica H.

Married on 09/12/2020

Absolutely Amazing!

Choosing to have our wedding at The Starting Gate at GreatHorse was one of the best decisions we made. Starting with our tour of the venue and meeting Chris Sullivan, everything was first-class. Throughout the planning process, Chris and her team were extremely responsive, and helped us with all of the details. On the day of our wedding, everything was absolutely perfect. The venue was spectacular, the service impeccable, and the food delicious. Most importantly, Chris and her team handled everything so that we could relax and enjoy our special day. We truly feel that Chris and the venue helped make our wedding day one that we will never forget.

Kaitlyn R.

Married on 09/04/2020

The best venue for the best day!

My husband and I could not have picked a better venue for our special day! Little did we know that wedding planning would involve a pandemic and navigating a new world, however, Lauren worked tirelessly to ensure that our vision still came to life. We knew as soon as we walking on property that this was the spot for our dream wedding. Lauren and the team at The Starting Gate had great communication and flexibility and worked to ease our nerves and take care of all of the details for our wedding. I loved having so many options for ceremony/reception locations inside/outside or with the deck/garden, we ultimately had the perfect day and weather worked in our favor. Since the wedding we have heard nothing but rave reviews from close family and friends about how delicious the food was and how it was one of the best weddings they had all been to! I cannot recommend The Starting Gate enough to others! (photos from rehearsal dinner)

Bryana K.

Married on 08/21/2020

Gorgeous Venue with amazing wedding planning staff

Our experience at The Starting Gate was wonderful from start to finish, even as a couple getting married in 2020, which has come with so many ups and downs!

The Starting Gate was only the 2nd venue we looked at and we just so happened to tour during sunset and after seeing the breath taking view overlooking the hillside and the trees, we knew it was the one. We wanted to get married outside and the Wedding Garden is absolutely beautiful and we loved that we could have Cocktail Hour outside on the patio at Sunset. Their ballroom is also stunning, but we didn't end up needing it because of our modified 2020 wedding :)

Our original date for our wedding was Friday, August 21, 2020. Going into wedding planning, I really didn't want to do a Friday wedding but for a quick turnaround that was really our only option if we wanted to get married while the weather was warm enough to do the ceremony outside. It goes to show just how much we loved this place since we decided to compromise on day of the week and do a Friday just so we could have our wedding there.

From start-to-finish, our wedding planner provided by the Starting Gate, Lauren, was the most helpful, understanding, accommodating and assuring person. When the pandemic started to get serious in early Spring, we had no idea what was in store for us. As weeks and months passed without things improving much, we started to realize it was a very real possibility we wouldn't be able to have a wedding in August, and definitely not with more than just a handful of people. Lots of couples decided to postpone a full year, but we were set on getting married sooner rather than later. However, we didn't want to sacrifice having at least our family and our absolute closest friends there. Lauren was our rock throughout that whole time. We put a few back-up dates on hold at no charge and when it became clear that August 21st wouldn't be possible, we nailed down a date only about a month later and Lauren helped guide us on the logistics of postponing and then re-inviting for the new date with a smaller number of people.

There were plenty of restrictions in place for our wedding which made holding that kind of event really tricky, but everyone at the Starting Gate was flexible and gracious while also doing everything required to be able to hold a wedding safely. Our ceremony, cocktail hour, and the reception/dinner had to be outside, and the team at the Starting Gate came up with a wonderful plan and layout to make the possible. We were able to utilize the wedding garden for the rehearsal dinner, the ceremony, and the cocktail hour, as well as post-dinner for fire pits and cornhole and socializing in lieu of a dance floor. The dinner was outside on the patio at sunset which was truly breathtaking.

The week of the wedding I had tons of questions and Lauren was my go-to person; she would answer every text to her within minutes, she coordinated with all my vendors to make sure they knew what the plan was and what precautions to take, and everything went off without a hitch. Our wedding day was absolutely perfect and we wouldn't have changed a singe thing. So many of our guests have said it was the most beautiful and fun wedding they've ever been to which is a testament to what a wonderful job Lauren and the staff at the Starting Gate did for us!



Katie A.

Married on 07/03/2020

Fairytale Wedding

Any couple looking for a fairytale wedding should look no further than the Starting Gate. The views are breathtaking. The venue is stunning. The wedding coordinator at GreatHorse, Chris Sullivan, is amazing. No matter how many curveballs were thrown at us with the COVID restrictions, Chris was prepared to handle them and make changes she knew would not disappoint. And let me tell you, there was not one single disappointment about our day. From the bridal suite to get ready in, the ceremony under the gazebo, the cocktail hour on the deck, the endless hors d'oeuvres and passed plates of filet and scallops, the mac and cheese station, the champagne wall, the friendliest and most attentive wait staff, and the list goes on, everything was perfect. Our guests have repeatedly told us it is the best wedding they have ever been to and that the food was the best they have ever had. Thank you GreatHorse for making our wedding the best day of our lives!

Alexis F.

Married on 10/27/2019

Fantastic Experience and Breathtaking Venue!!

This was the first and only venue that we toured. After taking a tour of The Starting Gate with Lauren, we knew we could not have our wedding reception at any another venue. After speaking with Lauren on the tour, I knew I felt comfortable and could trust them with making sure y day felt special and beautiful. It was everything and more than I could have dreamed of! The views are spectacular and you will not be able to get another venue with views like The Starting Gate offers! Lauren and Chris were wonderful to work with; they truly made the wedding planning process fun and less stressful. They were extremely detailed, organized, and attentive throughout the process. The ballroom and bridal suite are elegant and cozy. There is a fireplace where our sweetheart table was setup in front and the space for the cocktail hour on the deck was classy with stunning views. Our guests did not want to leave the deck during cocktail hour because they were enjoying the space so much! Lauren and Chris want to make your day special and specific to what the couple wants, and I was grateful they took the time to do this. In addition to the facility and views, the food was outstanding!! My guests are still talking about the food and venue. I would highly recommend this venue!!

+ 2

photos

Betsy T.

Married on 10/13/2019

Perfect venue

The Starting Gate was the first and only venue that my husband and I toured. We knew from the second we saw it that we needed to have our wedding there. It had everything we wanted - an outdoor wedding garden for our ceremony overlooking a BREATHTAKING view, a large open terrace for cocktail hour, a beautiful bridal suite to get ready in, and the most elegant ballroom complete with a cozy fireplace and dazzling chandeliers. Not only was the space amazing, but working with Lauren and Chris was a wonderful experience and I can't say enough good things about them. They accommodated every request we made, advocated for us when other vendors were monopolizing our time, provided timely responses to all of our emails/phone calls, and did everything in their power to make sure we were happy and taken care of. I am not usually someone who hands over the reigns easily but I had 100% confidence in them from day 1 - and they definitely delivered. Our wedding was absolutely perfect and I would highly recommend The Starting Gate at Great Horse to any couple looking for a wedding venue!

Kristin

Married on 10/04/2019

Excellent, Excellent, Beautiful, Amazing

The customer service, the atmosphere the view! They truly made our dream wedding come to life. We still have our guests telling us it was the best wedding they've been to because of the atmosphere and the customer service our guests recieved. They really went out of their way to make your day extra special. I cant recommend The Starting Gate enough!

The Starting Gate at GreatHorse's reply:

Hi Kristin!

thank you so much for the wonderful 5star review! I hope all is well and married life is a dream!
CS

Cindy O.

Married on 08/31/2019

Absolutely Perfect

We got married at Great Horse in late August and we couldn't have asked for a more perfect day. The staff is incredibly attentive, the grounds are beautiful, and the food was delicious. We would definitely recommend Great Horse to anyone looking is Western Mass!
Are you interested?
Send a message