6 Reviews
Recommended by 80% of couples
Quality of service

4.3 out of 5 rating

Average response time

4.2 out of 5 rating

Professionalism

4.2 out of 5 rating

Value

3.6 out of 5 rating

Flexibility

3.7 out of 5 rating
1 User photo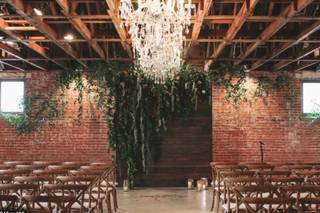 Sonia B.

Married on 05/10/2019

Amazing CO Wedding Venue!

The St Vrain was the most amazing venue for our wedding. From the very beginning the owners made us feel so welcomed and special. Annie and Mark are dedicated to making sure your day goes off without a hitch. They have thought of every detail. From the bridal suite and groom's room for day of getting ready, to a gorgeous ceremony backdrop, to a luxurious and hip cocktail reception space and spacious dinner & dancing area - all of your wedding dreams will come true here. Cannot recommend The St Vrain enough! You won't regret it!

The St Vrain's reply:

Sonia! Thank you so much for taking the time to share the love! It was absolutely our pleasure to help you and Bryan celebrate your big day! We do wish the two of you all the best for a lifetime of love, laughter and adventure together! CHEERS!

Caitlin

Married on 06/30/2018

The St. Vrain is a beautiful venue and we loved having our wedding there! Mark and Annie (the owners) were wonderful to work with and have really thought of everything. The caterer they hire, Sugar Pine, is incredible.

Just make sure you are aware of all the costs and that you understand your contract. We had a few misunderstandings that led to frustration, but Mark and Annie were very gracious and made sure it all worked out for us.

Brenda H.

Married on 04/24/2021

The most beautiful venue in the Denver-Metro

Our wedding was a blast here and we continue to get compliments about the day! There is no other venue in the Denver-metro area that can compare. We looked at similar venues in and around Denver, but none of them came close. This venue is truly beautiful on and you really don't need much in the way of decorations/flowers, if you don't want to. Our favorite spot is downstairs for the cocktail hour.. you walk the down the stairs and totally aren't expecting it! The owners were very sweet and helpful along the way, especially with all of the changes with COVID. The best thing about this venue besides it being SO beautiful (we knew it was our venue the moment we walked in) is you can BYOB and save lots of money. Everything was perfect from start to finish and we also rented out their guesthouse (The Terry House) for my mom's side of the family. They loved it and it was perfect because it's only a few blocks from the venue. You can see The St Vrain from the porch. I would highly, highly recommend this venue and to book an appointment ASAP to lock in your date.

The St Vrain's reply:

Brenda! Thank you so much for taking the time to let us know that your wedding weekend was all you had hoped for! We so appreciate how you and Andrew navigated all the ins and outs, ups and downs of 2020! We wish you all the best in your grand adventure together!

Are you interested?

Send a message

Hayley H.

Married on 09/26/2020

On Cloud Nine in Longmont

We fell in love with this swanky industrial chic venue immediately. We looked at other places but found a way to make this dream a reality. We are so excited that we get to get married here.

The St Vrain's reply:

Hayley!

We are so excited that you and Doron will be tying the knot at The St Vrain and look forward to helping you have the day you've been dreaming of!

Cheers!
The St Vrain

Debbie R.

Married on 12/29/2018

Day of was beautiful

Please see my other 1 star review on my experience leading up to the day of in regards to working with Sugar Pine (SP) and The St. Vrain (TSV) This review specifically addresses our experience the day of.

Despite a long hard road that involved a lot of tears and angry emails and phone calls, the end result was a beautiful and loving event for my daughter and her husband. The service provided by the SP and TSV staff for our event was outstanding. A special shout out to the bar staff as they were personable and provided great service to our guests.

The food - beginning with the bridal and grooms room food all the way until the late night snack - was beautiful and delicious. And the service was exceptional as well.

The entire team seemed very eager to make their day special once we arrived at the venue and, for the most part, everything went very smoothly. The venue is perfection and exactly what my daughter and her husband had envisioned and provided the intimate experience that they wanted for their guests.

The family style meal was such a cool and unique way to share a meal at a wedding reception and also providing that loving environment that the happy couple wanted. You can truly see and taste the quality of the ingredients that SP uses and the presentation is amazing as well.

We certainly had a LOT of road bumps in working with these vendors and their confusing contracts cost me a lot of extra $$$, but the end result was a beautiful unforgettable wedding day for my daughter and her husband.



Debbie R.

Married on 12/29/2018

Contract confusion and bad communication

If you are considering using Sugar Pine Catering(SP) or The St. Vrain (TSV) for your special event, please read this review as I share my experience from my perspective of working with these 2 vendors. This review addresses our experience except for the day of which warrants a separate very positive review. We contracted with TSV and SP for the venue & catering for my daughters wedding on 12.29.2018.

TSV forces you to use Sugar Pine for ALL food at their venue. This means you are stuck with their choices, their service, their pricing. The entire planning process of working with SP was extremely frustrating. Their inability to communicate clearly and in a timely manner caused confusion at multiple points along the way.

The contract with TSV states that you must have a separate agreement with SP and that they are not responsible for SP in any way. Yet the contract they provide you for SP is confusing and very misleading in my opinion. Both contracts are very confusing when it comes to the minimum financial commitment that you must make to have your event at the venue. I reviewed both contracts, had several follow up emails with the owner of TSV as he handles all negotiations for both businesses so I felt confident in my interpretation of our minimum F & B commitment. While the actual minimum was not listed on the contract in an actual dollar amount, my emails with the owner of TSV made me feel confident that we were all interpreting it the same way.

Biggest Reg Flag of all. SP and TSV requires you to provide your catering package selection as well as your guest count 90 days before your event!!!!
In my opinion, the true tragedy of our situation occurred when we got to this point. They asked our guest count - which there was no way we knew what that would be since invitations had not even gone out yet and they asked about all of the catering components that we would want. At no time at all, did anyone from TSV or SP warn us that this was the point where we would be 100% locked into a firm financial commitment to SP. If someone had discussed this with us, we would have taken a more conservative approach to our 90 day invoice. Again, our contract with SP clearly states that our guest count will be guaranteed 15 days out.

Fast forward to 45 days out, it becomes clear that our guest count will be well below the venue minimum of 150. I felt relieved that our catering guest count would not be locked in until 15 days out and would not be paying for food for people that were not in attendance.
BUT the owners of SP had a completely different interpretation of the contracts and now claimed that what we reported to them at 90 days was our firm financial commitment to them. Keeping in mind that at this point they had hired no one, they had purchased no food yet they still wanted me to pay for our entire catering package for 150 people even though our final guest count was 103.

While we did finally reach an arrangement valued at around $1000, what we had to go through to get that concession was pure craziness and was no where near the $4000 in overcharges in my opinion. Our decision to work with these two vendors caused an extreme amount stress to our planning process!!

I would like point out once again to also see my review of these vendors in regards to our day of experience. The food and venue and service on the day of the wedding was exceptional and for this I am very grateful.