129 Reviews
Recommended by 100% of couples
Quality of service

5 out of 5 rating

Average response time

5 out of 5 rating

Professionalism

5 out of 5 rating

Value

5 out of 5 rating

Flexibility

5 out of 5 rating
31 User photos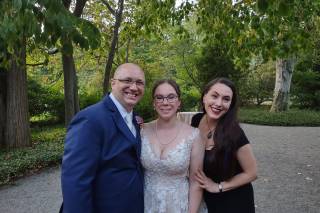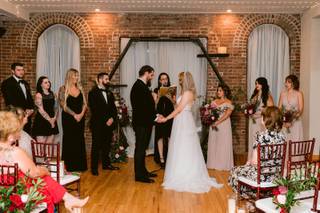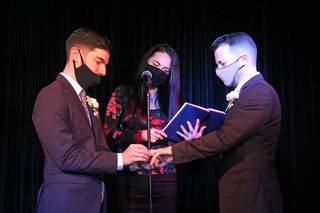 + 27

photos
Featured

John F.

Married on 08/27/2021

The best officiant in NYC. No contest.

My wife and I wanted someone special to officiate our wedding so mountains of research were done and we landed on The Rev D for her aesthetic. We enjoy horror and her overall approach stylistically was what we were going for, though you do NOT need to be a fan of horror to get the full experience (which I will explain a little bit down). We already had our civil ceremony and were legally married before our ceremony so the only difference was we didn't sign paperwork after the ceremony. We had a zoom call and she explained everything she does in great detail. While she did not pressure us on the call it took a whole five minutes to decide she was perfect.

Upon hiring her, she sent us a very long questionnaire for my wife and me to fill out separately and privately. She explained to not skimp out on answering as the answers were to be the basis of how she would conduct the ceremony. We adhered to this and wrote long and thoughtful answers (as best we could). And what resulted from that was a beautiful, personal, and loving ceremony that moved everyone in the room. You can tell she took great care to look over our answers and write something truly unique and not just a "fill in the blank" ceremony as some others do. It was the highlight of the entire night for myself and my wife because we frankly weren't expecting something so moving and perfect.

Because my wife and I are horror movie fans, we got married on the Necromonicon from The Evil Dead. She has an entire selection of book styles on her website in case you're looking for something specific to your interests (there's a lot!) She also knows how to do traditional handfasting rituals from very quick to incredibly long depending on what you prefer. We went with the short and sweet version but she'll do what you want.

She's worth every penny (she's actually quite affordable) so if you are getting married do yourself a favor and hire her. She's by far the BEST officiant in NYC and likely the tri-state.

Sonia G.

Married on 10/29/2022

The best wedding decision we made!


They say no one cares about your wedding as much as you do. This is a lie because Donna absolutely does. We used her as our officiant and day of coordinator and our wedding truly would not have been the same without her. There were moments that I actually forgot that we weren't her only client. That was how much individualized attention she gave us, and how much love she put into our day. For ease of understanding we'll break this review up into two parts for each job she did.

Officiant - Donna gave us a ceremony that was both tear-jerking and hilarious. We knew she was "one of us" going into it (all three of us are massive metal nerds) but the way she incorporated the nuances of our relationship into the ceremony was, for lack of a better word, perfect. Her questionnaire delved deep into who we are as a couple, and her attention to every detail of our answers was unparalleled (and met with follow up questions). The process itself was incredibly fun and the resulting ceremony was flawless. She truly has a gift for language, and she can and will learn to speak yours.

Day of Coordinator - Let me preface this with the fact that I am a neurotic, type A, project-manager-for-a-living, crazy person, so the idea that my day would be ruined by me trying to control every detail terrified me. Donna did not allow this and for that I am eternally grateful. She shielded me from ever minor issue (or not so minor, like the caterer being hours late) and dealt with it herself - in some cases quite literally, arranging chairs and placecards, mounting a full sized ram-skull to an eight foot arch unassisted, and keeping the entire machine moving. This actually allowed me to enjoy my day fully and without worry.

Beyond this she was at every walkthrough and rehearsal, on every email thread, and brought up every question we forgot to ask. She even helped us after the wedding with a problematic vendor.

We, as a couple, do not have enough words to express how grateful we are to Donna. If you are on the fence in any capacity, don't be. Hiring her is legitimately one of the best decisions we made since we got engaged.

Megan

Married on 10/22/2022

She is incredible!

She worked with us personally to create the most thoughtful and personal ceremony for us and made our ceremony so much fun!

Are you interested?

Send a message

Eric C.

Married on 09/10/2022

Absolutely Amazing!

What can I say, the Rev D was amazing. She wrote a completely personalized ceremony that had people laughing, my wife and I crying, and left everybody raving. We are over the moon with the service she provided. Thank you

Mike L.

Married on 10/21/2021

Unconventional In The Best Way Possible

We got married this fall and among the million other things we had to worry about was hiring an officiant. We (or at least I) thought little of our decision, at least at first. But it turns out an officiant can be so much more than someone who makes you say "I do".

Donna Marie started by sending us a fairly lengthy questionnaire in an effort to know us better. Then she followed up with a meeting to iron out any uncertainties and ensure that both parties were on the same page. This is where she clarified our answers and asked how we want the ceremony to go. For instance, do we want her to dress up? Do we want her to use a Beetlejuice-themed book? We took the ladder.

With the information we provided, she crafted a custom ceremony that wowed everyone. I literally didn't think anything of "the officiant" and Donna Marie became the talk of our wedding.

While her well-written words and attention to detail were impressive, her kindness was even better. She clearly cared about our wedding and out-performed anything we could have imaged and as a result, we had a much better wedding than anticipated.

If you're planning a wedding, I know you have a lot to worry about. Hiring Donna Marie means the officiant isn't one of them.

Michele M.

Married on 05/22/2021

Hire This Woman!!

Rev D is a truly incredible. She will write you a personalized service that is the perfect balance of emotional and hilarious. After wiping away tears from laughing and crying all of my wedding guests had nothing but compliments about our ceremony. She was supportive, caring, flexible, and nothing short of professional. I appreciate that she hand wrote our service in a book of our choosing that we now get to display in our home and revisit anytime we please. I would highly recommend her to anyone!!

Giuseppe A.

Married on 11/14/2020

We couldn't be happier

Reverend D went above and beyond our expectations. She was so easy to work with and so open to anything we desired for our wedding and she accommodated every request. She made the ceremony fun and sweet, telling our story in the most authentic way. Rev D took the time to get to know us and our story and did a fantastic job to present it during the ceremony. Very professional, easy going, creative. We trusted her 100% and she definitely helped making our special day memorable. We highly recommend her.

Caresse S.

Married on 10/26/2019

The cherry on top an already amazing sundae

I first came across Reverend D at the wedding of two close friends of mine. They're metal heads and Rev D really matched their aesthetic while being hilarious and touching. So when it came time for me to walk the aisle she was the first person to come to mind. We even have a friend who is a certified officiant and offered to do it for free but I was like "no, thank you, we need Rev D"

She was so personable and easy to talk to. She hails from my native New York but was willing to driving to Baltimore for our wedding - which was held at the National Aquarium. And because her price was so reasonable (if anything she COULD easily charge more) we had no problem covering hotel and parking.

Our wedding was black and purple themed a few days before Halloween, held at an Aquarium and my whole look was inspired by The Little Mermaid. I told Rev D to use those facts and surprise us.

She showed up as freaking Ursula! And not just the Ursula costume you can buy on Amazon. It was some kind of inflatable tentacle thing. That paired with the corset, makeup, wig and sermon that made me cry the whole time - she was easily one of the most memorable aspects of our wedding.

I cannot recommend her enough. I can't wait to have another reason to hire her one day, maybe a Lion King themed baby shower or something.

Elaine

Married on 08/18/2019

Amazing officiant

Rev D was the officiant for our wedding and she went above and beyond. The survey she sent us was in depth and she follows up with additional questions/clarification a couple of weeks prior to the wedding. Rev D wrote a beautiful ceremony for us and we received so many compliments from our guests. The ceremony was so heartfelt that many people thought she was a friend of ours. Additionally she was incredibly accommodating, we had a filipino ceremony and she worked with us to create a ceremony that reflected us as a couple and respected my culture. Outside of the ceremony she was very helpful. A couple of the guys had issues with the boutonnieres and she jumped right in to help out. I would recommend Rev D to anyone looking for a reasonably priced, professional, and one of a kind officiant

Ashley B.

Married on 06/16/2019

Incredible!

I usually only use the word INCREDIBLE to describe My (Now) Husband,but RevD is just that!! She went the extra mile In every way to Insure us a totally personalized,intimate,BLAST of an elopement!..I found her through our photographer,whom she had worked with many times before,and upon first glance I knew she was going to be the one for us!(My then fiancé,completely conquered after one video chat with The Rev)...My Husband,is not religious,and is a constant joker.Together,we are a Non-traditional,Fun-loving ,over-emotional couple, who knew that a more traditional,stodgy officiant was not gonna work for us..Enter Rev D!! The off-beat officiant of our dreams.We put our trust in her,and she exceeded our expectations in every way..We HIGHLY recommend her!!

Samantha

Married on 11/03/2018

Rev d was outstanding

Rev D was OUTSTANDING & I highly recommend her for your big day. From our 1st consultation to our in person meeting Rev was responsive, knowledgeable, understanding and genuinely cared about us and what we expected from our ceremony.
We received SO MANY compliments throughout our Wedding Night about how personal, unique and US our ceremony was. Our ceremony could not have been more perfect.

Susie R.

Married on 11/03/2018

The Best Service

Without a doubt Donna was the hit of the day and we had a magician and a comidian and DJ with a violinist. She is great and if you want a different memorable day she is a must.

Jordan

Married on 10/28/2018

There was no other choice than Rev D!

What can I say about Rev D. She was absolutely AHHHMAZING. When We got engaged, we knew we wanted a themed wedding, we wanted something different and we wanted vendors that would fit and understand our vision. After searching, I found Rev D and knew immediately that she was the one we wanted and we didn't want to settle for anyone else. Right from the first google call, we loved her. She is funny, she's sarcastic, she is endearing, she was someone we could see ourselves hanging out with.

She went above and beyond for us, she gives your surveys and that you each fill out (NO PEEKING AT EACH OTHER's ANSWERS), and through that survey, she will write the speech, and the one she did for us was so beautiful. It was Heartfelt, it was funny and perfect for the two of us. She even will dress up! I suggested one costume but did not expect her to go along with it, due to the makeup, BUT SHE DID and it was amazing. Rev D was absolutely one of the best parts of our wedding. We loved her, our guests loved her and if you're looking for someone for your themed wedding (Even a traditional wedding but want to add some flare) , you will love her too.

Meagan T.

Married on 10/13/2018

Reverend D is the BEST!

Donna Marie, the Reverend D made our wedding special from the very beginning. Before the guests arrived, when I met her she had this incredible warm feeling emanating from her. My bridal part immediately gravitated towards her, as did the rest of my family who was in the bridal suite. My husband Tom and I were always confident in her ability to make our wedding special, but boy did we not realize HOW special she would make it. Donna Marie was not only able to get this professional crier to stop crying for longer than 30 seconds, she had me, my husband, and all of my guests roaring with laughter. There were more smiles and happy vibes in the room that I was able to fully comprehend. Donna sent magic through the room. She took Tom and I's questionnaires to heart. Our relationship was encapsulated in the most wonderful Disney inspired ceremony. We were afraid honestly to incorporate Disney into our romantically dark wedding. But, Donna Marie truly picked up on our shared love for the stories created by Disney Studios and Parks. She executed it so elegantly, we were so thrilled.

Not only were Tom and I filled with intense happiness, but all of my guests immediately fell in love with Donna Marie. We still hear stories months later about her incredible ceremony. It was so absolutely PERFECT.
Thank you Donna Marie for making our day even more amazing. You are quite literally the BEST.


+ 4

photos

Mark

Married on 09/30/2018

Perfect offbeat Officiant

When we were planning our New York holiday to coincide with a huge motorcycle event, we also decided to get married during the event. After searching literally hundreds of officiants we somehow came across Donna Marie, aka The Reverend D.

We contacted her via email and explained what we were planning on doing; it was a proper elopement with no family attending and was to happen during a large Motorcycle Rally with 800 plus bikers. Donna Marie replied to our email and we arranged a video chat, as we were visiting from the United Kingdom.

When we fully explained what was happening The Reverend D was excited for us which made us get really excited for the big day. She sent us a pretty in depth questionnaire and then contacted us several times within the year to make sure everything was ok. We didn't give her much to work with on our questionnaire but she turned what we did give her into the perfect ceremony for us.

We loved her energy
We loved her laid back attitude
We loved the way she conducted the ceremony, pretty hard getting the attention of a load of bikers.

After the ceremony, we received many compliments on the officiant, asking if she visited with us, was she part of our family and where we'd found her.

If you are looking for the real deal then she is the one you want, she is professional, fun, hilarious and just really knows what she's doing. She even organised a photographer for us as we had forgotten with organising everything else.

We Challenge anyone to find a more funny, cool, Offbeat officiant than The Reverend D

Thank You


Dustin

Married on 09/21/2018

Best Ceremony and Officiant Ever, you will not regret it!

The Reverend D is simply the best. She kicked off our wedding day on the most positive note possible, a beautiful quote from Ann Druyan! Gah! I still get shivers thinking of it. Our ceremony was a complete surprise for us, which was the best decision we could have made. During the ceremony we were able to totally focus on each other and be in the moment. It was touching, it was personal and it was hilarious. Our guests loved the Reverend D and we got so many compliments on how funny and sweet the ceremony was and how it felt like she really knew us. I loved it from the moment it started til the end. It sticks in my mind when I think of our wedding day and it's all thanks to the Reverend D.

The Reverend is also so supportive and fun, she made us feel at ease throughout the process and always had amazing positive energy. She is an absolute pro. I would highly highly recommend her to any couples looking for a personal ceremony that reflects you and your partner and tells your unique story. If you happen to be big nerds like me and my husband, it also helps that she knows all about pop culture and will respect your references, like big time.

Carlos

Married on 09/15/2018

We originally contacted DonnaMarie because of her glowing reviews and we must confess that she lives up to the hype. After having sat through many boring ceremonies of our friend's weddings, we knew we wanted something better. It's rare that someone would say that the ceremony was the highlight of the wedding but in our case we might have to say it. Everyone at our wedding complemented us on our touching, funny and personalized ceremony and confessed that if they could go back in time they would hire DonnaMarie as well. Our friends assumed DonnaMarie was an old friend which is a testament of how good her work is. If you want your wedding to be the best day of your life, hire DonnaMarie.

Sara

Married on 08/31/2018

When my now husband and I got engaged we were really struggling to find an officiant that felt like a good fit for us. We even knocked the idea around of self uniting (which is legal where we live) until I found Rev D via some exhaustive searching. I immediately knew from her website and sense of humor that she was the one for us! Rev D did a great job explaining large parts of the wedding process to us and made sure we put some thought into who we wanted to officiate our ceremony. We had multiple skype dates throughout the process and I felt like she really put a ton of effort into getting to know us/what we were about/what was important to us.
She showed up early to our venue, helped wrangle and transport guests and was generally a calming, helpful presence as we struggled to get ourselves organized. Rev D then went on to officiate an amazing ceremony that felt so personal, fun, and special. I had numerous compliments on how it was the 'best wedding ceremony' friends had ever witnessed and how it felt so tailored to who were were as individuals and as a couple.
I cannot say enough great things about Rev D as both a human and an officiant. I am so grateful for the beautiful job she did on our ceremony and how much fun she made the entire process!!!

Mindy

Married on 07/07/2018

If you want a unique and fun wedding ceremony, Rev D is the only choice!

There are not enough words in all the languages combined to describe the awesomeness that is Rev D. Her confidence and quirkiness are largely what kept me calm before my wedding ceremony, and she far exceeded my expectations. Rev D is your blank slate; she will be whatever and whomever you want. Want a traditional ceremony with your own written vows? She's the one for you. Need a short but sweet sermon tailored to your personal lives? Call Rev D. Want her to dress up as slave Leia from Star Wars while she reads her sermon from the Necronomicon? You know what to do.

Months before the wedding, the Rev will email a survey to both you and your significant other. Answer them honestly, for she will be using your words in her sermon. Be warned that SHE WILL USE YOUR EXACT WORDS! Don't do what I did and tell her about your bowel movements, because yea... I mentally face palmed during that part.

All I can say is that her sermon blew me away. It was funny, it was sweet, it included a lot of personal touches, and it was totally unique to us. I could not have asked for any thing more.

hey Rev D...... Ricky was here. xD

Nicole

Married on 04/21/2018

I read through all of the other reviews for RevD and had pretty high hopes for what she would deliver - but I have to say I was still shocked by how absolutely incredible our ceremony was. There are many reviews here talking about how all of their guests were wow'd by the ceremony and asking how long RevD had known them - and that is exactly what happened to us!
We met with RevD once and from that very first meeting, she just made us feel so excited about the ceremony and about getting married. We loved her energy and laid back attitude. She sent us a pretty in depth questionnaire, and then followed with a few additional questions. I had a lot of my own questions for her along the way, and she answered them all quickly over email.
From there, she crafted a ceremony that fit our personality and relationship perfectly and truly set the stage for a wonderful evening. The ceremony was funny, sweet, had about 10 references to our cat (which is very fitting) and left us and our guests feeling happy and ready to party. She really listened to what we wanted during our ceremony and was able to really represent how we feel as a couple.
She also did a few things that really went above and beyond - she hand wrote the entire ceremony into a journal I had ordered online, which we kept as an incredible memento when the night was over. She also helped with my bustle as my MOH was struggling to figure out the pieces.
If you are looking for a modern, personal wedding ceremony - big or small, themed, or traditional, RevD will be able to deliver.



Cassie

Married on 04/07/2018

The Reverend D did an AMAZING job writing and performing our ceremony. It was super personalized, and the perfect balance of humor and earnestness. Many people came up to us afterwards and said it was the best wedding ceremony they had ever seen! Rev D also gave us super helpful advice at the beginning of our wedding planning journey that made our whole experience much easier. We really can't say enough good things about her - hire her ASAP!

Mirza

Married on 10/31/2017

Rev D is AMAZING!!!! The ceremony she wrote for us was perfect and she was SO super helpful with suggestions and support before, during, and after the ceremony. We are so extremely happy that we chose Rev D. She truly made our day special, unique, and worked hard to make sure the ceremony represented who we are 100%. We picked Rev D because of her story, her uniqueness and her personality. She was absolutely perfect and we would do it the same way over and over again. Thank you for being awesome, Rev D!! You truly made our special day even better.

Tracie

Married on 10/13/2017

Great job ! We didn't give her much to work with but she turned what we did give her into the perfect ceremony for us ! Thank you Reverend D for being so creative! And thank you for recording it ! Otherwise we wouldn't have been able to look back at it and we truly appreciate that! And a big Thanks to Ricky for the Mike Myers we requested!

Tina

Married on 06/10/2017

If you're looking for fun, energetic, and just someone who has your back every step of the way then The Reverend D is the way to go!
I wish we could give her a 100 stars if possible in many ways it's like having your best friend take care of all the wedding worries while you relax and enjoy the party. Whenever I thought I had everything taken care of she was one step ahead like a video game cheat code (We're geeks >_> couldn't help it).
As a officiant the service was fun, personalized and pretty much us in every way shape and form. My now husband and I are total geeks and were trying to go for a traditional but geek wedding (We were trying to keep the more traditional family members happy LOL). Donna was all that and more, from keeping things light and fun to making sure our pop figures weren't stolen away (Yup we had a bunch of them on the tables).
As a coordinator everything was spot on, she even managed to save us some cake which is a plus for me. All of the guest agreed that she was one of the many highlights and I couldn't have had this wedding without her.
If you are looking for the real deal then she is the one to call, she is professional, fun, hilarious and just really knows what she's doing.
Book her ASAP!!!!! She's the BEST!!!!
THANKYOU SO MUCH REVEREND D!!!! >:D

Catherine

Married on 05/06/2017

RevD was absolutely amazing. She was engaged throughout the entire process, including flying out to our state and jumping through hoops with said state to get out-of-state-clergy approval to do the wedding. She was a huge hit with us, and everyone else in our families. The ceremony she wrote (which we heard for the first time along with everyone else at the ceremony) was funny and loaded with tidbits we had provided her in the individual questionnaires we had sent her. We had a blast hanging out with her during the wedding too! We can't recommend her highly enough. Go for it, you won't be disappointed!
Are you interested?
Send a message