The Retreat at Hiawassee River Reviews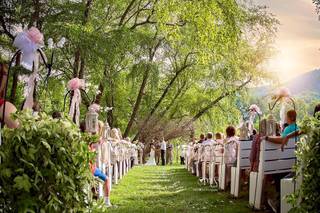 The Retreat at Hiawassee River
Hiawassee, GA
View more information
35 Reviews
Recommended by 99% of couples
Quality of service

4.9 out of 5 rating

Average response time

5 out of 5 rating

Professionalism

5 out of 5 rating

Value

5 out of 5 rating

Flexibility

5 out of 5 rating
Awards
90 User photos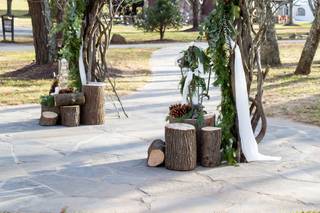 + 86

photos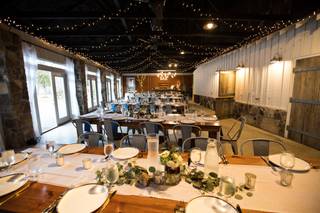 Amreen A.

Married on 12/18/2021

Venue Experience

We had an amazing experience at the Retreat. The staff were incredibly helpful and responsive. The grounds were well-kept. And all of our guests loved their time here! We are thankful they also helped us reschedule due to COVID. Really highly recommend!

Aubrey S.

Married on 12/04/2021

The perfect venue for an intimate wedding

My husband and I decided early on to have a 100-count guest list for our December wedding. It was important to us to have a venue that accommodated that size but did not feel too big. The majority of guests would be traveling from out of state so we also wanted onsite accommodations. After touring The Retreat, we knew it was the perfect balance of all we wanted for our wedding. The three ceremony sites gave us peace of mind that no matter what the weather was like, we could switch plans easily and get married in a beautiful setting. We filled all 12 cabins with friends and family who arrived Friday and stayed until Sunday morning. Instead of a rehearsal dinner, we did a Welcome party with all our wedding guests which was so fun and let us have more time with everyone. The venue also had a "wedding closet" which housed tons of decor items and furniture that can be used however you want them to. The best thing about booking The Retreat was working with Megan, their venue coordinator. She was responsive, organized and so kind - she even went out and bought an iron within the same hour of me realizing our cabin didn't have one! I'm so glad we found this hidden gem and look forward to more stays at The Retreat.

+ 5

photos

Legacy M.

Married on 11/07/2021

Beautiful venue in the north GA mountains

This venue is BEAUTIFUL. It is very well kept and there are many many options for locations for your ceremony and pictures. We filmed a wedding here and the staff could not have been more welcoming! Highly recommend!!!

Are you interested?

Send a message

Avery M.

Married on 10/30/2021

Wedding 10/30/21

The venue was beautiful!! The mountains were very colorful which was exactly what I had dreamt about for our wedding! Cabins were also very nice and it was nice to have the families close together in the other cabins on the property. 10/10 recommend!!

+ 2

photos

Rebecca B.

Married on 10/23/2021

Perfect in Every Way

The whole process in booking and organizing my wedding weekend was exceptional and seamless. We reserved the venue and all of the cabins on the property to allow family and friends to reserve cabins individually and stay on the property all weekend with us. Everything was clean and absolutely perfect. Megan was our go-to gal and she was fantastic, very responsive, understanding, and helpful throughout the whole process. I could not have imagined a better wedding weekend if i tried. Not to mention the venue is BEAUTIFUL and an unbelievable value for the money. Do yourself a favor and look no further for the perfect venue!

Tara C.

Married on 10/16/2021

The most Amazing place!

This venue was so perfect for our vow renewal, Megan was the most helpful, sweetest and attentive person I have had the pleasure of meeting and I am so thankful for her help through the whole process. We have a home not far from here and the mountains are the perfect place but the outdoor barn church was the absolute most gorgeous venue and the river outside was breathtaking! I would recommend this for any kind of event or even a weekend getaway! Thank you again so much to Megan for everything that helped make my day perfect!

+ 6

photos

Paige T.

Married on 06/04/2021

One of the best choices

We fell in love with this venue! Very laid back and beautiful by the river! Really try to help in any way they can!

Allie F.

Married on 04/24/2021

Perfect venue!

This was the PERFECT wedding venue; I don't know how it isn't booked every single weekend. For what most places charge you for 6 hours, you get this place for 72 hours (check in Fri, check out Sunday). Doesn't include the cost of the cabins, but once your guests book those you get a big discount on your venue. GORGEOUS location in the northern GA mountains. Has both outdoor and indoor ceremony and reception options so you have an immediate rain contingency plan. I LOVE the cabins onsite- all our wedding party and family stayed on site in cabins that are so lovely, with full kitchens, and of varying sizes. We didn't want a venue with a ton of rules (such as you must use preferred vendors, or pay fees if non-preferred, or must have a bartender or security, etc.) their rules were basically "don't burn it down". Jokes aside, they were SO flexible and accommodating. Megan who runs it was so helpful and available and just amazing.

We really wanted venue that was outdoors with lots of trees and peaceful, had flexibility and had no hidden fees. This more than delivered, it was my elven forest wedding dream venue, it even has a little creek running through it that is so serene, you're surrounded by the mountains (on the other side of the creek is an adorable field with some cute cows).

All our guests were likewise gushing about both the venue and the cabins. I could not possibly recommend this venue anymore, what an absolute dream, we had a perfect wedding.

Dianne W.

Married on 12/19/2020

Breathtaking & Relaxing

I could not have asked for a better wedding venue! Megan was an absolute dream to work with. She was so responsive and flexible. I highly recommend getting your friends and family to rent all the cabins for your wedding weekend. It felt so secluded and intimate. 1000% recommend!

+ 7

photos

Kelsey

Married on 10/31/2020

Beautiful & perfect

We had our wedding here a few weeks ago and it was absolutely wonderful. The venue itself is absolutely beautiful and the cabins on site are a wonderful added bonus. Megan was very responsive and friendly, answering all of our questions leading up to the event. Even when the venue flooded 2 days before our event, the owners and staff put in double time to get everything looking beautiful by our big day. It was not even noticeable that anything catastrophic had happened by the day of our wedding. The staff is very personable, flexible and accommodating to your needs. Highly recommend this venue!!

Cayla M.

Married on 09/12/2020

Best venue and best wedding!

The Retreat at Hiawassee River is the best venue for many reasons! Not only is it the most beautiful with the scenery of the river and north GA mountains, but it is the most accommodating with the staff being so helpful and flexible. They did everything possible to work with us and make sure we had everything we wanted for our special day. It is also a major plus that there are numerous cabins on site that the wedding party, family, and friends can stay in for the wedding; literally just being able to walk home to your cabin after a night of fun at the wedding was great! We were able to have both the reception and wedding at the venue and stay in the cabins to make it a full weekend vacation with a wedding at the end! The Retreat has everything you need for the perfect wedding- beautiful scenery, very affordable, nice and helpful staff, accommodations on site, a choice of outdoor or indoor ceremony options if needed, a full selection of decorations, chairs, and tables provided, and so much more! Choosing this venue for my wedding really helped make it the best day ever!

+ 10

photos

Debbie W.

Married on 07/10/2020

Such a wonderful venue for a wedding!

The wedding venue as well as the cabins on the property made this the perfect venue. We originally planned an outdoor wedding but due to rain had to move it inside to the barn. Having both options was one of the main reasons we chose this venue. The building where we had our reception dinner had plenty of room with many decorations on site that we were able to use. The game room was perfect for the groom and his groomsmen before the wedding and later a kids room while the grownups were at the reception. All of the staff were excellent!

Alex D.

Married on 11/09/2019

Amazing Venue and great people

Love this Venue and the staff! Megan is super helpful, kind, and accommodating.
Fred is the groundskeeper to keep it short, and he was so awesome too. Made us feel welcome and right at home.

I don't have anything bad to say about this place, but if there is one word of advice after a wedding, HIRE SOMEONE TO CLEAN THE VENUE UP FOR YOU THE MORNING AFTER!! haha



Charles E.

Married on 11/02/2019

The perfect place and best bang for your buck for sure

We looked at 15 venues before choosing the retreat for our wedding. It was everything we needed and wanted in one spot. The property it beautiful and so well maintained, the chapel and reception hall is beautiful and awesome. Megan and the entire staff was so much help, thru the entire process! If you have a small wedding (around 50 to 60 guest) everyone can stay on the property or if it was bigger wedding, then the immediate family and wedding party can stay on property! So peaceful and perfect place

+ 5

photos

Lorrin

Married on 07/27/2019

A Natural Beauty

We are so incredibly happy to have found The Retreat at Hiawassee. It was truly the perfect wedding venue for us. We visited a couple of beautiful wedding venues in the area, but ultimately chose The Retreat for its unparalleled natural beauty, freedom to choose our own vendors, ability to house family and friends onsite and the customer service. Megan was so great to work with from our very first tour, to many trips in between and the big day.

The venue's beauty speaks for itself and we were fortunate enough to have incredible weather at the end of July – no rain and not too hot. The pavilion does not have A/C as of today, but this ended up not being a problem for us which I was surprised by. The outdoor ceremony site is so serene and gorgeous, but there is also the barn/chapel for a backup location or to host other events. This is where we held our rehearsal dinner.

A few added bonuses we really appreciated were an unlimited supply of ice onsite, chairs/tables/linens provided, and all the décor you could need. I did most of our decorating myself, but there is honestly plenty of stuff there you can borrow. We received so many compliments on our venue and our guests enjoyed hanging out and getting to float the river. I may be biased, but it was a wedding weekend unlike any other. Can't wait to return again one day for a reunion one day!


+ 5

photos

Patricia-Anne

Married on 06/15/2019

Don't Miss Out!

The Retreat was amazing! We and our guest absolutely loved it! The Retreat staff was a joy to work with, especially Megan! I highly recommend this venue, it is worth every penny.

Sarah

Married on 06/08/2019

The perfect weekend

I had my wedding at the Retreat on June 8, 2019 and we are so happy we chose to get married at this gorgeous venue. We rented the Retreat from Friday to Sunday and were able to have our rehearsal dinner, wedding ceremony/ reception, and a farewell brunch on the grounds. Our whole wedding party and immediate family stayed in the lovely cabins on the grounds and it was so convenient to not have to drive! It rained for most of the weekend, and even though we were lucky enough to have a gap in the rain to have our dream ceremony outside, it took away so much stress to know we had the beautiful chapel as a plan B if the rain didn't let up. The craft closet is a DIYers dream come true and we used many of the supplies in the closet to decorate for our various events. The grounds are so perfectly maintained, many of our guests said they wanted to come back to the Retreat just for weekend getaways. We also used several of the Retreats recommended vendors and had great success with them as well. Megan is an absolute pleasure to work with and was very helpful in the planning process. I would absolutely get married at the Retreat at Hiawassee River if I had to do it all over again, it was a perfect weekend!

Lauren

Married on 06/01/2019

Perfect venue

Our experience with the Retreat was incredible. Megan was incredibly helpful -- always quick to respond and offer help. We had a lot of independence and freedom for the weekend, and we and our guests loved staying in the cabins. The scenery is absolutely gorgeous, and all of the facilities are incredibly clean, beautiful, and functional. The barn chapel was perfect for our ceremony, and the clubhouse worked great as an assembly spot for the men getting ready. Cabin 11 served as a great "getting ready" spot for the women.
Everything was perfect and I can't recommend the Retreat enough. It is an incredible value! We really got a lot for what we paid.

Cathy R.

Married on 05/18/2019

May 2019 Wedding

I cannot say enough great things about The Retreat at Hiawassee River. We booked our daughter's wedding here after falling in love with it. The setting is gorgeous with the river flowing right next to the ceremony site. Absolutely perfect. The staff, particularly Megan, were outstanding to deal with. She always answered my questions promptly and professionally. We utilized numerous, recommended vendors, all of them excellent, which added to our comfort level. We reserved the venue for the entire weekend, and rented all the cabins located on the property. They each were clean and very nicely appointed. It was so much fun to have family and friends all together. The Retreat at Hiawassee River is an ideal location for a beautiful wedding. I recommend it highly.

Laura

Married on 02/23/2019

Just perfect.

The staff here is amazing, beginning with Megan. We enjoyed a beautiful, yet flooding, wedding weekend on Feb. 23. The grounds were beautiful despite weekend flooding that cleared right before our ceremony after hours of staff inserting water pump. The staff was so responsive to every need or ask. We plan to return next year.

Dody

Married on 12/30/2017

Becky Bennett - Stefan Rucki Wedding | December 30, 2017
I cannot say enough about this venue and the wonderful folks who work there! Megan & Phyllis, yall made the whole experience, from first contact to saying goodbye, so easy, so special, and perfect. I couldn't have asked for sweeter, more helpful ladies to work with. You do your respective jobs very well. The venue is beautiful and was perfect for our needs. It suited what we were looking for both in natural surroundings and esthetics, as well as lodging. Everything was so perfect, we hated to leave. The ceremony sites are well thought out and we were sold on the venue before ever seeing it in person. The cabins are nicely appointed, comfortable, and very neat and clean (thank you Phyllis!). All of our guests were impressed with the venue and cabins. Several of the family - on both sides of the bride and groom - were discussing coming back for family retreats. We are very much looking forward to coming back again! Thanks so much for helping to make our daughter and son-in-law's wedding something extra special! We feel we left having made new friends. [will share photos at later date]
Dody & Kevin Bennett

Ashley

Married on 12/02/2017

I may be a little biased, but this is the most beautiful venue I've ever been to. From the moment I saw the barn chapel, I knew that is where we would get married. I loved all of the string lights everywhere on the property and the overall rustic feel. Another thing that sold me was that they have a lot of decorations available that we could use for the ceremony and reception. All of the tables, chairs, and linens were included with venue rental. I think the only thing that we had to bring in were the flowers.

We had lots of family come in from out of town and they are still raving about the Retreat. Megan in the office was an absolute joy to work with and she answered every single one of my questions and put me at ease while wedding planning. If I had to do it all over again, I'd definitely choose this place over and over again.

+ 5

photos

Kim

Married on 09/09/2017

This place is absolutely the most perfect place to have a rustic, very classy fairytale wedding!! I asked my daughter what she would change about her wedding day and she said it was PERFECT!! I've know the family who owns this venue all my life and knew when I saw their daughters wedding years ago that I could only hope to give my daughter a wedding that beautiful...now, because they have opened their property up to couples who want that fairytale wedding but can't spend a serious fortune to spend..we can all give our children that perfect wedding but not spend the fortunes.... this place truly is enchanting!!!! I would also like to say Megan, who works in the office is so accommodating... always happy to help in any ways she can... Thanks Retreat! For allowing me to give my daughter a beautiful wedding on your Riverside property!! With the charming cabins for our guests, the pavilion and the riverside ceremony site, to the stunning rustic chapel.... Everything here is PERFECT for the perfect wedding!!!

Jacqueline

Married on 06/03/2017

My fiance and I are still in the beginning stages of planning our wedding, but so far The Retreat has went above and beyond my expectations. Anything that I need whether it's the amount of tables they have and in what sizes, or how many chairs will fit around each table, down to the floor plan of the pavilion for the reception, they have accommodated every need I have had so far!! We can visit the site as many times as we would like, just by simply making an appointment. We are beyond excited to get married at The Retreat, and our guest are excited to attend. Megan and Georgia are amazing and will work with you however they can!!

Marianne

Married on 11/26/2016

This venue is such a wonderful site for a wedding. Not only is it absolutely beautiful, it is equipped and staged for an awesome ceremony and reception. I know there are not enough words to describe everything we loved about my daughter's wedding weekend at the Retreat. The chapel is gorgeous, the reception space was not only stocked with a beautiful bar and kitchen, but with all kinds of wedding decorating items free to use. The adjacent social room was a favorite place to gather and our guests raved about the grounds and the community of cabins that allowed us to share an entire weekend together. We had full freedom to transform an already beautiful facility into everything my daughter ever wished for. The staff was friendly and relaxed, which made the details so much easier to work through. We wanted this place to be our own, and they stepped out of our way and let us have just that. During planning, they worked with us and all of our vendors to answer questions in a very helpful and timely manner. I would HIGHLY recommend this location to any interested future bride! I am sure we will be back to visit for family reunions!
Are you interested?
Send a message