56 Reviews
Recommended by 91% of couples
Quality of service

4.5 out of 5 rating

Average response time

4.6 out of 5 rating

Professionalism

4.6 out of 5 rating

Value

4.5 out of 5 rating

Flexibility

4.5 out of 5 rating
10 User photos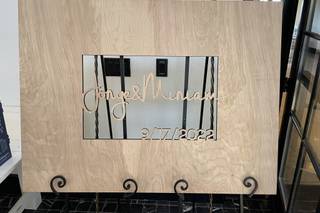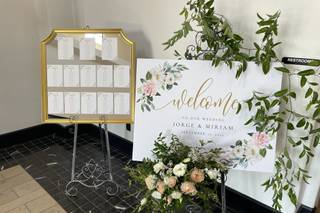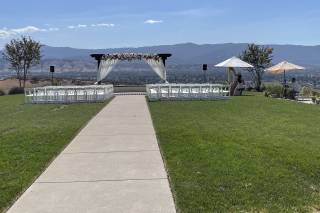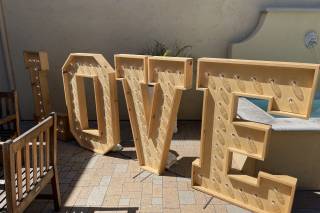 + 6

photos
Erica B.

Married on 10/30/2022

Sophisticated venue & impressive wedding planning services!

If you are looking for a gorgeous wedding venue in the South Bay that is affordable and has the best wedding planning services, this is it!

My husband and I got married in October 30th at The Ranch at Silver Creek and we were thrilled with our experience. The venue is managed by Wedgewood Weddings and they are a 5 star all-inclusive wedding planning business. I'm an event planner myself and I know how much effort it takes to plan an event, let alone a wedding. So I knew I'd need help and the Wedgewood team was with me every step of the way.

What I like about them is they aren't just a day-of wedding service. Instead you'll have 1 main point of contact as well as a team of coordinators that work with you all the way through your wedding day. We had a 10 month engagement and I never felt nervous or frustrated when working with Wedgewood, which was a relief. Whenever I emailed or texted the team, I'd receive a quick reply and they'd have the best recommendations. Our main POC was Katy and we also worked closely with Lindsey. Both ladies were incredible!

Wedgewood's wedding packages are also far superior to any other venues in the Bay Area. We booked the Elite package which included services like: florals, ceremony officiant, DJ & Photo Booth, food & bev, invitations, and wedding cake. You have the option to use your own venders for these services, you'll just have to make sure you hit your minimum. For me I LOVED the fact I didn't have to vet tons of vendors, because Wedgewood's vendors are high class and are very familiar with the venue. The only vendors I booked myself were photographer, videographer, hair & makeup artists and bus transportation. Wedgewood also gave me recommendations for these services and they have tons of discounts with companies that can enhance your wedding. I have so many good things to say about Wedgewood!

Now about the venue. The Ranch is one of Wedgewood's newest venues which was ideal for us, since no one we knew was married there before. Also it used to be a golf course & country club, but now it is a solely a wedding venue, so you won't have any looky-loos. The venue is on top of a hill with beautiful city views and has a Mediterranean villa vibe. It's a true gem in San Jose. It's also very easy to get to and not far from downtown or SJC airport, which was important for us.

There are two suites onsite for the bride & groom to get ready with their wedding parties which was helpful. We also liked how the venue had different areas to hold the ceremony, in case of weather issues. We were blessed with good weather on our wedding day, so we were able to have the ceremony outdoors, cocktail hour indoor & outdoor, and the reception was fully indoors. The Ranch also has a covered wrap around balcony so you and your guests will be protected and get amazing views of the scenery.

Overall this was the perfect venue for us and we were so thrilled with the Wedgewood Weddings team, we wish we could do it all over again.

Jorge R.

Married on 09/17/2022

Hazmat Responder

My Wife and I had an Excellent Service here at The Ranch, the team of Wedding Planners that help you plan your day in such detail. You are in good hands when you decide to book this Venue. I highly recommend it, you'll have quite the experience. Beautiful Place to have your celebration of any kind!

Vanessa M.

Married on 05/23/2022

Grateful for the staff at The Ranch by Wedgewood Weddings!

In short...just WOW! From beginning to end, staff from The Ranch by wedgewood weddings provided impeccable service! My husband and I were incredibly grateful for how attentive, professional, fun, and customer-service oriented Orlando(Wedding Coordinator), Trevor(DJ), Agnes(Bartender) and other amazing staff like, Amelia, Eugenia, Josh, Karla, Francisco and Chris were. We-and our guests had a blast thanks to our wedding crew.

We had our ceremony at city hall and our reception at The Ranch which we started planning two months before our wedding. Orlando made the planning process stress-free and fun...The day of the wedding, Orlando was there for EVERYTHING necessary: he checked in on us consistently, whether we needed more drinks/food/etc., to remind us to take beautiful sunset photos, to make an impromptu bouquet when I realized I had forgotten mine and didn't have anything to throw during the bouquet toss..throughout the whole reception we felt so supported and accommodated. Our guests not only complimented our venue and its beautiful views, the appetizers, the drinks, the dinner, the late night snack tacos, the photo booth, but they also made it a point to say that every single person that was working during our reception carried themselves with such genuine friendliness and professionalism.

I know that our wedding celebration would not have been as amazing as it was, if not for the Ranch and its partnering vendors. Thank you SO much--we will recommend you to everyone we know!!

Are you interested?

Send a message

Yvonne L.

Married on 11/21/2020

Super flexible venue

We had a small wedding last November. Prior to COVID, we chose this venue for our wedding. Unfortunately with COVID, we had to make a lot of adjustments. Instead of having 200 people, we downsized to 15 while still maintaining COVID protocols. Ruben and Amelia were extremely helpful and understanding in the process. They provided us suggestions as needed and were responsive to our emails/calls. The food and wine were also great. We are so grateful for Ruben and Ameila.

Hannah

Married on 10/11/2019

Amazing venue & staff

My husband and I had our wedding on October 11, 2019. We loved everything about the Ranch Golf Club. From the first time we looked at the venue, the food tasting, and most of all we loved the staff. Ruben (venue manager) made sure that our day was extra special. He worked with our budget and made sure that everything looked okay before signing a contract. We booked the venue a year in advance and I checked in every month or so with Ruben and he was very accommodating every single time. Never once did he refuse to help or work with any issues I had. Amelia (the day of coordinator) was so sweet. She made sure that she had every single guests food restrictions were and made sure everything on the day of was on time and perfect.
When our wedding day finally came, everyone was so amazed at how beautiful the venue was and how all the staff made sure everything was okay with each of my guests. The guests raved about the food and the views.
COME AND SEE THIS PLACE and book your wedding here if you are looking at getting married in San Jose. You will be blown away with the views and how nice all the staff is.

+ 3

photos

Tiffany

Married on 08/28/2015

The Ranch Golf Club is elegant and beautiful. I had my ceremony and reception there, and was pleased with how everything turned out. The staff is friendly and helpful, and they provided me with 2 day of coordinators to assist on the day of (which of course was very helpful).

The Ranch at Silver Creek by Wedgewood Weddings's reply:

Hi Tiffany,

Thanks so much for the kind words! We enjoyed every second of your special day! Best wishes to you both!

Chan C.

Married on 03/23/2013

The Ranch Golf Club has gone through many changes and challenges, but Carrell and Whitney have helped it turn around. They are both great individuals to work with and I enjoyed visiting with them every time we had to go over the wedding plans. They work hard to get to know their clients and makes sure everything their client wants is correct on paper. Carrell is very detailed oriented and I just love that about her. As a wedding coordinator, she does what she needs to do to help reduce the stress for the couple.

Until the day of our wedding, Carrell made sure everything was correct. She communicated through email me and called me to make sure I wouldn't forget anything. I am the type of person who wants everything to be perfect and so I provided very detailed documents stating what needs to go where and when things can be available (e.g. candy bar). She kept all the documents and made sure things went as planned.

I can go on and on about Carrell. Overall, she did a wonderful job and I would recommend The Ranch Golf Club as long as she is the wedding coordinator. I also want to say that all the staff at the Golf Club were very friendly.

The Ranch at Silver Creek by Wedgewood Weddings's reply:

Oh my goodness Chan Chan...I am flattered beyond belief. You and Duy were a dream to work with and I was privileged to have had the opportunity to get to know you both and work with you to make sure your wedding day was perfect. Thank you again for you kind words.
Carrell

Shavon

Married on 11/11/2011

My husband suggested we visit the Ranch right a couple months after our engagement. We walked in and i was impressed immediately. The weather was beautiful, the stairway before you walk down the aisle was breathtaking, the scenery was perfect, and the coordinator, Chrissy was amazing. I was sold at first sight :-)

Unfortunately it rained on our wedding day, but i was so thrilled with the way our designer set up the reception indoors (Asiel Design).. it looked STUNNING! I was happy with every aspect of our wedding, from the food, to the DJ, to the photographer, and the venue.. I would highly recommend The Ranch Golf Club.

Chrissy, the coordinator, was FANTASTIC!!! She was always efficient, friendly, understanding, compassionate, and warm. She was always available and helpful.



Charlie

Married on 09/11/2011

I live in the community and wanted to have my wedding where i live. The Ranch is truly a remarkable venue site and Chrissy was extremely helpful. Very flexible to fix our need and schedule. Fair price. 2 thumbs up.

Suzanna

Married on 08/20/2011

I definitely give The Ranch 5 stars!! My husband and I had our wedding ceremony and our reception at this location toward the end of August this year and it was amazing! After we got engaged the wedding venue search began. In one day we visited 14 venues. The Ranch was our 14th stop however we weren't able to get an appt for that day. I had seen it online and in bridal magazines so I wanted to at least drive by and check it out. Just driving by and seeing the grounds, I had a strong feeling this would be the place. Luckily the following week we got an appt to view the entire location. My husband and I walked in and we just knew right away it was the place. We definitely got that feeling! :) 2 days later we put down our deposit and booked our wedding date!! :)

One suggestion, if you are interested in The Ranch, make an appt asap and go check it out becasue dates do fill up quickly there. We originally wanted a Saturday wedding at the end of June but had to settle for end of August. No big deal to us, but you may have to book your event more than year in advance.

The Ranch has a very Tuscan design feel and the colors are a lot of warm colors and neutral colors...so a lot of browns, tans, etc. Which I love, as those colors were in our wedding color palette. :) The entire venue is just so rich looking and so sophisticated. The carpet in the reception room is so nice too. You will not see a funky 1970's or 1980's bright multi-color carpet which I noticed at many hotels in the area. The reception room on its own is so awesome as far as the space and design. You won't even need to add anything or take anything away. We had 15 guest tables plus the head table with centerpieces and decor on each table and the whole room just came together and looked fabulous.

The food and alcohol packages that The Ranch offers are very reasonable compared to some venues and also considering this venue looks like a million bucks. :) The food was so delicious too! We had 5 passed Hors d'oeuvres for cocktail hour that everyone said were so good and then for dinner we served lobster tail, filet mignon and a vegetarian lasagna. It was great! :) When we went to the tasting to choose our entree choices, we had a tough decision becasue it was all so yummy.

Also, Chrissy Wolfman, catering manager and coordinator for The Ranch, is absolutely AWESOME!!! She is the best! From the beginning Chrissy worked closely with us on every aspect of the wedding. She was always easy to contact whether it was by phone, email or an in person appt. She has such a wonderful personality and you can tell she really enjoys what she does. She made our wedding turn out exactly how I had imagined and so much more! She kept me on track and worked with me to make my dream wedding come to life! :) She made sure everything was planned and set so that our wedding would be just perfect. We are both super organized so that also helped a lot. We definitely had a great experience with Chrissy!!

We had 130 people at our wedding and everyone has told us nothing but great things about The Ranch. We definitely wowed our guests. :) You can't go wrong with the views when you are here. Whether it is during the ceremony, reception or on your drive in, you will see nothing but beautiful homes, rolling hills and a breathtaking view of the whole Bay Area. Our wedding pictures are amazing! I just love everything about The Ranch and am so glad it was our wedding venue! :)

Overall, I am so satisfied with the staff and the service we received. Our wedding went on smoothly without a hitch and every thing was just perfect that day! There are a ton of great venues out there but to us, nothing compares to The Ranch!

Stop by for a visit and you will see for yourself why The Ranch is a GREAT venue!!!


Chris

Married on 06/12/2011

This is my long overdue review of the Ranch Golf Club. And I'm not giving 5 stars just because I got married here. Before we got married, we searched over 30 venues ranging from San Francisco to Livermore. Lots of great venues but nothing as fitting and beautiful as the Ranch. Our criteria was an outdoor ceremony with the banquet hall within the same area. We wanted an awesome backdrop with fabulous weather. We wanted easy access for guests so they don't have to drive through a forest to get to the venue. The Ranch fulfilled all our requirements. We couldn't be more happy and we're glad that we reserved our date more than a year in advance. You most definitely need to reserve the Ranch more than a year in advance as they get booked up super fast and early!

As for the services and the planner Chrissy, we couldn't any happier. Frankly, we were quite surprised how well mannered and professional everyone is because we've experienced some really bad services and planners at other weddings at other venues. Great job Chrissy and team!

As for the food, it's really good! We had the choice of filet mignon and salmon for our wedding menu and both are excellent. We especially love the salmon as it was nice and tender, not overcooked. The sauce on it was just right, not too salty or overwhelming. Portion is surprisingly large which is great! We choose the butter lettuce salad and loved it. The walnuts and dressing compliments the salad perfectly.

And finally, our wedding day was perfect. Chrissy and team made sure everything was planned beforehand to following through with all the tasks on the day of. There were zero problems (that we knew of) which is good.

Overall, I would highly recommend anyone considering this venue to get married. Don't think and get your date locked in!

Melissa

Married on 06/11/2011

My husband and I just had our wedding at The Ranch this past weekend and everything was fabulous. The location makes for beautiful pictures, especially of the bridal party making their entrance down the stairs.
The food was excellent and many of our guests commented on how delicious and warm their food was. The big hit of the night was the filet mignon! The wait staff were very attentive and efficient, making for a very smooth evening.
Also, a big plus to this venue is Chrissy Wolfman the event site coordinator. She is extremely helpful with any questions you have and is very experienced in wedding planning. I always felt confident asking her for advice and trusted any input she had. Chrissy was very prompt in responding to emails or phone calls, and was a breath of fresh air the day of the wedding. I knew she would solve any problem we might encounter that day :)
Thank you for an amazing and memorable day!!!

Charisse

Married on 04/16/2011

Our daughter's wedding and reception were at The Ranch Golf Club on April 16th – Chrissy, and the entire staff at The Ranch were fantastic. We do not have a single complaint. Chrissy took care of all the details, so we were able to completely enjoy the event. Not only is The Ranch a BEAUTIFUL venue, but the food was delicious and the service was fantastic. There were 250 guests and everyone was served promptly. We continue to hear from guests about how impressed they were with the food and service. We are so thankful to Chrissy and all the staff that help to make this day so special.

Monica

Married on 09/04/2010

I have to say, hands down I am so pleased with the way EVERYTHING turned out at The Ranch for my September 4, 2010 wedding. Satra, the on-site wedding coordinator is Amazing! She's so helpful throughout the stressful planning process, sends you constant reminders of what you need to get done and how much time you have. She's responsible for sending out all receipts as soon as payment is received. She definitely doesn't waste any of your time and if VERY accommodating. Not only is the view beautiful and speaks for itself, but the wait staff if very attentive and we received many compliments regarding their service and promptness. The food was excellent, a must try is the spinach salad.

My husband and I are eternally grateful for the staff at The Ranch and Satra for all their hard work! They made our wedding an absolute success!

Pierre

Married on 08/07/2010

A review of The Ranch as a wedding reception venue

My wife and I celebrated our wedding reception at The Ranch Golf Course on August 7th. We both agree the Ranch is definitely as good as it gets. I would give it more than 5 stars if that were an option. The Ranch sits on top of a hill surrounded by nicely groomed golf course and a very beautiful community of homes. The golf club is fairly new and has a modern look to its building structure. The building has a spacious patio area and a nice view of the golf course. The best part of the patio area is the beautiful view of the city lights at night. The lobby is a cool place to lounge and the restrooms are very comfortable and clean. The wedding packages are awesome. They even include the cake, linens, and chivari chairs, ect. We got a package with 5 hours of open bar and was well worth it. The bartenders pour heavy so be prepared to drink! Last but not least, the best part of the venue is it's wonderful coordinator Satra Zharghami. Satra has outstanding customer service skills! She's very easy to work with, very patient, prompt in all her responses and good person in general! She's cool, you will like her...We met with a lot of venue coordinators searching for the perfect venue but no one like Satra

I have nothing but rave reviews about the Ranch Golf Club from myself and my new husband as well as all our guests. The location and view were one of the main reasons we chose the Ranch Golf Club for our ceremony and reception and it paid off on the day of our wedding. From daytime to evening it all looked so gorgeous! On top of that, the overall cost of their packages were well within our budget. In comparison to the many other venues we looked at, the Ranch offered a lot more for the amount you pay...good food and service, a delicious & beautiful cake w/ no cutting fee, modern looking decor, and last but not least Satra! Satra was the "icing on the cake" for us because she was such a helpful and responsive coordinator. I think much of the reason I was not stressed was because I knew my husband and I were in capable hands with her. She was quick to respond to my emails and changes, reassured me during the rehearsal and wedding when we were off schedule and was overall just a great person to work with. Thanks Satra & the Ranch Golf Club!

Alexis

Married on 05/29/2010

I had the pleasure of working with Satra for my wedding at The Ranch Golf Club. She was beyond amazing & so easy to work with! When we signed for this venue, they were going through different wedding coordinators and my parents didn't feel very comfortable with everything. Christy (the lady who we first met) was not very accommodating and a little difficult to work with. Once Satra started as their wedding coordinator and after meeting her, ALL of my fears and concerns, as well as my parents were relieved!

My wedding was more than perfect and went so smoothly! I owe it a lot to Satra! I can't begin to tell you how professional and dedicated she is to what she does! The Ranch Golf Club is a beautiful venue to have your wedding at and on top of that, you get an INCREDIBLE wedding coordinator! It was so worth it! THANK YOU SATRA!!! :)

Kathy

Married on 05/29/2010

Satra Zarghami was an incredible wedding planner for The Ranch. Her professionalism, attention to detail, responsiveness, flexibility, listening skills and dedication were outstanding. As the mother of the bride, it was amazing to watch my daughter reach out to Satra to brainstorm or ask questions, and even on her day off, Satra responded and was responsive and attentive. She always felt that Satra was there for her and this made her confident that her wedding was in good hands. We highly recommend Satra. And The Ranch is a beautiful venue.

Cecil

Married on 05/15/2010

NOTE: Wedding Reception Venue Review.

My wife and I decided to go with the Ranch Golf Club (Ranch GC) as our reception venue for our recent May 15, 2010 wedding. The place is beautiful; sits atop of a hill overlooking San Jose, giving a very intimate setting for the couple and the guests, unlike hotels where there could be other events booked for the same evening. The view of the sunset is unbelievable, especially with the walls surrounded by huge windows. Pictures don't do the place justice; inside and outside is just amazing; the colors and décor are modern and flexible, allowing the couple to either spruce it up more details, or leave as is, simple but elegant. The interior is very nice, with a huge bar and high ceilings. The bathrooms were very clean and beautiful, something that you may not initially have as a checkbox while searching for a venue, but is a key element to wow guests. Pricing is very competitive compared to other venues, parking is plenty and free for the guests. The food: There were plenty of food choices, portions were big AND delicious. Both the meat and vegetarian entrée selections were delicious, so we decided to go with a meat/combo and vegetarian choice for our wedding.

The real gem of the place, however, is its wedding coordinator- Satra. Throughout the entire process Satra was very helpful, thoughtful, responsive, professional, and provided invited input and feedback. During the day of the wedding, she was on point with everything she said she would help on, and she worked well with our DJ/MC (DJ Alvin of Soundworks DJ) and our photographer/cinematographers.

Being the groom and in charge of the logistics, I had high expectations. I could not have been any happier to have worked with Satra as our wedding reception ran smoothly and our guests had a lot of fun and were impressed with the venue and the food.

Spencer

Married on 04/17/2010

Satra was absolutely fantastic. They were accommodating and very friendly. The food was excellent, and so was the service. The weather and venue was absolutely gorgeous. My only suggestion is to possibly have another screen put in so people in corners can see as well as have temporary partitions or shades when the sun is really bright. Love you guys.

Steven

Married on 04/01/2010

This location is beautiful! We had the greatest experience with them and if we could get married all over again we would do it again with them! They setup everything and it was so not stressful!!!

Karen

Married on 03/21/2010

Satra (site coordinator) was very professional and patient (we had so many multiple last-minute changes!). She replied phone calls and emails promptly, and kept great details of things that we requested.
We had a beautiful spring wedding with beautiful cherry blossom and lush green grass in the background as we said our vows.


Susan

Married on 03/06/2010

I can't express how thankful I am that I chose this venue over the others. The ranch golf club was the perfect place for our ceremony and reception. The staff is incredible and really worked with me on my vision and small requests that were last minute. The event coordinator Satra was very diligent and kept my best interest at heart. The food was great and the staff that day was very attentive to our needs as well as the guests. This place is all inclusive, you don't have to worry about too many diff vendors. I only had to find my own photographer, DJ, officiant, and florist. It was easy because they have a preferred vendor list for these types of vendors. Everything else was taken care of. I wish I could do it all over again! I was at ease knowing that everything was taken care of and I could enjoy my special day. I would recommend this place to anyone that wants to ENJOY their wedding. Thank you to everyone at the Ranch!!!!!

Best Wishes!

Brianna

Married on 01/16/2010

This venue is the place to have your wedding ceremony and reception, I can vouch for that first hand. However, if you want to have a birthday party, or a baby shower, or any other event, this is the place to have it. Satra is the most amazing coordinator. She is kind, accomodating, flexible, very organized, responsive within hours of any calls or emails, and she knows her stuff. She helped coordinate the whole way along, and on the day her calm presence is what I truly believe helped me to relax and enjoy my special day!
The list of pluses to using this venue is very long so I will only touch on a few....The venue is beautiful to start, chivari chairs are included, table settings are beautiful, venue is clean even down to the bathrooms. The view is breathtaking! The food is the best you can get, especially for such a large party, with a very resonable price, you get far above the quality you would expect. Not one of my guests had a complaint, in fact they wondered where this place was when they were planning their events! If you choose another venue it better be because its free, because for the price and quality you get here, I can't imagine anything beating it. Satra is a blessing!

Claire F.

Married on 12/06/2009

It was fun and pleasure working with Satra Zarghami. Everything went smoothly and we really had good time and were happy that Satra could share with us on our big day.
Are you interested?
Send a message