61 Reviews
Recommended by 99% of couples
Quality of service

4.9 out of 5 rating

Average response time

5 out of 5 rating

Professionalism

5 out of 5 rating

Value

4.9 out of 5 rating

Flexibility

5 out of 5 rating
7 User photos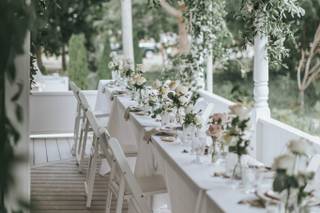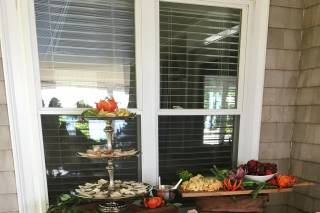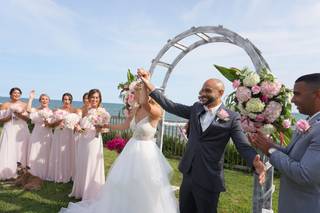 + 3

photos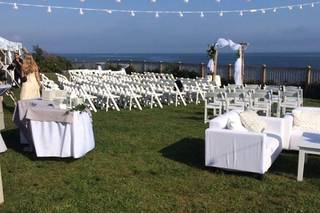 Featured

Anita M.

Married on 02/10/2020

Exceptional service and attention to detail

Shifting from a country club wedding for 150 (all we have to do is walk through the door) to a backyard wedding due to COVID restrictions prompted us to search out a wedding planner. Connie and "The Perfect Plan" team were wonderful to work with from the first interview phone call to the day of service. Connie provided some great tips and things to consider before we even started to talk about a contract. Connie made several exceptional vendor recommendations and was incredibly flexible when we decided to go with a caterer not on her recommendation list. She was so patient with a mother of the groom (me) who thought she was the wedding planner. When we finally gave over the reigns to Connie to let her do what she does - we never had a worry. She kept us abreast of the ever changing COVID regulations and helped us shift when necessary. Connie and her assistant Lauren went into over drive the week before the wedding and made sure every vendor was in sync which was no easy task with a ceremony 45 minutes away from the reception, multiple limos and a bridal party of 20. She provided a timeline that left nothing to chance. I can speak for my son and his wife when I recommend Connie and "The Perfect Plan" with the utmost confidence.

The Perfect Plan's reply:

Thank you for your kind review! We loved working with your families to create a memorable experience for the happy couple and all of your guests!

Tom S.

Married on 09/03/2022

Helped us pull off the perfect wedding

During a stressful time to plan a wedding and a hectic wedding season, The Perfect Plan helped us pull off a beautiful tented wedding and made our vision come to life. With planning a large tented wedding, you truly have to bring a small village into a property; coordinating all the vendors, contracts, and products needed and having that all come together for one day is a challenging task; the Perfect Plan made everything go smoothly and allowed us to enjoy the day and even the planning process! Megan was an asset, she made sure the whole day went extremely smoothly. We couldn't imagine doing this without her!

We couldn't recommend them enough for your weddinging planning and coordination.

Christine

Married on 10/23/2021

Run Don't Walk to Book the Perfect Plan

I can confidently say that booking Connie and the Perfect Plan team was easily the best decision I made for our wedding. In fact, my now-husband and I booked Connie before we planned anything else! If you are reading this and are wondering whether or not you need the Perfect Plan team for your wedding the answer is YES! one hundred times over.
Connie was absolutely quintessential the few weeks leading up to our wedding. She assisted so much with vendor coordination, decor setup, and planning for anything that may happen the day of your wedding. She took such a huge burden off of my shoulders and truly made my wedding day stress free. Not only that, all of her vendor and decor recommendations were exactly in line with the vision I provided her.
Connie and her assistant Joanna were so lovely to work with on our wedding day. Both were organized, meticulous, and incredibly accommodating for the whole experience. On a personal note, Connie is truly one of the most thoughtful and kind people you will ever meet and it is clear she cares a lot for her brides and making sure their day is perfect. I can say that my day was in fact perfect due in large part to Connie and her expertise. I truly cannot recommend Connie and the Perfect Plan enough.

The Perfect Plan's reply:

You guys were a dream to work with and your wedding was a pleasure to plan
Honored to have been your planner and you guys mean the world to me

Are you interested?

Send a message

James B.

Married on 09/05/2021

Amazing Wedding Planner

Connie and her team are amazing! They were able to control ever aspect of our wedding day and really went above and beyond to make sure everything went smoothly. We can't imagine using anyone else if you are planning a wedding down on the Cape and Islands. Thank you Connie and Joanna for being so great and making our day so special!

The Perfect Plan's reply:

We Loved everything about working with you!
We wish you and Allison a life of love and happiness ❤️
We will never forget you or being a part of your celebration

Melissa P.

Married on 08/14/2020

A flawless production!

With their grand plans for an elaborate dream wedding postponed like so many couples in 2020, our son and his fiancé opted to keep their original date but celebrate on a significantly smaller scale. In under two months, Connie from The Perfect Plan and Chef Kevin from Violet Catering helped us turn what began as disappointment into an elegant, tasteful evening. Connie was a huge help with every aspect from planning to vendor referrals and her attention to detail was impeccable. She and Kevin planned a menu that would rival a 5 star restaurant and the service was flawless. They are a rare gem on the Upper Cape and I wouldn't hesitate to use them again!

Antonio F.

Married on 08/08/2020

Professional, Knowledgeable, Worry-Free

Connie was a wonder to work with! We spoke with her in regards to finding a restaurant for our wedding and we settled on The Yarmouth House. She was able to facilitate well between us and the restaurant owners. We met in person where we were able to speak with Connie and the owners as well. They were all amazing and made sure we'd be taken care of on our big day. A pleasure to work with and I highly recommend!

Kiana K.

Married on 08/08/2020

So Thankful for Connie's Quick Action and Help!

Antonio and I were fortunate enough to cross paths with Connie while trying to secure a dinner location for after our small wedding ceremony. Connie glady met with Tony and I at one of the restaurants on our list and had known the owner whom we had the opportunity to meet! We ended up being able to work with our desired restaurant thanks to Connie and despite her facilitating the meeting and providing additional insight for aspects of our night she simply helped us knowing we were in a bind (and time crunch) with all that is going on. Our wedding is just about a month away and we couldn't be more excited and truly appreciative of Connie's help!!

Sarah

Married on 08/31/2019

She took my dream wedding vision and made it a reality!

Connie and her team were absolutely incredible! She took my vision and totally created it to fruition. There were so many little things that came about the day of the wedding but Connie had the solution for it.. whether it was a candle or a frame to give a table 'the finishing touch' to taking care of our late night pizza order in advance so we didn't have to worry about it at the end of the reception. Connie has been doing this for a very long time and boy, does her expertise show! Her and her team made sure me and my husband ate, kept us on schedule, and didn't let us lift a finger! Everything went off without a hitch. We are so grateful for her expertise, guidance, and creativity. We can't say enough about her! Book her today!

The Perfect Plan's reply:

Sarah,
Thank you for the kind review, you were a dream to work with and loved being a part of your special day!

Sarah

Married on 08/03/2019

The perfect day

Connie (of The Perfect Plan) is a tried and true professional, and if hired to assist with your event in any capacity, you won't be disappointed! She is kind, flexible, creative and receptive, coordinating seamlessly with other event vendors and supporting family members with any last minute needs or emergencies- she does it all! We were lucky enough to have her assist with day-of coordination at our wedding, and she helped to make all elements of the day seamless. From lending an aesthetic eye and getting hands-on involved with setting out dining and floral arrangements, to hosting guests at our ceremony site, she was an asset behind the scenes and on the scene with family and friends. Whether you are looking for a fearless leader to take point on planning and coordination, or are looking for someone to serve as the glue that holds all the various pieces of wedding logistics together, Connie is the right choice. Her support and professionalism will help make any special day a success!

The Perfect Plan's reply:

Thank you so much!
I was so happy to help! It was an amazing wedding and a true adventure for me in the Catskills
What a great venue!

Asif K.

Married on 05/08/2019

That is the great wow

We couldn't be more pleased with Connie's work as our wedding planner. It was difficult for us to plan our Cape Cod wedding from Charleston, SC but Connie truly made the process enjoyable, fun, and helped make our wedding vision come true. She truly knows the Pelham house inside and out which made it so much easier for us to relax and enjoy the process instead of stressing out when we were 1000 miles away. Everything about our wedding was perfect and we can't thank Connie enough for all of her hard work. We would highly recommend Connie to any couple who is looking for a wedding planner.

Madeline M.

Married on 10/14/2018

Kelli was awesome!

Having a good planner is so helpful; don't skip it! When my sister got married 3 years ago we didn't have a planner and me, as the maid of honor and my mom were a little crazy during the whole process. Having an official planner made things so much easier and Kelli was great! We had a little blip with the confirmed timeline day of (my fault!) but it was adjusted and things continued smoothly.

Amanda

Married on 08/25/2018

From start to finish, Connie was there for anything I needed! She made sure I had the most amazing vendors and I was extremely impressed with every single one she referred me to. I had many of my own decorations for my wedding but not too much of a vision for how I wanted them, and she took what I had and ran with it. Connie came up with ideas that never would have crossed my mind and made every single tiny detail so special. Not once did I feel stressed about the planning/decoration aspect of the wedding when the weekend finally arrived. I would go to Connie with a question or concern and she would already have had it taken care of it. Its like she's magic!! Her assistants were so amazing helping in our rehearsal and setting everything set up. They made sure my entire wedding party knew exactly where to be and when. I would definitely recommend Connie and the Perfect Plan team to anyone looking to get married on Cape Cod - She is the BEST there is!

The Perfect Plan's reply:

This wedding was perfect in every way and we loved being a part of it! Team work makes the dream work and our vendor partners were awesome!

Catie

Married on 08/18/2018

Couldn't have been better!

Working with Connie at The Perfect Plan was easily the first, and most important, decision we made in planning our outdoor, tented wedding reception at a private home in Mattapoisett, Mass. Connie knows everyone in the area, and has years of experience, so we expected a lot from her. Even so, she over-delivered and far exceeded our expectations.

Her expertise and local knowledge made her an incredibly effective planner, with no detail overlooked and a solution for every challenge that arose (her background in catering especially meant that the most complex components of our event were seamlessly orchestrated). But her communicative and clear working style and warm, practical, and no-drama personality were what made her a joy to work with from day one.

Thank you, Connie, for helping us to create a fantastic experience for our guests, and for handling every detail so beautifully that my husband and I were even able to relax and enjoy the day ourselves! We are so grateful we were able to work with you.


Meaghan

Married on 06/30/2018

Connie and her team did an absolutely fabulous job helping plan and coordinate out wedding weekend at the Pelham June 30th, 2018. They thought of things we did not think of, went above and beyond to make sure everything was perfect, and truly listened to what we and our family wanted for our special day and helped execute those things. Could not be more grateful for their services and we highly recommend if getting married in the Cape!

Jenna

Married on 09/30/2017

No one is better at weddings than Connie and her team. Connie was knowledgeable, honest, and truly cared about making our wedding perfect. I would recommend Connie to anyone looking to plan a New England wedding. I could not have made it through mine without her! Thank you for everything, we love you!!

Marisa

Married on 09/16/2017

We couldn't be more pleased with Connie's work as our wedding planner. It was difficult for us to plan our Cape Cod wedding from Charleston, SC but Connie truly made the process enjoyable, fun, and helped make our wedding vision come true. She truly knows the Pelham house inside and out which made it so much easier for us to relax and enjoy the process instead of stressing out when we were 1000 miles away. Everything about our wedding was perfect and we can't thank Connie enough for all of her hard work. We would highly recommend Connie to any couple who is looking for a wedding planner.

Meredith

Married on 06/17/2017

Connie and her team are absolute rockstars - I would not have been able to pull off my dream wedding without them! I met Connie through my caterer and knew I needed her right away! She is so experienced in Cape weddings and knew all the ins and outs of my venue. We got married at a farm so had to bring in all of our own vendors and rentals; Connie executed it all flawlessly and allowed me and my family to relax and enjoy the day. She is super organized, knows all the vendors personally and coordinated all the set-up and events of the day, even checking in with all my vendors in the weeks leading up to the wedding. Being a super type-A person I thought it would never live up to the expectations in my head, but it was honestly better. Connie truly cared about me and my wedding and even put in the time to add extra touches that she knew I would love. She was available by phone, text or email literally 24/7 to provide advice, information or reassurance!! I'm honestly sad it's all over because she became like a friend! I can't say enough good things about Connie and her team - she was the best investment I put into my wedding!

Maura

Married on 09/17/2016

We are so happy we had Connie on our team for our wedding weekend on the cape. We had been planning our wedding for almost a year when The Perfect Plan was suggested to us, & we were unsure that we needed a day-of-coordinator. After meeting with Connie once, we knew we had to hire her. Her expertise is invaluable - she knew the answer to every single "what if" question because she has seen it all (& lived to tell the tale!). Connie didn't leave anything to chance - she checked in with every vendor multiple times leading up to our September wedding, & made sure every one would fulfill all of their services. She was on-site the entire weekend - she arrived Friday night to inspect our tent and rentals, then joined us at our welcome gathering at a bar in Dennisport to make sure all was going smoothly (which she also helped to coordinate thanks to her great connections). Connie went above & beyond on our wedding day. She orchestrated a beautiful reception that our family and friends are still talking about more than two months later. Having a day-of-coordinator allowed us to enjoy every moment of our wedding weekend, which proved to be a very worthwhile investment for us. We hit the jackpot with Connie - she truly cared about every detail. She answered every e-mail and text & kept our stress levels very low with her warm personality. Do yourself a favor & grab a coffee with Connie - once you meet her, you'll see just how essential she is to anyone planning a wedding.

Connie and her team are outstanding! She was incredibly responsive and helpful throughout my time working with her. Her vendor recommendations were also amazing. Ultimately, on the day of my wedding her team put me at ease so I was able to be in the moment throughout my special day! Highly recommend the Perfect Plan!

The Perfect Plan's reply:

Thank you for the great review! We appreciate your kind words, we loved your wedding weekend and wish you all the best in love and life

I don't know how I would have pulled off my wedding without Connie from The Perfect Plan. She's so knowledgeable and has tons of contacts in the industry. I found all my other vendors through Connie and they were all amazing. Her attention to detail is unparalleled. She thought of EVERYTHING, even things I didn't know existed! The Perfect Plan made all my wedding dreams come true, and I would recommend them to everyone looking/not looking for a coordinator.

Martina

Married on 06/25/2016

Connie was AMAZING!! Planning a wedding long distance is HARD, but she seriously made it easy. Not only did everything turn out beautiful, so many of my guests told me it was the best wedding they'd ever been to! She's amazing and made the whole process worry-free and super efficient. You'd be lucky to have Connie plan your big day!

Luzmila

Married on 06/25/2016

The best advise will be: leave it to the professionals. They have the experience, the know how, the connections and most important the patience!! We had a destination wedding and I couldn't have done it without Connie, she is the greatest!! Everything was perfect!!! THANK YOU CONNIE!!!!!

Erin

Married on 06/11/2016

Working with Connie was the best decision I made throughout the entire wedding process. She helped us coordinate our Cape Cod tented wedding of 125. Her knowledge and experience of the wedding industry is amazing. One of her best recommendations was to hire a bar service (The Bartending Service) and we were SO glad we did. They took care of everything and it was well worth the money of hiring professionals. The day of my wedding her coordinators (Megan & Kelly) were absolutely amazing! Knowing they were there to take care of anything that came up made my day completely stress free. They worked hard so that I didn't have to!

We can't rave enough about Connie. We didn't work with her a lot, but the time we did spend with her was the most valuable money we spent on our wedding. She quickly organized an amazing welcome dinner that fit our vision perfectly, and gave us spot on recommendations to great vendors. Connie is funny, friendly, responsive, and just terrific to work with.

Daniele

Married on 09/26/2015

WOW! I don't think I can write enough kind words about Connie and her team. I first of all completely underestimated what goes into planning a wedding weather it be small or large. I was referred to Connie and her team and from day one it was like I had known her for years and all of my stress subsided. Connie is extremely knowledgeable and gives you confidence in decisions you are making for your special day. You might as well just throw away the wedding planner you bought because you will not need it with her and her team. If you are needing to have someone plan your entire event or just need help along the way and day of, the perfect plan is the way to go without any shadow of doubt. My main concern was the day of an coordinating all those moving pieces. With the help of the perfect plan I literally was not even concerned with a single detail because of Connie and Megan. I was truly able to enjoy every moment of the best day of my life. It is amazing how seamless everything was. Thank you so much Connie and Megan, you gals are rock stars!
Are you interested?
Send a message