13 Reviews
Recommended by 90% of couples
Quality of service

4.5 out of 5 rating

Average response time

4.4 out of 5 rating

Professionalism

4.5 out of 5 rating

Value

4.6 out of 5 rating

Flexibility

4.6 out of 5 rating
4 User photos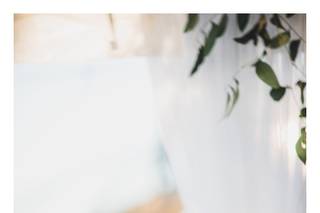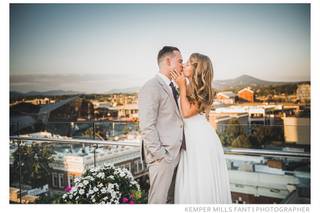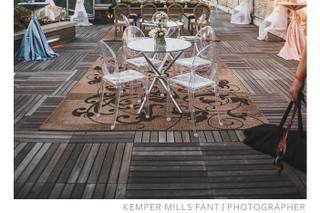 Edie

Married on 06/04/2022

Everything and more!

We are from out of town and a friend suggested we use this space for our son's rehearsal dinner. It was absolutely perfect! We booked the Penthouse for the entire weekend which was also perfect. We used it for the rehearsal dinner on Friday night, a cocktail reception on Saturday before the wedding dinner and then for a very casual grab and go brunch on Sunday. It was marvelous having the flexibility of the space, being able to keep flowers in the refrig, etc. The staff couldn't have been nicer and are extremely professional. Caroline is a wealth of information and extremely creative. We highly recommend this venue and their staff. We would absolutely use it again.

Parents B.

Married on 09/07/2019

Top Notch and Gorgeous

We could not have been more thrilled with our experience at the Penthouse! Caroline's professionalism and attention to details made our daughter's wedding reception more magical than we imagined!

Eileen

Married on 07/14/2018

The Penthouse was AMAZING! We held our son's rehearsal dinner here. The views were spectacular, the dining area was perfect for what we needed, and the rooftop areas were wonderful! Caroline was very helpful with suggestions and ideas. She responded to my questions very quickly and was delightful to work with. Chris was fantastic to work with on the day we had our event. He was extremely helpful in handling logistics of loading and unloading our supplies. Everyone we talked to at our event just raved about the venue! We highly recommend The Penthouse!

Are you interested?

Send a message

Lynn

Event on: 06/29/2018

We were so pleased with this venue and excited to secure it for a 90th Birthday party. I can't say enough about Caroline's and her assistant Chris. They're simply the best!! The venue was stunning and the help Chris provided was impeccable. While many folks had visited the rooftop none were aware the inside room existed. Our guests were amazed by everything and I have no doubt will consider it for future events they may have themselves. Thank you from the bottom of our hearts, the service was stellar which helped make it a night to remember and overall a spectacular celebration.

Marc

Event on: 06/13/2018

I rarely give five stars however Caroline and her team were awesome. She was so responsive and so tuned in. Everything went over perfectly. Many people we invited commented on how beautiful the venue was. Surprisingly there were many local people who hadn't been there before! Would definitely rent this facility again and recommend Caroline to anyone looking to book a space for this kind of event.

Melissa

Married on 09/16/2017

We loved the venue from the beginning, however, during the year long process of booking the venue, the coordinator changed 3 times, and keeping up with who was in charge of the venue became pretty confusing. About 3 weeks before the wedding, Caroline Larocca contacted me that they were now in charge of the venue/ wedding. I can't tell people enough how much we loved working with Caroline and her staff. They were so helpful, gave great recommendations and listened to everything we wanted. The venue and reception went perfectly. For the cost of the rental, I think we definitely got our moneys worth. I would definitely use this rental again and have no hesitation with the Center in the Square or Caroline Larocca. I would highly recommend this venue.

The Penthouse's reply:

Thank you Melissa!!! We'll always remember you as our first "Penthouse at Center Bride" right after we moved in!! We so appreciate your patience and trust in us to get everything ready for your wedding! We wish you so much happiness!!!

Joe

Married on 06/17/2017

We had an amazing wedding at the Penthouse at Center in the Square! Even when the weather is unpredictable, the Penthouse provides an unforgettable vista celebrating the beauty of Love, downtown Roanoke and the Blue Ridge mountains. Thank you Penthouse at Center in the Square for an day to treasure!

The Penthouse's reply:

Thank you so much Joe!!

Katherine

Married on 09/03/2016

Center in the Square's rooftop was the perfect place for my wedding. The views of the mountains and downtown Roanoke were so gorgeous with the sun going down. There was a great breeze as well. The coordinator from CITS the day of was so helpful and made sure she answered all of my questions. I can't recommend it enough!

The Penthouse's reply:

Katherine we so appreciate your review! Your wedding was stunning!

Erin

Married on 10/17/2015

Perfect our wedding was perfect thanks to Caroline. We had the best time of our life and it's due to her responsiveness and enthusiasm. Thanks for everything!

The Penthouse's reply:

Thank you so much...we'll always fondly remember Erin and Rachels' wedding:)))

Amanda M.

Married on 08/31/2019

We couldn't have done it without them!!!

Jon and Caroline at CLED exceeded our expectations for service, wedding planning and execution in EVERY way! From our first meeting, Caroline instilled confidence! Her style is incredible and she definitely balanced our budgets with our vision. We never went without an option that was originally requested.
I especially appreciate the way Jon and Caroline worked with all our vendors, including the caterer, florist and even the more difficult ones. Jon ran the rehearsal, wedding day ceremony and reception flawlessly. My husband and I were able to take in all the moments without stress or worry. It was an amazing night executed perfectly. I can't imagine having gone through this day without them.

Amy

Married on 07/14/2018

I booked this venue for my husband's surprise birthday party. I loved the venue and Chris O'Neill was very helpful in setting up and helping us get stuff to the Penthouse, after talking to my caterer and getting his number. My suggestion is that more information about where you should park to unload, who you should call to meet and how all of this was to be done. I was not provided any information after I booked the event with Michelle Day at Day Events, who does not work for The Penthouse. You do not book the event from The Penthouse. I was contacted a week before the party about the number of tables needed and that was all. I will take the blame for some of this, as I should have asked. I would definitely recommend The Penthouse to others as the space is great and views are amazing.

Raquel

Married on 10/15/2016

We had the MOST beautiful wedding on the rooftop of Center in the Square. End of summer/beginning of fall weddings in Virginia are so beautiful, but the weather is somewhat of a gamble. Tiffany stayed upbeat by constantly repeating that it would NOT rain on our wedding day, but she had a contingency plan if it did. The weather was beautiful, the setup and breakdown was a breeze thanks to the venue staff and I can't recommend Center in the Square enough!

Leah

Married on 06/02/2018

This is a beautiful location / facility that's extremely poorly managed.

I booked a year in advance for my ceremony. My initial booking experience was uncomplicated, but things went sour after a new management company took over. I discovered the change by happenstance whenever I attempted to take some family members up to the 6th floor in order to show them the venue. It was closed, and an employee told me it was being remodeled, and that the event booking company had changed.

I reached out to the new management company via e-mail and was repeated promised by Caroline that someone would get in touch with me. This never actually happened until 2 weeks before my wedding day. Only then did I finally get to speak with someone--in retrospect, this foreshadowed how poor management would effect my wedding day.

I was promised that the 6th/7th floors would be closed to the public, and that security would prevent any members of the public from entering during my rental period. CITS made NO EFFORT to deliver on this promise, to the detriment of my wedding. Before and during my wedding, the public came and went as they pleased. Some were openly consuming alcohol and harassed my husband when he told them the floor was closed to the public. A tour guide actually brought a TOUR GROUP into the space and gave them a speech. It SUCKED! Some paper signs were taped over the 6th / 7th floor elevator buttons stating that the levels were closed for a private event, but people ripped through them and hit the buttons anyway.

The constant invasion of our wedding space and harassment added a huge amount of stress and negativity to our wedding day. I'm still furious. I e-mailed Caroline with my concerns but have--unsurprisingly--yet to receive a reply. I absolutely would not recommend this venue unless you want to spend thousands of dollars to rent it only to have the drunken public traipsing in and out during your wedding.

The Penthouse's reply:

Leah We're heartbroken that you had this experience. We have communicated with Center In The Square to be sure that their security personnel take extra measures to prevent any further disruptions to our events at The Penthouse. We very much appreciate your feedback!