21 Reviews
Recommended by 96% of couples
Quality of service

4.8 out of 5 rating

Average response time

4.8 out of 5 rating

Professionalism

4.8 out of 5 rating

Value

4.8 out of 5 rating

Flexibility

4.8 out of 5 rating
Awards
26 User photos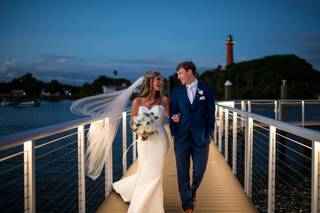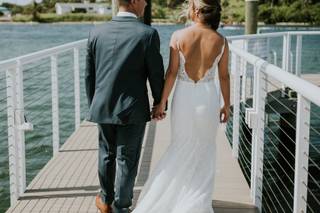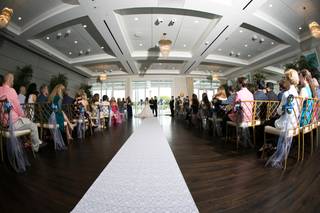 + 22

photos
Kelly R.

Married on 03/08/2022

Married at Pelican Club in Jupiter, FL

We loved getting married at the Pelican Club! It's a beautiful venue, great location, and amazing team of people to work with. They made everything really easy for us and they seemed very organized throughout the process. The food was also amazing! Guests were raving about the food! Thank you Pelican Club team for an unforgettable experience :)

Jennifer J.

Married on 11/14/2021

hands down best venue in south Florida

Pelican Club is absolutely beautiful and insanely well run. Our wedding here was totally perfect. Better than I ever could have dreamed of. I have a very opinionated New York family and Pelican Club somehow managed to please everyone. Food is stellar, service is on point, everything about it is beautiful. It's truly designed for the modern bride. You won't find ugly carpet or awful lights anywhere at this venue. Everything is perfectly curated and directed to be classy and photograph well. The staff is amazing. I have nothing but great things to say. This was the first venue we looked at—we actually got engaged on a boat on the inlet and talked about looking there moments after—we went the next week and i LOVED IT. But being a semi perfectionist I still felt the need to look at pretty much every waterfront venue from Marathon to Jupiter. None held a candle. Don't be like me and waste time looking at 826476 venues because if you're going for a coastal classy vibe you won't find one better than this. Pelican Club will always hold a special place in my heart.

Thank you for executing such a great event!

Katie A.

Married on 11/05/2021

The BEST venue!

The Pelican Club is a stunning venue! We couldn't have selected a better place for our ceremony and reception. The views, the ambience, the menu selections - it does not get better than this! Our guests were delighted with the entire celebration and constantly commented that it was some of the best food they've ever tasted. The office staff is amazing - so responsive and helpful - Courtney and Christina guided me every step of the way. Caroline, the catering manager, helps to turn dreams into reality. She is on top of everything and made sure our day went perfectly! She is so personable and managed the entire event effortlessly. I can't say enough great things about her. The bridal attendant, Mo, is a life saver! She was always there for anything we needed and helped to keep everyone calm and relaxed. She supported the entire bridal party throughout the whole day - she is simply amazing. From every waiter, to every bartender, to every valet attendant- they are all WONDERFUL!!! After a year of delays, Covid, and a lot of stress - I wish I could do it all over again so I could experience The Pelican Club one more time!

Are you interested?

Send a message

Deven B.

Married on 10/09/2021

The most magical waterside wedding venue!

I can not say enough good things about the Pelican Club! From the moment we toured the venue we fell in love and knew we had to get married here. The floor to ceiling windows with views of the lighthouse, being right on the water, the dock in the back perfect for newlywed photos, the separate bride and groom suites, literally EVERYTHING is amazing! Not to mention the staff who are so attentive to detail and make everything run so smoothly, they have wedding day down to a science! Christina, Courtney, Mo, Caroline, Shawn, and everyone else will make sure your wedding goes exactly as you have planned and even better than that! Pelican Club is the perfect romantic waterside wedding venue, it truly is magical.

Andreanne M.

Married on 07/31/2021

Dream come true!

Having our wedding at the Pelican Club was a dream come true. From the very first time we visited, we just knew we had to have our wedding there. The entire team was so easy to work with. The were so quick to answer all of our questions leading up to our wedding. The venue is so beautiful. Guests are still talking about how delicious the food was and the incredible hospitality. And can we just talk about the views? Choosing the Pelican Club for our big day was the best decision ever. We will forever be thankful for such an incredible venue and staff!

Beth G.

Married on 07/05/2021

Nothing Compares!

We knew the minute we stepped into The Pelican Club that we would have our wedding here. The whole process of planning the wedding was easy after we made this decision. We had our ceremony at the Pelican Club - indoors - and our guests were perfectly comfortable at our July wedding and enjoyed the beautiful view of the lighthouse and the incredible luxury of the decor of the building and grounds. The food, drinks and all the staff at the club are amazing. I highly recommend adding the pizza late night snack station - our guests loved it and it was a great idea since we had the top of the shelf open bar all night too. The bridal attendant, Mo, was wonderful and made sure I looked great, my dress was just right, and the bridal attendants were ready. She followed us most of the evening to make sure we were tended to. The Pelican Club manager and staff ran the rehearsal, ceremony and reception - keeping everyone on track and making sure the guests were happy. Our guests raved about the great food and drinks. You just can't go wrong having your event here. Honestly, I didn't have a wedding planner and I can say I didn't need one because the Pelican Club really handled everything for us on the wedding day. We had a Monday afternoon wedding over a holiday weekend and found that it worked great for our guests and it helped us stay on budget. We used several of their recommended vendors: Paul Marino Photography, Creative Events & Florals, Johnson's Cake, DJ Midnight Mike and they were all fantastic. We used Greenvelope.com for all invitations and that made keeping track and communicating with our guests pre and post wedding easy. I highly recommend having your wedding here!!

Beth S.

Married on 02/20/2021

Most Beautiful Wedding Venue

The Pelican Club was the perfect wedding venue. From the ceremony to cocktail hour to reception it was flawless. The coordinators, servers, bartenders and everyone made it such a great night which we will cherish forever.

Stephanie

Married on 01/10/2021

Dream wedding!

We are so glad we close The Pelican Club for our wedding! From the minute we toured our hearts were set on it. The venue is incredibly beautiful and the food is amazing. Our guests were so impressed with the beautiful waterfront and view of the Jupiter light house. Thank you so much for making our special day so amazing!!

Brittney R.

Married on 01/01/2021

New Years Wedding

Our wedding at the Pelican Club was truly amazing. We booked the venue last year right before COVID and were very unsure of how things would turn out. We ended up keeping our original date and we are so happy we did! They were very communicative and accommodating throughout the entire process even with the pandemic. Courtney was so helpful with setting our date and answering hard questions about Covid and the restrictions that we would have to follow. Christina was also helpful with all of my questions and made sure every last detail was accounted for. For our big day, we had the pleasure of working with Stephanie who went above and beyond for our special day. She made sure every detail was in order and our wedding went so smoothly thanks to her. She truly is amazing at what she does! The entire staff was exceptional. I received so many compliments about this venue and everything it has to offer. A perfect setting, flawless operations, outstanding service and food, and attention to detail set the Pelican Club apart. If you want an exceptional venue with breathtaking views, you cannot go wrong with the pelican club. Highly recommend!!

Christina C.

Married on 11/08/2020

Beautiful venue and professional staff

I've been to this venue twice to see it and show family. They've been very responsive in answering all my questions I have. I have had numerous friends who have been to weddings here and they rave about everything. I can't wait for our wedding here next November.

Lacey K.

Married on 11/06/2020

10/10 Would Recommend

Picking this venue was one of the best decisions we made as we went through the wedding process. It was so beautiful and the staff was so amazing to work with. Our guests can't stop talking about how beautiful it was!

Katy B.

Married on 10/17/2020

The BEST venue in Jupiter!

Pelican Club is the *only* venue you should be considering for a Jupiter wedding! The venue and view are immaculate, but more importantly, the staff is unmatched. They were so flexible with us during our wedding postponement and did an absolutely seamless job day-of to ensure our event went smoothly. My husband has two siblings with very extreme Celiac, and as a result, they never get to participate in meals at big events. I really wanted them to feel included on our big day, so I asked PC if they could prepare meals for my husband's siblings with all of their requested safety precautions in place (pans that had never been in contact with gluten, etc). They were SO accommodating, and for the first time in years, my husband's siblings were able to enjoy a nice meal at a big event with no subsequent health issues. This is an actual excerpt from an email my brother-in-law sent me after the event: "Just wanted to thank you for an amazing meal at your wedding. The staff was super careful and supportive and I didn't have any issues. I will remember this beautiful weekend for many beautiful reasons, but one of them will be that it was the first wedding I've been to where I could eat with everyone else." This is just one of a million things the Pelican Club did to make our big day special, memorable, and perfectly ours – couldn't rave about them enough!

Bryanna C.

Married on 07/17/2020

Pelican club - incredible

The only thing I can say about our Pelican Club wedding celebration is AMAZING!! Our families and guests are still reveling in the night and how magical it all felt!! Covid-19 postponed our wedding, twice, & after a stressful year we luckily were still able to host our celebration on 12/4/20. We had so many challenges and last-minute changes, but Christina, Courtney & team were so helpful, accommodating & awesome. Stephanie, Michele, & the entire staff on our wedding night were INCREDIBLE!! The service just blew us away and their attention to detail was so appreciated. The food was fun, creative and delicious… and piping hot as well. Our guests are still raving about the food & how beautiful the venue is. We were nervous about how Covid-19 safety concerns could restrict our event and the guest experience, but the Pelican Club not only provided a safe property and event, but overall an incredible night! I can't thank everyone enough. We had the most amazing celebration and have only the best memories to carry forward with!

Ashley

Married on 02/22/2020

Dream Venue

I found the Pelican Club website before it was even built and knew immediately it was my dream venue. The location is so special with a gorgeous back drop of the iconic Jupiter lighthouse and the crystal clear waters of the Jupiter inlet flowing by. Every detail, big and small, at the Pelican Club is GORGEOUS and the event space could not be more perfect for a wedding. Since convenience was a huge priority for our wedding, being able to have our ceremony, cocktail hour and reception all onsite was perfect and so much fun. Our guests all raved about how delicious the food and drinks were and the wait staff was incredible. Working with the Pelican Club to plan our wedding could not possibly have gone more smooth and the staff is so knowledgeable, helpful, and kind. I don't have a single complaint about the Pelican Club, our wedding was a dream and the venue was a huge part of it! I can't recommend it enough!

Kendra S.

Married on 01/19/2020

spectacular venue with incredible staff

The Management team and the entire staff went out of their way to make my daughter's ceremony and reception perfect. Compliments from our guests on the venue and service have been non stop. We extremely happy with all aspects of our experience at the Pelican Club. We highly recommend.

Shea C.

Married on 01/17/2020

The most incredible wedding venue!

Our wedding day at Pelican Club was ABSOLUTELY INCREDIBLE! I knew it was going to be amazing from the moment Lessings put me in the hands of Courtney Baloyi. She was responsive, reassuring, and considerate to all of my wants and needs. She went above and beyond to make sure the final details were all organized and everything went off without a hitch! Kevin the GM, Daniel the Maitre'd, and Shawn with the brawn, were super sweet and the best hype men a girl could ask for! They made sure everything was in place, that I was happy, and our guests were happy. The wait staff, the bartenders, the valets were phenomenal, so efficient, and well trained! GAIL! Sweet, sweet, angel on earth Gail! She is much more than a bridal attendant. She was and is, an incredible friend, calming presence, and over all amazing person! THE FOOD WAS GREAT, THE AMBIENCE WAS GORGEOUS, THE VIEW IS UNMATCHED, AND THE PARTY WAS EVERYTHING I IMAGINED AND MORE! Thank you ALL for making this day one that Chris and I will never forget! So many beautiful memories that I will cherish forever!

SOUTH FLORIDA BRIDE'S: This is your venue! If you want to WOW your guests and work with THE BEST CREW...Pelican Club will not disappoint!

+ 6

photos

Tori S.

Married on 04/13/2019

First wedding! It was amazing! The view!

The Pelican Club was the perfect venue! We fell in love as soon as we saw the view! This venue truly captures all of Jupiter's beauty. The staff is amazing! Special thanks to Anna for being extremely helpful every step of the way. The staff made sure every aspect of our wedding was in order before our big day. The best thing about our experience was the service the day of. The Pelican Club went above and beyond to make sure our night was amazing! The venue and view speak for itself, but the staff and experience make this the top venue in Jupiter!

Ariana

Married on 05/02/2015

Exceeded all expectations!

We decided to get married at the Pelican Club after having to cancel our original wedding plans due to COVID and I am SO glad we ended up there! Every inch of the venue itself is beautiful - we have not stopped getting compliments on the view, and our photos were AMAZING due to multiple picture perfect backgrounds on the grounds. Equally as important- the staff went well above and beyond to make sure every aspect of our day was perfect. They were helpful, kind, knowledgeable and always willing to work with us on all details. I highly recommend this venue- you will not be disappointed!

Alexis

Married on 10/04/2014

Everything & More!

Our wedding was everything we were hoping for and more! I get emotional every time I think about how fantastic everything was and it all starts with the Pelican Club venue and staff.

Saying I am so glad we chose this venue is an understatement. It gave us everything we wanted for our special day. The spectacular, romantic view, the indoor/outdoor capability (complete stress-free plan B for weather), the beautiful, open ballroom, the delicious food (omg!), the attentive, calm, polite staff (from our first visit to the end of our wedding night) and the professional, top-notch service. Almost all of our 140 guests were from New York/New Jersey area and I warned Courtney that this was a group that likes to eat, drink and party. She assured me they knew exactly what to expect and how to prepare for it and sure enough, they blew our expectations away. Our guests are still raving about the entire night! It makes my heart so full seeing all of their pictures and still hearing about how much fun they had.

Big shoutout to Courtney & Christina who helped make planning from New Jersey a seamless process and were always available to answer my questions. And a huge thanks to Caroline & Mo who helped execute my dream wedding and make sure everything ran smoothly the day of. There's this weird feeling of sadness after everything is over but I love that every time we come down to Jupiter and pass by the Pelican Club, I'll be reminded of how amazing that day was and how fortunate we were to have our wedding there.

Alex B.

Married on 03/04/2021

Most Memorable Night of Our Lives

Best night of our lives! We had our wedding here in April 2021 (originally planned for May 2020), but COVID-19 had other plans. Pelican Club was kind, accommodating, and honored everything from our original contract for our new 2021 date. Of course, the view and location is priceless, but so is the experience the entire staff provides. As for the service from the planning stages all the way through our ceremony and reception far exceeded our expectations. Emails and calls with questions both big and small were answered thoroughly and respectfully - thank you, Christina! Day of our wedding everything went flawlessly and credit the whole staff for the most memorable day of our lives. Special shout out to Mo, the bridal attendant, she was so sweet, kind, and thought of things before we even asked. She felt like part of our wedding party. She even pulled out a needle and thread to fix something our dress - truly above and beyond and just such a good person. And made lemonade for the groomsmen because someone mentioned it. All the staff was professional and courteous and we felt like they were there to give us and our guests the best experience possible. And the food and drink - guests are still raving about it! It was plentiful, displayed beautifully, and was delicious. The trifecta for a family of foodies. I wish I had the chance to have eaten more of it. Hands-down would give Pelican Club 10/10 for ambiance, staff, food, service, and just overall experience. If you have the chance to have your wedding or special event here, do it!

Kayla H.

Married on 04/19/2020

Very Appalling

Pelican isa beautiful venue in a special place. Unfortunately, a pretty venue with a great view is not all that is required to host a wedding. Throughout all the planning, it was a little painful to get answers and information. No one was overly friendly, more of a business transaction without the excitement and care for a very special day. I've never planned a wedding so I ignored it, because I'm excited and its a beautiful venue, right? Wrong. I was originally an April bride and of course had to postpone to July. When I postponed I was given an August date and changed my vendors and began to let my guests know; only to find out the next day that they had given me an unavailable date (Anna). Thus the July date. Fast forward a couple months. We all know nothing is easy with everything going on, but communication is key. The lack of communication and information provided by Pelican was little to none. I have many out of town guests so I needed answers as we were now 3 weeks before the wedding. They were brash, uncaring and uninformative. Very disappointing. When I finally got them (Christina) to communicate an answer or plan, she simply said "you will have to cancel or postpone again". This is what you say to a bride who has been planning for over a year and has already postponed and who's wedding is in 3 weeks? Guests already canceled and rescheduled traveling plans: flights, time off from work, hotels, etc.. now do it again? To also shed a little light.. they canceled on another bride a little over a week before her wedding (basically saying good luck) and the bride the weekend before me didn't know anything. Their way to negotiate and handle difficult situations with fragile brides is disgusting. We did get all our money back which is a plus; but they caused such stress and negativity to an already difficult situation. Luckily we found another venue who was more than accommodating and able to host our special day. Disappointed, angry, disgusted with Pelican are understatements.
Are you interested?
Send a message