59 Reviews
Recommended by 91% of couples
Quality of service

4.6 out of 5 rating

Average response time

4.6 out of 5 rating

Professionalism

4.5 out of 5 rating

Value

4.5 out of 5 rating

Flexibility

4.4 out of 5 rating
52 User photos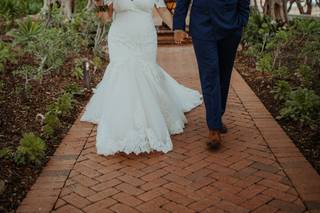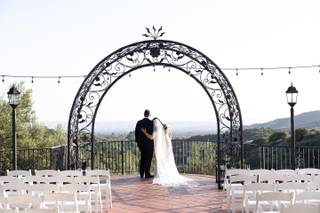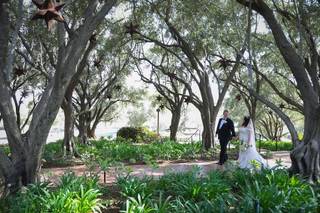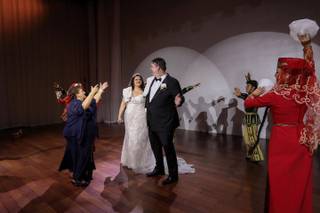 + 48

photos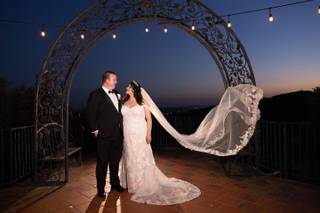 Featured

Rachel S.

Married on 01/08/2022

Just Do It!

Oh my gosh. This review is overdue, but I don't even know where to start! I guess at the beginning…

I got engaged in May of 2019. We fully planned on having a long engagement but then COVID hit and it halted any planning that was in the works. In December 2020, we decided we needed to start seriously planning or move our plans farther into the future. I currently live in the DC area but grew up in SoCal and so for Christmas 2020 we arrived in California with a plan to find a wedding venue. The only problem was that most places were still fairly closed down. This presented some interesting challenges (some of which involved my mother and I sneaking around various venues just to get a look inside). But we needed a venue, without one nothing else could move forward. We visited about 6 different venues and nothing felt quite right. We found beautiful places, we found all-inclusive places, we found wineries and we found rooftops but it wasn't clicking. I went back to all the various wedding search engines and looked one last time and all of sudden Padua stuck out. I'd probably scrolled past it multiple times but now I was seeing it in a new light. So we put it on our list for the next day.

The drive up to Padua is easy and pretty (a must for all our out of town guests). We pulled up and there was plenty of parking (a must for all our in town guests!). It's secure and safe but not too far off the beaten path. We walked in and it was beautiful without even being decorated or set up. We wandered around the venue for a while and then we ran into Wayne (who we didn't know at the time was the chef) he asked us if we needed any help -because we were clearly just wandering, haha. We told him we were just looking around and he said, "Let me find someone to show you around!" Wayne grabbed Evan (from Entertainment Express) and Evan gave us a tour that sealed the deal. He gave us a light demo and showed us the amenities. He let us walk around without feeling like we were breaking rules and answered so many questions. I walked away knowing I needed to book this venue.

When discussing specifics everyone at Padua endured question after question from me. They even answered when my now husband wanted to know where they got their beef from as he grew up on a cattle ranch (haha). Ryan was so attentive and patient with me through every step of the planning process. They never made me feel like I was bothering them and seemed almost excited to hear from me every time I called. They were always straightforward and easy to communicate with, which is absolutely necessary when you're planning your wedding across the country.

The wedding rehearsal was easy and seamless. If you need someone to whip your bridal party into shape they've got your back. They know how to maximize the hour you have with them and at no point did I feel stressed that we were forgetting something. In the months leading up I was worried about only having a venue coordinator and considered hiring a day of planner but am so happy I didn't spend the money. They seriously had it all together and cared that the day went according to OUR plan and were not just concerned about making the venue look good as I had heard some venue coordinators at other places do.

The wedding day was absolutely perfect. Unless our bridal party has kept all the missteps and disasters a secret, I truly feel like nothing went wrong. I was calm the whole day and not at all nervous. I knew there was nothing to worry about. Everything went according to plan and everyone has told us they had a great time- a few even claiming it was the best wedding ever. The food was excellent - from the hors d'oeuvres to the entrees -and HUGE portions, Wayne even came out to admire his handy work - something my parents loved (they have been raving about him for months, honestly they may never stop). When we did our tasting we thought surely they won't give us that much on the actual day, but they did and it was just one more thing that impressed us about Padua.

The dancing and party was unforgettable. I loved that Entertainment Express was in house, it added so many things that you don't even realize. If you want to party you have found the right place. (I wrote a separate review for Entertainment Express because they deserve their own glory!) But in short- we got down.

At the end of the day Padua was one of the best decisions I could've made. Picking a wedding venue is so hard, there is so much riding on it and you don't want to live to regret your choice. You hear horror stories of rude coordinators or inedible food. Throw COVID in and it will stress anyone out. But, I can wholeheartedly say that I will never feel that way and never did. I would pick Padua again in a heartbeat. They do weddings right- they take care of their couples and they do it professionally, happily and lovingly. It makes you want to throw a party all over again - maybe in 15 years ;)

So, thank you Padua for making our wedding day a wonderful memory. We have looked at pictures and talked to so many people countless times and all of that couldn't have happened without all of you. We are so grateful and blessed that we chose you!

+ 7

photos

The Padua Hills Theatre's reply:

Rachel, on behalf of the entire Padua Hills team, thank you so much for your amazing review! You have put a smile on our faces and truly made our day. Working with amazing couples like yourself and Elliott is the reason we love what we do. Everything about your wedding was perfection! We especially loved the radiant energy you and your guests had. We definitely felt the love and your special day will be a memorable one for us. Thank you again for taking the time to write such a thoughtful and kind review. We wish you a lifetime of love and happiness!

Kathleen C.

Married on 10/02/2022

Best venue ever

We had our wedding at Padua in October. We had THE BEST wedding experience with them and I cannot recommend them highly enough!!!

The venue: Ideal location, nestled in the hills of Claremont. It is easily accessible via freeway and easy to find, but far enough away from the road where you feel like you left the city altogether. Plenty of parking too. The perfect mix of convenience and beauty. There is a grove of olive trees that is absolutely a dream for photos. We had our wedding under the gazebo and there is enough natural beauty as well as built in decor/string lights in the trees where you really don't need much at all in terms of flowers or decor. Cocktail on the terrace, watching the sun set over the hills. It was all incredibly dreamy!

Food: The venue is owned by the catering company Chantrelles, which really streamlined things. The food is all freshly made in house at the time of the wedding! Even though it was made en masse, it tasted great! And they do a tasting at the time of another event, so you get to see how the food quality is when it is cooked in large batches, so no major quality change between tasting and event.

Coordination: This was honestly one of the highlights of Padua. You work with a coordinator throughout the process for your planning meetings. On the day of, you have 1-2 coordinators who help facilitate the day. We were shuttled wherever we needed to be and they even brought us food and water - we didn't realize but on your wedding day it's so busy hugging people and taking photos, everyone forgets to eat and drink something. They were working endlessly behind the scenes so we could enjoy the day.

We had SO MUCH FUN! and SO LITTLE STRESS!!! I'm stunned - so impressed and I would choose them again and again. Cannot recommend them highly enough. And all that considered, they're really not that expensive either! Worth every penny and more.


The Padua Hills Theatre's reply:

Katie, thank you so much for your lovely review!

Ashley

Married on 09/02/2022

Best wedding day ever

Choosing Padua Hills for our wedding venue was hands down the best decision we ever made. Padua Hills is the whole package- incredible staff, beautiful location (with indoor and outdoor views to die for), and a comprehensive wedding package (including what many of our guests described as the "best dinner they've ever had"). I had a vision for my dream wedding and Padua made that vision come true. I am so thankful to the Padua team and will always remember my wedding day and the magic at this location.

The Padua Hills Theatre's reply:

Ashley, thank you so much for this wonderful review! We loved being a part of the team that made your dream wedding come true. Your wedding was more than perfect! We wish you a lifetime of love and happiness. Congratulations!

Are you interested?

Send a message

Vanessa E.

Married on 04/22/2022

Pure magic!

As a very type A bride, I can tell you with complete confidence that the team that works at Padua Hills will make your day MAGICAL! The pandemic brought in so many stressed around planning and vendors, but Padua supported me the entire time. They allowed me to reschedule with no additional charge, they answered all of my detailed questions, and on the day of, they literally felt like family. The food is amazing, the drinks were amazing, and the venue is STUNNING! You need to have your special day here!

The Padua Hills Theatre's reply:

Vanessa, your wedding a Padua was epic! We're still not over how beautiful all your details turned out. We loved working with you and are happy you chose us to be a part of your special day. Thank you for taking the time to leave us a wonderful review. We wish you and Frank a lifetime of love and happiness!

Armine

Married on 04/07/2022

Magical Weddings

We will be forever be grateful to the entire team at Padua for all their love, thoughtfulness and support in making our wedding a true celebration of who we are and creating the quintessential ambiance for our union. They really sought to understand our traditions and made the accommodations to reflect the needs of our Armenian cultural rituals. During the entire process they listened attentively to what was important to us as a couple and did everything to be true to us. From the initial meeting, to the tasting, entertainment express, and rehearsal every team member treated us with great love and understanding. The people, the food, the music, the environment were ephemeral. Ever time our friends and family sees us, they can't help but mention a what a magical day it was. Thank you PHT!!! We love you!!!

+ 2

photos

The Padua Hills Theatre's reply:

Armine, we are so grateful to have been a part of your special day! It brings a huge smile to our face to know that we helped create the wedding of your dreams. Thank you for taking the time to leave us a kind review. We wish you and Christopher a lifetime of love and happiness. Congratulations!

Vaneza P.

Married on 02/22/2022

Can I do it again?

I would choose Padua over and over again. Padua Hills Theatre was the easiest choice for us to make when wedding planning. This venue is STUNNING inside and out. The food is delicious and everyone we worked with makes you feel so special and taken care of. We had so much fun our wedding day and our coordinator + all the staff that day made it easy.

+ 6

photos

The Padua Hills Theatre's reply:

Vaneza, thank you for your lovely review! It was a pleasure working with you and our team really enjoyed making your special day a memorable one. We wish you and Matthew a lifetime of love and happiness!

Kelly T.

Married on 12/17/2021

The Perfect wedding venue

Padua as a venue alone is beyond beautiful. The scenic backgrounds for photos is endless. But it doesn't stop at being just a location for a wedding. The team has honed in on their craft and offer a wide variety of other wedding details like food (that is actually highly reviewed), alcohol, tables/chairs, linens, a complete sound system through the whole venue, day of coordinators, and I'm sure more that I am forgetting. In our minds, there wasn't another venue that comes close to comparison and we would do it all over again in the same place if we could.

The staff was beyond accomodating, helpful and never made me feel like I was overwhelming or inquiring about too many things. The food is still a top 5 highlight of the wedding day (we had bone in ribeyes and chilean seabass). And their preferred vendor list has nothing but the best in the area, I highly recommend maximizing that list if you can. The only thing to be aware of is that partnering with Padua means you have to partner with their DJ/MC company Entertainment Express, which is not a bad thing. It enhances the experience and elevates things up a notch.

I could go on talking about all the details of Padua, but if there is only 1 thing you take away from the review it should be that you need to see it, and trust that you will be in the best hands with their team.

Photo credit: Robert Paetz

+ 17

photos

The Padua Hills Theatre's reply:

Kelly, you got us tearing up! On behalf of our entire team, thank you so much for your beautiful review. We pour our hearts into every wedding we get to host and we loved working with yourself and Mykel. Your wedding was phenomenal and the pictures are STUNNING! We wish you both a lifetime of love and happiness.

Rochael

Married on 10/17/2021

Amazing Venue, Amazing Team!

Honestly, you don't even need to think twice about booking this venue. Not only is it absolutely gorgeous (both outdoors and indoors), the team at Padua were beyond amazing and helpful in making our dream wedding a reality! From the moment we got in touch with them, to having to navigate through the global pandemic and postponing our wedding, to the rehearsal, to the actual day, they were on top of everything and went above and beyond to make sure we didn't get stressed or overwhelmed with the details. To top it off, the food was absolutely delicious! All our guests truly enjoyed it! Thank you so much Padua Team for everything! If we could get married a thousand times, we would choose your venue every time!

The Padua Hills Theatre's reply:

Thank you so much for taking the time to leave such a lovely review, Rochael. Working with yourself and Eric was fantastic! Our mission is make our couple's wedding day as stress-free as possible, so we are happy to hear that we were able to do that for you. Take care and we wish you two a lifetime of love!

Jerry L.

Married on 05/17/2020

Amazing Venue and even better team

The team at Padua is incredible. Everyone from Ryan to Chloe to their wait staff made our wedding a dream day for my wife and me. We had to put the wedding on hold due to the pandemic and when it was time to start the planning process again, it was like no time had passed. They were on top of everything and had all the notes from our previous meetings. They worked with us and allowed us to get the wedding my wife and I have always talked about. The food was amazing, the venue is beautiful. We highly recommend the place and team.

The Padua Hills Theatre's reply:

Jerry, on behalf of the entire Padua Hills team, we thank you for taking the time to leave a wonderful review! We are so happy to have been a part of your special day. Thank you for trusting us to plan the wedding of your dreams! We wish you and Danica a lifetime of love and happiness!

Laura L.

Married on 03/07/2020

An absolutely beautiful venue

Choosing Padua Hills as a venue and catering for our wedding, was one decision that had the greatest impact at our event. The venue was breathtaking, the food was delicious, and the staff was very professional. Everything went perfectly well! If you enjoy great food, you will love the food at Padua Hills. You will not be disappointed!

The Day-of Coordinator ensure that all those small details got carried out by working alongside with all our vendors. She made sure everything went smooth. The venue was open to new ideas, and along side with our florist @memos_florist and entertainment express, our wedding was absolutely stunning.

Joslyn

Married on 11/09/2019

Amazing Venue!

This venue was so beautiful! I knew from the beginning that I wanted to have my wedding here. When you book the venue, you are the only event of the day, which makes it that much more special. The outside scenery is breathtaking, and the interior is very charming. The food is also the best! My guests all raved about it!

From the very beginning, the whole team at Padua was great in helping plan the wedding to make it the best day ever! They all helped to make sure everything was planned how I liked. They are serious experts. Also, on the day of, Tammy was the best coordinator. She made sure everything was taken care of so that I could enjoy the day. Thank you Tammy! Also, there were two other people that day (sorry I can't remember their names!), but they made sure I had a drink or whatever throughout the night, which I thought was a really nice thing to have on your wedding night.

So, choosing Padua Hills for my wedding was seriously the best choice I could have made!

April

Married on 10/19/2019

Just Breathtaking

This venue is just amazing. Breathtaking views, a beautiful atmosphere, and awesome food. So many people have said it's the most beautiful wedding they have attended. As for the details... they kind of handle it all... we had a few missing boutonnières and Tammy whipped them up in a quickness, the food is just amazing (imagine a steak the size of your head), they make sure you and the groom are taken care of, and really handle all the tiny little details so you don't have to worry about a thing.

Lorena P.

Married on 10/08/2019

Magical Place

Magical! That is the best description for Padua Hills. It was so amazing, the food is the best I ever had at a wedding, and I promise I am not being biased. They made our day so so special. You really don't need a wedding planner, they have your back. Save that money for more flowers, because really they will take care of you from the moment you decide to go with them. My guests loved the place, and couldn't stop talking about it. The best is that they provided us with so much support that we really didn't have have to utilized that many outside vendors. LOVE THEM!

Kyle S.

Married on 08/03/2019

So this is perfection..

Everyone warned my wife and I about the wedding day. "Things will go wrong, just don't worry about it", "Just be prepared and take on everything with a smile", "It's gonna be mayhem".

I printed out multiple schedules on where we had to be and when, and we passed them out amongst the wedding party. We was prepared for anything.

The entire night we were waiting for this inevitable destructive event.

And guess what. Nothing... Nothing happened.

Everything went smoothly it was almost scary. The team at Padua Hills and entertainment express did a phenomenal job. They knew where to find us, they knew where we had to be, and most importantly, they did it with a smile. The food was amazing, they took care of the snack bar, they made sure every one of our guests was taken care of. Still days after the wedding we're receiving compliments on how perfect it was.

It was truly a perfect evening.

Amazing Padua. Simply, amazing. Thank you for making our special day a night to remember

The Padua Hills Theatre's reply:

Thank you so much Kyle! Our entire staff loved working with you every step of the way! We have to say your guest snack table on the way out was such a fun touch! We hope to see you guys in the future for that 10 year vow renewal! ;)

-Padua Team

Jenna

Married on 05/05/2017

My husband and I got married at Padua Hills Theatre in May of 2017. We were so thrilled with the staff's constant communication with us to make sure every little detail was in place. The staff at Padua Hills was so hard working and easily adjusted to any little change we made during the wedding planning process. During our planning meeting, we discussed every tiny detail, which made me feel like we were definitely in great hands!! Living out of state, email was my main source of contact with them so I was a little bit nervous about things like the cake design turning out just how I wanted. But when it came down to the wedding day, it was a literal dream come true. Please book them!!

I am so excited to be having our wedding here. Each step of the planning process they have been fully attentive to changes and even the first visit was extremely informative and they really care about their clients!

Jessica

Married on 09/04/2015

EXCELLENT service! The staff at Padua are the best! They are a one stop one of kind shop that made my wedding planning stress free and a breeze. The food is AMAZING, by far one of the best meals I have ever had. I wish they had a restaurant so I can eat it when ever I want. The staff is extremely helpful and professional. My friends and family are still raving about my wedding!!

Ashley

Married on 02/21/2015

Padua hills theatre is a beautiful venue! The girls truly help create a dream come true wedding for my husband and I. They keep things organized and stress free. Melisa, Jennifer and and Cheryl were all so helpful every step of the way.

Bridget

Married on 09/28/2014

Padua Hills Theatre was the first venue we looked at--but we both knew right away it was the perfect place for us to get married. It is very beautiful & romantic--tall olive trees and Spanish-style buildings. They have 3 different areas to have a ceremony--one of which is indoors which is great in case it rains. We chose the courtyard gazebo, and it was perfect. The Padua Hills Theatre is run by a catering company, Chantrelles, that made our amazing food for the wedding. Also, there are a few vendors that are available onsite (if you choose) which was convenient. The staff was very friendly & responsive with any questions we had leading up to our bid day. Overall, we were very happy we chose the Padua Hills Theatre as our venue, and our wedding day was perfect!

Laurel

Married on 04/27/2014

Padua HIlls Theatre was the perfect place for our wedding. I knew from the moment I saw it that no other place would even come close. They were extremely accommodating, we even had to change our date and it wasn't a problem. They also work closely with their vendors so it made it easy to book everything through their recommendations. The setting is simply gorgeous, the view is beautiful and the food is AMAZING!!! Our wedding went off without a hitch. From the second we got there to the second we left everything was top notch perfection. They worked very closely with me throughout the entire process and made sure all the bases were covered. If I had to do it all over again I would use them again in a heart beat! Fantastic venue.

Chris

Married on 09/06/2013

My husband and I recently got married at padua on Sep 6, 2013. We are extremely happy with how everything came together on our wedding day and it was all thanks to the coordinators at Padua. They were friendly, helpful, and and very professional. They really know what they are doing. This is soooo helpful and we had less to worry about. Now let's talk food. The food at Padua is amazing. All our guest loved the food. It's a great feeling when your guest come up you and congratulate you on a beautiful venue chosen, great food, and entertainments. For those couples looking for a great venue an service you will not go wrong with Padua

Nicole

Married on 08/26/2013

My husband and I loved our wedding here at Padua. Couldn't of chose a better venue for our ceremony and reception. All the staff was such a great help to us planning a wedding that we visioned to have. We loved our wedding and everyone there at Padua including the catering that' was done there as well. It was the best :) everyone there was such a big help to us making our day special.

Dana R.

Married on 08/03/2013

My husband and I recently got married here and loved it. We keep getting comments from guests about how beautiful and breathtaking the venue was both outdoors and indoors and how it was the best wedding they've been to (next to their own)!

The staff: The entire staff was very professional, responsive and flexible! They worked with us on every single detail and stayed in constant contact with us. They spent hours with you to ensure all details were covered and even worked with you on changes you wanted to make even after the planning meeting.

The ceremony: 2 options. Both beautiful. We went with the front where it was cooler. The trees were covered with lights which made for some great pictures!

The reception room: Magical! The uplighting makes all the difference. Had controlled sound where the dance floor was louder than the ballroom so your guests can actually have conversations without yelling at each other. Dance floor also had effects like bubbles and fog mist as well as spotlights to capture the attention of the guests.

The food: BEST WEDDING FOOD EVER!!! If you get their rib eye steak...HANDS DOWN ONE OF THE BEST TASTING STEAKS EVER! The portion size was HUGE! The grilled chicken with a butter lemon garlic sauce topped with diced tomatoes and fresh basil was not dry at all like usual. Everyone raved about it! Oh and they had to go boxes too!

The cake: Carrot and german chocolate. Oh so yummy and moist! I also showed them a picture of a design I wanted and they were able to replicate it.

The day of coordinator: Great! We had Christina. She was attentive and made me and everyone feel comfortable. Made sure we didn't forget anything!

The bartenders: Fun! Was able to get my specialty custom drinks right. Guests even commented on how they loved the bartenders.

If you can, book with them. You won't regret it and your guests will thank you! Gave us a truly magical perfect wedding!

SUCH a beautiful venue! Being theatre majors, we appreciated the theatre aspect as well :)

Susan

Married on 04/19/2013

The entire staff of Padua were my saviors!!! I had 3 months to figure out what the heck I was doing. But during the 3 months, I had nothing but support and reassurance leading me all the way to the alter, especially from Jennifer, Tammy, Melisa and Christina who helped me coordinate all the details. They were very responsive to all of my emails, concerns and calmed every nerve I had. As far as the place itself, the venue WILL make your jaw drop straight to the floor. My guests never knew a place like this existed snug up in the foothills of Claremont and were impressed! You will literally be blown away w/the features this place has. So it doesn't matter if you deck out the place with elaborate flowers and swag, the beauty of this place will do the job on it's own. Loved the colorful gardens, plants, canopy of olive trees, balconies with breath taking views, couple water fountains, fireplace, the elaborate cast-iron Gazebo. Also loved how the trees were dressed w/lights to add to the already incredible premises making a twilight wedding like mine so romantic. The inside had a cocktail area with another fireplace, wooden floors, elegant decor, full bar area, and enough room for everyone to mingle, enjoy Hor'Doeuvre's and take in the beauty of the place. Then theatre is where all the magic happens! You will automatically fall in love. I got my inspiration for an "Old Hollywood Glamour" themed wedding because of the high vaulted ceilings, long curtains, mirrors, chandeliers, wood floors, stage area, gorgeous up-lighting....the whole 9. The theatre even has built in lighting, lasers, haze, bubbles, spotlights! Overall, if you're looking for a place with 5 star food, beautiful grounds, great customer responsiveness, entertainment, and experts that can help you carry out the day's events, I highly recommend Padua Hills Theatre owned by Chantrelles Catering. You guys are amazing!
Are you interested?
Send a message