Reviews
4.9 out of 5 rating
Quality of service

5 out of 5 rating

Average response time

4.9 out of 5 rating

Professionalism

5 out of 5 rating

Value

4.9 out of 5 rating

Flexibility

4.9 out of 5 rating
99%
Recommended by couples
3 User photos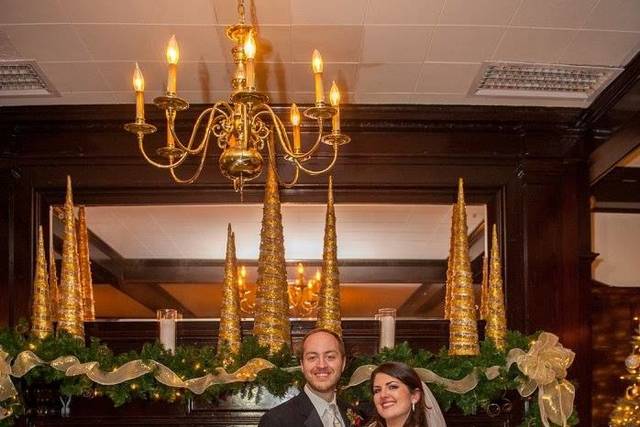 Janice K.

Married on 08/19/2023

Outstanding!

We had our wedding reception here this past weekend. I can't say enough good things. Venue is lovely with a mahogany framed room for the cocktail hour. Very Boston Brahmin and classy. The Ballroom for our dinner and dancing was elegant. Service was impeccable, passed hors d'oeuvres and buffet were outstanding. Planning, communication and coordination ahead of time was all that you could hope for. I highly recommend for your next function.

Sarah

Married on 05/04/2019

Incredible Venue with Wonderful People

First off, we honestly cannot say enough amazing things about The Neighborhood Club and the wonderful, thoughtful, amazing people who work there.
I (the bride) was referred to The Neighborhood Club by a coworker. After checking the website, my husband and I decided to check it out. We were blown away. Marty welcomed us in and talked with us for almost an hour about all of the things we were looking for. He showed us around the club, offering hypotheticals about how the living room with comfy furniture could be used for cocktail hour and chatting about different uplighting available in the absolutely stunning ballroom (included in the venue rental). He made us feel so comfortable and relaxed during a time that is one stressor after another. When we couldn't get back to put our deposit down within a week, Marty and John assured us that it wasn't a problem and that we'd still have our requested date. Every time we had a question, Marty, John, or Michelle was there to answer it. More than that, they were willing to work with us to create the wedding we wanted. At our tasting, we talked with Michelle about how the day would go and all of the details we would be bringing (centerpieces, flowers, etc.). Michelle was enthusiastic, helpful, and kind. Even when we got to the week of the event, John and Michelle made sure that everything would go smoothly. When the weather didn't cooperate with plans for an outdoor ceremony, they already had a plan in place to transfer the ceremony indoors. John even went out to get some greenery and flowers to make sure everything would be beautiful for us. Day of, Michelle was like an amazing cross between Liza Minnelli and a ninja. She kept everything running smoothly and on time, allowing my husband and me to simply relax as much as we could and enjoy the day. Perhaps most importantly, they really understood that we would need a moment post-ceremony before joining our guests and made sure to have a bottle of prosecco and a selection of appetizers in the bridal suite just for us to take a moment together as a newlywed couple.
We could go on and on (and on and on) but bottom line - The Neighborhood Club is a beautiful venue, with incredible food, run by wonderful caring people who truly want your wedding to be perfect as much as you do. Thank you, thank you for helping us have the most amazing wedding!

Mary

Married on 12/09/2017

If you are ever planning a Christmas Wedding, this is the venue for you! I cannot say enough about my daughter's wedding that took place on a snowy evening on 12/09/17. From start to finish, it was the perfect evening. From the glistening snow to the cocktail hour with wonderful piano music playing our favorite Christmas Carols to the most romantic ceremony in front of the large roaring fireplace that was so elegantly decorated. The reception itself was perfect! The food was truly amazing,!! Michelle, our coordinator for the evening, was there every step of the way making sure our night was perfect and it was!! I want to say thank you to Wendy and Marty for all your help over the past year! Thank you for a magical evening!!!

Are you interested?

Send a message

Stephanie

Married on 12/02/2017

I had my wedding reception at the Neighborhood Club on December 2, 2017 and was blown away with my experience. I had a hard time looking for a historic venue that would look good in the winter and be affordable. I also wanted the reception to have a warm and cozy atmosphere, and I LOVED the fireplace in the room for cocktail hour, and the beautiful Christmas decorations.

The planning process was very smooth thanks to Wendy's knowledge and expertise. I appreciate all the time she took to answer my questions and offer food and vendor recommendations. She was always prompt and honest when answering my questions.

On the day of the wedding, Michelle was accommodating to all of our guests and I mean ALL of our guests. She checked in to make sure everyone was having a good time. The food was excellent and I highly recommend having a piano player during cocktail hour. Guests were raving about the Chicken Piccata, the Surf n Turf, and the Mud Pie which is a dessert that came with the meal.

The buzz from our families is that we have set a new bar for weddings!! If you are looking for a warm and cozy atmosphere, look no further than the Neighborhood Club. Thanks again!!

Kaitlyn

Married on 10/28/2017

The Neighborhood Club of Quincy was awesome!!!!! My husband and I always knew we wanted to get married there and frequently went there for dinner. The staff is incredible as they go above and beyond with their service. Wendy, our wedding coordinator was amazing! She answered ALL my emails and phone calls right away. This venue is VERY accommodating and it was everything we wanted for our wedding. The food was out of sight and the space was set up perfectly! It was great to just drop everything off with a list and not do anything. We even had one of our servers Peggy bring us around to food to make sure we were not bothered to eat during our special day. Our bartenders were awesome, especially Tara who makes fabulous cocktails. Our guests loved the food and drinks which is a HUGE plus. We even had a late night menu which was a big hit with our guests. Overall, we are beyond satisfied and if we had to do it over we would still select the Neighborhood Club!!

User3001481

Event on: 03/04/2017

Exceptional venue!! The entire staff were professional and very attentive to our needs. My compliments too to the Chef for a delicious meal.

Kathy

Married on 10/07/2016

We had our ceremony in front of the fireplace and a reception in the ballroom, The staff are unbelievably accommodating our wedding day was absolutely perfect . All of our guest raved about the food and the beautiful venue. I would highly recommend the Neighborhood Club to anybody looking

Courtney

Married on 11/07/2015

We couldn't have asked for a better experience in holding our wedding reception at the Neighborhood Club. Marty, Wendy, Peggy, and the rest of the staff were incredibly helpful throughout the planning process, and made the evening run flawlessly on our special day. They did an incredible job setting up our decor for the reception, and our guests loved the venue-particularly that they could gather in various rooms to visit (ballroom, cocktail area, bar). Mark and I are so very grateful to everyone at the Neighborhood Club-thank you!!

This venue is truly a hidden gem! Intimate, cozy, elegant is the feel you get when you step through the doors. Responsive and friendly and helpful is what you get the staff.
I had my bridal shower and wedding ceremony here and it was beautiful and perfect.
The venue created a beautiful backdrop in my pictures. I wish I could have had my reception here too, but due to culture reasons, I had to have it elsewhere.

Jessica

Married on 10/17/2015

Just had my wedding at the NC on Saturday night and could not be happier. The venue itself is great with the fireplace and multiple rooms. The food was AMAZING, the staff so kind, and Wendy did a great job of efficiently and respectfully directing family and vendors to ensure the night moved along smoothly.

Melisa

Married on 08/15/2015

Marty and Wendy were life savers, they were down to earth and very understanding. Wendy was amazing keeping me calm on my wedding day and making sure everything went smoothly. Even before the wedding Wendy was very attentive to our needs and questions. Marty and Wendy will always be part of me for making my wedding the most, beautiful, amazing, unforgettable wedding ever!

Sandra

Married on 07/25/2015

we are having a wedding here in 2015 and we dont have one complaint about the service of this facility.everyone we have been in contact with have been absolutely wonderful. the facility itself is absolutely beautiful.i wouldnt have my wedding anywhere else.im so excited i can hardly wait!

Laura

Married on 06/06/2015

I cannot say enough about NCQ. Wendy and Marty were amazing the entire time, and I wouldn't have been able to do this without them! Wendy had a knack for sensing my nerves through EMAIL. And she was there every step of the way with me. I was worried about forgetting things, or making mistakes and she just wouldn't let it happen. I wanted two very unique photos and although the photographer (and myself to be honest) forgot, Wendy not only remembered but gathered everyone with nice cameras for extra chances of getting those shots in late in the evening. She went far above and beyond. And every SINGLE person said the food was amazing, hot, and well served. The staff from every faucet was great. Extra shout-out to bartender Eileen for being awesome as well!!

amazing place. great food. great lighting. would def recommend.

Meaghan

Married on 12/13/2014

Perfect place for the perfect wedding! I can't thank Wendy, Marty, Linda and the rest of the staff for all they did for us! We had our ceremony there and it was such a beautiful backdrop with the fireplace and Christmas decorations! The food was amazing; our guests are still raving about the food! The ballroom is so beautiful and they did a great job decorating it how I wanted it to be! This place is great! You won't be disappointed!

Alison

Married on 11/22/2014

The Neighborhood Club of Quincy was a perfect venue for our wedding reception. Our many out of town guests really enjoyed the historic New England atmosphere! Wendy was an amazing coordinator and helped us plan the evening exactly as we wanted. The food and staff at the NC are phenomenal and you really can't beat having free range of the building for your event - ballroom, bar, foyer, etc. This allows for guests to get away from the music in the ballroom and relax in the bar a bit, rather than being confined to one space all night. For our late fall wedding, the venue was just perfect! I recommend you pick the Neighborhood Club and support this venue that has been planning events for over 100 years! :)

Megan

Married on 06/28/2014

Everything was perfect: all the food as well as the hall itself. Wendy was always available and made all our planning so much easier. I highly recommend the NC of Quincy!

Kate

Married on 05/10/2014

This venue has the best food and a beautiful room. I would recommend this place to anyone who is looking for a wedding venue. The staff is very friendly!

Laura

Married on 03/29/2014

The Neighborhood Club of Quincy was the absolute perfect reception venue! The ladies (Wendy and Linda) were a joy to work with throughout the entire process. Our reception went off flawlessly and we have the phenomenal staff of The Neighborhood Club to thank for that. All our guests commented on how great the food and service was and we too were impressed.

Mary A.

Married on 11/09/2013

What an incredible experience we had here for our wedding! We really wanted a relaxed, intimate, elegant environment to celebrate our wedding - and we got it here! The staff was so very accommodating and kind - everything we could have ever asked for! And, for the price that did not break the bank, we got the warmest most wonderful wedding we could have ever dreamed!

Jennifer

Married on 10/13/2013

We were really happy with the Neighborhood Club! The food was absolutely delicious, everyone raved about how good it was. They were very good at communicating with us, but not bothering us throughout the night. Throughout the planning process Linda allowed us multiple visits, and accommodated any special requests we had. They worked with us to incorporate our special flare, the day was just perfect.

Thomas

Married on 09/14/2013

The staff at the Neighborhood Club of Quincy was truly amazing. They keep your wedding planning on a fun and manageable timeline which takes any and all stress out of the planning process. Our wedding day went as smooth as you could imagine. The staff listened to our ideas, followed through on our requests and made our special day one to remember. Our guests enjoyed the great atmosphere and raved about the food. We couldn't have asked for a better experience and we can't say Thank You enough. Tom & Kendall.

Claire

Married on 08/10/2013

We celebrated our wonderful wedding at the Neighborhood Club of Quincy on August 10, 1963 and were delighted to return on August 10, 2013 to celebrate our 50th Golden Anniversary. It was another magical night. Linda Crockett helped guide up through all the details. The club was very accommodating to all our requests. Many compliments were received from our guests on the lovely décor, the delicious and generous servings of food and the warm hospitality shown to them by all the members of the staff. It was a night to be remembered and cherished by our families.

Katherine

Married on 07/27/2013

Wendy, Linda, and the whole staff at the Neighborhood Club were simply wonderful. My fiancé and I had very little exposure to weddings and felt completely lost with the whole planning process. Wendy was there every step of the way, whether it was to respond to our silly questions, or get more information for us, she was on top of everything. Wendy always responded to our inquiries within 24 hours. The staff there is so friendly, and being there gives off an extremely pleasant vibe.
The venue is so beautiful itself that you don't need to worry much about the décor because the natural beauty of the venue speaks for itself. My guests loved having the cocktail hour in the bar/living room area separate from the ball room. The venue is big enough that people feel comfortable there but still gives off an intimate feel. I had about 100 guests at the wedding and there was more than enough space, especially having the different rooms for people to walk around and mingle.
Perhaps the most feedback I received was how delicious the food was. The food is cooked right in their own kitchen and all the food is wonderful and fresh. We had the salmon and the prime rib which were both amazing.

We had a cake that was delivered earlier in the day which did not look complete, almost as if they had forgot to put piping along the layers of tiers. Wendy called the bakery and got someone to come over to the venue and touch up the cake before guests and the bridal party arrived. Wendy had explained this to me once I arrived to the venue. I can't tell you how touched I was that she went that extra step to have the cake fixed. She is also going to call the bakery again this week to tell them how unacceptable the cake was. This is just one example of many-as to how reliable, supportive, and professional the staff is. I can't explain enough how wonderful of a venue + the staff are at the Neighborhood Club. I will absolutely use this venue in the future.

My wedding was June 16th 2013 and after an extensive search for venues my hubby and I decided Neighborhood Club of Quincy was the only place we could have this weeding the way we wanted. We met Wendy and she immediately made us feel welcomed and she was extremely accommodating. We toured the venue and loved the main ballroom. The only problem, we were having a wedding of 50-60 people and there was a minimum for the ballroom. Well, Wendy saw how much we loved the ballroom and made an exception.That is just one of the many examples of how NCQ went above and beyond with our special day. Wendy always made me feel like I was important and always made time to meet with me or answer my emails. My ceremony was outside and the landscaping was beautifully done. I hardly needed flowers for the trellis. I was in awe when I drove up and saw the ceremony site. Let's talk about the food, it was amazing!! The menu offers a variety and the food is deliciously flavorful. All my guest gushed about the food and how pleasant and accommodating the staff was. On my day Wendy made sure we were on schedule and even when we were running late she made sure we got back on track. She even made sure we sat and ate. I really appreciated that! I want to thank Wendy, Marty (GM), Joel (Chef) and the whole NCQ staff for making sure my day was special. I can't wait to have more events there.
Are you interested?
Send a message