21 Reviews
Recommended by 96% of couples
Quality of service

4.8 out of 5 rating

Average response time

4.9 out of 5 rating

Professionalism

4.8 out of 5 rating

Value

5 out of 5 rating

Flexibility

4.5 out of 5 rating
Awards
16 User photos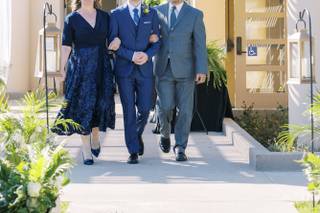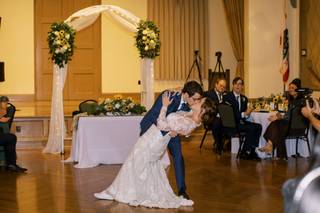 + 12

photos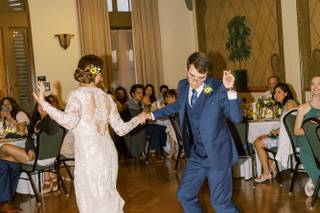 Kate M.

Married on 03/26/2022

Amazing venue supported by a great staff team

The Monday Club was an incredible venue for our wedding. From the moment we contacted them, their representative (Taffy) was extremely kind and helpful. The terms of the contract for renting the venue are fair and very reasonably priced. There is a full kitchen for caterers to use, a beautiful area for an outdoor ceremony, and an absolutely gorgeous hall for the reception. The venue very comfortably fit our 90 attendees at rounds, while keeping my husband and I on the main floor (as opposed to being up on the stage) which worked wonderfully. The venue provides ceremony chairs and reception chairs and tables, which was a huge benefit because we were able to save money on rentals by not renting those things, but also because we were able to pickup/transport our own rentals without needing to have them delivered (since we just rented dishes, silverware, and glasses). We had our wedding in the evening in March, so we used their fireplace which was a beautiful addition to the ambiance. Everything was amazing, and Taffy was a great help to us by providing advice, reception and ceremony layouts, and guiding us along the planning process. I would highly recommend this venue to any couple wanting to get married in SLO. It's a beautiful area and building, and it has incredible historical importance to San Luis Obispo County which makes it extra special. Thank you for everything, Taffy!

+ 4

photos

Danielle

Married on 07/08/2017

The Monday Club was the perfect venue for our July 2017 wedding! I was familiar with the location growing up in SLO however I currently live on the East coast. They answered all of the millions of emails I threw at them in a quick fashion and were always available for a phone call. Everyone was wonderful to work with and they explained all of the rules of the venue clearly and had someone onsite to help field questions. They do have strict rules such as no outside rentals inside the building (due to the gorgeous wood floors), no open flames, security guard must be hired for parties of certain sizes (~$100) and no hanging anything from the walls or ceiling. All easy to follow once you know them. They have a perfect garden out back for ceremonies and cocktail hours and a nice creek area out back which is perfect to take photos in. Would highly recommend for weddings with around 100 guests!

+ 6

photos

Jill

Married on 07/30/2016

Did not have the ceremony there, but easily could have. Staff was very accommodating.

Are you interested?

Send a message

Cathy

Event on: 12/09/2015

The Monday Club is a charming historic venue with great flexible spaces to use in lots of different way. There's indoor space, outdoor space, areas available for food service, a big kitchen, and even parking. The Club is a welcoming, unique, and pleasant environment. Management makes every effort to make a perfect event!

Our wedding at the Monday Club was spectacular. We chose them initially because we wanted an indoor venue and we wanted to choose our own caterer and other vendors. We know we could not have gotten such a beautiful indoor venue for this price on the central coast. Mary and Jen from Patterson Realty were wonderful to work with and easy to get a hold of. The beautiful building speaks for itself, there was no need to add so much decoration other than a few personal touches. And because we saved money (believe me, every other venue we considered would have been double this price) we were able to splurge elsewhere. We are very happy with our decision to use the Monday Club!

Valerie

Married on 10/23/2015

Loved everything about the Monday Club. Jill and Mary always answered my questions promptly. The venue is gorgeous inside and out. The grounds outside are manicured beautifully. I would highly recommend this venue to anyone looking for a wedding site.

Matt

Married on 10/10/2015

Can't recommend this place enough! Beautiful setting for both indoor and outdoor use. Close to a number of hotels and downtown SLO. Mary and Jill were super responsive and helpful throughout the whole process. We live far away from the venue but communicating via email was a breeze. Even the security guard they hired day of was a big help with the day!

Loved the service and the place great people to work with to make your wedding day beautiful.

Our wedding was held at The Monday Club, and everything was wonderful. The venue is very well kept and has a nice atmosphere. The garden is lovely, and the mountains behind the garden are beautiful (especially when they're green). There are great places around the venue for pictures, and plenty of space for everything you need. This is a great place for relaxed weddings, and the cost of the venue is definitely a selling point. I loved having the wedding there. Many of my guests still talk about how beautiful the building and its landscaping is. Thank you to The Monday Club for such a beautiful venue!

Nina

Married on 07/13/2014

The Monday Club was a great find. With only 20 guests, we were able to hold both the ceremony/reception in the garden, with dinner entirely in the patio. We had the venue setup chairs/tables indoors just for backup; we didn't need them, but the space was immaculate if we had needed it. The garden was beautiful and provided for beautiful pictures, as did the women's dressing room. With close hotels, freeway access, and its own parking area, The Monday Club was definitely convenient for both us and our guests. If you're looking for a beautiful space, the Monday Club definitely serves its purpose.

Lisa

Married on 12/01/2012

Best Location and Venue for anyone that loves Julia Morgan!

Jessi

Married on 10/15/2011

the Monday Club is the perfect wedding venue. Not only is the building beautiful and conveniently located, the space works wonderfully. It has a gorgeous front lawn and rear garden for guests to spread out and mingle.

Cris

Married on 11/30/2016

My daughter's wedding was held at The Monday Club last Saturday. It was a very convenient location for our out of town guests who stayed in nearby hotels. It also has the benefit of off street parking with its own parking lot behind the venue. We chose The Monday Club because it allowed us the option of an outdoor or indoor ceremony in January, depending on the weather. Since it turned out to be a pretty, sunny day the ceremony was held in the lovely garden with the green hills this year as the backdrop. Many of the guests commented on the beautiful setting and building designed by Julia Morgan. The sun room where the food and beverages were served is delightful and we used the fireplace which added a warm ambiance. There are certain rules and requirements that must be followed when using The Monday Club, but considering that it is a charming historical building it is worth the the effort to preserve such a place. We found Mary and Megan of Patterson Realty who handle the rental arrangements to be most helpful every step of the way through our preparations for the wedding day. We are grateful for all their help and the many questions they answered. I think it would have been easier for us had the rental included time to decorate the night before, but that is an extra cost. Nevertheless, the overall cost is much less than most other venues on the Central Coast for such a beautiful venue. We are very happy with our choice of The Monday Club and our daughter's wedding there was beautiful, special, and enjoyed by all!

Awesome value. Great venue for 125 guests or less, more than that is a little cramped, but the Monday Club recommends a max of 125. No complaints on the experience from beginning to end.

We had our wedding at the Monday Club in October of 2014. The venue was a perfect fit for our needs.

Trisha

Married on 02/19/2012

The Monday Club is a beautiful, historic venue. I fell in love with the decor immediately. It fit perfectly with our vintage themed wedding. With the Monday Club, you are basically just renting the building. You don't get a venue coordinator, or any help setting up, etc, but the price definitely reflects that. It costs a fraction of other venues in the area, and is so beautiful. We are completely happy with our choice to have our wedding at the Monday Club.

Spencer

Married on 02/28/2015

Mary and the rest of the staff were quite helpful in all of our location's setup... promptness and response at every step. We couldn't have picked a better venue for our special day.

Jen

Married on 01/28/2017

The wedding was held during the offseason period. It was in January and we spent $3200 at the Monday Club for 10 hours of use. Overall, Mary and Megan (managers of the Monday Club) are very professional and time-efficient. They responded to our emails within 24 hours and were willing to meet with us 2-3 times prior to wedding. In terms of flexibility, we had numerous limitations. For example, kegs were required to placed outside. We used our own photo props and camera, so we didn't use a whole photo booth; otherwise, they generally require to place a photo booth outside of building. Overall, the Monday Club is a great venue for small wedding (Only one lady's restroom and one men's restroom). We had a ceremony at the garden and reception in the building. Mary and Megan provided a couple diagrams for recommendation and provided a very useful list of references including catering and DJ.

The venue was beautiful and perfect for what we wanted. We loved having the beautiful garden for the ceremony, and a large room inside for the reception. It was great to have one location for both parts of our wedding. The venue came with tables and chairs for the inside, but we had to rent chairs for outside. All linens, cutlery, plates, glasses, food service items, and decorations were not provided. The management company was as helpful as they could be, but there were times when they were not as flexible as they could have been, in my opinion. There were a lot of rules that went along with decorations and clean-up. We paid to have the management company come in and do the deep cleaning of floors, bathrooms, and the kitchen. They also put away tables and chairs. We had to make sure that all of the decorations and personal items were gone by 11 PM the same evening as our wedding. We were able to drop off items for set up the night before our wedding, after our rehearsal. All in all, the venue was beautiful and fairly priced, which is difficult to find in San Luis Obispo County.

The Monday Club was the perfect venue for our wedding.

Rebecca

Married on 10/21/2011

This place is great because so much is available threw the location....bathroom, parking, kitchen, dinning set, tables, reception chairs, and much more. The only thing that is kinda hard to work around is delivery and pickup for rentals. Everything has to be off site by 8am the next day. But other than that, it was amazing! and everyone loved the space!!!!

I have had to make an exception to this review.....
The Monday Club location is amazing, but the property management California-West is the most difficult group to work with. If only there was someone else to manage this amazing location. It's too bad that I will not recommend renting this space solely based on California-West.

The Monday Club's reply:

Thank you so much for your review! We have become very pro-active about our beautiful historic property and are happy to tell you we have a new Property Manager. Mary Kubacki and Shari Bone from Patterson Realty began managing The Monday Club in June 2014 and are very responsive and involved in our day to day rental operations. We are so sorry your past experience was not positive, Thank you again.
Are you interested?
Send a message