Reviews
4.9 out of 5 rating
Quality of service

5 out of 5 rating

Average response time

5 out of 5 rating

Professionalism

5 out of 5 rating

Value

5 out of 5 rating

Flexibility

4.8 out of 5 rating
99%
Recommended by couples
37 User photos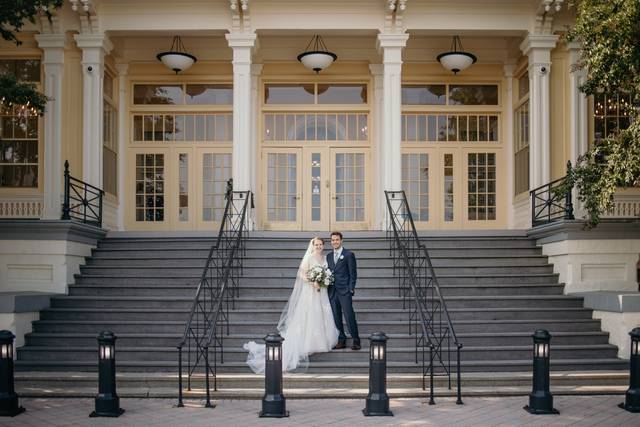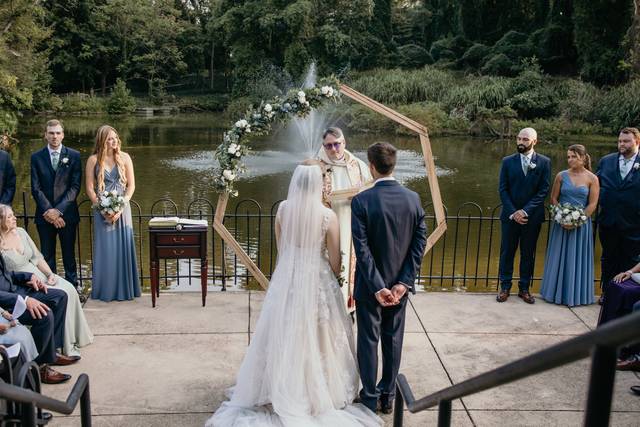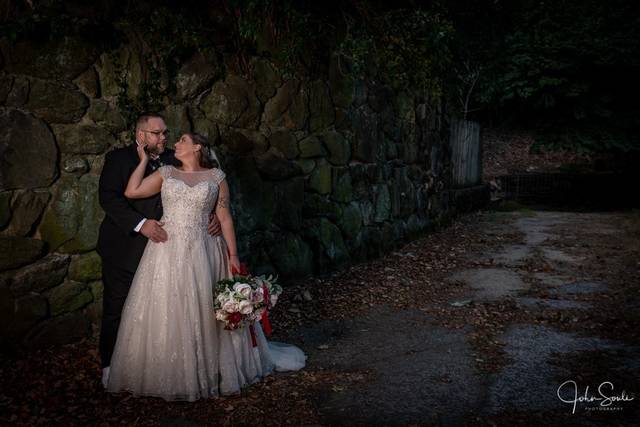 + 33

photos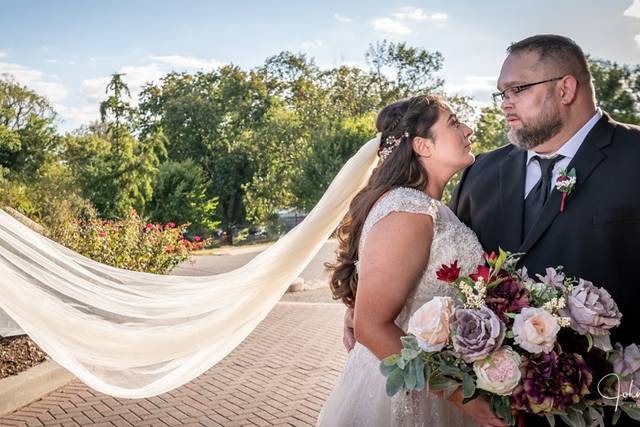 Jack A.

Married on 02/18/2023

Best Day of Our Lives

Literally was the best day of our lives! Brandon and his team literally went above and beyond in every category to make our wedding day the best it could possibly be. Everything was perfect! Cannot thank them enough for everything. We will remember this day, and the team that made it happen forever! Brandon & team literally felt like part of the family!

Rhiannon B.

Married on 09/17/2022

Perfect Wedding at the Zoo

Our wedding turned out perfectly at the zoo! We originally worked with Jane when booking the mansion house and lakeside pavilion for our reception and ceremony, and she was so nice and very responsive. Then we were transferred over to working with Brandon, which was a little rocky at first with transferring our info, but then we got back on track and the planning went really smoothly. Brandon was very responsive with our questions and on our wedding day everything was coordinated really well. My husband and I were taken around the zoo in a golf cart for pics, which was awesome! There was a city employees' picnic in Druid Hill Park that day that had loud music playing which we, and the zoo, knew nothing about, so I would recommend that the zoo share their calendar with Druid Hill Park's calendar so everyone knows what events are happening and when. The music couldn't really be heard at the ceremony (thank god) but it was blasting throughout the lead up to the ceremony. All in all, the wedding was so beautiful at the lakeside pavilion and mansion house. And Sally the penguin stole the show! Our day was so much fun and I would definitely recommend the zoo for weddings!

Judy I.

Married on 11/12/2021

Fantastic Rehearsal Dinner Venue

We held our son's rehearsal dinner at the Penguin Education Center at the Maryland Zoo and the location was perfect. The zoo staff took care of all the details we needed including music throughout the center, directing all our guests from the parking area and providing a penguin ambassador to thrill the guests. We were also able to go behind the scenes at the zoo and take some lovely photos with the bride and groom. It was such a unique setting and made for a memorable evening.

Are you interested?

Send a message

Charlotte

Married on 12/04/2020

Beautiful wedding at the pavilion!

Just do it! The penguin is a hit. Jane and her crew are amazing and very on top of things. Highly recommend her.

Emmett B.

Married on 11/13/2020

Absolute Perfection

Jane at the Maryland Zoo was one of the only reasons our wedding even managed to happen. Even after multiple delays, changes, and other circumstances from lockdowns to guest limits due to COVID she never stopped pushing for our wedding to finally happen. And when it did, it was everything we could have asked for.

The location itself (we chose the Mansion House) was gorgeous with lots of color on a fall afternoon, we were able to take pictures in the Zoo proper, and the penguin ambassador was not only a delight but a hit with our guests.

Overall, could not recommend enough, absolutely perfect.

Andrew M.

Married on 03/07/2020

Perfect wedding venue

We could not have asked for a better venue for our wedding! Everything was absolutely beautiful and the zoo staff was incredible! Plus there was a penguin at our wedding, which made such a magical experience for our guests!! Everything was absolutely perfect and I am so incredibly glad that we picked the zoo for our big day!

Gillian

Married on 02/29/2020

A perfect wedding venue!

Originally we came across the zoo when looking at places to elope in Maryland. After meeting with Jane and seeing the venue, we decided to move forward with a full (100 guest) wedding. I was absolutely enamored with the idea of having the animal ambassadors at the wedding - this is just the coolest idea ever. We are pretty low key (I hope) and Jackie helped us work out all the details - we literally didn't have to worry about anything. From the parking lot attendants to everyone we encountered during our blustery wedding day going around the zoo, everyone was so amazing and kind. The venue looked beautiful and YES the visit from Tetra the penguin and Athena the owl was amazing - people were gushing about them all night. Everything went just beautifully - thank you so much for a perfect wedding!

Holly P.

Married on 01/07/2020

Perfect Day!

Having our wedding at the Maryland Zoo in Baltimore was one of our best decisions. The setting is stunning both inside and out. Our coordinator quickly put us at ease and made the day go smoothly. Being able to have animal ambassadors was a fantastic addition and helped make the experience unique and memorable. Who wouldn't want to meet a penguin and one of our own raven mascots!! It has been five months since our wedding and we are still being told by family and friends how great a time was had, how beautiful it is there, and how it's the best wedding they've been to.

Autumn

Married on 10/19/2019

A dream wedding

The Mansion House at the Maryland Zoo is a perfect wedding venue. The building itself is beautiful, and lends a wonderful backdrop to wedding photos. We had both our ceremony and reception in the Mansion House, and it flowed very well. Jackie was our on-site coordinator, and I am so grateful to her for keeping everything running from our planning through rehearsal and reception (especially because we were planning our wedding from another state!). The zoo security guard on staff for the event was a huge help with parking and he was so helpful and friendly to guests - I've had so many compliments from guests specifically about him! :) We also had a penguin and a screech owl for our cocktail hour - that was a HUGE hit and so memorable. My favorite photo of my husband & me is on the carousel - a fun bonus to an already great venue. I really can't say enough good things about the Maryland Zoo - thank you to Jackie & the staff.

Keith

Married on 10/19/2019

October Wedding 2019!

We both loved how our wedding came together at the Maryland Zoo in Baltimore! Great venue and help throughout the process! We extended the time at the zoo and also paid for 2 penguin ambassadors which are included in the price given.

Leila

Married on 10/13/2019

Beautiful venue, great staff and unique experience with animals!

Beautiful venue and great staff support from Jackie! We did our ceremony at the Lakeside Pavilion and our reception in the Mansion House and opted for a Penguin and Skunk as Animal Ambassadors. Jackie was also really helpful in taking us around for photos in the zoo itself prior to the wedding and we were really lucky to capture some magical photos in front of an elephant! Although we did have to contend with a cycle event on the park grounds on our wedding day, everything within the Zoo's control was really perfect and Jackie went above and beyond in terms of responsiveness and support. All of our guests said it was one of the most fun and unique weddings they'd ever been to!

Noel

Married on 10/05/2019

Beautiful venue

I loved my zoo wedding. The zoo was super coordinated and very reasonably priced. Its a beautiful place and it felt completely romantic .

Robyn J.

Married on 10/02/2019

The Most Amazing Day

They say your wedding day is the most amazing and stressful day of your life, right? Between finding the right venue, food, guest satisfaction, photographer, decorations...it's all a handful. Planning a small wedding? No problem. Planning bigger? No problem either. The Maryland Zoo staff guide you step by step, work with your budget, and answer all your questions. What more can you ask for?

Christa

Married on 09/28/2019

Fun outside wedding in Baltimore City

All of the events staff at the Zoo was incredibly responsive when we inquired about availability, and also when working with us and our other vendors to accommodate our requests for our wedding. The venue is beautiful and we received many compliments from our guests. Our day-of coordinator Jackie was wonderful and took us around the property for photos and made the animal ambassador a smooth and fun part of our day! We really loved having our wedding at the Zoo!

Lori R.

Married on 09/14/2019

Beautiful and Affordable

When my daughter started looking for wedding venues in Baltimore I was taken back by prices and what was offered. We decided to check out the Baltimore Zoo and we loved it. We were able to hold our ceremony outside at the Lakeside Pavilion with the reception in the Mansion. Everything was gorgeous. We spoke with Jane to book the venue and she was very helpful, answering all our questions. Brittney worked with us as our coordinator that day and made sure that we had every detail that we wanted to make this a special occasion. They even allow for night time photos in the zoo which was fabulous. Thank you Brittney for helping us to give our daughter that special day!

Jessica E.

Married on 09/06/2019

Wonderful Wedding Venue!

We had our wedding at the Maryland Zoo in September 2019, and couldn't be happier with our choice! We had our ceremony at the Lakeside Pavillion, and the reception in the Mansion House. The zoo grounds are absolutely beautiful, and we got gorgeous photos! The zoo has it all and more--the option for an outdoor ceremony, photos around the zoo, and the beautiful historic mansion house for the reception. Our guests were truly impressed and had the best time! The highlight of the evening was a visit from the animal ambassadors during cocktail hour. Dawn the Penguin and Louie the Macaw were a huge hit with us and our guests!

Our day could not have been possible without the phenomenal team of Jane and Brittney. Jane was so helpful when touring and booking. She gave us so much useful information and recommendations for other vendors to book with to make the planning process easy. Brittney was our coordinator, and I cannot say enough good things about her! She answered my many emails promptly and graciously leading up to the big day, was there to assist at rehearsal, and present during the big day to make sure everything went smoothly. The team at the zoo worked seamlessly with my other vendors to create a wonderful event. The zoo was the perfect place for our perfect day. The quality, value, service, and uniqueness are something that can't be matched!


Anna

Married on 08/03/2019

Great Experience!

The Maryland Zoo was the perfect venue for our ceremony and reception. Jane and Jackie were amazing to work with from start to finish. After touring the space with Jane, we knew we didn't need to keep looking any longer. Jane was so helpful answering all of our questions and gave us a huge list of recommended vendors for all aspects of the wedding and went through it with us providing more detail for each. That list and all her experience and knowledge made the vendor search so easy. All of our vendors were thrilled to be working at the zoo and had a great history and working relaitionship with the zoo. Jackie was our day of coordinator and was instrumental in making the day run more smoothly than we could ever have imagined it would. She was there to answer any questions, direct traffic, coordinate with vendors, and drive the golf cart around. In terms of the physical venue itself, the zoo made for an amazing day. We had our ceremony at the Lakeside Pavillion which was a beautiful outside space. There was a shaded area at ground level (no stairs to navigate) for the eldery and a golf cart to shuffle them from ceremony to reception. The Mansion House can be used as a backup Ceremony location in the event of rain or excessive heat, so even though the forcast looked like it might be trouble we were not stressed at all. The Mansion House itself was a beautiful place to have the reception. All the glass windows let in a lot of natural light which made the space so inviting. The front steps of the Mansion House made for a great picture spot. The bar and buffet were placed at either end of the seating wings, so nobody felt bad about being near the back and allowed guests to mingle as they walked by. Both wings had great views of our sweetheart table and met at the dance floor. We opted not to add the hard surface for the dance floor and using the carpet worked out great. The Mansion House also had a separate room set aside for just us that allowed us to escape when we needed to and get ready/make adjustments. Also was useful for my elderly grandmother to take a nap in! The animal ambassadors (Peach the Penguin and Yang the Alligator) were also a huge hit. Overall, the Zoo was so much fun and so easy to work with. The staff were amazing and the event spaces (both the Lakeside Pavillion and Mansion House) were incredible. I recommend the Zoo to everyone!

Sophie

Married on 07/20/2019

Wonderful and unique experience!! Getting married with Penguins!!

Maryland Zoo has been wonderful from the beginning. Jane has been great to work with. They have hosted many weddings and events so they are very experienced.
The venue itself (we did it at the Mansion House) is gorgeous!! The 200-year-old mansion house has an elegant and timeless feel. Most importantly, you can request animal ambassadors to the reception. So of course, we got the penguins. :)
Maryland Zoo is also one of the most reasonably priced venues that we found. The package also comes with a day-of-coordinator (Brittany was amazing!!) and pre-wedding bridal shoots around the zoo.
Our guests commented on how beautiful and venue is and how unique the experience was. We are truly appreciative of the Maryland Zoo and would highly recommend newlyweds get married here.

Stephanie B.

Married on 05/19/2019

Incredible and Unforgettable day

The Maryland Zoo was the perfect place to host our ceremony and reception. The staff there is wonderful and responsive. We had a beautiful and unforgettable experience and I could not recommend them more.

Molly B.

Married on 03/22/2019

A night to remember

My husband and I love our experience from planning to the actual wedding! Brittany was amazing! Our friends and family still talk about what an amazing time they had!

+ 8

photos

Melissa

Married on 02/23/2019

The Best Venue in Baltimore

Our wedding at the Mansion House at the Maryland Zoo was an absolute dream. It all started with the incredible team at the Zoo - Jane and Brittney.
Jane joined us for our initial walk-through and helped my now husband and I visual the possibilities of our wedding. The absolutely fabulous Brittney Christian guided us through the rest of our planning and made our vision a reality. We couldn't have asked for a better person to see us through - thank you for being the best, Brittney!!

Our winter wedding was indoors and the interior is so warm, it convinces you that you are in a bright, sunny room - even if your wedding is planned in the evening. There is so much space in the Mansion House, it was very easy for our 120 guests to move around.

Your wedding photos will be incredible. There are several places around the Zoo, including a formally used tiger cage and the carousel, you can stop and take your bride and groom pictures.

To save the best for last - yes, the penguins are an AMAZING perk to booking your wedding at the Zoo. My husband and I had our ceremony and then immediately met Sally and Eddie. It seems impossible that there will be a better hour for the rest of our lives. We spent about 15 minutes with the penguins for private photos and then the guests had the opportunity to pose with the penguins for the rest of the cocktail hour. There's nothing quite like looking through photos the next morning and seeing all of your family and friends posing with penguins.

This is far and away one of the most unique experience you can imagine for your wedding. If you're still searching, the Maryland Zoo is absolutely a top notch option.






Lindsey N.

Married on 01/19/2019

Perfect Venue!

The Maryland Zoo Mansion House was a perfect venue. It's a gorgeous building inside and out, has an interesting history, and provides a comfortable, carpet-covered dance floor (if you don't pay to have a wooden one temporarily put in) that allowed my guests to enjoy dancing the night away without uncomfortable wedding shoes. :-) This venue made me feel extremely elegant with it's pale yellow walls, beautiful chandeliers, and expansive windows. It also provided us the opportunity to meet Sally the Penguin - an unforgettable experience for both ourselves and our guests. My husband and I also love that using the zoo as our venue helps bring money back to use for the care and maintenance of the animals and their habitats. We worked with Jane and Jackie, primarily, and both made our experience wonderfully fun and easy. I highly recommend checking out this fantastic venue!

Staci K.

Married on 12/30/2018

I Do at the Zoo!

Hi Brides!

We got married on December 8th, 2018 at the Maryland Zoo. We love to visit zoos wherever we go so we felt this was the perfect wedding venue for us! The ceremony and reception took place in the mansions house which is a gorgeous building with windows all around and chandeliers hanging from the ceilings. If you are looking for one huge open room this will not be for you, as the area is split into three large hallways; but there is a ton of room, I loved it personally. We chose two animals to come for cocktail hour, the penguin and the skunk; the zoo keepers are so educational and kept the guests entertained. This venue is also so much more affordable then others in the area. You do have to use a caterer from their list, but there are plenty of options at different price points, we went with Hunt Valley Catering. Jackie and Jane were so helpful with the process. Jackie helped organize the wedding day and set up some of my small details. She also took us around the zoo in a gold cart for photos, I can't wait to see them all! Our wedding day turned out 10x better than I ever expected it to, I couldn't be happier and I give most of that credit to our beautiful venue, the Zoo!

+ 4

photos

Carrie

Married on 11/17/2018

A fantastic unique and relaxing venue

The Maryland Zoo in Baltimore was an absolute dream to work with. There are so many factors that made the zoo the perfect place to have our wedding ceremony and reception.

Zoo Staff: Our primary contact at the Zoo was Jackie. She answered every possible question and predicted all of our needs. The zoo team has managed so many weddings that they know exactly what they are doing, but they made us feel so special at the same time.

Unique Extras: Of course the animal ambassadors are an incredible feature that guests can't stop talking about, but the zoo also allows you to take photos throughout the zoo grounds either before your ceremony or during cocktail hour. So many special benefits.

The Value: The mansion house is so beautiful that you can save on decorations. The staff are so thorough that we didn't need a wedding planner. It was worth every penny.

Christina E.

Married on 11/03/2018

Beautiful + Unique Wedding Venue

We loved having our wedding here! Brittney and her staff were professional and quick to respond to emails and questions and made the day go so smoothly. We had animal ambassadors and they were an absolute hit during the cocktail hour. Winnie the penguin stole the show. The Mansion House is a stunning property that guests loved and never knew existed!
Are you interested?
Send a message