Reviews
4.4 out of 5 rating
Quality of service

4.5 out of 5 rating

Average response time

4.4 out of 5 rating

Professionalism

4.4 out of 5 rating

Value

4.4 out of 5 rating

Flexibility

4.3 out of 5 rating
88%
Recommended by couples
Awards
45 User photos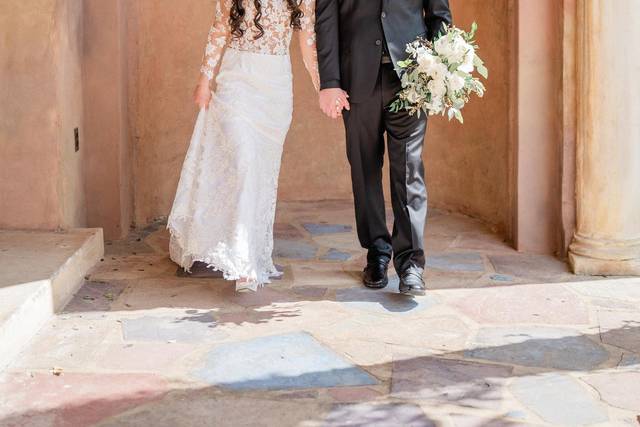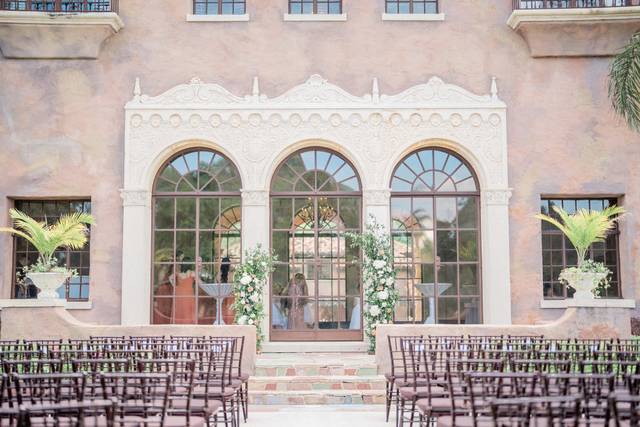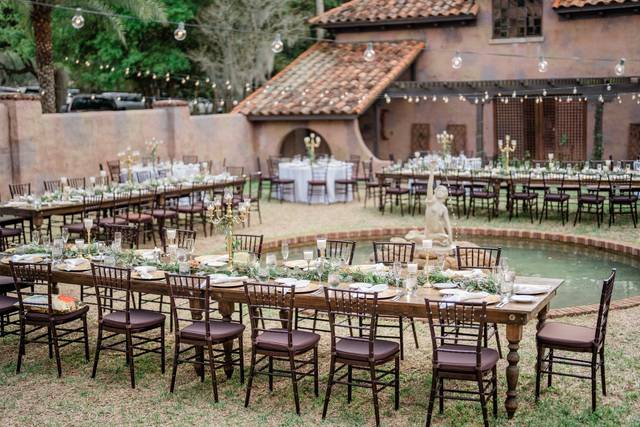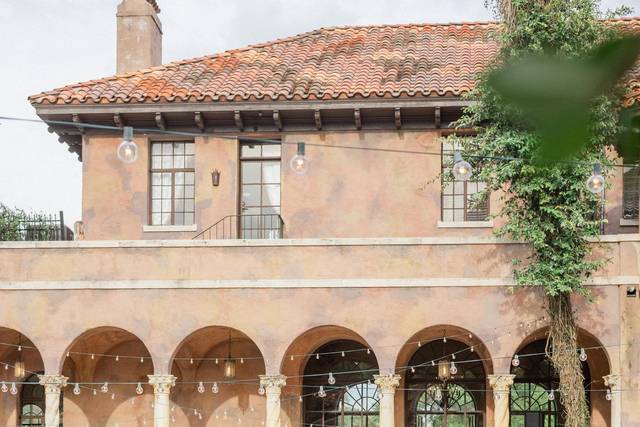 + 41

photos
Featured

Annalisa D.

Married on 03/19/2022

Best day of our lives!!

The Howey Mansion was everything we wanted for our wedding and MORE. My husband and I were engaged in January of 2020, so right before COVID changed everything. Originally, we wanted a small family wedding and wanted to take a trip to Italy where my family is from. Unfortunately, with COVID putting a halt to travel plans, we quickly realized that wouldn't be possible and that we'd need a venue here to accommodate more family/friends than intended. After some research, my mother found the Howey Mansion and we instantly fell in love with the photos. We scheduled a tour and it was our first and only stop on the wedding venue search. As soon as we pulled up, we knew we wanted to get married there.

Lori and the staff were always so attentive and answered all of my (many) questions and (many) emails. As we approached the wedding it seemed like I was emailing more than twice a day, and they were always quick to respond and informative.

Arthur's catering was an absolute joy to have with the venue and the food was so delicious!! There were options for everyone and the hors d'oeuvres were so fun!! We received so many compliments on how good the food was. I was lucky enough to get to try both entrees and I must say, the chicken was the best chicken I've ever had.

We got the package that granted us access to the mansion at 11 am and it was so incredibly worth it. The vendors had more than enough time to set up and allowed both bridal parties and parents to get ready with ease. I also enjoyed seeing everything come together throughout the day!

This same package also included access to the prohibition room for the last two hours of the event and it was such a hit with our guests! It's definitely one of the most unique features I've ever seen at a wedding and everyone really enjoyed it. The mansion is so beautiful that there are so many areas for our guests to explore which I really loved. It's hard to put into words how unique the venue is, especially for a wedding.

We also opted to have the wedding party spend the night in the mansion and the two guest cottages and it was SO MUCH FUN. We kept the fun going and were well taken care of with accommodations such as towels, toiletries and more than enough beds for 18+ people. Fran was so helpful with getting all of the overnight guests to their rooms and with checking out in the morning. She had some great history stories about the mansion as well.

All this to say that our wedding day was even more perfect than we could have ever envisioned. We had a beautiful Mediterranean theme as we wanted but also got to celebrate with all of our friends and family in a beautiful ceremony, at a gorgeous venue with incredible food and drinks!

We've had so many of our guests tell us that it was the best and most beautiful wedding they'd ever been to and even some family who have already looked into renting the venue out for other events.

I'm almost in tears as I write this because of how perfect and dream-like our day was. I'm so sad that it's over but the memories made at the mansion are ones that my new husband and I will cherish for the rest of our lives!

+ 3

photos

Jessiann B.

Married on 02/13/2022

Beautiful fairytale location

This is the perfect venue to have a wedding that feels surreal. It is one of the most romantic venues FLorida has to offer (in my opinion) and you will definitely not regret it once you see your pictures. The historical mansion is not only beautiful on its own but has many different options to choose from for both the ceremony area as well as reception indoor or outdoor. Lori was amazing throughout the whole process, always keeping open communication with us whenever we had questions or concerns. And helping us with special requests. Fran was also amazing during the day off, helping make sure everything ran smoothly as well as saving some appetizers for us to try after our pictures. I highly recommend this beautiful venue.


+ 9

photos

Brandi P.

Married on 10/18/2020

Stunning venue

I had my wedding ceremony and reception at this absolutely gorgeous location. Lori and her team were very accommodating to our vision of a micro brunch wedding. Everything was phenomenal..both of our families and my husband and I thoroughly enjoyed ourselves. Get married here!

Are you interested?

Send a message

Amanda

Married on 02/22/2020

Had my DREAM wedding at The Howey Mansion

I had both my ceremony and reception (Indian wedding, two different days) at The Howey Mansion, and I truly had the most magical wedding weekend I could ever dream of.

Tasha and the mansion staff went above and beyond for my husband and me. They were incredibly accommodating of our cultural needs and were flexible with us.

The shining moment for us is when our reception venue abruptly shut down two weeks before our wedding (Noah's Event Venue, a mess). Tasha saw my Facebook post and immediately started trying to help me before I even contacted her. She offered me use of the mansion for both days, for an extremely reduced fee, let me keep every single vendor I had already booked, and worked with me to reorganize my wedding reception. She absolutely didn't have to do that and the fact that she did just proves the level of commitment they have to their clients. On the day of the wedding, several things went wrong with vendors and I wasn't even aware because they worked so hard with my coordinator to ensure that my husband and I had the perfect wedding.

The mansion is absolutely stunning, and I couldn't imagine getting married anywhere else. Everything from the venue itself, to the staff, to the service... incredible.

The Howey Mansion's reply:

Amanda, it was honestly our delight to not spend just one but two beautiful and amazing days with you and Dustin! From start to finish you were so sweet and amazing to work with, we couldn't have asked for a better planning process with a bride! We've had the pleasure of seeing your sneak peeks and your video and we are so excited to get to relive the day over and over

Destiny J.

Married on 10/25/2019

Beautiful venue

I booked Howey for my wedding venue and I am so excited! The place is so beautiful and elegant. The bridal and grooms suites are amazing and have walk out balcony's. The mansion is truly gorgeous

Jessica M.

Married on 09/20/2019

Most beautiful venue

Most beautiful venue! My wedding was so beautiful there and had many guests raved about how beautiful of a venue it was. I'm so glad my wedding was there! It was definitely a venue meant for us. I fell in love with it the first visit.
Let's not forget how beautiful of a ready room we both had, great for pictures! Honestly, so glad the Howey Mansion opened for weddings when we started looking. Our wedding photos look amazing and that's thanks to my man vendors but also to this beautiful venue. We were lucky.

+ 5

photos

The Howey Mansion's reply:

Thank you, Jessica for your kind words! It was honestly our pleasure to host your wedding and getting to see everything come together! Your floral arch above your cake was to die for, it was so gorgeous! Wishing you and your new Husband all the best as Mrs. & Mrs!!!!

Gale S.

Married on 02/16/2019

Katie and Mathew Roberts wedding

We fell in love with the beautiful historic Howie Mansion, Alexis and staff were amazing! Would highly recommend to everyone we know!! Lights, decor and setting more than we could ask for, my daughter Katie's wedding was an outside garden theme and it was breathtaking and no mosquitos! Thank you Howie Mansion for making our dreams come true❤️

The Howey Mansion's reply:

Hi Gale, Thank you so much for the kind words! Working with you and Donia on making Katie and Matthew's wedding was truly an honor. We are so happy that everything went perfectly and can't wait to see what else is in store for newlyweds, Mr&Mrs. Roberts!

Christine

Married on 12/31/2018

AMAZING Venue Incredible Staff

This beautiful venue was the perfect backdrop for our NYE wedding. The venue staff has been so kind and helpful throughout the planning process. I really couldn't have imagined a more beautiful place or a better team for our wedding day!

The Howey Mansion's reply:

Thank you Christine! We were honored to be part of your wedding and wish you and Zach a lifetime of happiness!!!

Lorraine D.

Married on 12/01/2018

Spectacular

Celebrated my wedding at the Howey Mansion and this venue exceeded every expectation. I was told by multiple guests the wedding was the most romantic of all time. This venue is classy and has great character. If you are looking for spectacular, this is it look no further. The staff are very professional, a shout out to Alexis!!

The Howey Mansion's reply:

Thank you, Lorraine, for your kind words! It was truly a pleasure working with you on your special day and we couldn't have imagined it being any more perfect! On behalf of the entire team, congratulations again and all the best wishes to you and your new Husband!

Lorraine D.

Married on 12/01/2018

Wedding Day

Had my wedding at the Howey Mansion in Dec., 2018. We rented the Mansion for two nights. My bridal party stayed overnight before and after the wedding. This experience was spectacular. My guests still send me complements about the wedding and venue two years later. The Howey Mansion added glamor, romance and elegance to my wedding event. Best venue ever!!!

+ 3

photos

Lindsey D.

Married on 01/18/2020

Lovely Venue

We got married at The Howey Mansion January 2020 and it was nothing short of the most romantic, picturesque and perfect day. Tasha was our main contact throughout the planning process and she was wonderful, helpful and knowledgeable. She had no issues answering my many silly questions and multiple phone calls. Tasha and Myrna were on staff during our big day and were extremely helpful with setup, etc. The mansion is available for rent for the entire weekend, we chose this option to give our bridal party a place to sleep both Friday and Saturday nights, which made life and setup/take down extremely easy. We chose to include the prohibition cellar option which includes a whiskey tasting for a few hours during your event, it was a HUGE HIT. I would HIGHLY recommend booking your wedding at this beautiful, historic venue.

The Howey Mansion's reply:

Thank you, Lindsey for this amazing review! We were so honored by you selecting the Mansion for your big day and trusting us with helping to bring your vision to life! I was absolutely in awe of your unique bridal hoop bouquets and could NOT get enough of your seating chart!!! I can't wait to see the photographs from your day so we can relive how truly beautiful and simply perfect your day was! All the best to you and your new Mr!

Ricky

Married on 12/01/2022

Fran is a nightmare


I had my wedding here and although the wedding venue is beautiful, the property manager FRAN made the experience very unpleasant. She treated the hair/makeup team like servants upon arrival as she yelled at them and told them to clear the bridal suite upon my arrival and they had to remain in the tiny bathroom doing all services there when we had a perfectly sized bridal suite where we all could've worked comfortably. Mind you there were 8 of us in a small bathroom trying to complete hair and makeup when there was a perfectly sized empty room.This made the experience very stressful. FRAN made our Dj's lives a NIGHTMARE as she constantly yelled at them and my planner to turn the music down holding her decibel meter RIGHT NEXT TO THE SPEAKER when standard practice is to hold it at the property line to ensure noise is not an issue for nearby residents. FRAN also yelled and smacked an item out of the dj's hand as she demanded for music to be turned down once again. She then called my husband IN THE MIDDLE OF OUR WEDDING to meet her in her office where she literally went off on him about how the music is too much and that windows are shaking and the music could damage the mansion's architecture. There were no windows or walls shaking at all in the mansion. We then noticed that shortly after that brief meeting, The AC was then shut off making it a sauna and very uncomfortable for guests to enjoy dancing. Towards the end of our event, FRAN and her staff began to yell at bridal party participants as they were gathering their belongings up stairs. We also found many of our items in garbage cans!! Items such as cellphones, shoes, and wallets. Upon exiting the mansion, we then observed that cops arrived and even let us know that FRAN had called them multiple times. The cops advised us that the noise ordinance began at 10:00pm which is when our event ended. The cop assured us that we did nothing wrong and that they did not receive any complaints from nearby residents prior, which is what FRAN made us believe. Again, the venue is beautiful but it is not worth the money or headache if FRAN is involved.

Nolanie

Married on 12/01/2022

Goodluck with Fran


Venue was beautiful the staff was very pleasant and attentive but Fran is a nightmare! If you're looking for an event space or a wedding venue, look elsewhere!

It's no surprise almost every vendor says that Fran is terrible to work with…ask around, don't take my word for it!

In the middle of my wedding night Fran pulled me in her office and scolded me about the volume of the music. I was then approached by multiple employees of Fran saying that Fran had sent them to advise me that she was calling the police. Shortly after the a/c in the venue was turned off and it became so hot that our guests where drenched in sweat and extremely uncomfortable!

At the end of the night I go upstairs to the the grooms room to find my shoes and wallet in the trash.

I won't be surprised if she's making fake Google accounts to post good reviews about herself, as every other review speaks of how "Fran is very nice" when this is not the case at all.

Food was great the staff was awesome but Fran is trash.

Goodluck, if you cross paths with Fran.