57 Reviews
Recommended by 96% of couples
Quality of service

4.8 out of 5 rating

Average response time

4.6 out of 5 rating

Professionalism

4.8 out of 5 rating

Value

4.9 out of 5 rating

Flexibility

4.8 out of 5 rating
74 User photos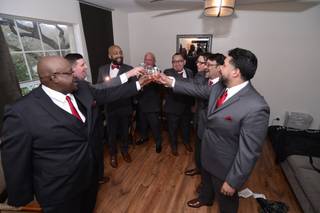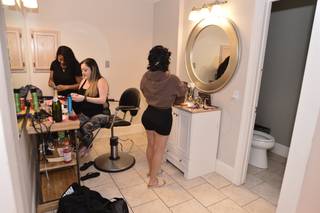 + 70

photos
Danielle

Married on 03/16/2023

Gorgeous, gorgeous, gorgeous!

I cannot emphasize enough how stunning this venue is!!! So green! Lush trees and lawn. Arches and chandelier decor is just WOW. Perfect intimate setting.

The Gardens at West Green's reply:

Thank you Danielle! Your event was amazing! Loved having you at the venue. Your friends and family were so much fun.

Jennifer

Married on 02/24/2023

Literally the best!

2/24/23
Friendly, professional, & knowledgeable. Karen helped us so much. From ideas to suggestions. I 110% recommend this venue. It's beautiful. There is so much already done. You just add your touches. The bridal suite was huge. Easily accommodated all 5 of my bridesmaid, and a few guests. Grooms
Suite also was perfect for them. We couldn't hear them and it was right across the hall. Everything went seamlessly and I honestly couldn't of asked for a better wedding. Even the day before with our rehearsal (that's included in price) Karen helped to guide it and was there to assist with the ceremony. They set up the chairs in a spiral pattern which I had dreamed of without a blink. It got a bit chilly and they closed the patio area with curtains, and also have heaters available at a good price. If your looking to create a romantic and intimate service and ceremony this is the spot!

+ 9

photos

The Gardens at West Green's reply:

Hi Jennifer! Thank you so much for the review! We loved every moment of your day. It was a pleasure working with you and your family was amazing. We are grateful for this opportunity and wish you and your family the best!

Alexandra O.

Married on 01/29/2023

Beyond beautiful and amazing service!!

I cannot explain how happy I was with everything at our wedding. We we first toured the venue, I was in awe of how beautiful it was and that there was this garden like venue in San Antonio. Everything there is picture perfect! Karen was so sweet and so helpful!! The day of, it had been drizzling all morning and I was a little nervous of how things would go. The staff there was drying off the lawn and putting everything together and my doubts were gone. The venue alone is great but decorated looked heavenly!! Karen also had back up plans incase it did rain or if it git too cold. So happy we went with this venue for our small intimate wedding. Thank you and your staff for everything Karen!! We are beyond happy with everything!! 😍❤️

+ 2

photos

The Gardens at West Green's reply:

Hi Alexandra, Thank you so much for your review! We love hearing back from our venue "family". We were so honored to have you here. It was a pleasure putting everything together and making it so memorable. By the way, Four Corners Coffee was incredible as well as your florist. Love them all. Best Wishes to the two of you!

Are you interested?

Send a message

Joseph W.

Married on 01/07/2023

Perfect Wedding

My wedding was perfect. Karen, The owner helped in so many ways it was incredible. we didn't have a wedding planner but Karen made sure that all venders did good job and helped us rehearse the wedding so the ceremony went perfect. I'm so glad I had my wedding here and the price is unbeatable. The venue was clean, well maintained and easy to find. Even the bathrooms were clean. i recommend everyone do their wedding or other events here. :)

Rebecca G.

Married on 12/02/2022

Gorgeous venue!

I absolutely love this venue! It fit my theme/style for my wedding perfectly, I wanted a small intimate garden style wedding and this venue fit the bill perfectly! Karen was so sweet and flexible throughout the process, we had such a blast at our wedding, we love how well maintained the venue is and the value/price just could not be beat! Absolutely stunning!

+ 5

photos

The Gardens at West Green's reply:

Rebecca!!!!! Your creativity and vision for the venue was spectacular. Thank you so much for allowing us to be a part of this amazing event. Seriously, it was awe inspiring.

Robert S.

Married on 05/28/2022

Spectacular experience

This venue is beautiful!! The owner is great and always available for anything you need.

The Gardens at West Green's reply:

Thank you Robert! We really enjoyed having the two of you at the venue. The evening was so much fun. Great family and friends! Loved it.

Julissa M.

Married on 04/27/2022

Exactly what we were looking for!

The venue met every expectation we had for our day! It turned out beautiful.

Kiana

Married on 02/21/2021

Thumbs up to Karen

This venue is perfect if you want a small intimate wedding. Karen is a wonderful, easy-to-talk-to person. She answered all my concerning questions confidently and made a great impression on my fiancee and I. I loved the venue and the affordable price that came with it. I can not wait until it is my time to walk down the aisle.

Cristina B.

Married on 02/21/2021

Our Wedding

Choosing this place was the best decision we made for our small wedding! The venue is beautiful, affordable, flows well, and barely needs any decorating at all. A huge added bonus is that chairs, tables and tablecloths are included in the package. We received endless compliments on using this stunning venue for our wedding. Throughout the whole process, Karen was extremely prompt in communicating and flexible to work with, she even helped us with creating a timeline and organizing the procession on the wedding day. The place has gorgeous chandeliers throughout that look amazing day and night plus white columns that make for unforgettable couples photos. We highly recommend this place!

Harley K.

Married on 02/03/2021

The Venue is Beautiful & Karen was Great to work with!

The Gardens at West Green was a great venue for our wedding! The gardens are beautiful year-round. We booked in February 2019 for our March 2020 wedding. The bride and groom's suites were great for getting ready. The owner, Karen, ran our rehearsal for us the day before. The venue was intimate without feeling cramped. Karen had everything set up by 7AM for our 11AM wedding! Every time we turned around Karen was smiling and supportive while keeping everything in order. The venue is also so beautiful it doesn't need any additional decoration. We were shocked at how affordable the venue was for our estimated guest size and so thrilled that it came with everything we needed for a great day. Karen even recommended our caterer, which was also fantastic.

Mary C.

Married on 11/22/2020

Truly a steal!

The Gardens at West Green is the best deal out there for a high quality venue! Karen is so easy to work with and she always answered our emails quickly. The venue price is a fraction of most others, but they provide you with so much more. We got so many compliments on how beautiful the Gardens at West Green is. This is the only venue we toured and we have never regretted it one bit! It was perfect for our big day!

Katie S.

Married on 09/15/2020

We Love This Location!

This hidden gem was one of the reasons we had a fairy tale wedding right in the heart of San Antonio! Karen was lovely to work with, very professional, and always prompt when communicating. She made viewing the venue a breeze, whether it was the first time or to meet a vendor. She also worked with the day-of coordinator and everything felt so smooth during our special day. Thank you, Karen! The venue speaks for itself.

The Gardens at West Green's reply:

Hi Katie! Thank you so much for the review. We loved having you, your family and friends with us to celebrate such a beautiful beginning. We appreciate your trust in us and fee honored to have had this opportunity. Blessings to the two of you!

Faith

Married on 03/21/2020

Very excited- wedding to come, everything great so far

Karen communicates well and promptly replies to any questions. The venue is affordable, but simply lovely. I am looking forward to our wedding in the spring. I will update this review afterwards!

Naomi C.

Married on 03/05/2020

Comfortable and easy visit to a gorgeous nearby venue.

The venue is perfect for small weddings. We fell in love with this elegant gem! The grounds were clean and vibrant. Karen Little is wonderful, professional, and very easy to talk to. We really enjoyed our visit and are excited to be getting married here!!

+ 5

photos

The Gardens at West Green's reply:

Thank you Naomi! We are very excited to have you at The Gardens at West Green! I'll keep you posted on any new decor we have coming in.

Shemeika A.

Married on 02/15/2020

The Gardens at West Green is a 10 star!!!

Wow! Wow! Wow! I must say that this venue is definitely one I will be working with again! My Sister is actively serving in the military and told me she and her boyfriend at the time were planning to get married in San Antonio, so she needed my help with venue, etc. Thank God that event planning is my job already so I got right into the research of finding her a space to complete her request (she loves green). This was one of the first places that popped up for "small weddings/elopements".
From my initial conversation with Karen, she was very helpful in making sure my sister and I had everything we needed (preferred vendors, etc). When we arrived, she was very professional and "hands on", helping wherever we needed her. The pictures does that venue no justice. I was just as beautiful in person and the weather was just right as well! I couldn't thank Karen enough for all she did and I'm so looking forward to working with her again!

The Gardens at West Green's reply:

Thank you Shemeika!!!! It was a pleasure working with you. Your sister is so special and we appreciate everything she does for our country. Marcus had me in tears just watching him gaze at his new bride walking down the isle or the way he held her on the dance floor! We would be honored to have you again at the venue and we will definitely recommend your services to our future clients. Best Regards, hope to see you soon.

Brandy B.

Married on 01/01/2020

From a photographer's perspective

I had the privilege of shooting a beautiful wedding under the gorgeous draping trees at this venue last year. Each aspect of the grounds were very nicely tended and had classy detail. It was the perfect setting for an intimate wedding. I would highly recommend this venue.

Megan

Married on 11/15/2019

Beautiful venue

The venue is absolutely beautiful. Karen is also amazing at what she does and my guests loved it!

Ali

Married on 09/14/2019

The most beautiful outdoor wedding experience

This venue is gorgeous and very elegant. From the greenery and tall trees, to the picturesque white columns, this place truly captures the romance and intimacy of a wedding. I love that you can bring in your own vendors which really helps save some money. Karen the owner was so kind and very helpful with making sure things went smoothly.

Sarah C.

Married on 01/05/2019

No stress outdoor wedding of my dreams for such an affordable price

I cannot begin to express how pleased I was with this venue. Karen and this gorgeous location truly gave me my dream outdoor wedding for such an affordable price. Karen communicated so well with us from the moment we booked the venue until the day of. The linens and set up looked amazing. She even had a tent up at no additional cost, which I was worried about since it was an outdoor wedding in January. (which actually turned out to be a perfect day). This place has a beautiful house and space for the bride and groom to get ready, absolutely beautiful trees and shrubbery that look great year round, with lights in the trees. Karen also acted as coordinator day of and knew exactly how to tell us to time the ceremony. She helped coordinate with all the vendors which of course saves us money in having to hire a day-of coordinator. Such a good deal and such a lovely owner, who you can tell does this job because she loves it. Thank you, Karen! Gonna go leave this review in a few other places :) -Sarah and Kyle

The Gardens at West Green's reply:

HI Sarah!

Thank you for your review of The Gardens at West Green. It was a perfect day. You were such a joy to work with. It has been my pleasure and I am sincerely greatful for the trust you have placed in me. Best of luck and blessings to all!

Alex

Married on 07/07/2018

WE FELL IN LOVE AT FIRST SIGHT with the Gardens at West Green. This was the one and only venue we looked at and knew it was the one for us. We loved the intimate feel! The grounds are gorgeous and perfectly manicured for an outdoor garden wedding. It is very clear that Karen takes pride in her property and after meeting her (owner), we knew this was our Venue! Since our wedding was in July, we loved having the mini mansion there on site with an extra room. We decorated it with antique furniture for our guests to have a place to go in case they wanted to cool off for a bit (with the help of Vintique Rentals). There is so much shade at the gardens, that it really is not as hot as you would think and there is an outdoor AC just in case it is too hot (which we had to use). Karen was there to help coordinate all the vendors on the day of and helped coordinate the rehearsal the day before. We were always confident that she had everything under control and provided us with so many additional items that I'm assuming some of the other venues do not provide (e.g. lights in trees, linens, candelabras, easels, outdoor AC, etc). We were a little nervous about the weather/rain in July, but Karen always assured us there was a plan in place in case of rain. Unfortunately, it started to rain unexpectedly right before our ceremony. Karen had to pull out the tents at the last minute and did an amazing job setting them up so quickly. The tents really did not take away from our wedding like I thought they would. It was still gorgeous! We highly recommend The Gardens at West Green if you have a guest list around 100-120. It was perfect and we have gotten so many compliments about our wedding!

Ashley

Married on 04/21/2018

This day was truly perfect! The ambiance and venue itself are just amazing and leave you in awe. The venue is just gorgeous and Karen was very flexible. I can't wait to see all of the pictures once the photographer is done. I highly recommend this venue!!

The Gardens at West Green's reply:

Hi Ashley, Thank you so much for your review. It was our pleasure and we wish you many wonderful years to come.

Aubrey

Married on 04/14/2018

Karen was wonderful and patient. Everything turned out perfect and exactly what we wanted. The venue is just beautiful and she is so easy to work with. Thank you for making our day so special.

Joan

Married on 04/08/2018

The best words I can use to describe my initial impression of The Gardens of West Green are "hidden oasis"! When I entered the gates in November of 2017, I was almost certain that this idyllic location, with its magnificent oaks and elegant landscaping, would bring my wedding vision to life. However, what cinched the Gardens as the absolute perfect venue was Karen, the owner and caretaker. She has a gentle command, a heart of service and a penchant for elegance that made the journey from wedding planning to the wedding day as stress-free as possible. With a very small (some might even say impossible) window in which to plan a 50 guest wedding/reception, which of course eventually turned into an 80 guests, the Gardens was exactly what I needed: Beauty, elegance, affordability and EXCEPTIONAL Service. Add to that Karen's list of preferred vendors, which made the normally stressful search process in selecting entertainment, photographer and videographer, food and beverage, and even the officiant, all so effortless. On our wedding day, the vision was realized and our guest felt like they had been a part of something truly exceptional - our tribe had grown with new connections between friends and family at a wedding that folks will be talking about for years! Many, many thanks to Karen and her staff for facilitating our perfect wedding day!

+ 7

photos

The Gardens at West Green's reply:

Thank you Joan! It was a pleasure working with you. So glad you had a great time. I loved every detail you planned. Shelly and I still remember your event.

Lisa

Married on 03/31/2018

Guests raved about the beauty of this tucked away little venue. It's so well maintained, lush and green. It is a slice of heaven and I am so glad this is where our memories were made. It is also very affordable, costing us under $2,500 for almost 100 people. Thank you, Karen for all of your wonderful recommendations on other vendors, for your time and patience.

+ 3

photos

Tamara

Married on 03/10/2018

My fiancé and I had our hearts set on getting married and finding a venue in Austin. After googling small garden venues, we came across the Gardens at West Green website, so we decided to go take a look at the venue. When we arrived, we were in awe! We fell in love with the gardens and immediately contacted Karen Little to book the venue. Since, the very beginning, Karen has been a God send! She responded to us that same day and was always available via text, email or by phone for any questions that we had. She also provided us with a vendor list and we were very pleased with the ones we chose. Karen was very flexible and will go above and beyond to meet any expectations well in reason. The day of our wedding everything went as expected…FABULOUS!! All of our guest fell in love with the venue just as we did! We highly recommend the Gardens for any occasion! Thank you again Karen for helping make our special day such memorable one! We love you!!

Sincerely,
David and Tamara

The Gardens at West Green's reply:

David and Tamara,
It was an honor to host such a warm heartfelt wedding. Your families were amazing to work with and the entire event was Blessed by God. He has mended your hearts together and has a great plan for you both. Love you too!!
Are you interested?
Send a message