30 Reviews
Recommended by 98% of couples
Quality of service

4.9 out of 5 rating

Average response time

4.9 out of 5 rating

Professionalism

4.9 out of 5 rating

Value

5 out of 5 rating

Flexibility

4.9 out of 5 rating
Awards
71 User photos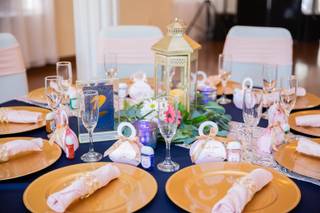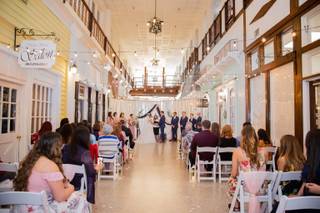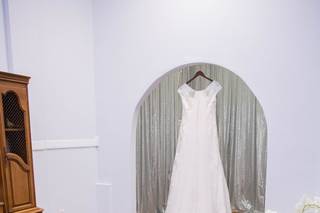 + 67

photos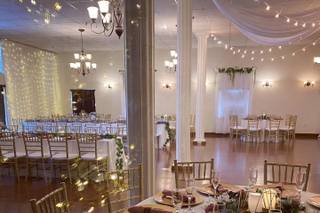 Gigi

Married on 02/18/2022

Lorraine is the best wedding planner

I found out about the open house the garden ballroom has in the beginning of the year. Decided to check it out and it was a beautiful venue. Lorraine works with you and makes your vision happen. My experience was smooth, and she listens to your needs. She did such an amazing job with planning, decorating, etc. They even have an on site bridal suite big enough for the bride and family to get ready. If I could give her more than 5 stars I would. Definitely worth every penny!

Pedro

Married on 04/15/2021

Do not look any further!

The Garden Ballroom is perfect for the couple that is looking for less stress on their wedding planning. Lorraine is amazing and takes care of every little detail. Their team is so professional and know the answers to all of your questions! Their all inclusive package is perfect as you only need to worry for just a couple of things, everything else, they got you covered! We had a blast on our wedding day! Would not have chosen any other venue over them! Recommend 1000 times to any couple that is going to get married!

+ 4

photos

Abraham I.

Married on 02/11/2021

Genuinely Amazing Venue

This review is long overdue! I have some serious things to say about this venue!

Out of all the countless venues I visited, I did not find any other like them. I ended up deciding on going with the Garden Ballroom and I will never regret my decision. The whole staff and other vendors attached to the Garden Ballroom are fair and just genuine people.

Decor 10/10

The decor was way more than I would ever expect Lorraine to do. She really cares about your big day and for the price of decor this wonderful you can't beat it. I put photos in this review for your clarification. We had a day just on decor planning and she spoke on how through the day until she slept at night Lorraine researched to give us the best Tangled-themed wedding she could. She really did it. If you are looking for any theme type of wedding she is the person to see. I believe Lorraine is wanting to do more wedding planning outside of her venue too if your looking for a good wedding planner.

Staff 10/10

Everybody who works for Lorraine and her family really does their part in making your day special. The staff makes sure the Bride and Groom are not stressed and with all Lorraine's planning, you do not have to worry about a thing and just enjoy your wedding day. I had no problems and even talked up a storm with many of the staff at the wedding.

Planning 10/10

Lorraine always has a plan and will spend countless hours with you to make sure everything is to your liking. She gives your the layout and everything that will go down on your wedding day. Then she takes the mantle and handles everything planning-wise so the Bride and Groom don't have to touch a finger. I was thinking about helping with my wedding but after working with Lorraine I wouldn't have it any other way.

Dream Wedding 10/10

My wife and I had a dream wedding. It was a beautiful tangled-themed wedding and everything from the decor, the music, the food, and the ambiance of the venue itself, we got to experience that dream wedding. Every detail was perfectly planned, yes weddings have little hiccups here and there but those were at the fault of my family but any problem was quickly and surely dealt with without me having to worry as the Groom.

Vendors 10/10

All the Vendors recommended with the venue were also cheap and only cared about your special day than making a quick buck. From the Garden Ballroom to the Vendors they are very kind people who really do care and will put hours of their time and even extra meetings/visits to make sure your wedding was everything you dreamed. I will put a few below due to them being better than any I could find online.

https://www.deenice.com/ Deenice Productions: Dee is a great videographer and honestly loved the video. https://youtu.be/hvhGgGOGz_8

https://www.gonzalezlugophoto.com/ Gonzalez Lugo Photo: Maryel and Alfredo will always be remembered and Kim and I will definitely hang with them outside of the wedding. They are Grade A photographers and I do not thinking you can find many photographers like them that really know how to make your wedding day a whole lot of fun! They really know how to make you laugh!

https://wedding-and-events-by-dj-melvin.business.site/ Next Level Entertainment LLC: Melvin was another amazing pick! Great DJ! He cares about your choices, he really knows his music, and he loves what he is doing! Highly recommend his business.

Overall Review 50/50

If you are looking to have a wedding book it here! I don't have anything else to say! Maybe look at our wedding photos and see just how amazing it looked. It was honestly as magical as it looks!

Thank you for reading!

Abraham Ivie

+ 15

photos

Are you interested?

Send a message

Crystal A.

Married on 11/22/2020

Perfect Wedding Location!

Lorraine and the rest of the staff at The Garden Ballroom absolutely made my, and my new husband's, wedding absolutely perfect. This venue comes with an all-inclusive option which I took advantage of, and let me tell all of you, it is totally worth it. I practically only had to show up on our wedding day, and what more can we ask for when our vision is set in motion for us? Lorraine and the rest of the staff are attentive and efficient! Our family were gushing over the food, music, and the staff days later. I couldn't have asked for more honestly. I wholeheartedly recommend The Garden Ballroom and all of their accompanied vendors for your big day!

Ashley F.

Married on 04/03/2020

Wedding Bliss

The Garden Ballroom was completely amazing throughout the entire process. From beginning to the end, Lorraine was such a tremendous help. There is absolutely no need to hire extra coordinators because she does it all. I had absolutely NO STRESS whatsoever because I knew that everything was taken care of. My wedding came out waaayyy better than I expected and it was literally the best day ever!! I would definitely recommend everyone to choose this venue 1000%. Thank you Lorraine and staff!! You were absolutely amazing. Much love to you!!

+ 3

photos

Olgaelie

Married on 11/30/2019

Spectacular

Spectacular

I booked the venue over a year and a half ago in advance for my dream wedding. Lorraine Nevot was kind and patient as I was giving her my vision and how I wanted things to turn out. At times I know I was stressing her out because I wanted this day to be nothing less than PERFECT. Her capacity to handle my crazy on top of the dream goal was amazing. She handled my husband and I request timely and with such passion. She is awesome at what she does. She was the most professional person I have encountered in a long time. We are extremely grateful and thankful for her bringing only what we have dreamt about into reality. Our big day was more than we imagined. It was breathtaking and the staff was more than welcoming and professional to all of my guest. We would definitely recommend the Garden Ballroom to anyone we know planning a special event for themselves or relatives. We Love You Lorraine Always & Forever
Elie & Orlando

Jenny D.

Married on 11/23/2019

Beautiful wedding

Everything was so beautiful. It was everything I expected it to be.

Maryel

Married on 08/03/2019

Words cannot even begin to express our gratitude to the amazing place. Our vow renewal last night exceeded every single expectation in every way. Wow...just wow. A total dream come to. You executed our vision in every detail. Amazing!!!!


Deanna G.

Married on 04/20/2019

Most beautiful wedding!

I would recommended this wedding venue to everyone! Lorraine and her staff were wonderful and made my BIG day as least stressful as possible. It was absolutely beautiful and I don't think anyone else could have don't a better job!

+ 3

photos

Dan A.

Married on 12/08/2018

Our special December wedding!

We had a beautiful wedding, my wife is Medical school earning her Doctorate. We had to plan our wedding around her break between semesters and final exams. We were obviously concerned with such a short timeline (6 weeks) in preparing our special day. They assured us it would come together and they delivered! We had a amazing and special day. I even had a injury and could barely walk, but they moved things around and helped us achieve the day we had prayed for. The DJ "Melvin" delivered 1000% keeping things moving while maintaining the amazing atmosphere. Thank you for being a huge part in our special day!!

Alexandra

Married on 10/21/2018

Beautiful place

Couldn't have picked a better venue. Had everything we needed and worked with us on times.

María

Married on 04/07/2018

Had my wedding (cocktail and reception) April 7, 2018 and 5 stars is not enough to give them I wish I could give them 100000 stars. Lorraine and her family went above and beyond to make our wedding just perfect. It is so refreshing to find someone who loves what they do and that is Lorraine any bride will be lucky to have her. She spent hours of her time listening to my stressful times, helping me with the timeline, giving me her suggestions. She is so easy to communicate and is always available. Her family became friends with my family. It was like we have known for years!!! I strongly recommend them for any event!!! Any bride will be on the best hands!!! Thank you again Lorraine for making our wedding a day full of amazing memories xoxoxo Maria

Stacey

Married on 03/31/2018

Planning a wedding is one of the best and most stressful things a couple plans for. It's also the biggest party you ever throw for yourself so you want to make sure you get a great team to work together so that you and your hubby can really take it all in and ENJOY!!! The Garden Ballroom was the first and only venue my husband and I looked at when planning our wedding! We fell in love with the unique architecture, romantic ballroom feel, and the convenience of having the wedding, cocktail hour and reception all in one place. We thought we got lucky with the location but where we really lucked out with was with Lorraine and her team!!!! Lorraine helped me plan through all the intiment details from states away and gave us a list of preferred vendors that we worked off of and found the most amazing team for our BIG day. Lorraine's team provided all the ceremony and reception decor (except for small added touches I brought), bartender service, bridal suite for the day of, cocktail cheese bar, and emotional support along th way. She helped get everything in line for the day of and was my first line of defense with all my other vendors on the day of! She has a detailed timeline of what was happening and really took the time to get to know me and my husband to understand what type of day we wanted. We highly recommend the Garden Ballroom, Lorraine and the team we used for our big day (listed below)!!

Venue: Garden Ballroom
DJ: DJ Melvin
Catering: Terrie Lobb Catering
Cake: Gormet Goodies
Florist: Pixies and Petals
Officiant: Sandy Stringfellow
Photographer: Rachel Doyle Photography
Hair and Make-up: Michelle Renee the Studio

+ 6

photos

Janessa

Married on 03/17/2018

Lorraine and her team did a great job to keep everything running smoothly the whole night of the wedding. Planning was easy and stress free as Lorraine is super accommodating and will happily spend 2 hours working with you on the perfect linen combinations! Communication was always quick and clear. I would definitely recommend this venue for any occasion!!

Jessy

Married on 01/27/2018

We recently celebrated my daughters Sweet 15 at the Garden Ballroom. They did an amazing job. They her dreams of an Arabian theme party come to life. The decor was perfect and the service was incredible. I would definitely have my next event here.

+ 2

photos

Ashleigh

Married on 01/07/2018

Lorraine and the staff at the Garden Ballroom were excellent. I tried not to be picky, but I knew what I wanted and Lorraine and the others made that happen. I even had some of my own decor my husband and I had put together and Lorraine was more than happy to do a mock table so we could see it altogether. She also helped put together our own decor as well as the venues for the tables and it turned out fantastic. I could call or email with any silly question I had and they were always there to help. She even helped solve a small flower mix up so my day wasn't thrown off. All in all - I love the staff, the venue, and the help they provided. They definitely make sure that you're taken care of and that they help make your day extra special.

Kathy R.

Married on 11/11/2017

Saved my Big day

My previous venue lost my contract & double booked 2 wks before the wedding. The Garden Ballroom was extremely accommodating. They went above & beyond to help replan my wedding in less than 2wks. Lorraine & the entire staff were absolutely amazing. They made us & every single one of our guest feel welcomed & comfortable. Every single one of my guest were amazed that they made everything absolutely gorgeous with less than 2wks to plan. I will definitely be using them for future events. Me & my husband appreciate everything you, your family & your staff has done for us. Thank you. EVERYTHING was perfect. ❤



Amanda

Married on 11/04/2017

They were very accommodating, easy to work with, creative, and professional. Lorraine was able to take my vision and make it a beautiful reality! We were very pleased with the venue and its amazing team!

Shelby

Married on 11/04/2017

The Garden Ballroom was the perfect venue for our rehearsal dinner. The cocktail hour outside in the courtyard was well-received by the guests and the dinner inside was gorgeous with the lighted drapes and round tables. Lorraine is a gem to work with and quickly responds to all e-mails. Thanks!

beautiful ladies, great place & venue

Maria R.

Married on 03/25/2017

Amazing 5 Star Venue and Staff

Thank you so much, amazing job, amazing staff, we would be lost without you, 5 stars all the way, you exceeded our expectations with such a short window, We hope to do our daughters 15th Birthday with you as well. Lorraine was amazing, a true professional, she guided us through every moment from the very beginning. Thank you to you and your Wonderful Staff. The Garden Ballroom is one of the most beautiful venues in all of Central Florida

#foreverthankful

Philippe

Married on 01/14/2017

Best Sweet 16 Ever!

The Garden Ballroom is a truly enchanting venue. The workers are very kind and do there best to make your special day better than you dreamed. It is definitely worth the money whether it is for your weeding day, Sweet 16, or Quinceanera.

Crystal

Event on: 12/12/2015

The service received was phenomenal. Although the previous owner didn't inform us of the venue being sold, our Company Christmas party came out better than we could have expected. Lorraine and Carolina were very friendly from the beginning and assisted us with making sure the party was an elegant event. The space is perfect for a small wedding or corporate event. We will surely use this venue in the future.

Alegra

Married on 12/12/2015

My husband and I held our co-ed baby shower here on 12.12.15. The Garden Ballroom was absolutely beautiful! Lorraine and her staff went over and beyond to make our day all the more special! I wouldn't hesitate recommending this place to others for their special event.

Julie R.

Married on 12/11/2015

We used the Garden Ballroom for our Corporate Christmas Party. With using the ballroom and the corridor there was enough room to accommodate the 115 guests and we had casino tables and a photo booth in the corridor. We provided the centerpieces and they did all the set up with tables and linens. It was a beautiful setting and they did a fabulous job!
Are you interested?
Send a message