Reviews
5.0 out of 5 rating
Quality of service

5 out of 5 rating

Average response time

4.9 out of 5 rating

Professionalism

5 out of 5 rating

Value

4.9 out of 5 rating

Flexibility

4.9 out of 5 rating
99%
Recommended by couples
41 User photos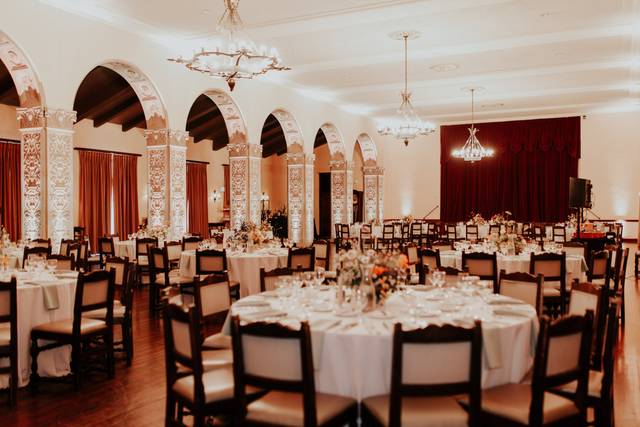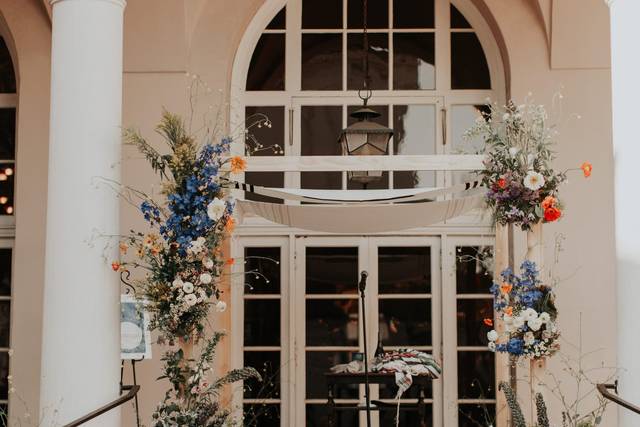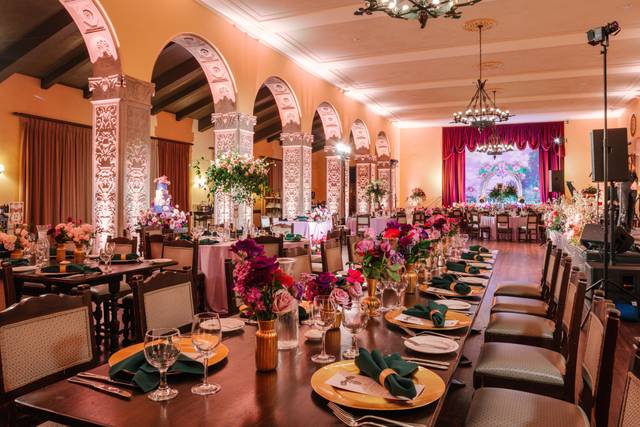 + 37

photos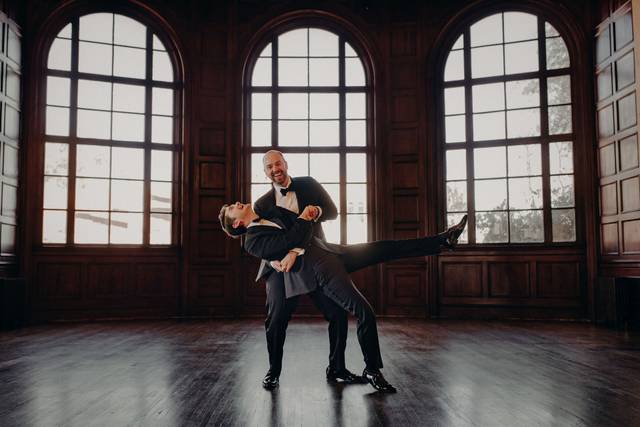 Featured

Stephen L.

Married on 10/03/2021

The Incredible Ebell of Los Angeles

Where to start with this incredible venue, and it's amazing staff! We found the Ebell of LA online when looking for venues, and all of the pictures made it seem like a dream venue - and once we arrived, we knew that it was! The moment we walked in for our viewing, we were taken through the gorgeous arches in the garden and already knew this was the place we had to get married! It had all the old feel charm we wanted, and we hadn't even got a look inside yet! Once we viewed the entire property, and they show you EVERYTHING, we were in love with The Ebell, and ready to sign on the spot! We can't say enough about the genuinely incredible staff. Jenny was our go to for all communications, and not only was she the most kind soul, but she was so helpful along the way with the postponing of our big day, rearranging plans and letting us re-figure our original count because of the Pandemic! Jenny - we love you! Kevin was so wonderful in executing our vision for the big day! He even helped us decide on features we didn't know we needed and wanted! He is a design master! The food…THE FOOD! It was exquisite! The chef here is sensational, and if you get a chance to taste the Mushroom Pecan Wellington we strongly suggest you do! The service staff on the day were wonderful, our guests wanted for nothing all night, as their attention to detail and service was out of this world! Thank you to everyone at The Ebell of Los Angeles for the incredible memories and the amazing care you took to ensure our big day was the wedding of our dreams ! We love you all x

The Ebell of Los Angeles's reply:

Oh man...you're gonna make us cry over here! Thank you, Stephen!! We all absolutely adore you and Jared and we were overjoyed to see you finally get married here! Your wedding was absolute perfection! We are honored to have you now as part of The Ebell legacy and history. Please come visit us any time (and please bring cupcakes! haha)

Lianna

Married on 04/02/2023

Dream wedding venue

Every aspect of our wedding at the Ebell of Los Angeles was seamless and beautiful. The staff were all professional, knowledgable, and communicative. The venue itself is stunning, and all our guests were raving about the catering. The events team and day-of staff were all fantastic - we knew we were in good hands and the day ran totally smoothly.

Jen

Married on 11/04/2022

Five star experience

Although we could not host our wedding at the Ebell due to COVID restrictions, the venue staff has been incredibly professional throughout this whole process. It is a beautiful venue, and we would highly recommend it to anyone considering a wedding in LA!

The Ebell of Los Angeles's reply:

Hi Jen,
Thank you for the great review! We really appreciate it. We are sad we couldn't celebrate your wedding here at The Ebell because of Covid, but maybe your vow renewal or anniversary party in a few years :) We would love to see you again!

Are you interested?

Send a message

Benjamin F.

Married on 10/15/2022

Ebell of Los Angeles is Amazing

I'm a professional corporate event planner and when I was looking for a venue for my wedding, booking the Ebell was the easiest choice we made. A few things that made this so simple: the space is beautiful, it was indoor and outdoor, catering and most equipment was in house (we did not have to rent many things), the staff was absolutely amazing, as an gay couple we felt incredibly comfortable and welcomed, and did I mention it is a beautiful space? It's gorgeous. We walked inside, and it took our breath away. Sometimes you just have a feeling and you know it's meant to be. That was us with the Ebell.

The venue is historic, grand, and truly one of a kind. It is located in a great, central area of Los Angeles so guests from out of town can experience the city. A private parking lot is included. And we were treated so well by every facet of the staff. Their in house team is incredible, event coordinators, catering, bartending, security, etc. Each team member made us feel special and helped make our wedding amazing. The venue itself is very turnkey from a planning perspective which made it ideal for us. We didn't want to bring in all the furniture, build a kitchen, rent a parking lot, decorate every inch, etc. All those details are included and the space is so beautiful you don't want to detract from that with too much decoration.

In short, the Ebell was the perfect location for our wedding, and if you're looking for a venue that makes a statement, but also makes things easy, it will be the perfect location for yours, too.

Thomas B.

Married on 04/09/2022

Wonderful venue, great food, and amazing team!

We had our wedding at the Ebell on February 5th, 2022, and it was amazing! Our guests were raving about the service and the food all evening. And the team at the Ebell made it really easy to plan our entire event! Thank you to everyone at the Ebell! :-) T&E

The Ebell of Los Angeles's reply:

Thank you Thomas (Ty)! WOW- what a FUN wedding. So much love and joy everywhere! And the photos! Yours are some of our all time favs now (definitely going on the iPad haha!) Thank you for choosing us for your big day. Cheers to a lifetime of happiness to you and Eric!

Monica B.

Married on 02/27/2022

Ebell makes dreams come true!

The Ebell of Los Angeles was the perfect place for our wedding. My husband and I must have looked at over 20 venues throughout California, and the Ebell stole our hearts! With its vintage Hollywood feel, natural elegance, and indoor and outdoor setting in the heart of LA, we immediately fell in love and could see our wedding dreams coming true under its roof. The team at the Ebell is top-notch and its rental includes so much. They made our wedding planning easy, and were flexible with us throughout Covid as well as the fact that we were planning from Northern California. Every detail of our wedding was exactly how we dreamed it. The food was also delicious! We got tons of compliments on the beauty of the building, capability of the staff, delicious dinner, and overall flow of the event. We are so happy that we chose the Ebell as the beautiful home for our wedding!

The Ebell of Los Angeles's reply:

Thank you, Monica for the lovely words! Your wedding was so beautiful! We really appreciate you trusting us while you lived in another part of the state! We wish you and Jake the very best and can't wait to see the photos!

Isabel B.

Married on 02/19/2022

The Ebell of Los Angeles

So many great things to say about The Ebell! We had the most perfect wedding in February 2022. Kevin and Jenny are so easy and enjoyable to work with. They are friendly, enthusiastic, organized, and professional. They made the planning process fun and exciting. The entire team of staff the day of the wedding was incredible! Everything went perfectly thanks to the incredible staff. The food and drinks were delicious, the lighting was perfect, and the venue is gorgeous. I can't thank Ebell of Los Angeles enough. I highly recommend them for your wedding if you are looking for the best venue in LA :)

Jillian G.

Married on 11/12/2021

Best day ever!

We first booked The Ebell in spring of 2019 for November 2020. Because of the pandemic, we had to move our event a full year and just had our celebration this past November. Happy to say it was well worth the wait! From the moment we arrived, the entire day-of team were working to execute the event perfectly. Our guests are still raving about the awesome food (we had a big cocktail hour with a raw bar, taco station, charcuterie, tray passed apps) and stellar drinks/bartenders. All of the managers made sure our day was flawless, and we're so thankful! The event was absolutely how we pictured it and everything day-of went smoothly! Truly, thank you for everything!

The Ebell of Los Angeles's reply:

Thank you so much for the wonderful review, Jillian! Thank you for sticking with us through the pandemic and trusting us with your very special day. You and Seamus are such a fun couple and it was an absolute joy working with you! The breakfast sandwich send off was genius and now recommend it to other couples! Cheers to both of you!

Amelia

Married on 10/08/2021

Such a great venue

After two postponements, we finally had our wedding at The Ebell of Los Angeles! We checked out many gorgeous venues but the thing that sets Ebell apart is their service and commitment to making your dream wedding come true. As nobody could have predicted the pandemic, Ebell handled the postponements, date, and design changes flawlessly. This goes to show their professionalism in times of uncertainty. After deciding to downsize our wedding of 150 people to 50 people, the Ebell staff was extremely accommodating. At no point did we feel like we were being ripped off. We loved the freedom to do our event entirely outdoors with a layout that had never been done before! Jenny, Kevin, and Anessa were all so accommodating throughout the process. We were able to incorporate so many personal touches that made our wedding truly unique and memorable for all our guests. The Ebell staff were extremely delightful to work with, the food was amazing, tableside service was amazing, we loved the custom lighting and overall. Our wedding was so perfect and ran so smoothly that I actually got to enjoy every moment of our wedding.

The Ebell of Los Angeles's reply:

Thank you so much for taking the time to write such a wonderful review! Your wedding so stunning and we loved how it all came together with the dinner in the garden. We can't wait to see the photos!! Cheers to you and Andrew!

Eirene

Married on 09/19/2021

The best staff and service

The Ebell of Los Angeles was the most amazing place to have our wedding reception! The venue is gorgeous and the second I walked in, I knew it was the perfect place to host our wedding. Kevin and Jenny were an absolute dream to work with leading up to the big day. They focused on every single detail and were highly organized. I don't know how they kept it all straight! I am so impressed by them and I couldn't have asked for a more amazing team. On the day of the wedding, every single person on staff was exceptional. All of our guests were so incredibly impressed by the beauty of the venue and even more impressed by the staff! I have never experienced such wonderful service in my life! The staff was so helpful and catered to all of our guests' needs. They are seriously unmatched, and I have hosted many events at different venues in Los Angeles. Their food is high-end restaurant quality, and the drinks were so delicious. The Ebell hosted my dream wedding, and I can't thank them enough for everything they did. Our guests are still talking about our big day and what an amazing time they had at the Ebell. Simply the best!

The Ebell of Los Angeles's reply:

Thank you, Eirene for the great review! We really appreciate you taking the time. Your wedding was so elegant and beautiful! It was a pleasure working with you to see your vision come to life. We can't wait to see the photos! Cheers to you and John!

Yanira C.

Married on 06/05/2021

Dream venue

We just had our DREAM WEDDING here on June 5th 2021 and I can't recommend it enough! Great location, delicious food, and great service. The ball rooms, outside garden area and beautiful architecture was a dream.

The minute we stepped foot at The Ebell on our tour, we instantly fell in love! The whole venue is beautiful .
Our vision was Classic, Timeless & Romantic. The Ebell checked all the boxes! The special events team was such a pleasure to work with! Anessa, Jenny and Kevin played a HUGE part and made our dream wedding happen!
It was such an overwhelming year of planning during Covid with so much uncertainty, but the special events team always kept in touch.
Anessa and Jenny truly have a passion for helping couples! We felt as if they both were our friends and our biggest supporters.
Building relationships with our vendors & venue for us was important and they exceeded our expectations.
Kevin made sure our day ran according to plan and made all the visuals come to life!
The Special events team rooted for us during a crazy year of Covid and did everything possible to make our dream wedding happen, and made sure they kept everyone safe on our wedding day.
The actual wedding day ran so smoothly, their staff was so attentive to myself and bridal party I felt so calm and special on my wedding day.
Till this day we have received so many wonderful compliments from guests. They all fell in love with The Ebell just like we did.


+ 2

photos

The Ebell of Los Angeles's reply:

Hi Yanira,
Thank you so much for the wonderful review! It was such a joy to celebrate you and Robert here at The Ebell. Your wedding was stunning and it was such an honor to be a part of it. What a year we had! Thank you for trusting us through such a difficult year. The ultimate payoff was seeing you come down those stairs for your ceremony! We all had tears in our eyes! Come by and visit us anytime! BIG cheers to you two!

Classic, Timeless, Beautiful Venue

After 2 postponements and 2 years of emails, we finally got to celebrate our wedding at this beautiful venue! We are so happy that we chose the Ebell. The staff was amazing and made sure our special day went by smoothly. The food and drinks were DELICIOUS. People could not stop talking about how amazing the food was. The cocktails were also out of this world. It's pretty rare to find great food AND drinks at a wedding. If you're looking for a classic, beautiful, timeless venue with amazing food AND drinks, and staff look no further!

The Ebell of Los Angeles's reply:

Thank you so much for the review, Tida! We had quite a year, but in the end it was so wonderful to see you and Steve finally marry in our Garden! Thank you for trusting us through all the postponements. It was a gorgeous wedding- the sneak peak photos we have seen so far have been OUTSTANDING. Can't wait to see more!

J.j. S.

Married on 06/10/2020

Absolutely smooth experience and beautiful wedding at the Ebell!

My partner and I are so very happy that we chose the Ebell for our wedding venue. The Ebell staff, especially Jenny and Kevin, were an absolute pleasure to work with. They were very responsive to our questions and open to providing expert insight into how we could best utilize the venue. The facilities were gorgeous and well-maintained and the event staff were incredibly professional. As a result, we had a beautiful wedding and experience celebrating with our loved ones within the walls of this architectural and historical gem.

The Ebell of Los Angeles's reply:

Hi Josh,

Thank you for the awesome review! It was wonderful to work with you and David and watch your vision come to life! We were all in awe of your design and everything was so beautiful. Congratulations and big cheers to both of you!

Mary A.

Married on 03/21/2020

Best venue in LA

It has been three weeks since our wedding at The Ebell of Los Angeles and I still cannot believe how perfectly everything went. The setting is SO cool - it has a classic, vintage look with a gorgeous courtyard. You have to actually go there to get the full vibe, its awesome. The food was OUTSTANDING - honestly with 120+ plated meals, I don't know how they did it. Also oh my gosh the cocktails, we're still hearing about it. And that's the more obvious stuff... I mean no doubt your guests will be wowed, which wasn't even really my main goal but it just sort of happened (well, they made it happen).

I wasn't into a fairy-tale-princess-dream-wedding idea, its just not me (but you do you, they can make that happen!). So I was concerned about having my wedding somewhere that "does weddings." I looked at a lot of "alternative" places... I went all over Southern California and it was SO disappointing. Finally, when I toured The Ebell I honestly thought they were just good salespeople! I literally wrote in my notes - all caps - "WHATS THE CATCH??" which is really funny to me now. There is no catch! It's just so great that it made me feel suspicious. They meant and delivered on *every single feature* we talked about through the entire planning process!

They have so much flexibility that I also didn't end up with a wedding that could've been anyones wedding (that was kind of my fear). It wasn't cookie cutter at all, and not because I threw in any pricey customizations, they just provide you with different options (and are super transparent about any up charges, but that never became a thing). Our wedding budget stayed where we planned it, didn't have any surprise costs, and I would argue ended up with a wedding that probably seemed significantly more expensive than it was. Again, not my goal, but it was just so much more beautiful than I even imagined.

Here are the things I didn't know I cared about that ended up being important: (1) server to guest ratio, it felt like being at a really nice country club or hotel without the stuffiness; (2) the photographs here have turned out AMAZINGLY, something about the backdrops and the lighting; and (3) all the vendors I worked with love The Ebell, too, which just makes life easier because they know each other and don't bother you with questions! Finally, I didn't know that I cared that my wedding venue is run by such amazingly good people but I feel the need to share that story...

Our originally planned wedding was March 21, 2020 so we had to cancel about 10 days out. Anessa, Jenny, and Kevin took a situation that was honestly so hard for all of us and approached it with the ultimate care and empathy. I am still taken aback at how amazing The Ebell was. I feel incredibly lucky because they always sincerely had our and our guests' best interests and safety in mind. And this was over the course of the worst of the pandemic in LA - we basically bookended it with a wedding that finally happened on June 18, 2021. As a business, they went so above and beyond; they are professionals to the nth degree.

It is 1000% worth a visit and, if you've visited and are on the fence for any reason, we cannot recommend them enough! It far exceeded any and all expectations I had, sending so much love to that place.

Patrick M.

Married on 02/22/2020

Best venue ever!

Words cannot describe just how perfect our wedding was at The Ebell. From the initial planning meeting to the big day, working with the staff was a dream. We truly cannot imagine a more fitting venue for us and highly recommend it for anyone looking for a classic, Hollywood feel accompanied by the social impact of supporting women. How great is that?! We get emotional every time we drive by now...it was THAT perfect.

The Ebell of Los Angeles's reply:

Thank you so much for the wonderful review! Your wedding was so dreamy and fun! We love that one of the reasons you booked with us is to support our women's club, we are very grateful and your wedding helps keep the legacy going and you are now part of it. We wish you and Breanne all the happiness in the world and can't wait until we see you again! Cheers to you!!

Molly

Married on 10/11/2019

Seriously, The Best Venue

The Ebell was the first venue we looked at and every other venue we saw after did not even come close. The venue is amazing and so are the people. Jenny, Kevin and Kaitlyn were absolutely wonderful and were always available for any questions I had, even the "are we able to do this instead?" ones. They made my husband and I feel very special and like we were the only clients they had (even in their busiest months). They made everything seem so easy. The food is SO GOOD. They went above and beyond catering to food allergies and cultural dietary restrictions, two areas that were really stressing me out in the planning process and they handled them both with ease. The venue is just breathtaking and hardly needed any outside decoration. Our guests raved over the entire event. I could not have asked for a better night!

The Ebell of Los Angeles's reply:

Hi Molly,

You're the best! Thank you for the wonderful review! It was an absolute joy to work with you and Ankit and we are all so thrilled to hear you had a fantastic time! Wishing you all the best and congratulations!

Sara C.

Married on 07/20/2019

Gorgeous, old Hollywood vibes!

What an amazing venue! I just had my wedding here on July 20th and I could not have been happier with the outcome. The staff there is incredibly attentive and helpful and made my wedding day the perfect dream I had always hoped for. And the food! So delicious! My guests raved about the quality of taste and service from the staff. The whole day from start to finish was a raging success because of this gorgeous place!

+ 3

photos

The Ebell of Los Angeles's reply:

Thank you for sharing your experience with us Sara! You had such a lovely wedding and these photos are stunning! We wish you and David nothing but the best!

Denis

Married on 04/20/2019

Perfect Wedding Venue and AMAZING Staff

Ebell is the best venue we could have asked for! I really can't give the Ebell enough props. From Kaitlyn and Jenny to the staff to the chef to the bartenders, they really helped deliver our dream wedding. We had two separate ceremonies, two cocktail hours and reception all at the Ebell and we managed to take advantage of every space at the venue. The venue is truly one-of-a-kind and each room was more breathtaking than the last. Kaitlyn and Jenny were an absolute pleasure to work with - they really helped us deliver our dream wedding and they both helped us throughout the process and brought such positive energy and fresh ideas to the planning process.

The Chef... AMAZING. We've received so many compliments on all of the hors d'oeuvres and main courses. Honestly, it was the best food at a wedding we've ever had. The cocktails were also on point and the staff... The staff was on top of their game on the wedding day. Anything we needed, they were able to make it happen. We can't recommend the Ebell enough; if you want a perfect venue with amazing people to work with, look no further!

The Ebell of Los Angeles's reply:

Hi Denis,

Thank you so much for the kind words. You and Jessica had such a beautiful wedding. It was a pleasure getting to be apart of the planning process with you, Jessica and your family. Congratulations once again!

Katharina F.

Married on 04/14/2019

If You Desire An Elegant Wedding This Is The Place!

We looked at the Ebell and several other places a year ago. We chose the Ebell for many reasons. The staff was phenomenal. Kaitlyn was our coordinator. There was only ease and grace as we designed the wedding with them. Our wedding was, elegant, intimate and everything we wanted went without a hitch. The Ebell is extremely beautiful and each room has its own charm. We decided to have the entire building and the grounds just for our wedding. The cleanliness and the way this beautiful building is maintained is very impressive. We were so pleased with the food, the staff, the servers and the timing of everything. The Ebell will meet all your needs and you will not be disappointed!

The Ebell of Los Angeles's reply:

Hi Katharina,
It was a pleasure working with you and your daughters this past year. Thank you for the kind words. We are so pleased to hear that you had such a wonderful experience working with every single member of our team. You had such an elegant affair and we wish your family the best!

Ali B.

Married on 01/26/2019

The best!

The Ebell is the best wedding venue! From the staff, to the food, to the amazing ambiance - truly something special! The staff are the sweetest and super flexible and accommodating! They give great advice! The venue is magnificent, so many beautiful locations throughout the venue, a marvel! And the food! My god, the chef is amazing and so great! People were raving how great the food was! Such a great value for the quality! I'm in awe of the whole experience. Book this venue if you want the best :)

The Ebell of Los Angeles's reply:

Hi Ali,
Thank you so much for taking the time to give us such warm feedback. Darren and your wedding was absolute perfection. We had such a great time planning your wedding. Creating your menu was so much fun for the whole team and your details and decor were so elegant and carried so well throughout the entire evening. We are so lucky to have clients like you!

Lauren

Married on 05/27/2018

The beauty of The Ebell is evident to anyone who sees it- and it truly is as beautiful as the photos. What you can't see on the outside however, is the amazing staff and world class service they provide on the inside. The outer and inner beauty of The Ebell make it a truly exceptional venue.

If any small hiccups arise during planning, they will communicate with you professionally and fairly and find a timely solution. The food and cocktails are truly remarkable. Every guest will be taken care of and enjoy a beautiful and memorable evening.

I feel lucky to say I truly had my dream wedding, and it could have only happened at The Ebell! Love.

Mena

Married on 09/30/2017

This venue was everything we wanted. Every room was what we imagined and it blew us away the minute we walked into it. The staff was amazing the night of our wedding. Jenny and Krissy were really helpful with all the details I asked for and were very reponsive to every question I had leading up to the wedding.
Our cocktail hour and dinner was amazing as well. The food was so delicious, it had everyone talking about it for days after the wedding.

At first we thought everything was really pricey, but we would never look back at it because every penny was worth it. From the service team to how beautiful everything looked, it was just remarkable. I would definitely recommend this venue to any couple. We will remember our day forever and we are so happy to have chose The Ebell!

Thank you team!

Michael & Mena

The Ebell of Los Angeles's reply:

Thank you for the wonderful feedback, Mena! You and Michael were the epitome of glamour on your big day! We loved seeing your incorporate both your cultures by having two ceremonies. Everything was so beautiful! We wish you a lifetime of happiness and we are so honored to be a part of your wedding. Cheers to you!


Allison

Married on 09/23/2017

I don't even know where to begin on detailing how amazing The Ebell was for our wedding! Basically just stop looking at other venues and go with The Ebell! This venue is absolutely gorgeous and with many different spaces you can utilize, you truly have the ability and flexibility to really make your wedding exactly what you want.

Some things that also really drew me to The Ebell were knowing we would be the only wedding of the day and that we could personalize just about every aspect of our special day. During our tour, I don't think there was a single thing Jenny showed us or talked about without saying "if you don't like it this way, we can change any part of this" and this also went for the food menus and I LOVED that! We toured other venues that had multiple weddings each day or framed it as 'pick your wedding out of our book' which was not appealing to us.

Jenny, Krissy, and team are so wonderful to work with and made the process so incredibly easy for us. This was a destination wedding for us and I never once had to worry about making sure everything was on track; they had it handled. They were also very flexible with the tours and food tastings to work around our schedule which was amazing!

The Ebell truly did give us the wedding we wanted and we couldn't have asked for anything else! From the gorgeous lounge to the amazing courtyard to the absolutely stunning dining room, we wouldn't have changed a single thing! And did I mention, the food is incredible! Our guests all said this was the best food they have ever had at a wedding and I couldn't agree more!

Our guests continue to tell us this was the most beautiful and fun wedding they have been to and I know a big part of that is because of the stunning venue and service from everyone at The Ebell! Not only did they make my husband and I feel so special on our wedding day and during the entire but they also made our guests feel special. I would 100% recommend this venue for everyone's wedding!!

+ 7

photos

The Ebell of Los Angeles's reply:

Thank you for this, Allison. We really appreciate the wonderful feedback and are so happy to hear you had an amazing wedding here with us! It was a beautiful wedding and your photos turned out gorgeous! We wish you and Ken a lifetime of happiness!!

Alyssa

Married on 08/19/2017

There is not enough time in a day for us to describe how amazing the Ebell was for our wedding! The venue is absolutely stunning, with multiple indoor and outdoor spaces that allow you to create an awesome event flow with ample room and variety for your guests. From the big staircase, to the garden, to the gorgeous doors, ceilings, and arches throughout, the Ebell was the perfect backdrop for our wedding.

Even more impressive than the space itself was the INCREDIBLE team we worked with. Jenny and Krissy are phenomenal and we actively miss them now that the wedding is over. They were incredible partners to us throughout the planning process, and we felt like they were as excited about the wedding as we were. From helping facilitate our special requests to adding their own awesome ideas into the mix, they brought to life our dream for a glamorous, rock and roll, gold sequin filled lovefest.

The food was delicious (our guests are still raving about it) and we could not have been happier with the menu Chef pulled together for us. The Banquet Manager we worked with (Duane) and his team delivered FLAWLESS service throughout the night.

Overall, we could not have been happier and our wedding surpassed even our wildest dreams! Much the love and gratitude for the Ebell team.

The Ebell of Los Angeles's reply:

Hi Alyssa,

Thank you so much for your review! It was such an honor to be a part of your and Lauren's big day! It was an absolutely stunning wedding and one that we talk about all the time. The Prince moment in The Garden was the coolest thing ever! You two are such a wonderful couple and we wish you a lifetime of joy and happiness! Please come visit us and keep in touch!! Big cheers to you!

Melissa

Married on 05/13/2017

Had an absolutely gorgeous wedding here. Jenny was fantastic to work with, always on top of things and really making us feel like we were special. She worked well with all of our vendors and made accommodations where she could, which resulted in a STUNNING wedding. I'm so happy we found the Ebell, there was more than enough space for our wedding of a little over 200 ppl. That brings me to the space: all of the vintage details, the unique vintage chairs, the beautiful bridal suite, the staircase, the fact that there's a grandfather clock in every room makes this place truly unique. The two things I wanted to make sure I found in a wedding venue were 1) that it didn't feel like a wedding factory 2) that we didn't feel rushed or kicked out. I went to so many venues where there were 5 weddings a day and they rushed people out. At the Ebell, there's only one event per day so it felt like it was truly ours. It was also such a unique, elegant space which matched perfectly with what we wanted. Thank you Ebell and team for being a part of our big day!

The Ebell of Los Angeles's reply:

Hi Melissa- Thank you so much for the kind words. It was such an honor to be a part of your gorgeous wedding that was so full of love. Your wedding was utterly breathtaking and one we will never forget here! We wish you and Nate a life full of happiness, love and lots of fun! Please don't be strangers- come say hi anytime!!
Are you interested?
Send a message