27 Reviews
Recommended by 100% of couples
Quality of service

5 out of 5 rating

Average response time

5 out of 5 rating

Professionalism

5 out of 5 rating

Value

5 out of 5 rating

Flexibility

5 out of 5 rating
Awards
4 User photos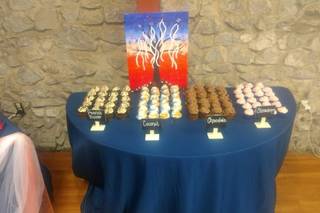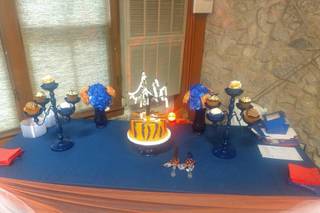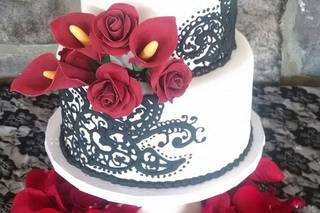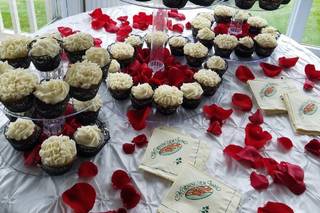 Jan H.

Married on 10/13/2021

Amazing cake!

I ordered the peanut butter chocolate cake and I cannot begin to tell you how amazing it was! We did substitute the peanut butter icing for chocolate buttercream, and this cake is phenomenal! It's so moist, decadent, elegant and delicious just doesn't seem impressive enough for how wonderful this cake looked and tasted! The icing was so rich, creamy and not too sweet, and the cake was so flavorful and chocolatey! I wasn't sure about the cost at first, it seemed high, but let me tell you it was well worth it and it's such a rich cake, the pieces don't need to be very big to satisfy. I will definitely be ordering from this store again!

Herb

Married on 02/07/2019

Wife LOVED the birthday cake!

Pauline and her TEAM do a fantastic job of bringing your ideas to life. I sent in a picture for a cake for my wife's birthday cake and needless to say -- my wife LOVED it! Well-done. Give them a try. You won't be disappointed.

Ashley

Married on 06/09/2018

How do I even begin to share how amazing Pauline was! From our first encounter she was nothing less than personable and professional! The tasting was fantastic, and you could tell how much pride she took in her work, her design for my cake was exactly what I wanted! She even specially made flowers that matched my bouquet to a tee! We ordered a 2 tier, and three specialty cakes and all were amazing! Thanks so much Pauline for making my day extra sweet!!

The Dessert Fork, LLC's reply:

Thank you so much Ashley. It was a pleasure to work with you. I wish you and Jabari many happy years in your marriage.

Are you interested?

Send a message

Angela

Married on 05/05/2018

Wow! These cupcakes were AMAZING! We even bought boxes for guests to take cupcakes home but there were NONE leftover. Pauline was very accommodating as we live in Ohio but were married in Huntsville, Alabama. She met my fiancé while he was in Alabama, visiting family, and provided cake samples for him to bring back to Ohio for me to try. We had difficulty deciding on a flavors. The cake was moist and the frosting was perfect. Pauline even adapted her cupcakes to match our Auburn wedding theme. Cannot even come up with words to describe our Auburn Tree cake. Thank you!

The Dessert Fork, LLC's reply:

Thank you Angela. I enjoyed working with you and had loads of fun with your wedding theme. I am so glad that your guests enjoyed the cupcakes. Wishing you and Bradley many years of wedded bliss.

Joy

Married on 04/20/2018

Pauline was a gem. She was professional and made our Yoda cake, BB8 cupcakes and Death Star cake pops not only look out of this world but taste amazing as well. There was fondant used for some things and every guest said that it's the best they'd ever had fondant taste. Pauline was even nice enough to attend the ceremony and party with us for a bit.
We will definitely be booking her for birthday parties, anniversary parties and any other reason I find an excuse to have her make some of her masterpieces! (Photos to come)


The Dessert Fork, LLC's reply:

Thank you Joy and Paul. I loved your Star Wars themed wedding. I am glad to have witnessed your union.

Andrea

Married on 03/31/2018

Working with Pauline was great. I have her some ideas of how I envisioned my cupcakes and top tier cake to be and she exceeded my expectations. I had so many compliments from my guest on the cupcake flavors. They were some of the best I have ever had. You definitely can't go wrong with the Desert Fork!

The Dessert Fork, LLC's reply:

Thank you Andrea! I am so glad that you and your guests enjoyed everything. Wishing you all the best!

Judith

Married on 09/16/2017

My husband and I had a sweetheart cake and cupcakes made for our wedding and were absolutely thrilled with the outcome! Pauline is a true artist and brought our vision to life in ways we couldn't have imagined. She was professional and saw to every detail to create a gorgeous cake display for our special day. The cakes went perfectly with our wedding theme and we received so many comments on how beautifully everything turned out. Highly recommend the Dessert Fork!

The Dessert Fork, LLC's reply:

Thank you Judith for the wonderful review. It truly was my pleasure.

Andrew

Married on 07/08/2017

Pauline helped make our wedding a most wonderful day. She went above and beyond in working with us to provide not only the delicious cake we wanted, but also a beautiful fresh fruit display. She oversaw the refreshment service for our guests and even packed takeaway boxes for our honeymoon. Prompt, professional, with meticulous attention to details. Thank you so much for everything! Andrew and Emma Jean Morton

The Dessert Fork, LLC's reply:

Thank you Andrew and Emma. It was such a joy to be a part of your special day "after all these years". May you and Emma have many blessings on your marriage.

Diane

Married on 05/20/2017

Pauline is very well organized, very professional, takes her business seriously, offers recommendations when asked, was prepared. Delivered the cake on schedule. It was delicious and beautiful. I would do business again with her in a heartbeat.

The Dessert Fork, LLC's reply:

Thank you Diane. It was a pleasure to work with you for Rebecca's wedding.

Keyeara

Married on 05/11/2017

Pauline did a BEAUTIFUL job on the wedding cake ! She perfectly replicated the photo example of the cake that I selected for my wedding cake.Her cakes are so delicious that it was difficult choosing which flavors to use!

The Dessert Fork, LLC's reply:

Thank you Keyeara. I am so glad that you enjoyed your wedding cake!

Hilary

Married on 04/22/2017

I would recommend Pauline at the Dessert Fork for anyone looking for a beautiful, delicious wedding cake who doesn't want to pay exorbitant prices. I am very picky about cakes, and I was so impressed with the taste. Everyone raved about how tasty it was, which is rare for wedding cake! If you are like me and don't like thick, heavy cakes, I would highly recommend her Swiss buttercream icing! We really enjoyed going to her beautiful home for the cake tasting, and she was so sweet during the whole process and quickly answered any questions I had.

The Dessert Fork, LLC's reply:

Thank you Hilary. I am so glad I got to be a part of your wedding day. I really enjoyed working with you. Best wishes to you and Re!

Linda

Married on 03/18/2017

This was a great experience. Everything was completed as I asked, the cake was beautiful and tasted so good. I would recommend to anyone. Thanks for making our 50th anniversary a great.

The Dessert Fork, LLC's reply:

Thank you Linda. It was my pleasure!

Alex

Married on 10/29/2016

Pleasure to work with! She was friendly, very responsive, and the cake tasted wonderful- especially the cake pops! :)

The Dessert Fork, LLC's reply:

Thanks Alex! It was a pleasure working with you as well. Congratulations!

Dajanae

Married on 08/05/2016

Pauline was very professional very time my husband and I spoke with her! The business is out of her home, but that adds to the experience. She was very flexible when we wanted to add some cakes to the tasting appointment and she worked with our wedding budget. The cake was the only thing that I did not have to worry about for our wedding. Everything they we tasted was outstanding! Some flavors I do not normally enjoy but Pauline makes the best cakes I have ever had! The payment methods were convenient, so there were not any problems with completing our bussiness together for this event. Also, the cake was delivered with the full set-up on time. I highly recommend Pauline's services!

The Dessert Fork, LLC's reply:

Wow Dajanae I am so honored. Thank you so much for your wonderful review. It truly was my pleasure to serve in this way on you and Ephraim's special day.

Angela

Married on 07/18/2016

Pauline was able to provide a delicious, beautifully decorated cake for our 24th wedding anniversary celebration pretty much a week before the event. The original vendor was on vacation from July 5th to July 11th and did not follow-up with me regarding agreements that were already in place prior to being closed. So this left me in the lurch at the last minute. I contacted Pauline who promptly followed up with me within 15 minutes, took my order and provided an invoice within the same day. Needless to say, it was the best cake I have had in a long time. I will use them again in the near future. Thanks for making our event special. All my guest enjoyed the cake. We did not take any cake home.

Erin

Married on 07/16/2016

Absolutely loved working with Pauline and the Dessert Fork. I presented my idea and she made it come to life!

Katie

Married on 07/09/2016

Couldn't have asked for a better wedding cake experience

Randy

Event on: 06/04/2016

the icing was really good.the cake overall was professionally done.i would recommend to a friend!

Barbara

Married on 05/07/2016

Pauline went above and beyond to make sure our wedding cake/cupcakes were perfect. The wedding was outside and the wind was blowing so she stood there and held the stand to make sure it didn't fall. Thanks so much Pauline!

Christina

Married on 04/23/2016

The most amazing cake maker I've ever seen! Publix was suppose to do my cake and last minute doubled the price and couldn't actually do what I wanted. So frantically I searched and found The Dessert Fork. She was amazing and I couldn't ask for a better cake! I can't wait to do business with her again!

Not only good tasting but extremely well done decoration. Guests were awed and provided great feedback.

Nancy

Married on 11/21/2015

Pauline is amazing. I have tasted several of her cakes and they are always very good. She even made a gluten free cake once that tasted so good you would not know it was gluten free. Her decorative skills are amazing as well. I have never been disappointed with anything from The Dessert Fork! She comes highly recommended!

Tiffany

Event on: 10/23/2015

The cake was delicious and the recipient loved it.

I ordered a German Chocolate cake, and it was amazing. I do not particularly care for German Chocolate cake, but it is my husband's favorite and it was his birthday. However, even I had 2 pieces. My husband said it was one of the best cakes he's ever had and nothing was left except a few crumbs after our event. Even our guests like myself who do not like German Chocolate cake took a piece after hearing how everyone was enjoying their dessert. The cake was beautiful and made a great presentation and the price was just right. I will definitely be returning for all of my dessert needs in the future!

Cyndi

Event on: 10/12/2015

The coconut cake was delicious! My niece was thrilled with the homemade birthday cake!! It was her 18th birthday and they had just arrived here from OK for a weeks visit.
Are you interested?
Send a message