Reviews
4.9 out of 5 rating
Quality of service

4.9 out of 5 rating

Average response time

4.9 out of 5 rating

Professionalism

4.9 out of 5 rating

Value

4.9 out of 5 rating

Flexibility

4.9 out of 5 rating
98%
Recommended by couples
264 User photos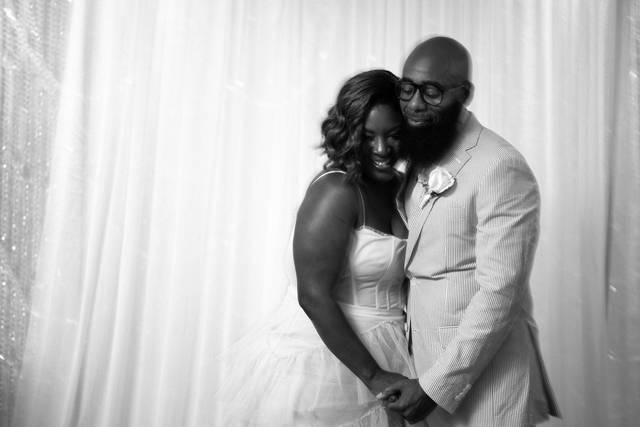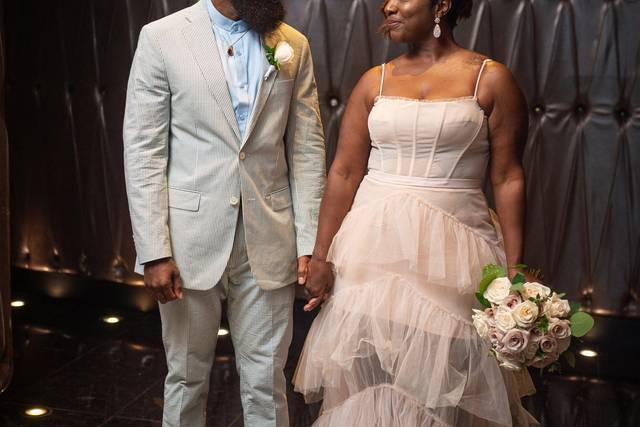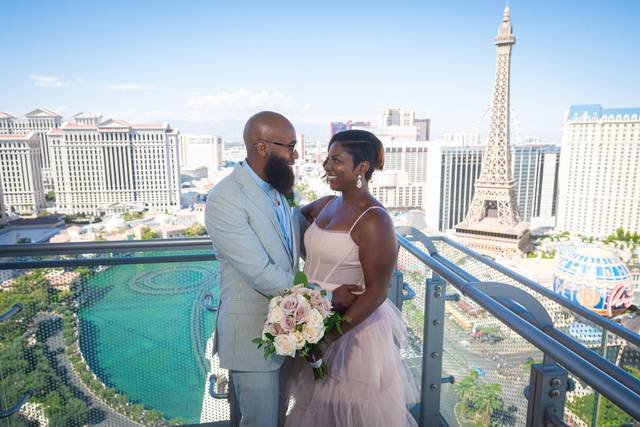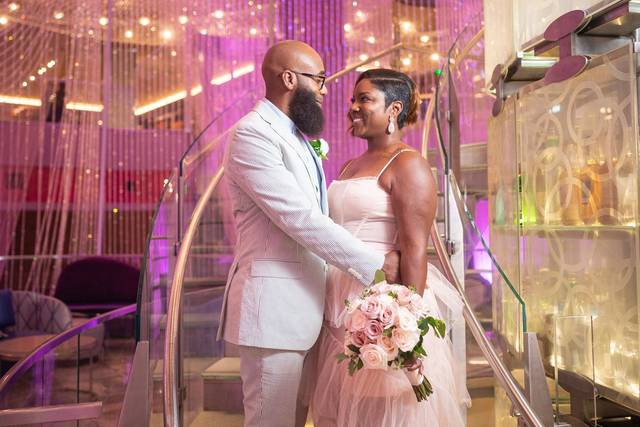 + 260

photos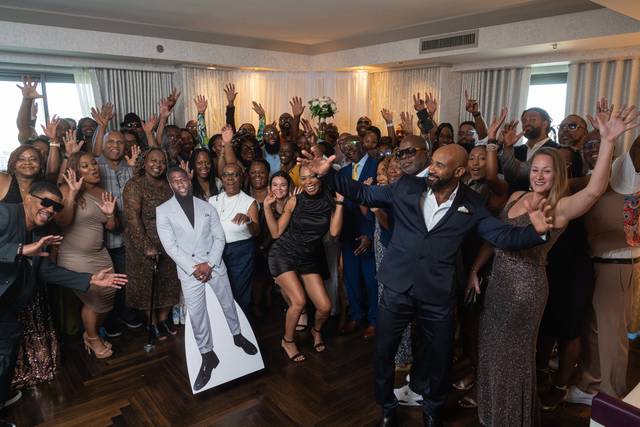 Featured

Clayton S.

Married on 09/10/2022

Unconventional Dream Wedding

If you are looking for an incredibly fun and unique wedding experience I recommend having your wedding at The Cosmopolitan. We are a gay couple from Toronto, Canada and we got married in the Wedding Suite on September 10th 2022 on our tenth anniversary. We had a beautiful ceremony with Breon who spoke so well, and an open bar with buffet reception that was delicious. We had our photos taken around the hotel with Brandon and our wedding coordinator Christie, I wanted a variety of looks and they were very accommodating. The photos turned out stunning! We all met for dinner downstairs after at Scarpetta in the Vino private dining room, which was conveniently in the Boulevard tower so just an elevator ride away. Our 36 guests were absolutely stuffed, and everyone raved it was the best wedding they had ever been to. Planning my wedding was straight forward and they always got back to me to answer all of my questions. Christie was so helpful and encouraging, she made sure everything went according to plan. The Cosmopolitan made us feel like kings for our week long stay at the hotel. We stayed in a wraparound terrace suite with fountain views and it was very glamorous, so cool to watch the fountains and Vegas skyline all day and night. We wanted a memorable wedding that would dazzle our guests and I wouldn't have had it any other way. We can't wait to return for our anniversaries!

Kim K.

Married on 09/16/2023

Everything we wanted and more!

Our day was perfect. The team at the Cosmo handled absolutely everything and went above and beyond to exceed expectations. As a Type A personality, I was a little nervous at first ot just give general ideas of what I wanted, but wow wow wow did they execute them and more so flawlessly. We had our ceremony and reception at the boulevard pool and we were astounded at how the space was transformed. Our guests were blown away, and the staff day of were all so insanely kind and I did not have to worry about a thing. Tamar and her team were so responsive and sweet and I will shout to the ends of the Earth and back about how much I recommend hosting your wedding here!

Dametra J.

Married on 09/09/2023

Tamar Mouradian at The Cosmopolitan Las Vegas was wondering

We want to thank you so much for our amazing wedding and your support. All my guest said everything was beautiful. Tamar was wonderful 🥰
From the day we arrived, and did the rehearsal. Everything was better than I expected. From the day we arrived, and did the rehearsal. Everything was better than I expected. You allowed us to make changes at the last minute. And on the day of the wedding you gave all of us time through all the chaos and nervousness. The options for the minister in the photography work great. Our pictures turned out beautiful. The suite upgrade was immaculate.! All the extra amenities like the transportation to and from the airport and to get the marriage license really added to making the whole weekend more organized and comfortable I would definitely highly recommend having a wedding at the cosmopolitan in Las Vegas.! ❤️

+ 2

photos

Are you interested?

Send a message

Renee

Married on 07/26/2023

Tamar Mouradian

Tamar was excellent to work with. We had the best time and everything went as planned. The little extras she provided were so special. We couldn't have asked for a more fun, beautiful and easy planning wedding.

Andrew

Married on 06/06/2023

Photo Tour Package

Excellent communication with Cosmopolitan and the photographer throughout the entire process. Photography session began on time and we had a great experience with the photographer and the representative from Cosmopolitan. Pictures turned out fantastic, would definitely recommend to anyone else looking to do the same.

Riley S.

Married on 05/28/2023

Tamar really helped plan the perfect wedding!

The wedding was great, Tamar was perfect with planning details. Even if we were late to respond on something, she always got back to us quickly and was great overall. She was very good at taking ideas and making them better than we could've expected. The wedding was exactly what we wanted. The ceremony was beautiful, and all the photography spots recommended were great. I highly recommend the cosmopolitan elopement suite or just a wedding at the cosmopolitan in general, and get Tamar as your wedding manager if you can!

Carolyn C.

Married on 05/24/2023

Everything and MORE

The whole wedding team was amazing!

+ 6

photos

Tess M.

Married on 05/20/2023

Amazing & Unique!

We absolutely loved our wedding day, ceremony and reception at the North Boulevard Pool. Christie and her team were a dream to work with - the planning process was smooth as well as the wedding day itself! I couldn't ask for a better dream team! The space was amazing, with incredible views (literally at every angle), food and drinks. I can't rave about the atmosphere enough! If you're looking for that unique, never-been-done-before, wedding day, the Cosmopolitan is your place!

+ 2

photos

Sandi F.

Married on 05/17/2023

Cosmopolitan of Las Vegas Wedding Suite

Everything about our big day was perfect!!!
Our wedding manager, Christie, was absolutely amazing and made everything so easy!
The space was beautiful (Cosmopolitan Wessing Suite) and just the right size for the number of guests. And you can never beat the views of the Billagio Fountain and Strip!


Lauren Z.

Married on 05/03/2023

Worth their weight in GOLD!

Our wedding was the absolute day of our dreams. Let me start by saying that I am the most Type-A person imaginable, which made planning a destination wedding feel even more overwhelming. From the start, we knew we had hit the jackpot working with Christie - she went to bat for us at the hotel, vying for several dates we wanted (since our venue, The Chelsea, is also a concert space), had an impeccable response time for emails and questions, and truly went above and beyond to help make the planning process not only easy, but enjoyable. Later in the process, we were able to take a site visit and met Tamar who is equally as fabulous and helpful. The Cosmopolitan Wedding Team was in constant communication with our other vendors to ensure everyone was on the same page both before the wedding and on the wedding itself. On the day of the wedding, both Christie and Tamar worked tirelessly to make sure our day went off without a hitch - we truly couldn't have asked for a better team. Christie had printed off an entire binder-worth of my notes and timelines, working behind the scenes to make sure everything was just as we had envisioned..which of course it was! My now-husband and I are truly sad that we won't be in regular communication with Christie going forward, she had THAT much of a positive impact. Christie and Tamar are worth their weight in gold and we absolutely wouldn't change a thing about our venue or wedding team if given the chance. Thank you for the best day of our lives!

-Mr. & Mrs. Jordan

+ 2

photos

Beth A.

Married on 04/22/2023

Great experience

We were going to get married at a cheesy Vegas chapel and we are so glad we didn't. Tamar and the team at the Cosmopolitan made our wedding an awesome, carefree experience! We would highly recommend the Cosmopolitan!

Jenny S.

Married on 04/15/2023

Look no further for your wedding venue!

We absolutely loved the Barbershop venue the MOMENT we stepped in. We booked 1 year in advance and the wedding team was very responsive to emails and phone calls, detailed the process and what to expect perfectly, and,as the day approached, went above and beyond to ensure things went off without a hitch- which everything did!

The venue was gorgeous, food was amazing, and all of our guest RAVED about our event- that was exactly what we wanted: an unforgettable experience like nothing anyone had seen before!

Faron L.

Married on 04/15/2023

Beyond Imagination

The entire experience from touring the venues, to planning, and then our wedding stay were all extraordinarily amazing. The team at the Cosmopolitan was great to work with and had everything arranged, ready, and flawless. Our room was superb, the photographers were creative and really impressive. The officiant was unbelievable and delivered a ceremony that hit all of the high points and was truly memorable.

Beyond this, the reception following was executed extremely well and left all of our guests wanting more time in the space. The food and drinks were all tremendous too. We can't say enough great things about our day and the people we met who supported all of it.

Bianca G.

Married on 03/18/2023

March Wedding

Where to even start!! Our wedding at The Cosmopolitan was nothing short of Spectacular!! Christie Copeland and her entire team took such great care of us. She took note of every single detail and vision I had in mind from the cake to the floral. We received an incredible complementary room upgrade to the wrap around terrace suite that made our stay so much more enjoyable and luxurious. Emily Blackwell, the Catering Manager, knocked it out of the park with our food & beverage package. Our guests loved our top shelf open bar and received so many compliments on how incredible the food was. I wish I could relive our wedding weekend all over again! 5 stars all the way around. THANK YOU THANK YOU!

Michelle A.

Married on 03/04/2023

Big Vegas vibes without the kitsch!

We chose the "intimate wedding suite ceremony" & it was exactly what we wanted! An untraditional venue with a fabulous view & modern Vegas glam!

Our first coordinator wasn't particularly helpful- she ended up changing positions and our new coordinator, Tamar, was AWESOME to work with. We had two photographers to choose from and we went withBrandon of Gin & Sake.

My husbands close friend went through the process with the state of Nevada to legally marry us and that was incredibly special! The officiant included in our package still attended to ensure our license was properly filled out and file the paperwork for us the following day.

The biggest values of our wedding package were the transportation (to and from airport and to marriage license office in unmarked Teslas- no cheesy limos), the room upgrade (booked a 600sf one bedroom terrace suite, upgraded to a 1200sf wraparound suite with fountain view and a 400sf terrace), the "photography tour" (basically, the only way to make sure you can take photos on the Cosmopolitan property without getting kicked out by security- Tamar & Brandon escorted us all over the resort for a to. Of incredible shots!), & all the points you earn (our weekend got us to at platinum status so we'll get free nights, free companion nights, waived resort fees, airport transportation, etc for a year).

+ 2

photos

Michael J.

Married on 03/01/2023

Professional Wedding Team

Excellent experience with short notice. We pulled off a surprise wedding! Great experience. The wedding team took the pressure off of us. We could not ask for more! #elopement

Carina

Married on 02/28/2023

Everything We Hoped For and More

Booking our intimate wedding at The Cosmopolitan of Las Vegas was the best decision we could have ever made! We had a small wedding with 8 guests with a stunning Bellagio fountain view wrap around balcony suite as our venue. The Wedding Team at The Cosmopolitan of Las Vegas was hands down the BEST team we could have ever asked for. From their quick email responses and attention to detail, we always felt supported and truly felt special throughout the planning process and especially on our wedding day. Within our wedding package, transportation to/from the airport was included as well as to/from the Wedding License Bureau - this sounds like a small bonus but was truly incredible not having to worry about getting around in Las Vegas. From our in-suite rehearsal the day prior to saying our vows overlooking Las Vegas - Christie from the wedding team was so helpful in guiding the flow of our ceremony and answered any questions or special requests. Just prior to our ceremony both the groom and the bride meet with the Minister and the photographer which helped ease any nerves and allowed us to make connections prior to our ceremony. I can't say thank you enough to Christie from the Cosmopolitan of Las Vegas for bringing our special day together so perfectly!

Misha M.

Married on 02/25/2023

Amazing support for the best party of my life

My now husband (!!!) and I live across the country but wanted a Vegas wedding so we scouted out a few places in 2022 and started planning last summer for our 2/25/2023 event.
We had our ceremony with Elvis at the Wedding Suite and then reception at Point Loma. Elvis kept everybody in stitches and set the party mood right from the beginning.
It was an absolute dream come true, thanks to Christie and the wedding team's exceptional planning and attention to detail. The floral arrangements were gorgeous and exactly what I had envisioned.
Emily was with the Cosmo catering team and provided delicious food and a beautiful cake, everybody raved about the cream puffs.
We used Gin and Sake for our photographers and Brandon nailed the vibe we wanted to go for from our first look to candid shots of guests at the reception.
Overall, I can't recommend Christie, Emily, Brandon, and the team at the Cosmopolitan highly enough. If you're looking for a wedding planner who will go above and beyond to make your special day truly unforgettable, look no further than the Cosmo. Thank you, Christie, for making my wedding day so incredibly special 💜🎰💒

Emilia C.

Married on 02/23/2023

Truly unforgettable experience.

Our wedding at this venue was wonderful! Our team, directed by Tamar was really helpful and supportive. We had an intimate and romantic wedding and everything went smoothly. We had a lot of fun with Tamar and the photography team! Thank you Tamar and the cosmopolitan for making this special moment memorable. Best wishes,

Emilia and Andrew G.

Ken J.

Married on 02/20/2023

Christie is Amazing!!!!

The best experience we ever had. Everything that we envision turned into reality. The view is nothing short of perfection. We really got lucky and had Christie as our wedding planner/coordinator. She was flexible to our needs and communicated well. She responded to all our questions with professionalism and gusto. You can tell how passionate she is in her job. We felt welcomed and appreciated.

Stephanie P.

Married on 01/28/2023

The Babershop

I cannot at enough good comments about my wedding with the Cosmo/Babershop. Everything ran smoothly and I was never stressed - which is a lot for the bride to say. Every step of the way I was so impressed with the staff. My guests have so many compliments on the staff, the food, the atmosphere, and even the issue staff the hired (photographer, minister, etc).

Michael S.

Married on 01/28/2023

Amazing wedding at the Cosmopolitan Las Vegas

We arranged our wedding in January this year from the UK with Tamar who was fantastic throughout.

Stress free organisation and advice provided throughout, the affiliation , flowers , views and wedding suite were perfect !

Jacquelyn

Married on 01/21/2023

Like a dream

I could not have asked for a better wedding team and better hospitality than what I received from the Cosmo. We had our welcome dinner at beauty and Essex and did our reception at Chandalier lounge and ski lodge. What a perfect weekend. If you choose to get married in Vegas, stay at the Cosmo because it's the best!

Steph T.

Married on 12/31/2022

Absolutely dream wedding come true

From the elegant, glamorous rooftop wedding suite to the attention to detail and helpfulness demonstrated by Christie and the wedding team at Cosmo, to the luxury upgrades and transportation - made us feel like the most special brides in the world!

Felicia E.

Married on 12/10/2022

Customize my experience

We were so pleased with the customization of our total overall experience. It was exactly what we wanted. Tamar is jewel to work with!
Are you interested?
Send a message