The Colorado Springs Marriott Reviews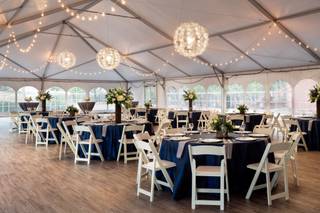 The Colorado Springs Marriott
Colorado Springs, CO
View more information
12 Reviews
Recommended by 97% of couples
Quality of service

Rating 4.9 out of 5

Average response time

Rating 4.8 out of 5

Professionalism

Rating 4.8 out of 5

Value

Rating 4.8 out of 5

Flexibility

Rating 4.9 out of 5
Alexa H.

Married on 09/27/2020

Great venue

Karin was absolutely amazing. She worked with us and helped us throw the wedding together in 3 weeks. She answered every question and gave us everything we wanted! The food is great too! Beautiful spots for pictures as well

The Colorado Springs Marriott's reply:

Alexa,
Thanks so much! It was so wonderful working with you. You through a beautiful fairytale wedding. Congrats to you.
Sincerely,
Karin Ayers

Nerisse F.

Married on 09/06/2020

Flexible, Guests were pleased

We used the Colorado Springs Marriott for our guests although we married at Spruce Mountain Ranch in Larkspur, Colorado. Initially, we coordinated with Connie then, COVID-19 made it challenging with a different person taking on the duties of about 5 staff members. Despite the COVID challenges, the available Colorado Springs Marriott staff members answered questions and sent me updates regarding guest room reservations when requested.
The management was flexible, especially on the onset of COVID-19—Connie's cooperation in making some adjustments with the original contract requirements helped us through wedding planning with guests who were uncertain about traveling. We were able to meet most of the requirements and no penalty. Additionally, our guests informed us that hotel staff was incredibly helpful and courteous. We were able to safely gather in the lobby with our guests for short periods of time and still maintain COVID restrictions. These are all reasons we plan to use this hotel for future out-of-town guests.


The Colorado Springs Marriott's reply:

Thank you so much for your nice review during these challenging times! I have shared with the team.
Thanks,
Karin

Alyssa

Married on 09/01/2019

Hotel Block

We didn't have our September 1, 2019 wedding at the Marriott, but we used it for our hotel block for guests. Us and the guests were all from out of town. The hotel rooms were nice, the view is beautiful, the location is convenient, and the prices were great. My husband and I each used a suite to get ready before the wedding ,and there was plenty of room for 3 hair and make up artists, the bridesmaids, and our mothers. The hotel staff was friendly and made sure our guests checking in got gift bags we made. They also offered a free shuttle to our wedding for guests to our wedding. They also sent the shuttle to our wedding location so my husband and I could take photos at the Garden of the Gods Park and then it took us back to our reception (which was at a different resort). We would definitely recommend the Marriott.

Stephanie

Married on 03/24/2018

The Colorado Springs Marriott was the best choice for our reception. Melissa was our coordinator and she was an absolute dream. She was extremely responsive and helped with any questions we had along the way. We had to change the wedding date and she handled that with ease as well. They were flexible to accomodate and make our day more personal and customized. The food was delicious and everything ran smoothly. We didn't have to worry about a thing the day of our event. They have a great range of prices to fit any budget and still have a stellar reception. Overall, very caring, detail oriented, organized, and fun to work with.

Zaira

Married on 12/25/2016

Having our wedding here has been one of the best decisions we've EVER made - the fact that we decided to get married on CHRISTMAS DAY didn't even make Melissa flinch. My husband and I are both from San Antonio, TX so the 900+ miles were frightening enough - and now I had to plan my wedding without physically seeing anything, and all while still trying to celebrate Christmas with our family. I was as excited as I was a nervous wreck. Then came Melissa and her team to the rescue! From day one to the morning after the wedding, she was an absolute angel - she worked with us on every detail, every request, and every single thing that could pop into my head while I was getting everything in order. There wasn't a single thing that I envisioned, that did not happen! Our wedding cake and my husband's cake had to be stored in the kitchen because it was to be delivered one day before the wedding, and they took such good care of both of them: they explained to us who would be handling it the next day - who would be cutting it, and all the details that made it a breeze to turn around and go about my day, because in all honesty, I knew they had it handled! It was such a relief knowing I had one less thing to worry about. During our stay we also had the pleasure of dealing with Brad, who was heaven sent! He never once hesitated to ask what we needed, and he was absolutely magnificent and always checking on us! Melissa arranged so that we had plenty of time to get BOTH the ceremony and the reception rooms decorated, and still have time to spend with our entire family for Christmas! When I say family, I mean our E N T I R E family - they were sweet enough to accommodate all 60+ guest that were staying at the hotel for Christmas Day breakfast before the wedding that evening. That was no easy task - but they handled it, and they did it so graciously - we're even planning our anniversary stay. They made our PERFECT DREAM DESTINATION WEDDING A REALITY! Everything was absolutely perfect!

Jamie

Married on 12/16/2016

The Marriott is absolutely stunning. The posted pictures do not give it justice. We had our ceremony in the Pavilion (tent outside of the hotel) which was very beautiful and the lighting was great. Our reception was inside in the Ballroom which was beautiful as well. You might want to hire a decorating company which we did and it added an elegant touch to our wedding. Melissa (our wedding coordinator) was easy to work with and prompt with whatever questions we had. She also was willing to work with my parents in getting traditional Korean things added to our special day. The service overall was awesome. Thanks Marriott for making our wedding extraordinary!

The Colorado Springs Marriott's reply:

You were wonderful to work with as well. The extra décor you added definitely gave a beautiful extra touch. I also loved that you added in your Korean traditions.

Hazel D.

Married on 06/26/2015

Karin was extremely helpful from the start. She was very attentive and truly cared about giving us the most amazing experience. She was extremely knowledgeable and even suggested various vendors that she trusted. Karin catered to our every need with a beautiful smile on her face. She helped make our wedding day go smoothly and it wouldn't have been the same without her and the staff at the Marriott. Thank you Karin for everything you did!

Yo'lauder

Married on 08/17/2013

I had an excellent experience planning my Wedding from the first sales meeting with the Catering Manager to the one moment my Groom and I walked down the aisle. Our Wedding ceremony, reception and overall stay at the Marriott was made more memorable by the Hotel staff. The staff was so attentive to our needs along with our guests during the stay and on into the ceremony and reception day. I would definitely stay and or plan another event at this hotel in the future. I planned all from long distance and all worked out with no problems since good response via phone and email. Thanks so much.

William

Married on 05/20/2017

Our coordinator Melissa was very responsive throughout all of our inquiries and flexible with our requests for our ceremony and reception. The staff at the Colorado Springs Marriott, overall, were fantastic and helped greatly to make the wedding day go as smoothly as possible.

The Colorado Springs Marriott's reply:

Thank you so much! I really enjoyed helping plan your wedding and it was beautiful!

Nancy

Married on 05/14/2011

My guests enjoyed the quality and value of the venue, and the wedding planner was great to work with.

Kristen

Married on 12/28/2011

Lori did a great job working with our crunched time frame! we had a very small reception and she did a great job helping us get everything done in time and introducing us to other vendors that she had worked with!

Brittney

Married on 01/05/2008

My reception was perfect. The ball room setup and decor was exactly what I wanted, they were very open to all my ideas. The only issue was that our planner left about 4 months before the wedding and we were given a new planner. It all turned out ok and all of our paperwork had been filed, it was just hard explaining it all again. Overall, it was a great place.