61 Reviews
Recommended by 99% of couples
Quality of service

5 out of 5 rating

Average response time

4.9 out of 5 rating

Professionalism

4.9 out of 5 rating

Value

5 out of 5 rating

Flexibility

5 out of 5 rating
19 User photos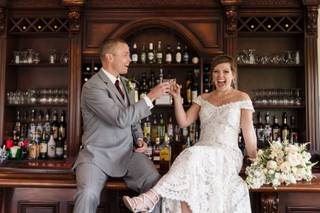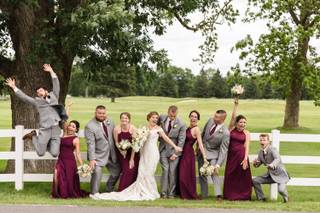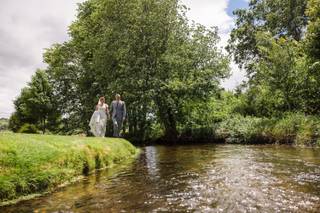 + 15

photos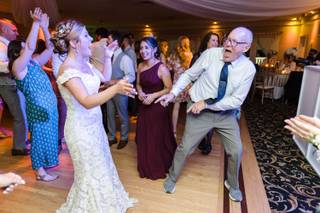 Featured

Katie M.

Married on 06/18/2022

Beautiful and Tasty!

Bob, Meg and John are a great team. They accommodated multiple date changes through the pandemic and freely honored everything from the original contract. They are super responsive to any questions and so calming and kind.
The venue itself is lovely. The outside area is beautifully landscaped, hosts a meandering stream and is located in a charming area. The building itself has a lower level for the cocktail hour and an upper dining room with a balcony overlooking the grounds. The upper bar is beautiful and leads to a front patio/porch that has fire pits surrounded by outdoor sofas. Guests had lots of places to be and still be a part of the action. I was concerned about the levels and stairs but they have ramps hidden in service areas to accommodate guests' needs.
Bob and the all the service staff cheerfully anticipated our needs and those of our guests. He felt like family. And even joined us for a dance! LOVE HIM!
April Martorano- MOB

+ 2

photos

The Chandelier at Flanders Valley Weddings's reply:

April, thank you so much for the amazing review! Your kind words mean so much! You and your family were awesome and made it easy for us. And thanks for sharing the pictures! Katie and Jack are a beautiful couple! Much happiness to all!

Kerynn

Married on 10/16/2022

Our wedding was perfect!

Bob was the best to work with and entertained all of my silly questions. He made sure our day went off without a hitch!

Leeza G.

Married on 09/18/2021

Awesome venue!

Chandelier at Flanders Valley: This place is amazing! John, Bob and Meg will treat you like you're family and the whole staff does a fantastic job. It's an affordable venue but they do so much for you! A Palermo's cake is included (yum!), and they have other add ons and different packages at different price ranges. We did a regular sit down dinner with open bar all night and we did an ice cream dessert add on. The grounds are so pretty -we got to do a ceremony outside in the gazebo. The food and service was fantastic. We had an amazing time, and so did our friends and family. Check these guys out for sure!

The Chandelier at Flanders Valley Weddings's reply:

Leeza! Wow. Thank you so much for your kind words. It was truly our pleasure! You and your families were awesome!

Are you interested?

Send a message

Nicole M.

Married on 06/20/2020

I love this venue

I love this vendor. Bob, Meg, and John are all amazing and make the planning experience so easy and stress free. I can't wait for my special day.

The Chandelier at Flanders Valley Weddings's reply:

Wow Nicole! We really appreciate your kind words! Thank you so much! It is truly pleasure and we look forward to your special day too! :-)

Kate M.

Married on 05/16/2020

Excellent!

We were just blown away how flexible and attentive the Chandelier is and it was no question on why we booked them for our wedding. Bob, Meg and John are so personable and just willing to work with you to plan your day.

The Chandelier at Flanders Valley Weddings's reply:

Kate & Mike,

Thank you very much for the positive review. We look forward to working with you in the future. Our goal here is to make your "special day" memorable to you, your families and guests. If you do have any questions please reach out to us as were are here 7 days a week. Bob & Meg

Meg

Married on 09/07/2019

Amazing venue!

The Chandelier at Flanders Valley was absolutely amazing! The staff, the service and the food were top notch! Our guests are still talking about the abundance of food choices they had! The ceremony was outside at the gazebo. The grounds were beautifully landscaped. It was the perfect day at the perfect venue!

Kayla

Married on 06/29/2019

Outstanding services!

The whole team at The Chandelier was phenomenal. They responded to every question we had thoroughly and quickly! Come the day of our wedding, when our officiant didnt show up, Bob was able to step in and officiant our wedding according to plan! I absolutely loved it here and I know you will too!

Jenny

Married on 10/20/2018

Gorgeous and Wonderful Wedding Venue!

The Chandelier at Flanders Valley is the most perfect venue. The moment we arrived for our first tour, we were wowed by how beautiful it was, both inside and out. The inside is a traditional ballroom with a gorgeous chandelier over the dance floor and a balcony overlooking the grounds. The outside is a picturesque, garden-like setting with a beautiful gazebo and a little river running past some gorgeous trees. Across the street is a beautiful golf course, which isn't technically part of the venue, but for a small fee, the golf course will let you use their grounds for photos. We were also really wowed by Bob, the wedding coordinator there. We had visited several other venues before, but Bob was the first one to ask how we met and how my now husband proposed. That little personal touch made a big difference. He made us feel like family rather than just a checkbook. He gave us all the information and answered all our questions, but he was never pushy the way some salespeople can be. Before we actually signed our contract, we were allowed to come back with our parents to do a full tasting. Every other venue we spoke to wouldn't let us have a tasting unless we had put down a deposit, so that was a really great feature. And the food was incredible. We've been to a lot of weddings over the years, and I can honestly say, The Chandelier at Flanders Valley has some of the best food we've ever eaten. Both before and after we signed, Bob was very quick to respond every time I had a question about anything. And when the actual day came, he made sure everything ran perfectly. A wedding can be stressful, but I didn't feel worried about anything because I knew all the staff at The Chandelier at Flanders Valley would take care of everything. The place was beautiful, the food was as great as it had been at the tasting, and all our guests raved about how great the whole wedding was. I can't say enough how much I loved The Chandelier at Flanders Valley, and I would recommend it to everyone!

The Chandelier at Flanders Valley Weddings's reply:

Wow Jenny!! Thank you so much for such an amazing and thoughtful review! It was truly our pleasure! We wish you and Mick the best of everything. And please come back and visit us sometime soon!
XO, theC@FV

Amand

Married on 10/18/2018

There is not a single bad thing I could say about the Chandelier at Flanders Valley. From the first time we stepped in the door, until our wedding this July we were treated like family, accommodated to the max, and extremely extremely impressed. Bob and Meg respond to emails quickly, were always willing to meet, and were the absolute best from our first meeting through our entire wedding. The grounds outside for the ceremony were beautiful, the cocktail room and reception hall are spacious, and the new bathrooms are clean and beautiful. Most importantly- THE FOOD. We booked after a tasting event we were invited to because the food was delicious! Fast forward to the day of, and our guests are still raving about the food! We wish we could relive this day over and over, mostly because we will miss working with Bob and Meg so much! I will recommend the Chandelier to ANY one we know that is looking to book an event. We love you Bob and Meg!!

The Chandelier at Flanders Valley Weddings's reply:

We love you too! Thank you so much! Truly our pleasure!!

Kim

Married on 09/15/2018

We could not be more happy with how our wedding went, and we owe a huge thank you to Bob and John at The Chandelier at Flanders Valley. All our guests could talk about was how wonderful the food was, how attentive John was throughout the night, and how beautiful the venue was. Bob was absolutely fantastic and extremely responsive through the whole process. It was the best day of our lives, and Bob, John, and the Chandelier staff were beyond amazing. We would highly recommend them!

The Chandelier at Flanders Valley Weddings's reply:

Kim! Thank you for your awesome review! We appreciate you taking the time to do so. Bob, John and our entire staff were so happy to hear you had the best day of your lives! It was truly our pleasure!
Please come back and visit us soon! XO

Alanna

Married on 08/12/2018

The Chandelier gave us the most beautiful experience on our wedding day, with staff that became family. Bob, our maitre'd and wedding coordinator, is so responsive and caring, and made sure my husband and I's questions and concerns were far well taken care of. The entire staff helped make the planning process much easier and made sure our day went flawless. If there even were any flaws, my husband and I had no idea! Our guests RAVED about how yummy the food was, and they all loved the gorgeous stream flowing in the backyard. The new landscaping was a great addition to this venue. Most venues nowadays are within busy towns and have major roadways nearby, but The Chandelier is in a quant, cozy location with soft, romantic vibes all around. We could not have made a better decision than choosing The Chandelier as the place to always reflect back upon when remembering the best day of our lives!

The Chandelier at Flanders Valley Weddings's reply:

Thank you so much for your kind words! It was truly our pleasure and we wish you all the best! Please come back and visit us soon!

Colleen

Married on 01/01/2018

I just got married about a week ago (01/06/18). My and husband and I are so happy that we had our wedding at the Chandelier. The owner was extremely nice and helpful and the manager Bob made our experience wonderful. When we first went to look at the Chandelier, I already thought we were going to book our wedding at a different venue and Bob's hospitality completely won us over. There is only one wedding a night which is great because it's all about you! You don't have to worry about not getting their full attention. The food was amazing. People from my wedding actually called the venue the next day to tell them how good the food was. Also my dad is very difficult when it comes to steak he always sends his food back and he told me that his steak was delicious. The food at cocktail hour was also a big hit all of our guests were blown away with how much food was there and how good it was. All of the parts of the wedding went so smoothly too there was never a moment that didn't flow. Since we had our wedding in January and there weren't any weddings booked the week before, Bob even let me come set up a week early which was amazing because I made a lot of my wedding decorations (centerpieces, etc.) When I went to set up Bob was very helpful and accommodating. I'm so happy that we had our wedding at the Chandelier and I would highly recommend it to anyone who is looking for a venue for their wedding.

+ 7

photos

Alyssa

Married on 10/22/2017

Bob and the team at Flanders made our day amazing! The staff was reliable and the day was perfect!

Danielle

Married on 10/07/2017

We had the BEST time of our lives and our best decision was picking The Chandelier @ Flanders Valley for our wedding venue! We completely fell in love with the country setting and beautiful outdoor grounds! We had our wedding photos taken at the golf course across the street, which costs $150 but so worth it. They shuttle you around in golf carts so the girls in heels don't have to walk. We had a 6pm ceremony outside by the gazebo in early October, and we had the perfect sunset- just gorgeous. The venue inside is absolutely gorgeous. We had about 125 guests and I felt that it was a perfect size, though it could easily fit more. The food was delicious and the guests raved about it. Bob, our matre de is a wonderful guy and went above and beyond to make sure all of our needs were catered for! We cannot thank him enough for all of his time and attention to detail. The price was right as well!

Joe

Married on 07/15/2017

We had our July wedding at The Chandelier...Our guests are still talking about it! The day was perfect. The venue is a hidden gem set in a quiet area. The staff was awesome. Very accommodating and willing to go one step beyond. Bob is a rock star. He was there through every step of the way and went non-stop the day of to make sure we had everything and anything we needed. Need a drink? Bob was there. Need some more in the Bridal Suite? Bob was there. I would recommend The Chandelier to everyone and anyone.

The Chandelier at Flanders Valley Weddings's reply:

Thank you! It was truly our pleasure! We wish you all the best!
Sincerely,
Bob and the Staff at The Chandelier at Flanders Valley

Ally

Married on 10/22/2016

We got married in October, and the day was perfect. We chose a Saturday day time event and had about 70 guests. Unfortunately, the weather didn't cooperate, so we had to have our fall wedding inside, but Bob and the rest of the staff was super accommodating. The groom and I did get to sneak out for some photos in front of the adorable pumpkin patch next door in the middle of the party when the rain stopped and those turned out great. We were also able to do our first look under the balcony ceiling in the back, and you can't even tell we're under a roof - it looks like we're standing on the beautiful grounds. So, we still got to take advantage of its outer beauty!

I must've emailed Bob a million times in the months leading up to our wedding with questions, and he always answered promptly. He was so great to work with.

All in all, it was an amazing experience and, with the affordable price, the delicious food (including the cake, which was fab!), I highly recommend it!!

Courtney

Married on 10/01/2016

Absolutely loved this venue!! The whole staff was wonderful. We were on a budget and Anthony was able to work with us to where we needed to be and still have all the wonderful food options. The Maître D was beyond helpful and due to the weather waited until the last minute available to set up outside because we wanted an outside wedding.

Kimberly

Married on 09/30/2016

We had our wedding there about 2 weeks ago and everything was fantastic! Bob was our Maître D and he was absolutely amazing!!! He was on point with everything. He always made sure that my husband and I were happy throughout the night. The venue is beautiful and the food was great! Our guests absolutely loved the mashed potato martini bar, some going back 5 times! The cocktail room is spacious so all of our guests had room to mingle and sit to eat their food. The sit down dinner was delicious, great portions too! The ballroom is gorgeous! The light from all the windows gives the room a great feel and the balcony space is great. They recently put a new bar in the ballroom which looks amazing! The grounds are stunning, we can't wait to see our photos from our photographer! Both Bob and Anthony were so amazing to work with. They were always there when we had a question and believe me we had a lot! They were so accommodating! My husband and I couldn't have dreamed of a better place to have our wedding! We would def. recommend this venue...truely a gem.

Courtney

Married on 09/16/2016

Bob and Anthony at Flanders Valley were amazing. From the start they were always available, and extremely accommodating. From the ceremony to cocktail hour to the reception to even the day after everything was perfect. The waitstaff was amazing as well :)

Ally

Married on 08/06/2016

Flanders Valley was the perfect location for our summer wedding. From day one, my husband and I were blown away by the level of service provided. Anthony and Bob catered to our every needs. I was immensely thankful to have Bob the night of our wedding - it was hot all day, and Bob worked TIRELESSLY to make our night absolutely perfect. Our guests were so impressed with the upgraded facilities and, more than a week later, can't stop talking about the food! Great venue, great price, exceptional service, fabulous party. Thanks for helping us kick off our marriage with a bang!

Mariah

Married on 05/07/2016

Perfect venue for our wedding. Bob and Anthony were FANTASTIC. They catered to our needs 100% and always responded immediately to our questions. Our day was perfect, our guests also loved the venue and the food. Highly recommended!

Bryce

Married on 04/02/2016

Anthony and Bob are the best
every one of our guest raved about our wedding food and atmosphere were wonderful

My fiance and I loved Flanders Valley from the first time we toured it. The day we booked, the staff was very nice and accommodating to help us with our budget. They really gave us the best deal for a great price.

Kellie

Married on 09/26/2015

Anthony and Bob are the best! They listened to our concerns and made recommendations to make our wedding perfect! They added some special touches here and there to make it unique. They also treated us like family. I would definitely recommend this venue for our next event!

Brittany

Married on 06/12/2015

As soon as my new husband and I arrived at Flanders Valley we had known it had been the perfect place for us. Anthony, the manager, had been wonderful!! Answering our questions, responding to our emails and phone calls, keeping in touch to help us along the way. He made accommodations for us (my husband had wanted a groom's cake and my father wanted a different wine selection) and the only thing we had to pay a small fee more for was the wine upgrade. The price was amazing for how much Flanders Valley gives! The food was excellent, our guests raved about how wonderful it was. Bob, our maitre d', had been beyond amazing. He made sure everything was set up the way we wanted it, that everything ran smoothly, and went above and beyond when it came to setting up. Bob was there to help make sure everything was ready, that my new husband and I had a break or two to soak things in on our own with no one else around, and even more, made sure we had food and water/soda/wine when it was needed before and after the ceremony and during the cocktail hour. Everything was wonderful and we are definitely recommending this venue to our friends and family.
Are you interested?
Send a message