62 Reviews
Recommended by 93% of couples
Quality of service

4.7 out of 5 rating

Average response time

4.4 out of 5 rating

Professionalism

4.6 out of 5 rating

Value

4.8 out of 5 rating

Flexibility

4.8 out of 5 rating
3 User photos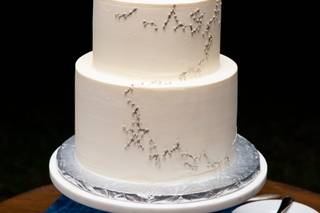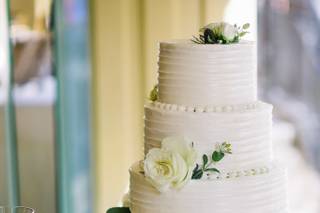 Rebecca F.

Married on 03/25/2023

Delicious Decision!

We loved our chocolate and red velvet wedding cake from The Cake Hag! Our favorite part of the wedding planning process was picking the cake for our big day. Samples were delivered to our home, and we were able to have a fun date night, picking our favorites. Delivery on the day-of was a breeze, and Katie was responsive to all emails. A delicious and easy choice for our wedding!

Tara M.

Married on 10/26/2019

Master Technical and Artistic Bakers!

Maggie and Katie made our 2-tier CHEESECAKE wedding cake dreams come true! They even suggested to have locally sourced, organic fruit sauces on the side so our guests could customize the flavor to their preference. Maggie and Katie take great pride in sourcing all-natural, local and organic ingredients when possible, and it shows in the taste and quality of their desserts. We couldn't be happier with how our cake turned out, you should stop in to try their other delicious goods too!

Emily K.

Married on 06/22/2019

The best cake!

We are huge fans of Cake Hag! When it came time to select wedding vendors, this was one of our first and easiest choices. The cakes are amazing quality, with all natural ingredients and the presentation is gorgeous! Maggie and Katie were great to work with, and our go-to bakers for cakes on any occasion.

Are you interested?

Send a message

Kim

Married on 12/16/2018

The best I've ever had

The ladies at cake hag are amazing. The cake was moist and not too sweet. The design was spot on. I will continue to get all of my cakes made from here

Soumya

Married on 06/03/2018

The Cake Hag provided us a delicious cake for a very reasonable price. They have a variety of fillings and flavours to choose from. We were very happy with our wedding cake! Thank you!

Lisa

Married on 12/18/2016

I absolutely LOVED the quality of our cake. It was so delicious and we had numerous guests ask us where our cake was from! Beautiful cake and even better taste!

Shereen

Married on 10/02/2016

Best wedding cake ever!! We loved meeting Maggie and Katie (Mother and Daughter) who had come highly recommended from a friend. The tasting was fantastic. Everything was freshly baked (unlike some other places that served us tiny frozen pieces of cake, from which it was impossible to ascertain taste or texture). The fillings were delicious. Our wedding cake was delicious and Maggie and Katie are very particular about the taste of the cake, not just its appearance (which was beautiful). My mother in law and husband, both bake very well and absolutely loved Cake Hag. All our guests raved about the cake.

Chelsea

Married on 09/24/2016

After meeting Maggie and Katie for a fantastic wedding cake tasting in East Atlanta, we were overjoyed to sign a contract for our wedding cake. They use all natural ingredients and no high fructose corn syrup/artificial flavorings and colorings-- making everything incredibly delicious! We chose an alternating layer chocolate fudge and white wedding cake with blackberry compote in between. The appearance of my wedding cake wasn't as important to me as other priorities with the wedding, and because the Cake Hag is a smaller mother/daughter operation, I was expecting a more "homemade" look--
Boy were my expectations entirely blown out of the water--- I showed up to my reception and saw the most gorgeous wedding cake I have ever seen!!!! I felt like it was something straight out of a magazine!!
And for the price? Absolutely, positively UNBEATABLE. Stop your search now-- these ladies not only know what they are doing with flavors and aesthetics, they are fair, kind, communicative, and accommodating. I could not be more pleased!

Steve

Married on 09/17/2016

OMG! Incredible- it started with the tasting , we had NO idea what sort of cake we wanted or what it would look like- Maggie spent 3 hours with us! She designed a cake that should be on the cover of a magazine, custom white chocolate leaves & acorns, it was beautiful and delicious ! Love me the Cake Hag!

Natalie

Married on 07/23/2016

The cake was amazing!!! We did not have any left over. We did a custom 4 tier and had 3 different flavors. The tasting was amazing and they had great recommendations for matching flavors. My favorite tier was blackberry and white chocolate. The price was amazing. I recommend doing custom so you get the tasting. Our cake had a simple textured design and was not that much more than the standard 4-tier. We also ordered a dozen gluten-free cupcakes for certain guests.

Brittany

Married on 05/07/2016

It still tastes amazing days after our wedding!!

I found Cake Hag searching online and once I spoke with them and received our tasting box, it was never a question they were the best choice. Cake Hag was so wonderful to work with and every guest said it was one of the best , if not the best wedding cakes they've ever had.

My husband and I didn't think we wanted to have a traditional cake at our wedding but after we had a tasting at Cake Hag, we changed our minds! All of their cakes were amazing and our guests continue to talk about them!

Terri

Married on 09/19/2015

Delicious, yummy, scrumptious, beautiful! I am a wedding florist and have seen and eaten many wedding cakes. Some bakeries have beautiful cakes on the outside and not so tasty cakes on the inside. Others taste good but are not that beautifully decorated. Cake Hag is the perfect mix. Their cakes not only look beautiful but also taste amazing! It was a no brainer when it came time to choose my cakery, hands down had to be Cake Hag. They created a new cake flavor just for me, spumoni, and it was delicious! I appreciate that they do not use preservatives or anything unnatural in their cakes...all real ingredients. Their prices are so reasonable especially with them using the highest quality ingredients that they do. I highly recommend enjoying a tasting then booking them immediately!

The Cake Hag was wonderful to work with! Our cake was amazing and they have so many different flavors and types to choose from. Also, very affordable vendor. Such a quality company to work with, I would recommend to anyone!

The best wedding cake ever. Period. My guests are still talking about. Thank you for everything!!! It was not only tasty but simply beautiful.

Gina

Married on 05/24/2015

Maggie and Katie and their cakes are nothing short of amazing! If you are looking for a wedding cake - look no further! After hunting around Atlanta for the best deal, I was beginning to think that I would not be able to find an affordable yet beautiful and tasty cake. But Cake Hag gave us an amazing tasting and we were sold. Our guests have not stopped talking about our cake (the strawberry cake with strawberry filling is to die for and their buttercream frosting is out of this world - not gritty like most places). To top it all off - Maggie and Katie are really sweet, which made working with them such a fun experience.

I love the Cake Hag! Maggie and Katie are my favorite bakers ever, and I use them for every occasion that I need a cake. My husband and I both need gluten-free, nut-free cake, but we didn't want our guests to notice that! The Cake Hag has the best gluten-free cakes we have ever eaten. The tasting was delicious - there were lots of cake, filing, and icing varieties, and we ended up with a four tier cake in four different flavors. We got a ton of compliments on the look and taste. And most important, they were happy to stay within our small cake budget. A four-tier gluten free cake for around $500 is just amazing! And they include a free anniversary cake (a small cake that they'll make to order on your one-year anniversary), since we didn't want to freeze and eat year-old cake. Kudos to Maggie and Katie!

Kelly

Married on 05/02/2015

The cake hag made an amazing cake for our wedding! They took our pictures and ideas and truly made our dream wedding cake. It was not only beautiful but so delicious! Our guests raved about it! Thank you Cake Hag for your amazing work!!

Ashley

Married on 09/14/2014

Really good quality and good service.

The Cake Hag offers the best quality cakes in Atlanta for the best value. My guests are still talking about how delicious the wedding cake was! -Mia

Caity

Married on 04/12/2014

Maggie and Katie at the Cake Hag are the absolute Jam! Their cakes are incredible. Our wedding cake was not only gorgeous, but it was hands down the most delicious wedding cake of all times. I am furious that I didn't get to eat more of it at our wedding. We had so many people come up for seconds, and ask us who made the cake! So often such big cakes lose flavor because of quantity, or dry out, or they look great, but don't taste great --- so NOT the case with Cake Hag. It was delicious. So fresh, and light, and fluffy, but yet at the same time dense with flavor and deliciousness. Gosh - now I want more cake!!! Move back to Minnesota? :)

Tami

Married on 04/05/2014

My husband is a personal friend of Maggie's and as soon as I tasted her incredible and delectable cakes, I was sold! She was professional and open to all ideas. She quickly "got" our style and design. Not only are her cakes a beautiful work of art visually, they are the best tasting cakes I have ever tasted! That almost never happens. At The Cake Hag, Maggie and her staff will deliver a phenomenol experience that will be memorable for all. Thanks again Maggie for your gift and talents!

Priscilla

Married on 12/22/2013

Thanks you Maggie for our beautiful and DELICIOUS cake. We loved meeting everyone at Cake Hag and were impressed with how they turned our vision into a beautiful cake. They listen to what you are looking for and give you so much more!! Not only was the cake delicious and beautiful, it was affordable. No nonsense when it came to pricing. I would truly recommend Cake Hag to anyone getting married and will be using them for other special occasions as well.

Tiffany

Married on 11/09/2013

Katie and Maggie at the Cake Hag were great to work with and our cakes turned out beautiful. We opted to have a cake table and picked out 6 different flavors for our six different cakes. They provided multiple cake and filling flavors so we could mix and match as well as recommend their most popular flavors. They were very flexible with us and allowing us to come during non-business hours to do the tastings. They also let us come back to taste the seasonal flavors once it became fall and closer to the holidays. The cakes were beautiful and went perfectly with our style of wedding. We received many compliments and did not have much cake left so I am sure everyone enjoyed the many flavors. I cant wait to order their pies for the holidays coming up.

Lindsay

Married on 09/21/2013

I had been shopping around for a wedding cake for some time when a coworker told me that the best tasting cake and best price they found for their wedding was with The Cake Hag. I wanted a simple, traditional three-layer cake, but every other cake vendor I met with tried to talk me into more expensive, extravagant options. The ladies at the cake hag offered suggestions and helped me personalize my cake, but they were not at all pushy and in the end the cake was exactly how i pictured it. I was also excited that they didn't charge extra for different flavored layers. My favorite was the white chocolate cake with raspberry curd and chocolate ganache filling. I am so happy I found out about The Cake Hag because I got a prettier, better-tasting cake for half the price!
Are you interested?
Send a message