Reviews
5.0 out of 5 rating
Quality of service

5 out of 5 rating

Average response time

4.9 out of 5 rating

Professionalism

4.9 out of 5 rating

Value

5 out of 5 rating

Flexibility

4.9 out of 5 rating
99%
Recommended by couples
9 User photos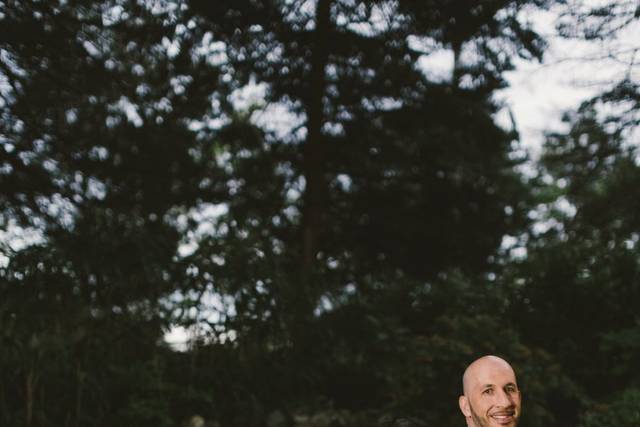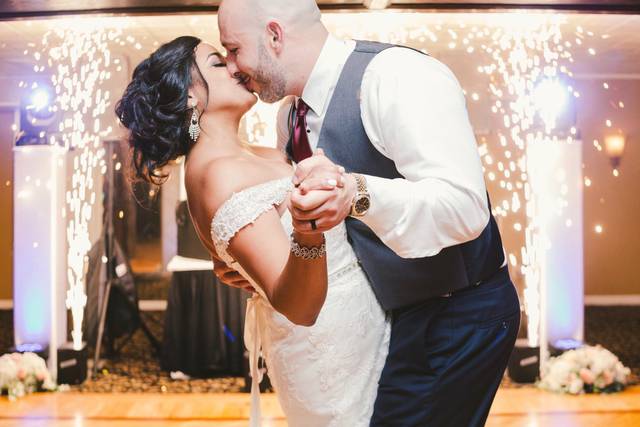 + 5

photos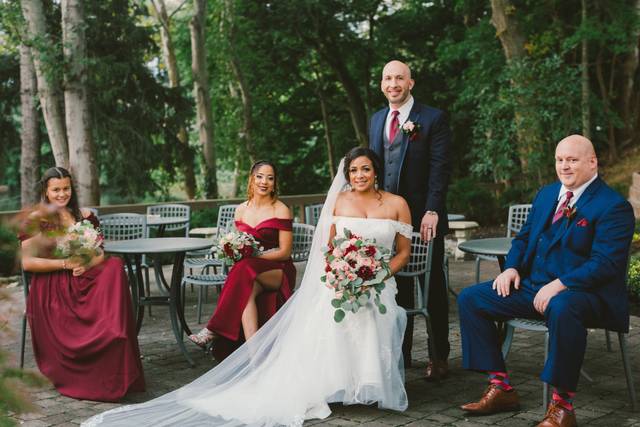 Nicole D.

Married on 10/16/2022

Great experience!

From planning to the day of, we had a great experience! Sue and Maria went above and beyond to make sure that everything went smoothly that day. Everything from the service to the food was incredible!

Ryan M.

Married on 11/20/2021

The Buttonwood is awesome

We're so happy we booked our wedding at The Buttonwood, they were such a great place to work with. We originally had our date set in 2020, and they made rescheduling so easy. Forever grateful to them about that. They're a really affordable option for such a nice venue, with so many things included, and they didn't hit us with any hidden fees. We were looking for "fancy on a budget" and The Buttonwood delivered! Everything was very clearly communicated and Sue was incredibly helpful every step of the way. Also shout out to the kitchen guys, when we lost a dessert for a guest with a bunch of dietary restrictions they made her a fruit platter really quickly so she could eat with everyone else, it was really sweet of them and it meant a lot to us.

Carla R.

Married on 10/02/2021

Beautiful Venue!

We got married at the Buttonwood Manor on 10/2/2021. We loved having everything at one spot. The outside deck is beautiful for the ceremony. Our guests raved over the food and service. Maria, Sue and all the servers took excellent care of our guests!

Are you interested?

Send a message

Jess

Married on 08/09/2019

Loved the whole experience

Would beyond recommend they made my wedding absolutely perfect I'm so happy we went with them

Richard

Married on 05/26/2018

So we had our wedding here on july 22nd 2018. And it was just wow! From the service to the food and location, and how friendly amd welcoming they are. Itbwas more than we could of asked for. They accomodated all of our needs and last minute changes. Linda, sue and maria our maitre d, we're phenomenal. They helped us throughout every step ofvthe way and they were there the day of the wedding to male sure everything was running smooth. The amount of food was insane. From the cocktail to the reception. The fox was amazing. I would definetly come back here for any future events i have (baby shower) our guests enjoyed all ofbthe accomadation and everyone felt welcomed. We love and appreciate everyone at the buttonwood manor for making our special day feel extra special, sincerly Richard & Hillatie Guillen

Taryn

Married on 12/09/2017

We immediately felt comfortable and welcomed, they were accommodating and open to our wants. The food is fantastic and the pricing was reasonable. We have booked with them and look forward to a beautiful reception!

Ashley

Married on 09/09/2017

Thank you Buttonwood Manor for the most amazing wedding! My wife and I had our wedding at the Buttonwood in early September 2017 and it was absolutely perfect. The service was impeccable. The grounds are beautiful and made the perfect backdrop for the ceremony and pictures. The food was incredible and we have had guest after guest tell us how it was the best food they ever had at a wedding. To top it all off, Buttonwood is probably the most reasonably priced venue in Monmouth County. We could not have imagined our wedding day going any better!!

Kim

Married on 10/22/2016

I can't say enough good things about the ladies I worked with at Buttonwood. Liz and Janice are angels. I was a clueless bride and I really made them work-and they did it with a smile. The rest of the staff was also amazing. So kind and attentive. The people who set up the room for my evening ceremony did a great job, it looked absolutely beautiful. The prices are reasonable and the food is great and plentiful. Fabulous place for any affair. They will take wonderful care of you.

The Buttonwood Manor's reply:

Hi Kim and Bill!! Thank you for these kind words! You're truly going to make us blush.
We enjoyed working with you throughout your wedding planning. You had some wonderfully innovative ideas for your wedding!! No question for us was ever too big or too small. Thank you again!!

Anna

Married on 09/17/2016

We chose the Buttonwood as our wedding venue and what a great choice that was! From the first time we came to visit it until the day of, the staff was extremely helpful. Every e-mail was answered immediately, and every question was given a ton of answers and choices too. We picked this venue based on their great reviews, and they did not disappoint. The food was absolutely delicious. Almost every guest at some point came up to me or my husband to tell us how much they were enjoying the food. We got the Platnuim package which included everything, and all the food was so worth it. There is so much staff available on the day of that anytime you need anything, well, they are right there. We had a personal waitress assigned to us, who was fantastic, but everyone was always around to help and make sure everything went smoothly. The Ceremony was outside (thank goodness the weather helped us out and stayed sunny and beautiful), and everything was set up perfectly. The reception hall was also set up by the staff and everything was exactly as I had asked, to the tee. They are such professionals, and I would recommend them to anyone for any occasion. Their pricing is also very reasonable, and they work with you on every aspect to edit it to your needs. Such a wonderful experience and an amazing memory. All thanks to the team at Buttonwood Manor! Book them ASAP!

The Buttonwood Manor's reply:

Hi Anna and Simon! Your enthusiastic satisfaction is very special to us! I will make sure Janice, your Maitre'd, our Chef and the Staff sees these wonderful words! Thank you for bringing your Wedding to The Buttonwood Manor!

Michelle

Married on 08/20/2016

The Buttonwood was one of many places my wife and I looked at when venue shopping. From the first meeting we had they made us feel calm and exuded confidence that they knew exactly how to make our day go perfect. They have been in this business a long time and it shows. The entire management team and our maitre d were phenomenal. They had the entire event under control from the day we booked them right up until the last guest left after the wedding. The food was superb and the location for the ceremony was gorgeous. I'm 100% sure that our wedding day went so well because of their exemplary service.

The Buttonwood Manor's reply:

Thank you for these kind words, Michelle and Robert! We enjoy what we do and when working with a beautiful couple as yourselves, everything is flawless. Thank you again!

Bobbie L.

Married on 07/16/2016

The staff did an absolute amazing job! Way more than what we expected! Janice is a wonderful and very professional maitre'd. We truly loved our wedding experience at Buttonwood Manor!

The Buttonwood Manor's reply:

Hi Bobbie Leigh and Brandon! We are so pleased you had a good experience with us! Thank you for sharing your kind words. I will definitely pass this along to our Maitre'd Janice and her Staff!

Stephanie

Married on 09/06/2015

My husband and I used Buttonwood Manor as our Venue for our Wedding Day, We had the ceremony overlooking the lake and the Reception in the Lake View room downstairs. We had 180 guests and they were all accommodated perfectly. Sue was our Matr'D and she is absolutely wonderful. During our plannings the Buttonwood responded to all of our calls and questions very promptly and efficiently. They paid close attention to all of my details and carried out every single one of my requests. The entire staff and especially Sue are very very helpful and so so nice! They do everything they can to make sure you have the day of your dreams. Sue is the most wonderful person and genuinely gets excited for everyone's personal events! The food is outstanding and the view of the lake is drop dead gorgeous. Our whole wedding day was beautiful and perfect and we owe a lot of that to our venue! Thank you Buttonwood! We cannot wait to have our 1 year anniversary dinner there to celebrate!

Shelby

Married on 09/05/2015

Aaron, & Janice really made my wedding planning at their venue a breeze!! They answered all of my million questions!!! I was so happy the day of with the entire set up of the event. All of my guests were thoroughly impressed with cocktail hour, dinner & dessert. It was a perfect venue for my husband & I. We got married on the lake & the ceremony was absolutely gorgeous! Thank you all so much for making our day the BEST day ever!!!!!!!!!!!!!!

Sherri

Married on 05/02/2015

The Buttonwood was everything we dreamed of and more!! We couldn't have asked for a better venue for our wedding day! Since the moment I met Sue and Aaron they were always so accommodating! Anything we needed they got for us and more. I would highly recommend the Buttonwood for your wedding or any special event! They are truly amazing!! We are still getting rave reviews on the food and cake! Thank you Aaron and Sue for making our day exactly what we dreamed for!!

The Buttonwood was fantastic. Sue and her team were fabulous and easy to work with. Planning our reception was the easiest part of our wedding. They catered to us and our needs. I would highly recommend them. They are also reasonably priced.

Tiffanie

Married on 10/17/2014

My husband and I got married on October 17, 2014 and could not have asked for a better venue. We purchased the Platinum Wedding Package and first met with Aaron in June. We had an emergency with our previous venue falling through and needed a new venue asap being we were only four months away from our wedding date. Aaron was so flexible and accommodating it didn't even freak me out as a bride who was venue-less for less than a day. Aaron worked with my mother and me to get all the details squared away and made me feel like this was the plan all along. Once that was all said and done, we were able to continue our wedding planning and from the rehearsal dinner, to the ceremony and reception Aaron, Susan and team were truly amazing. The staff at Buttonwood are professional, polite, and truly a blast to work with. It made our guests happy and to see that as a bride and groom made us even happier with our decision to have our wedding here!
Our Maitre D' was amazing! She was extremely attentive and made sure everything went smooth and as planned. Buttonwood's staff worked so well with our other venders it would seem as though they knew one another for years!
The food at Buttonwood Manor was delicious! My husband and I have been to our share of weddings and this food was nothing like we had ever tasted! Our guests were just as pleased with the variety of food offered and its quality! It was truly amazing!
Our wedding was perfect! Better than I had ever dreamed of as a little girl! Truly breathtaking and out of this world! My husband and I as well as my parents would highly recommend Buttonwood Manor for an unforgettable night for any occasion!!

Noelle

Married on 09/13/2014

Very happy!! Great food! Really made our wedding nite everything we dreamed of.

Deborah

Married on 05/25/2014

My daughters wedding was beautiful. Aaron and the rest of the staff were very helpful and responded quickly to all our questions. The food was delicious, and the wait staff was very helpful especially when our sound system was found to be inadequate. Our only complaint would be the bridal room. It needs better lighting, a hook or two for a place to hang clothes and a better door for privacy.

Steve K.

Married on 05/17/2014

From the moment we met with Sue Fitzgerald from The Buttonwood Manor, we knew this was the perfect place for us. Sue and her staff were fantastic to work with, very accommodating to our needs, and made our wedding day perfect. We highly recommend The Buttonwood Manor for any event. Thank you, Sue, for everything you did to make our day special.

Breanne

Married on 04/07/2012

When I got engaged I knew exactly where I wanted to get married! On the lake with the fountain, The Buttonwood Manor is where we have all our special occasions why should my wedding be any different. Guests raved about the service and the food. The place was set up beautifully and there wasn't anything that hadn't been given a special touch. The weather was beautiful so we were able to get married outside over the water however if the weather had been poor they already have something set up inside as well just in case. The Buttonwood took the time out to give me an amazing wedding it might not have the huge 2 or 3 story foyers that some look for when viewing venues but the Buttonwood makes up for it in the quality they put into the events and with also have great photo op locations around the premises. The Buttonwood will always be special and will be my first recommendation for people to see and experience.

Laura

Married on 08/16/2014

They accommodated my smaller wedding. Lowered their minimum to 75 on a Saturday for the larger room! I called all over and went to several in the area, I got a package that included so much food for the dollar. I had so many guests telling me the cocktail hour had so much food it was unbelievable. Everyone said the courses during the reception were amazing. The cocktail room and reception room were separate, 5 hrs open bar, dance area plus outside patio for the guys with their cigars.. All overlooking the lake which the fountain lights up at night. Cake was included in price and was amazing, from Normandie Bakery. The staff was friendly and assisted in any manner. I was never told that something couldn't be done. I'd recommend it to anyone.

Maria

Married on 10/05/2018

Beautiful view!

Buttonwood Manor was unknown to us when we first began our search, but from the first interview to discuss services, pricing and dates our experiences were nothing short of fabulous. We original planned to interview multiple providers, but after meeting Sue my husband said " we don't need to talk with anyone else – let's do it here. "
The food is amazing and the venue is beautiful!

+ 2

photos

Kristy

Married on 08/20/2011

The Buttonwood Manor is gorgeous!!!! Our pictures on the lake look fantastic. The staff at the Buttonwood Manor was very flexible and allowed me to do whatever would make my day perfect!

My ONLY disappointment was that some things I needed to clarify seemed like givens. For example, after our ceremony, the guests were allowed to walk through our reception room to get to the cocktail hour instead of using the other stairs which took away from the "ahhhh" when they walked into the reception. I would just suggest you Clarify you don't want that to happen!!! I'm sure if I did they would have made sure not to allow it.

Jennifer

Married on 10/04/2014

My husband and I had our wedding on
October 4, 2014 at the Buttonwood Manor. We had the pleasure of planning the event with both Susan and Andrea, who were absolutely fantastic with helping us with the details for our special day. The food was fantastic and we were getting so many compliments from our guests from the cocktail hour to the cake. We are so pleased that we chose the Buttonwood Manor for our special day!
Are you interested?
Send a message