42 Reviews
Recommended by 97% of couples
Quality of service

4.9 out of 5 rating

Average response time

4.8 out of 5 rating

Professionalism

4.8 out of 5 rating

Value

4.9 out of 5 rating

Flexibility

4.8 out of 5 rating
Awards
31 User photos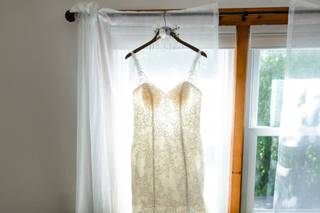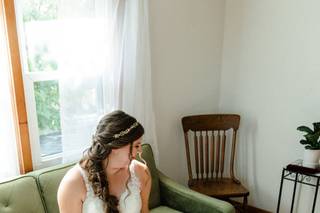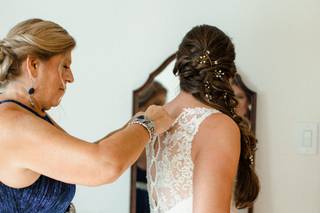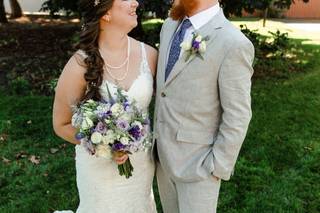 + 27

photos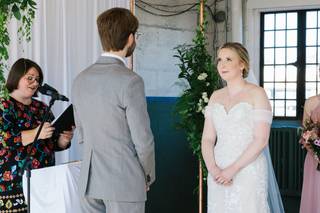 Featured

Shannon K.

Married on 04/30/2021

Fairytales do come true!

I am so blessed this little gem exists. Everyone who works here is beyond wonderful. You can see they truly care about their work and you as a customer. Between the cost of the dress to the alterations I was mind blown! It really helped keep me in budget and I was contributing to a good cause. At the end of the night I didn't even want to take my dress off! Thank you Brides Project.

+ 3

photos

Rachael H.

Married on 10/01/2022

Incredible wedding dress shop

I recommend this shop to anyone and everyone looking for a wedding dress! The women working there obviously love what they do and I had so much fun finding my dress. It turned out perfectly and I barely had to get any work done on it. They have an in-house seamstress, too which makes things easier. Amazing prices, not to mention the great cause the money goes towards!

Victoria E.

Married on 07/22/2022

Helps to Know It's for a Cause

I have a difficult time justifying costs when buying clothes for myself, so I knew wedding dress shopping was going to be rough. Fortunately, I decided to start at The Brides Project, and I found the perfect dress there! It was still tough for me to swallow the $900 price, but I felt so much better knowing the funds were going toward the Cancer Support Community, and I have zero regrets! The design I wore was only a couple years old by the time of my wedding. It was a sample dress, so it hadn't been worn before. Despite being donated, all the dresses I tried on were in great condition.

Are you interested?

Send a message

Kimberly N.

Married on 06/03/2022

Support a Nonprofit and Save Big $$$

My experience with the Brides Project was so good, I went back for a second dress! I tried on a variety of dresses that were unique, one-of-a-kind and incredibly special. The work this organization is doing is so important to the Michigan cancer community. 10/10 would recommend.

Claire E.

Married on 05/28/2022

So many styles to choose from!

I tried on so many dresses at the Brides Project - they have an incredible selection of different styles! Their volunteers are kind and helpful. They also have a tailor they work with who will alter your dress for a very reasonable fee. If you're like me and you don't want to pay thousands of dollars for a dress you're only going to wear once, check them out! It's for a good cause, too :)

Jacqueline L.

Married on 10/20/2021

Dress shopping at The Brides Project was an absolute dream

I was a last-minute bride. My husband and I decided to plan our destination wedding in less than 80 days--so I needed a dress off-the-rack.
TBP was my first dress shopping experience and what a positive, fun, and relaxing experience it was! I appreciated that the consultants encouraged me and my guests to look through the racks ourselves, but also provided input and suggestions based on what I liked and didn't like. In the end, I found a gorgeous dress that felt like it was made for me. My wedding dress was super unique and was unmatched by anything I found at the other bridal shops I visited.
My consultant, Jan, was supportive, knowledgeable, and great to work with. On the day I was shopping, the seamstress (also named Jan) was there and was able to provide input about the alterations I needed--I appreciated having her there as the other bridal shops I visited told me they would not be able to complete my alterations in time for my wedding (10 weeks). Jan completed hers in a month.
I recommend TBP to anyone who wants a wedding dress that's a little out of the ordinary and wants their dress purchase to make an impact on the local community.

+ 7

photos

Lindsey

Married on 11/06/2020

Wonderful!

The lady's at The Brides Project were amazing. From the second I walked in the door they were helpful and accommodating. I would recommend everyone go there to find a high quality dress for an affordable price. It made me even happier to know the proceeds from my dress were going to directly impact a family's life in my community.

Jessica Q.

Married on 10/12/2019

A great organization!

This organization is an incredible opportunity to provide for the community and purchase a beautiful wedding dress (while saving money!). They have a great variety of sizes and styles to choose from. It was my first trip dress shopping, and I was determined that it would also be my last. They helped make that happen! They also accommodated my larger-numbered entourage, which was important to me, and I am very grateful. I will recommend this organization to anyone!

Tori

Married on 09/28/2019

amazing place

If you are looking for the perfect wedding dress I would highly recommend this place. The staff is absolutely amazing. The story behind this place is even more magical. I would go here over a chain store any day, and so should you!!

Megan

Married on 08/09/2019

Wedding dress

Loved my wedding dress! This place was amazing to work with! They treated you like you were the only person there and the really listened to you. I loved the concept of giving back to the community when you buy a dress there. Awesome place to shop at!

Rachel

Married on 05/18/2019

So many dresses for such a good cause!

I got my wedding dress here and it was amazing. Magically, it was the first dress I tried on! It's a beautiful little shop with all different styles of dresses. I got so many compliments on my dress, and I was happy that the cost went to a good cause. It really made it worth it for me to splurge a little on the perfect dress, knowing I was supporting a great charity. 100% recommend stopping here on your dress hunting journey!

Alyssa

Married on 05/11/2019

Beautiful dresses, awesome people, and a great cause

I love the Bride's Project and found my perfect dress! The volunteers are so sweet, and the three I worked with were very experienced. They had great suggestions and encouraged me to go look among the dresses to figure out what I wanted. I had gone to a few bridal stores beforehand, so I had an idea of what I wanted. Unlike a traditional bridal salon, the volunteers won't pressure you to buy anything because they have no financial stake. Based on what I picked initially, one volunteer said, "Ooohh, you have to try on this one dress I have in mind." It ended up THE dress that I fell in love with and made me feel gorgeous! In addition to all the compliments you'll get on the day of, you have the satisfaction of knowing that you're giving a dress a second life and donating money to helping families affected by cancer get the treatment they need. I would recommend the Bride's Project to any bride!

Shereen

Married on 04/27/2019

I love the mission behind this place. The ladies working here are such kind, hearted people. It has that familiar, family feeling when you walk in. I was really surprised by the gowns they had available. The prices cannot be beat and I love that all proceeds go to a great cause.

Rachel

Married on 10/06/2018

Amazing experience, perfect dress

I went to The Bride's Project hoping to try on some dresses in my size, and left with my dream dress at an amazing price. The shop is a non-profit and resells donated dresses, some worn, some new, with proceeds going to Cancer Support Network. This meant I could try on a bunch of dresses that actually fit me!! and could take the dress home that day - no waiting 6 months only to find out it's not what you imagined in your size. The shop is run by volunteers, so the atmosphere is relaxed and noncompetitive, and you feel like your money is going to something meaningful instead of feeding directly into the wedding industry. These were important factors for me - I left my first dress appointment in tears because I could literally not fit any dresses on my body (I am a size 12-14), they were so expensive considering I could not try them on in order to know whether I really liked them, and the commission atmosphere was full of too many expectations that your going to find something PERFECT. The Brides Project also works with a tailor (Jan) who comes to the store to fit dresses at a really affordable price in the spirit of what the charity is all about - we were blown away by how quick and inexpensive it was to alter my dress. All in all, I definitely recommend going here, if only to try on dresses in your size to see what style you like. You might find your dream dress like I did!

Margo

Married on 09/30/2018

Great Option

There was a large selection, helpful staff, reasonable prices and everything goes toward a great cause. Win-win-win-win!

Holly

Married on 08/18/2018

Found my dream dress

Great company, went and found my dream dress for a great price and great cause. The volunteers were amazing and I felt so beautiful in my dress. I did add sleeves to it.

Debbie

Married on 05/26/2018

this place was fabulous! There were so many dresses to choose from and the staff was fantastic - they were so helpful. All the dresses were at least half o.ff the original price. Most dresses have been worn before but many are also new. I got a dress that was brand new for at least $1000 less than it would have sold for! A great experience and in addition all the proceeds go to support those with cancer.

A2E28378853B5F7B92A9Dbf3Ae5F3372F9Ecc1C1

Married on 11/11/2017

I am SO happy I found my dress at The Brides Project. I was initially very discouraged about finding a wedding dress. I currently live in St. Louis and while visiting my family in Michigan, I went to The Brides Project with my mom and sister and met Kim; I still need to ask her if it hurt when she fell from heaven, because she is an absolute angel! She made the entire experience SO enjoyable! I ended up saying yes to a dress that arrived that morning and it matched perfectly with my shoes and bridesmaids' dresses (yes, I picked both before getting my dress). It felt like fate how perfectly everything fell into place. More importantly, I felt so good that what I spent on my dress (which was half my budget) was going back into the community to support local families. I get goose bumps telling people the story of my wedding dress. I am so touched by the kindness (not only with customer service, but also for the community) displayed by all the volunteers at The Brides Project. Beautiful dresses, beautiful souls, beautiful cause. :)

Carla

Married on 09/30/2017

Such a wonderful bridal boutique, with a broad range of styles and prices. The Brides Project accepts dress donations from brides and bridal salons of used, samples, new dresses, etc. and all proceeds support families fighting cancer. Volunteers give their time to help you find your perfect dress, and I was delighted to find mine and have a teary-eyed moment! We'll be getting married in just 10 days here in Arizona, and I will be re-donating my dress to The Brides Project so that the love I felt there, and will during our special day, will continue on to the next bride and the families this wonderful organization supports.

I love everything about this place! I came here looking for a wedding dress, but unfortunately, I couldn't find one. I would've held out and kept looking here as they get new shipments all the time, but I'm planning from all the way across the country so I decided against it. However, I did also find amazing accessories here for cheap! I bought a beautiful studded headband with floral detail, and some studded pins with floral detail for my mom for the wedding, and a real pearl necklace all for $35 total! Even if you don't find your dream dress here, don't forget to look at the accessories as well! They have some serious goodies here! Plus, you know that any amount of money you spend here will go towards a good cause!

Amanda

Married on 09/03/2016

I had the BEST experience at The Bride's Project. It was the first place I even really went, and the dress I selected was the third one I put on! My consultant (Jessica) was knowledgeable enough of the alteration process to show me what could be done to the dress I ended up purchasing to make it absolutely perfect for my day. I had reverse sticker shock when I found out the gown I selected was only $300! So glad this place is in business for the Cancer Support Community and hope many more brides go to them.

Emily

Married on 05/21/2016

I had a wonderful experience and found the perfect dress. The volunteers were so helpful and kind. I was shocked that there was such a variety of dresses, so many different styles and sizes. They also referred me to an expert seamstress, who is doing the alterations for a bargain price. The best part was when a colleague who is battling cancer shared how wonderful the Cancer Support Community has been to her and her family throughout her journey. A great experience, a beautiful dress, and such a worthwhile cause. It doesn't get any better.

They give you a 90 minute timeslot to find a dress you like but I found my dress in less than an hour! They have a lot of variety, though when I went there it was all strapless in case you like something with sleeves or straps. Knowing the proceeds went toward cancer research also made me confident in my dress decision. So happy I said YES to this place, I felt beautiful on my wedding day!

Kati

Married on 10/16/2015

They were the most amazing experience I ever could of asked for! Kind, patient, helpful and just a fantastic experience overall. Not to mention all the money goes to cancer support in our community, so its money doubly well spent!

Kate

Married on 07/10/2015

I really enjoyed the personal experience where I got to be in the room with my size range and just have fun trying on all the gowns with my mother and sister's help. There was no pressure to buy like at boutique stores. Also the deals are amazing! I got my dress brand-new never worn for $700, retail price of $2000. It made deciding to purchase very easy. The staff were very attentive if I asked for help and I really appreciate them volunteering their time.
Are you interested?
Send a message