77 Reviews
Recommended by 100% of couples
Quality of service

5 out of 5 rating

Average response time

4.9 out of 5 rating

Professionalism

5 out of 5 rating

Value

5 out of 5 rating

Flexibility

5 out of 5 rating
4 User photos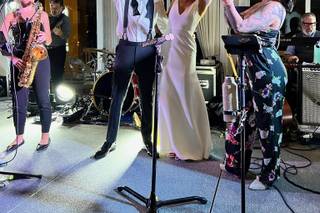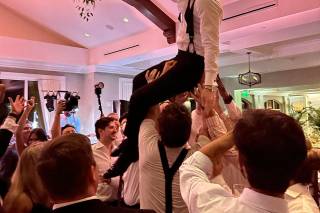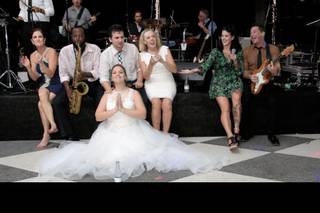 Sasha C.

Married on 11/12/2022

The best band!

Choosing the Brett Foreman band was one of the best decisions! They were responsive and helpful from the first call. We told them we wanted a packed dance floor and a party and they delivered. From the moment our guests entered the reception, the dance floor was packed and everyone told me how incredible the band was. The truly made it an unforgettable evening!

Caroline K.

Married on 11/05/2022

Rocking band

BEST decision we made was hiring the Brett Foreman Band. They had everyone on the dance floor the entire evening. The band was interactive with the crowd and felt like they were partying with us. Our guests cannot stop talking about them. We also had Brett play for our ceremony music on the acoustic guitar, alongside my uncle on the Cello. Brett came early to practice with my uncle and had a separate call with him to make sure our ceremony music was perfect. They exceeded my crazy high expectations by so much. They were also so professional prior to the wedding as well with all of the calls and making sure every one of my wants was taken care of. If you are thinking of hiring a wedding band, do not look further!

I am too eager to post a review (because they were SO GOOD) without getting our professional photos back yet but attaching a few!

Jessica

Married on 10/29/2022

The BEST Wedding Band!!

If you need a band in Southwest Florida, look no further!! Wow we can't even put into words how amazing the Brett Foreman Band (w/ Foreman Productions) was on our wedding day. A couple of honorable mentions - Jim Kerwin was an amazing manager and point of contact. He made the entire process so incredibly easy to coordinate. Brett Foreman - I mean WOW! The entire band was flawless, but we spoke with Brett quite a bit throughout the week leading up to the wedding and he was so incredibly accommodating and he delivered the most incredible ceremonial music (2 Zac Brown Band covers!). I can not stress enough how good of hands you'll be in if you choose to work with this group!

Are you interested?

Send a message

Lauren B.

Married on 04/09/2022

Best wedding band we could have asked for!

We are late to posting this review, but my husband and I couldn't have asked for a better band on our wedding day. 5 months later.... we still have family and friends speaking about it. The band is extremely organized, responsive and experts in their field. They advised us when we were unsure of what to do, and made excellent mid-event adjustments when the weather wasn't cooperating. Their quality of music was fantastic - they were interactive, listened to requests and had the dance floor filled all night long. I would absolutely recommend The Brett Foreman Band for your wedding - it was easily a highlight of the night.

Lindsey

Married on 03/13/2022

Incredible

From the minute they started playing- to our guests begging for one more song- they were incredible. We knew our guests liked to dance, but I don't think there was one person missing out on the fun. Absolutely amazing.

Alyson H.

Married on 02/05/2022

100% Recommend the Brett Foreman Band

The Brett Foreman Band was the finishing touch in making our wedding day so special. All of our guests commented how much they enjoyed the band. They have amazing energy and music was played non-stop through the entire reception. They were very easy to work with, accommodating, and fulfilled all our personal/specific requests- including- having my talented husband join the band and play the keyboard for songs they planned together in advance! Also, our song we chose for our first dance is not well known, and the band learned and practiced it, and played/sang it beautifully! Brett and the band members are excellent musicians and have a great ability to "read the crowd". We 100% recommend the Brett Forman Band!

Jackie R.

Married on 12/04/2021

Best wedding band

AMAZING!!!!! the best wedding band ever. Seriously if you are in Florida looking for a band they are the best and you should look no further. Everyone was on the dance floor all night and they killed it. Brett and team know exactly what to do and trust them they will make sure your guests have the best time ever. THANK Brett and Team for the best wedding

Danielle

Married on 11/06/2021

Never left the dance floor

I can't say enough good things about this band. We got married last weekend, and our friends and family never left the dance floor, and haven't stopped talking about the band since. 11/10 recommend the Brett Foreman Band!

Katie M.

Married on 05/14/2021

A+ Experience

I would recommend the Brett Foreman Band without hesitation. They took time to get to know me and my husband before the wedding, including several phone calls and emails, and honored our requests and suggestions. They somehow made planning easy and fun, even though we were in a different state and dealing with the uncertainty of COVID. On the day of our wedding, Brett, Gerald, Josh and Autumn did a PHENOMENAL job from start to finish, including music on the beach before and during the ceremony, cocktail hour, during dinner and the reception. I truly don't see how it could have been any better and everyone at our small family wedding raved about the band. Thanks again to the Brett Foreman Band for making our wedding extra special and fun!

Elizabeth

Married on 05/01/2021

TERRIFIC! 5 stars!!!

The Brett Foreman Band was absolutely TERRIFIC! We had them for our wedding and our dance floor was packed the entire. They played a mix of mo-town and current day hits - they were truly fantastic. I would highly recommend to anyone looking for a large band that will really get the people going! They were super easy to work with, responded quickly to emails - which was especially important to us while planning a covid wedding. They set up a call with us to discuss what kind of music we were looking for. We were so so happy with them!

Matt R.

Married on 01/05/2021

Amazing band who made our wedding rock! Booking these guys was the best decision we made!!

The Brett Foreman Band was absolutely terrific!! We are from New York and got married in Florida and took a chance on this band based on all the stellar reviews and they rocked!! All everyone could talk about the next morning was how great the band was and asking how we found them. They are extremely versatile and accommodating, playing a wide variety of music, including several songs we specifically requested they play. They had the place rocking and everyone up on the dance floor the entire night. We also had them provide music for our wedding ceremony and cocktail hour, which was really special. Jim, the band's manager, is so easy to work with, extremely professional and very responsive. I absolutely recommend The Brett Foreman Band for any wedding!

Elisabeth

Married on 10/26/2019

If I could give them 100 stars I would....

This crew is truly the best out there. They are professional, attentive, creative, personable, and just hands-down the best. Brett played acoustic at our wedding ceremony, Gerald rocked the sax at our cocktail hour, and the whole gang absolutely crushed the stage at our reception. There was not a square inch of space left on the dance floor because we were all having so much fun with this group!!

J Benn

Married on 05/11/2019

Amazing band -- Phenomenal performance! HIGHLY RECOMMEND!

The Brett Foreman Band's performance at our wedding reception was nothing short of phenomenal! They really knew how to keep the guests, of all age groups, on the dance floor and were able to keep the party going throughout the night. Their performance of our special request songs (first dance, father-daughter, and mother-son dances) were perfect and helped make the moment special, and they were able to play all sorts of genres to keep our guests dancing and having fun throughout the evening. And Jim, the band's event manager (and drummer), was extremely helpful and very responsive to our emails throughout the entire planning process. An exceptional band and well-run business, they helped make the music part of the wedding planning process easy! Every one of our other vendors (coordinator, venue, photographer), when asking about our choice for music, all spoke very highly of The Brett Foreman Band when we told them they were going to perform at our reception. We cannot say enough positive things about them — we STRONGLY recommend The Brett Foreman Band!

Cassandra

Married on 04/06/2019

Loved this band !

Hired the Foreman Five for my wedding and they did an AMAZING job! They played during my ceremony, cocktail hour, and reception. They even bring dj equipment for any special request. They are amazing performers and didn't miss a beat the entire night. I had many guest complement on how well they played live. They defiantly made my wedding even more special than it already was :)

Rebecca F.

Married on 01/26/2019

"Best wedding reception ever"

The Brett Foreman Band made our daughter's wedding an outrageous hit! Everyone wanted them to play for 3 more hours on top of the 4 hours they already played. The band played the groom's pick of Beatles and Tom Petty and were outstanding! They even let the groom, who is a musician, on stage to play to his bride! As well as allowing some of the groomsmen, who are musicians, jam with them! If you can book this band for any event you are having, do not hesitate! Book them! They are awesome! Love them tons! ❤️

Jami

Married on 01/05/2019

The absolute best band!

The Brett Foreman Band truly made our wedding. They were absolutely incredible and every guest said they were the best band they have ever heard. They nailed our first dance song, my husband and I felt they sounded better than the original band! They brought such an amazing energy to our party. The voices and talent in this band are out of this world. The sax player Gerald will get your crowd hyped! Our guests literally danced the entire nigh. Brett and his team were amazing and there for us throughout the process. This band is the best, you will not be disappointed! Thank you so much for giving us the night of our lives!

Shannon

Married on 12/02/2018

Best Wedding Band Ever

Incredibly talented band that rocked our wedding! Every single guest was on the dance floor the entire time because Brett Foreman Band brought so much energy, fun and spirit to our wedding! The saxophonist was INSANE too! Our friends all said it was the best wedding band they've ever seen (and we went to 13 weddings in 2018 alone!) Best investment of our entire wedding!

Aimee

Married on 11/10/2018

The Brett Foreman Band — Above and Beyond All Expectations

We chose Brett's band a year before the wedding based on the online reviews and we're hoping we made a good choice. Thoughout the year, people would ask who we had lined up and as soon as they heard it was Brett, they would say we would not be disappointed. Everyone in the business said they were the best but we still didn't realize how phenominal they really were until the wedding! Brett played acoustical guitar for the ceronomy which was beautiful and the sax player was perfect during cocktail hour. They did an awesome job on the introductions and once they started playing during the reception it was basically a non-stop dance party. They knew exactly what to play and our guests are still raving about them!

Maureen

Married on 11/02/2018

UNREAL Band! Had Everyone On the Dance Floor

The Brett Foreman Band was amazing - and surpassed all expectations for our 11/2/18 wedding! Every guest we talked to the next day raved about them! They had everyone on the dance floor in seconds - amazing energy, talent, and the perfect mix of songs to please guests of all ages. The steel drum during cocktail hour and amazing saxophonist getting down on the dance floor blew everyone away and we couldn't be happier with the whole Band!

Sarah-Gray P.

Married on 10/20/2018

Get Your Party Started!

Woo-Hoo! This band rocked our wedding and could have shattered all the windows with how much fun took place. This band is full of talent and really knew how to make our reception one to remember!! Brett is so kind-hearted and personally came over to my husband and me to congratulate us and give hugs. Him and his crew were amazing and everyone LOVED them! They rocked the house!! I want to follow them everywhere they go because they are so good! Only being able to give them 5 stars is a sin because they deserve so much more! I love them!!! I honestly can't say it enough but HIRE THEM TO HAVE THE BEST WEDDING RECEPTION, EVER!!!!!!
(Everyone was great to work with and communication was 100%...they made my dreams a reality)

Peter

Married on 10/06/2018

From the beginning, Jim handled the arrangements in a very professional way that made the process very easy .

When I met them during set up and asked if they needed anything , I got a short reply .... EVERYBODY DANCE !

As for the band , what can I say . They were fantastic . The crowd was from all over the country ( New York, California, Texas and Florida ) and they were all up on the dance floor . Some wedding bands substitute " loud" for " good" . Brett and the band were loud and great .

As much as they rocked the party, the dinner music was sedate and appropriate .

There is not a single thing the band could have done differently to improve the party . They were flat out perfect .

Brett and the band came to Vero Beach from the west coast of Florida . No one knew who they were . By the end of the night, everyone was asking
" where did you find these guys , they are fantastic" . Seldom do you get that question from people in their 20's as well as people in their 60's . Everybody danced and everybody loved them . ( how can you not love a band with a sax player in the middle of the dance floor)

Seriously, we have 2 kids - our son was married a few years ago so our daughters wedding was the last party we were doing . It was going to be a special day no matter what, but Brett and his guys made it incredibly fun and memorable and as a parent I will alway appreciate the performance they brought that night .

Peter


Jesse

Married on 05/13/2018

We were fortunate to have the Brett Foreman Band at our wedding. The party didn't stop and no one wanted the dancing to end—a sure sign of a fantastic time had by all!
Not only did the band exceed our expectations on wedding day, but also, they were involved and helpful during the planning process. They provided expert guidance and support throughout the planning stages and even met with the venue coordinator for a separate walk-through. We appreciated how thorough and considerate they were of all aspects.
Also, our guests haven't stopped talking about Gerald on the sax, he was INCREDIBLE!!

Sarah

Married on 04/28/2018

BEST BAND EVER! From start to finish my experience was wonderful with the Brett Foreman Productions! Jim is incredibly responsive and helpful with questions and setting up the song list. They learned the music for our first dance, the father daughter and mother son dances. They kept the party going until the very end and never stopped for 4 straight hours! Not only do they do reception music, but they played steel drums and guitar for our ceremony and saxophone for cocktail hour.

If you haven't yet, book them NOW before they are taken. You will not be disappointed!

Melinda

Married on 04/28/2018

The most amazing band! Stop reading and book them before they are taken. You will not be disappointed! Brett and his team are such professionals and learned music for our daughter's recent wedding at the J.W. Marriott on Marco including her ceremony music, first dance, father daughter dance, etc. They know how to read the crowd and the dance floor was packed the entire night and we hated to see the music end. Brett is delightful to work with. He listens and over delivers. He also played the steel drum and guitar for her ceremony and their saxophone player Gerald wowed the cocktail hour. And those pipes on Lola! Amazing all the way!!

Taylor

Married on 04/21/2018

This Band is worth every penny. We hired them for our daughters wedding in St. Augustine April 21, 2018 every guest came up to my husband or me and couldn't stop talking about how great the band was ! You will not be disappointed!
Are you interested?
Send a message