176 Reviews
Recommended by 90% of couples
Quality of service

4.4 out of 5 rating

Average response time

4.5 out of 5 rating

Professionalism

4.6 out of 5 rating

Value

4.5 out of 5 rating

Flexibility

4.4 out of 5 rating
Awards
130 User photos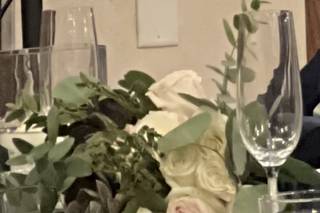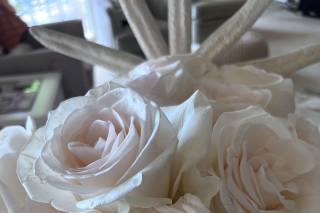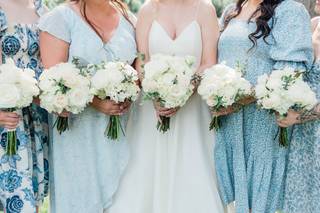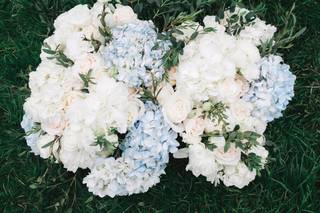 + 126

photos
Jaymee G.

Married on 09/03/2022

Wonderful flowers for my wedding!

WOW! I am absolutely thrilled with my purchase of flowers for my wedding! I opted out of having flowers for decor and only did bouquets, boutonnieres, and corsages. The bouquets were absolutely stunning, and I just rearranged the leftovers into a new bouquet (1.5 weeks old) and a lot of the flowers still look gorgeous. They arrived right on schedule. I highly recommend this company for affordable and high quality flowers!

The Bouqs Co.'s reply:

Hi Jaymee!

We are so happy to hear you enjoyed your experience with The Bouqs Co.! We love to see that your florals were a success and we are so glad we could be a part of your special event. Thank you so much for taking the time to share your thoughts on The Bouqs Co.!

Warm regards,
Faye@TheBouqsCo.

Anna D.

Married on 05/28/2022

Dont second guess it

I was beyond nervous and skeptical to get all of my wedding florals from an online company without even seeing them before..but let me tell you…they were BEAUTIFUL. It was so simple and easy and extremely affordable. I ordered my bouquet, 5 bridesmaids, 13 boutonnières, 3 corsages, and an arbor piece. Everything came assembled except for our arbor which I had so much fun putting together. I just looked up a couple of YouTube videos on how to make them and it was super simple. I HIGHLY recommend The Bouqs for wedding florals!

Courtney M.

Married on 04/16/2022

Easy process!

Ordering from them was super fast and easy! My flowers arrived the exact day I wanted them and they were beautiful. Highly recommend

Are you interested?

Send a message

Michelle

Married on 12/11/2021

Amazing company!

I'm amazed by the quality! Working with Bouqs is the smartest decision I've made during my wedding planning process. Aimee was so kind and knowledgeable. She helped me customize an order to fit my needs, and I'm so impressed with how they were packaged and shipped. I would DEFINITELY recommend!

Cindy W.

Married on 11/06/2021

Gorgeous Flowers for Destination Wedding

My daughter had a destination wedding in November and we wanted her flowers to reflect the fall colors. We found Bouqs online and picked one of their wedding packages. I was nervous about ordering flowers online and having them shipped to the venue. However, Bouqs made it simple and the flowers were GORGEOUS! They shipped when they stated they would, arrived on the date I requested and the bouquets were stunning. I would highly recommend this company for your wedding.

Katie B.

Married on 11/05/2021

Best wedding flowers!!

Completely recommend The Bouqs. Co for your wedding day flowers! They were excellent with communicating what I needed for my wedding, the flowers showed up on time, and they were beautiful! If you want one less thing to worry about on your wedding day, order from The Bouqs. Co!

Paola G.

Married on 10/23/2021

Affordable beautiful flowers

Easy process! Delivered straight to my door, they bloomed just in time for my wedding.

The Bouqs Co.'s reply:

Hi Paola!

We greatly appreciate the wonderful review! It was such a joy and an honor to have helped make your wedding special and beautiful. Thank you from the bottom of my heart for choosing The Bouqs Co. and for putting your trust in us. Wishing you a lifetime of love and happiness!

All the best,
Faye@TheBouqsCo.


Ahnaleza W.

Married on 09/18/2021

The Bouqs Wedding provides great flowers and service

I loved working with the Bouqs for my wedding! I decided to order prearranged bouquets and boutonnieres, but chose DIY centerpieces. The prearranged flowers were gorgeous, and bloomed to look exactly like the pictures online by my wedding. Creating the centerpieces with my mom before the wedding was a lot of fun, and the tutorial videos helped us make them perfect!

Mindy

Married on 08/12/2021

Great value, quality product!

I had my bouquet delivered the week of the wedding. The flowers arrived on time and in perfect condition. Absolutely beautiful!

Hannah F.

Married on 07/18/2021

Good experience

The DIY process was much more simple and fun than I expected. The flowers came right on time and stayed healthy and attractive, peaking on the wedding day but still looking great even a day or so afterward. We were missing a few flowers, but since there were more than we ordered of other types, the bouquets still looked great and Bouqs staff was quick to respond and refund us for the ones that were missing. I'd highly recommend the Bouqs DIY option for anyone who doesn't want to spend a fortune on a florist.

Suzanne G.

Married on 07/03/2021

As advertised

If you like DIY. This is for you. It was a bit stressful for me, but my sisters and I got it done.

Andrea M.

Married on 02/12/2021

Great flowers and experience

Everything about this experience was great! Bouqs was very responsiveness and helped me with the right package. The DIY flowers came in undamaged and bloomed nicely for our event. Overall, customer service and products were excellent and cost effective.

Ariel L.

Married on 11/06/2020

Perfect for our budget and wedding!

We did not have flower centerpieces, so for our floral needs Bouqs was THE PERFECT company to work with!!! The flowers were gorgeous, the staff I communicated with and placed my order through was attentive, and overall nothing could have gone better with delivery and execution! I would use them over and over again!

Lakendra B.

Married on 10/10/2020

Perfect for the DIY Bride

I booked Bouqs for my wedding on 10/10/2020. I was completely satisfied with my service experience. The team was very responsive to my emails and also proactively communicated when my items would be delivered, care instructions, and worked to secure more flowers when some of my items were held in customs (to ensure timely delivery next day). I would highly recommend Bouqs. Everyone loved my arrangements. I went with they DIY option and white blooms. It was very reasonable when compared to some other vendors I considered and the team was also able to customize my order to meet my needs.

Elizabeth S.

Married on 09/05/2020

Beautiful and Budget Friendly

I have been using The Bouqs for a few years now for floral arrangements and gifts for others, so I was thrilled to see that they carried a bridal bouquet and boutonnière! I ordered them to arrive on Thursday before my Saturday wedding, and they had opened perfectly by the wedding morning. They were stunning and just what we needed. I was also able to use a coupon code on the order, which was an added bonus!

Susana

Married on 09/05/2020

Amazing flowers

All the flowers came in beautiful condition. None of them were harmed or destroyed during shipping. They get delivered two days before the big day and they give you easy instructions on how to care for them. Would easily recommend them to anyone! Also they are budget friendly!

Chelsea

Married on 08/08/2020

Great service

It is a do it yourself bouquet company. It saved me a LOT of money on flowers and they looked AMAZING! Definitely recommend especially if you're looking with a smaller budget.

+ 2

photos

Patricia J.

Married on 05/22/2020

Like Professional Flowers

Going with The Bouqs was the number one thing I did that saved me money in my wedding. And 100% of my guests, even my wedding planner who has done thousands of wedding, stated that she would have never guessed we did our flowers DIY! The company offers tons of packages that are great starting points to let you choose exactly what you want. After talking to one of the representatives about my vision, color palette and guest count we came up with my perfect package. When I had to change my date from 2020 to 2021, even though I had already paid in full, they were able to change the date no problem. The flowers came within 15 min of their expected arrival! (noon three days before the wedding). Out of the probably 150 bunches of flowers, only 3 arrived not in top shape. I had more than enough flowers and it ended up not mattering, but I will note that the company offered me a refund on these three bunches if I wanted it which I really appreciated it. The assembly was so fun; I recruited 4 other people and between all 5 of us we had the flowers assembled in 4 hours. We kept the flowers in buckets of ice water in a room we cooled to 65 degrees and they lasted the three days until the wedding beautifully. Being able to hand make by bouquet made me have an even more sentimental tie to it. Highly recommend!

Dana D.

Married on 02/14/2020

Best Floral Decision

I really enjoyed my experience working with Bouqs and am so glad we went with them for the flowers for our wedding. Originally I had planned on using a local florist for our wedding. I had met with the florist multiple times and was involved in picking out the flowers and designing the aesthetic. The original quote and plan met our financial expectations but then about a month before our wedding our "updated" quote ended up becoming more than double what we had budgeted. I was so unhappy and stressed since we were so close to the wedding. I then came across Bouqs and really liked the different packages offered. I thought there were lots of options for any size and style of wedding. What was even better was that the company was so great to work with to customize options even further. I worked with Aimee Harp who was super responsive over calls and emails. She helped me customize our package so that I could choose exactly the amount of flowers I wanted as well as the specific colors. She was so helpful. All the flowers came on time, were packaged well, and arrived in great condition. Additionally, Bouqs provides lots of helpful tips to help assist you in making your own arrangements and bouquets. With this guidance, my family was able to put all the bouquets and centerpieces together the day before our rehearsal dinner, and the flowers looked beautiful on the day of our wedding. I would highly recommend to anyone to use Bouqs for any flower needs for their wedding. The quality and customer service was exceptional and I spent probably half of what I would have spent working with a local florist.

Paul C.

Married on 01/31/2020

Easy and beautiful!

The Bouq Co. was extremely helpful and responsive when we placed an order for our 6 bouquets and 12 boutonnieres. We got married in Albany and were staying in a hotel for that entire week so we had the flowers delivered directly to the hotel. When they arrived, they were very easy to unpack. We kept the boutonnieres in the hotel mini fridge and the bouquets in vases with a small amount of water in a dark corner of our hotel room next to a humidifier we brought from home. They kept beautifully for the two days leading up to our ceremony! Honestly, we took them home and put them in new vases of water and they still look pretty dang good even almost 2 weeks after receiving them! If any of the flowers had not looked good, they sent a few extras as well as told us we could let them know and they would try and send replacement blooms within 24 hours, but we did not need to do this as all of our flowers looked flawless! We highly recommend them as this was the most painless way I could imagine having our flowers done for our big day! Easy and beautiful!

Boer D.

Married on 11/03/2019

Glad I used them

I used a combo of services from the Bouqs and another bulk order flower co to make my own arrangements and they turned out beautifully

Lydia S.

Married on 09/27/2019

Beautiful flowers!

I worked with Aimee and Samantha on my floral package for my wedding. They were extremely responsive, and were able to recommend customizations to the DIY package to ensure I had enough stems and could select additional complementary flowers. The flowers arrived 3 full days prior to the wedding with UPS/FedEx tracking. One box of flowers did not arrive but Aimee arranged for them to be overnighted the next day. I was worried they would not open in time for the wedding OR would not last the 3 days prior to the ceremony, but they looked beautiful! The flowers were fresh and I received so many compliments on the centerpieces and bouquets; in fact, none were left at the end of the evening as all of the guests took the arrangements home! I would highly recommend The Bouqs. Co. for any bride looking to create her own floral arrangements on a budget.

Rosemarie

Married on 09/15/2019

Simply beautiful

Although I was at first skeptical with ordering live flowers online, everything turned out great. Aimee was quick to respond and the set arrived just as she stated. My guests couldn't believe that my centerpieces and bouquets was ordered online!

Kaitlin

Married on 09/14/2019

Great customer service and quality

I used the The Bouqs for my wedding centerpieces (DIY Cherish package w/garden rose alternative) and it worked out amazingly for me and saved me a ton! The roses arrived as promised on Weds. in advance of my Sat. wedding. I did have some follow up questions about the colors of some of the roses and the customer service was amazing! Samantha responded almost immediately and followed up numerous times to make sure I was completely satisfied with my order. Really impressed with the level of quality and service they provided.

Julianne

Married on 09/06/2019

Easy Peasy, Great Communication

I worked with Amy. She was so responsive and very helpful with my customized DIY order. She answered all of my questions and made a few recommendations when I needed some guidance. The package I chose came with a "recipe" for flowers so that each bouquet and arrangement had a decent variety of each type of bloom and greenery, which made assembly easy enough. The flowers arrived a few days before the wedding and looked absolutely beautiful. I got so many compliments on how vibrant our blooms were.
Are you interested?
Send a message