58 Reviews
Recommended by 100% of couples
Quality of service

5 out of 5 rating

Average response time

5 out of 5 rating

Professionalism

5 out of 5 rating

Value

4.9 out of 5 rating

Flexibility

5 out of 5 rating
24 User photos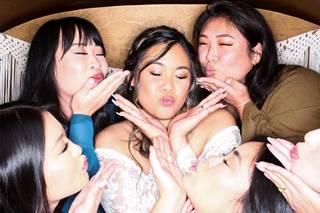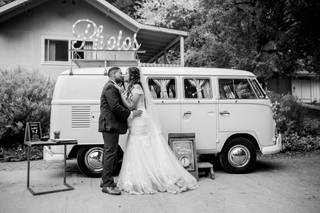 + 20

photos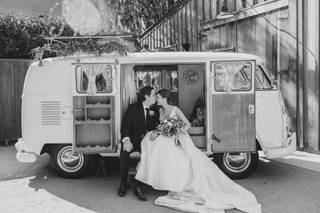 Kassandra F.

Married on 10/30/2022

Must have vendor

We hired BoothBus as part of our special day! Upon planning, Anthony was very helpful with questions that I had and the company is super responsive and supportive. The boothbus was a hit! It gave a unique touch to our venue. The boothbus attend was super friendly. They provided props and tou get to choose your design background/ filters and print out designs.

Caylin S.

Married on 10/07/2022

Anthony is the best!

YOU HAVE TO BOOK THE BOOTH BUS!! It was hands down the best part of the entire night of our wedding. Our guests still can't stop talking about how much fun the Booth Bus was and how much they absolutely loved the photo strips that they got to take home with them that night (It was another great wedding favor for them!). Not only was the Booth Bus an awesome experience for our guests, but our personal experience with the Booth Bus team – Anthony specifically – was even better. Anthony was truly so wonderful to work with. He was so friendly, extremely professional, super prompt in his email responses (always responded within 24 business hours), always provided such thorough details and clear next steps for us, and was tremendously genuine and helpful throughout the entire planning process. We were so lucky to have partnered with Anthony during the planning portion of it all, but we were even luckier when we found out that Anthony was going to be attending the Booth Bus on our wedding day! YOU HAVE TO BOOK ANTHONY - our wedding wouldn't have been so special and memorable without him. What a wonderful human being! Our entire experience from start to finish was out of this world - extremely pleasant and flawlessly executed. We can't thank you enough, Anthony! Needless to say, Anthony is the best - you HAVE to book the Booth Bus with him… your wedding will be a million times better because of it!

I also highly recommend ordering the guest book as well - it's such a wonderful collection of memories of all the folks who attended your special day.

Leela K.

Married on 09/17/2022

Beyond 5 stars!

We absolutely loved having the Booth Bus at our wedding!! It added such a fun experience for our guests of all ages. Our attendant, Nora was super friendly and helpful and the props were great as well. Flawless communication throughout with Anthony and the team. We are so grateful!
Our only regret was not booking them for longer. We will cherish these memories forever and cannot recommend them enough. Thank you!!

Are you interested?

Send a message

Donna C.

Married on 09/13/2022

Had the best time with The Booth Bus

We knew a photo bus would be fun but The Booth Bus was such a hit. Not only did we all get to enjoy taking photos but we got to see all the photos that were taken that night. So much fun to see what everyone else was up to. The owners of this business were so easy to deal with and professional. Can't say enough good things about them and their photo bus. Was definitely a great addition to our day. Would hire them again in a heartbeat!

Hannah O.

Married on 09/03/2022

Fun activity for guests!

The booth bus added a fun activity for guests at the wedding, and added to the overall aesthetic. Leading up to the event, they were communicative and profession + everything was smooth day of :) I also appreciate that they emailed us copies of all photos post event!

Saili R.

Married on 08/13/2022

These folks are the BEST

If you are on the fence about the booth bus, let this be the review that gently pushes you over onto the side that's gonna get you the most amazing wedding. Your guests will be gushing with how fun and adorable this photobooth is. The concept is genius, the bus is so aesthetically pleasing and Anthony, Juan and The Booth Bus Team are the best to work with. Our niece literally started sobbing when she saw they drive away at the end of the night LOL. (I shouldn't laugh but it was adorable). Seeing all the copies of your guests' photos wen your wedding is over is so so rewarding because at the end of the day, your closest friends and family meeting up to celebrate you and the love of your life (and having a blast doing it) is what it's all about! Book this bus! you won't regret it!!

Megan Z.

Married on 07/30/2022

So much fun!

We are so happy we hired The Booth Bus for our wedding this summer! Throughout the planning process, Anthony was responsive, flexible, and professional. We ended up booking Gracie, the bike photo booth. It was a perfect fit for our venue and such a blast for our guests! We opted for providing our own backdrop due to our venue layout and Anthony was very collaborative and open to assisting us. Jose was our day of attendant, who was also helpful and friendly. I'm so thankful we have these memories to cherish for years to come. Thank you Anthony, Jose, and team for everything you did! Definitely recommend!

Kara H.

Married on 07/02/2022

So happy we did this!

The BoothBus is sweet! It adds not only looks, vibes, and fun to your wedding, but also the people that work there are incredibly cool and reliable and I would hire them again in a heartbeat. From the initial outreach, Anthony was so patient to answer our questions. He was familiar with our venue and provided helpful recommendations about when to have the bus arrive, depart, and idle vs open to get the most out of it. Shout out to our attendant Nora who was loved by all our guests. We just got our online gallery back and can tell our guests had a blast. We had the guests put the photos in our guestbook which made it extra special for us to look through afterward. Thank you to The BoothBus for making our day so special!

Rachel C.

Married on 06/17/2022

Best Photo Booth!

5 stars is not enough stars for The Booth Bus! From the get go they were so responsive and helpful with all of our questions. Once we booked with them they gave us three amazing options for our photo strips and tweaked them until they were perfect.

The day of the wedding Jose was our bus operator and he was amazing! He was in the background the whole time printing extra strips for anyone who had more than two people and just being amazing and friendly.

We got the bus and the photo book for people to add their photo strips to. I HIGHLY RECOMMEND getting the book. It's amazing quality and such an amazing keepsake.

Within TWO WEEKS, literally have you ever heard of a wedding turn around that quickly, we have access to ALL of the hilarious and amazing photos that were taken in the bus and we can share them with our wedding guests.

Do not hesitate to book The Booth Bus for literally ANY EVENT you want to remember. They are amazing.

Will T.

Married on 06/04/2022

Soooooo cool!

The Booth Bus was SOOOO much fun!!! We hired the Booth Bus crew for our wedding and it definitely added a very fun and interactive element to the total experience with memories that will last forever! We really appreciated the fact that it was in a super cool vintage VW Bus that had the flexibility of driving/setting up anywhere and we loved how we could build our own custom music playlist. They were also very flexible for our florist to help decorate the bus and overall venue. They have a ton of options for customization, including the backdrop, music, props, and photo style! They even went out of their way to customize the border/frame of our photo strips to match the EXACT same style of our wedding invitations!!! We highly recommend this company for any party, wedding or fun event that wants to take the guest experience to the next level!!

Samantha Q.

Married on 05/22/2022

Favorite vendor

The Booth Bus team was absolutely wonderful to work with. Anthony and his team were amazing! Everything was a smooth process and the packages were easy to select prior to booking. The payment process was really easy. It was such a hit! We can't rave enough about it. We're definitely booking them again for other events!

Tamara

Married on 05/21/2022

Every Guest Loved the Booth Bus!

Anthony and Devon were fantastic to work with and the Booth Bus was a major hit with my wedding! They were very flexible with our venue's layout and despite final month insanity, were able to come up with a beautiful design for the photo strips with very little prompting. If you want a unique photo booth experience for your wedding, look no further.

Susanna L.

Married on 04/23/2022

Fun with Photos!

We had the Booth Bus at our wedding and wow! What a great time it was! Our guests had so much fun taking photos! The Booth Bus was incredibly easy to work with, made custom photo strips for us, and provided a book to keep copies of our guests photos in. I would hire them again in an instant.

The Booth Bus's reply:

Thanks Annie & Borski for the great feedback. Stoked you and your guests had a fun time. You were also a joy to work with!! Oh and your wedding was stunning! Biggest Congrats on tying the knot :)

Kristine C.

Married on 03/19/2022

Beautiful photobooth and wonderful service

We hired the VW photobooth for our wedding in the redwoods, and it was absolutely beautiful and charming. Working with Anthony (the founder) was a very smooth experience; even though our wedding had some rain, Anthony worked with us to make the experience seamless and enjoyable for everyone. He was extremely professional and pleasant to work with, and after the wedding he quickly sent us digitals of all the guests' photos. Would highly recommend!

Jessica W.

Married on 09/17/2021

Beautiful, professional & fun

When my husband and I first learned of the Booth Bus through our venue's suggested vendor list, we were instantly interested. We knew we wanted some kind of photo booth and the VB bus doubled up as awesome decor. As soon as I connected with Anthony, booking was a no-brainer. Anthony is professional through and through. He was always responsive, easy to work with, organized and very on top of it. The online platform he uses to book and make payments is so user friendly. He really made the process all seamless. This all proved to be more valuable than I even anticipated. COVID hit and we were forced to postpone our wedding celebration for one year. Anthony was so understanding and made rescheduling so smooth. Having vendors like him made the wedding rescheduling and re-planning so much less stressful. Fast forward to our wedding celebration, the Booth Bus was everything we expected. It was gorgeous, everything ran smoothly and our guests loved it. Thanks, Anthony!

Hannah C.

Married on 08/27/2021

Love the Booth Bus!

The Booth Bus was a magical addition to our wedding day! Anthony was super easy to communicate with and responded quickly to emails. He was very accommodating to our last minute requests, and he provided lots of details to personalize our setup. And the VW Bus itself is adorable! 10/10 would recommend.

Laura B.

Married on 08/07/2021

Amazing!!!

The Booth Bus team was absolutely wonderful to work with. They were communicative, timely, and helpful throughout the whole process. We ended up renting the Vintage Trike Booth, and all our guests loved using it for pictures. We're so glad we went with the Booth Bus and would definitely recommend this company for weddings or other events!

Emily B.

Married on 07/10/2021

Amazing Experience!

We had an incredible experience with The Booth Bus! We rented the booth bike for our event and it was such a highlight. The pictures we walked away with are priceless. Anthony was DELIGHTFUL to work with. He was accomodating when we had to reschedule due to covid, he was always prompt and polite in his communications with us leading up to our event, and at the event he was professional and a joy to be around. He made sure everything ran so smoothly. We could not have been happier with the customer service. Not to mention the booth bike setup was beautiful. We were able to select a beautiful backdrop from the numerous options available and the bike has a sweet little basket that you can add flowers to. We highly recommend The Booth Bus!

Sally J.

Married on 07/10/2021

Worth Every Penny!

The Booth Bus was one of the highlights of our wedding! We got the bus, which was totally worth the upgrade from the bike that we originally booked. We also got their photo book to go with it, so that each person who took photos could put an extra photo in the book along with a nice message. We used it as our guest book, which is so cool to have. There was also a super helpful attendant on hand to troubleshoot any tech issues, and they worked with us to customize the layout of the photo strip. Can't recommend enough!

The Booth Bus's reply:

Thank you Sally!! Really appreciate your kind words. You were such a pleasure to work with. Thank you again for entrusting us to join your dream wedding vendor team :)

Janelle V.

Married on 04/10/2021

Leveled up the fun at our reception!

Just reach out and book The Booth Bus (this is your sign)! In the same boat as many others- my husband and I had to postpone our reception party due to covid. We worked with Anthony from the beginning to the end, and he was super friendly and attentive. Our guests and vendors also said amazing things about the Booth Bus staff.

We decided to decorate with life-size cutouts of my husband and me from our original ceremony date earlier in the year + add a garland to the outside from our florist. The Booth Bus is extra fun as a photo booth, but doubles up as another photo op since the VW bus is beautiful inside and out.

Beyond our expectations and well worth it in every way. Our guests (and us) loved it!!

Brittany S.

Married on 10/18/2020

Best customer service ever

Booth Bus was one of the biggest hits of the night! We didn't even think we would do a photo booth until we met Adam at the venues annual 'Vendors Day'.. but once we had a small taste of the experience we were HOOKED! We actually used the photo booth as our guest book and couldn't be more pleased with the results!!
A HUGE shout out to Joshua who was the representative that came to our wedding. He was a HIT with the crowd and went above and beyond to make the experience fun for the people standing in line as well as in the booth.

Katie E.

Married on 10/03/2020

Extra dose of fun for your big day!

We rented Gloria for our wedding weekend, the selfie booth, and it was absolutely perfect! Anthony created a custom experience and was so responsive and fun to work with. The selfie booth was incredibly fun, everyone loved the gif feature and the filters! We cannot recommend the Booth Bus more, your guests will be so impressed and we will cherish these photos forever! Thank you, Anthony!!

Marisa C.

Married on 06/13/2020

Definitely enhanced our wedding!

We had the booth bus at our wedding this past weekend and we're so glad we did! It felt like a fun change from the typical photo booths that are at weddings, plus it looked super cute at the venue! The guests really enjoyed it and we've had so much fun looking over the guest book where people put in their photo strips and wrote messages - such a special keepsake from the day. Also, special shout-out to Nora who was our attendant. Multiple people came up to me after the wedding and unprompted mentioned how great she was - super sweet and positive energy. Thanks to Nora and The Booth Bus for making our special day even more special!

Kelly

Married on 10/19/2019

SO MUCH FUN! Best wedding addition!

The Booth Bus was the icing on top of the cake for our wedding - it was an absolute HIT! The entire Booth Bus team was an absolute pleasure to work with both before and during our big day! The photos turned out great and the custom license plate and photobook are a great keepsake. We are so happy that we had Booth Bus at our big day and we know our guests loved it too!

The Booth Bus's reply:

Thank you Kelly!! You & Jackson were an amazing couple to work with and your wedding was stunning! Thank you again for entrusting us to rock-out your reception. We had a blast as much as your guests did :)

With gratitude, The Booth Bus Team

Grecia C.

Married on 08/09/2019

The Best Booth Bus in the wedding game

I stumbled across The Booth Bus prior to my engagement and I instantly knew that when the time came we needed The Booth Bus at our wedding. Once we had our date I quickly reached out to Anthony and made it happen. Not only is the Booth Bus AMAZING but Anthony is phenomenal! The customization process was fun, easy, and made our day that much more personal. The communication through the planning process and on our wedding day was above and beyond. Anthony ensures that every detail is perfect. We went with the custom license plate on the bus and were so stoked when we saw the plate along with the beautiful Booth Bus guest book. He will work with you to make sure that your booth bus dreams come true. Our guests could not get enough of the Booth Bus and loved how unique the photo taking experience was. I cannot recommend The Booth Bus enough!
Are you interested?
Send a message