168 Reviews
Recommended by 98% of couples
Quality of service

4.9 out of 5 rating

Average response time

4.9 out of 5 rating

Professionalism

4.9 out of 5 rating

Value

4.8 out of 5 rating

Flexibility

4.9 out of 5 rating
47 User photos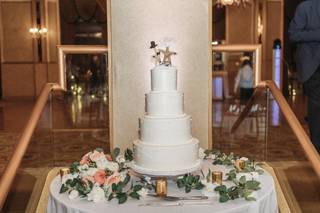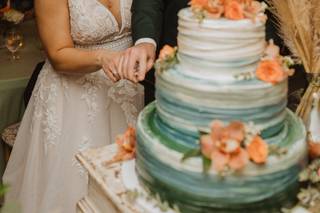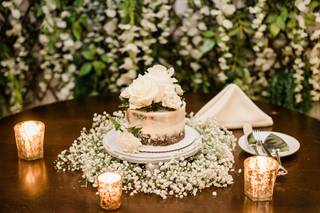 + 43

photos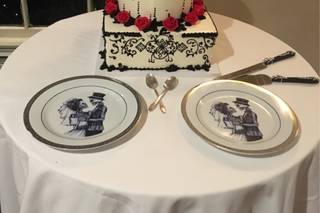 User2014798

Delicious cake, helpful, beautiful wedding cakes!

Christina M.

Married on 04/16/2023

Delicious Wedding Cake

We ordered our wedding cake from The Bake Works and it was delicious and gorgeous!! Almond & Lemon/Blueberry. Super quick to reply by email and very helpful. We'd highly recommend!

Kaitlyn H.

Married on 11/26/2022

Delicious wedding cake!

We had a choice through our venue of the bakery that would provide our wedding cake. We are so happy we chose The Bake Works. They answered all of our questions and it was wonderful to be able to taste multiple samples before ordering our cake. We decided on lemon cake with vanilla icing. It was delicious and so unique to have as our wedding cake!

Are you interested?

Send a message

Christy B.

Married on 08/13/2022

Incredibly delicious cake!

We had to use Bakeworks as our wedding cake provider per our venue's/caterer's requirements, but I am SO glad we did!! Truly even if we didn't have to use them, I would have, as it was the most delicious and beautiful wedding cake I have ever tasted/seen. It's hard to make a moist, decadent, and flavorful cake en masse, but Bakeworks 100% nailed it and exceeded expectations. They were super easy to work with and easily accommodated our flavor and design requests (HIGHLY recommend having different flavor layers- we alternated between chocolate and vanilla with raspberry jam filling to get the best of both worlds). Ohhh even just writing this review, I wish I could have a bite right now!

Christina M.

Married on 06/26/2022

Delicious and beautiful

The cake was not only delicious (almond cake with vanilla buttercream frosting, semi-naked), but it was one of the most beautiful decorations at the wedding.

Emily K.

Married on 05/14/2022

People are still raving about our wedding cake!

Amanda and her team were amazing and made the most beautiful cake for us! People are still talking about how good the cake was. Can't recommend them enough!

Melanie L.

Married on 04/29/2022

Great cake

The cake was beautiful and our guests raved about the flavor!

Susie B.

Married on 02/26/2022

Beautiful Cake, Equally Delicious

Amanda and the team at The Bake Works gave us a truly magnificent wedding cake. Guests and staff came up to us numerous times to tell us how beautiful the cake was, and we received even more compliments after our guests tasted it! We were able to select two different flavors for the cake--black and white (with vanilla buttercream) and almond cake (with vanilla pastry cream) and it was fun to hear which option are guests were selecting... though I think my husband's choice (the almond cake) won in the end! The wedding cake was perhaps even more important to me than the dress, and I could not have been happier with the final result. The Bake Works even crafted a lovely birthday cake for my aunt (as it was also her birthday!), covered in buttercream rosettes. Both cakes exceeded our expectations, and the cake cutting/birthday surprise was easily one of the highlights of the night!

Rebecca H.

Married on 01/22/2022

The best ever!

We got married at The Mainland, who works closely with Bake Works. If I had to choose a company on my own for the wedding, I would choose Bake Works all over again! Our wedding cake was not only beautiful, but absolutely delicious. And don't get me started on the cupcakes - oh my god. They were phenomenal! The flavors were out of this world. And the presentation for both the cake & cupcakes were perfection. Amanda was responsive & in contact with us every step of the way. The entire process with Bake Works was seamless. We are looking forward to our one year anniversary so we can eat our cake! But, we will probably make a trip down to get some cupcakes, because they are just that good. Highly highly recommend Bake Works for your wedding day! You will not be disappointed.

Lisa

Married on 10/10/2021

It was "just a cake" until I tasted it

My husband and I never planned to get a wedding cake (we felt it was totally unnecessary, to be honest), but we found out that our venue had a relationship with The Bake Works and that a cake would be included. BOY ARE WE GLAD IT WAS! They absolutely exceeded all of our expectations of what a wedding cake could be. We opted for the "spice cake" flavor — an upgrade that was well worth it. We had a number of dessert options for our guests, but all anyone could rave about was the cake. As for the design, they followed our instructions to a T. It was elegant and absolutely delicious. I'll never underestimate wedding cake again, now that I know how fantastic it can be.

Taylor P.

Married on 09/10/2021

Best wedding cake

Our wedding cake was so beautiful I did not want to cut it BUT at the same time, the cake itself was literally the BEST my husband had ever tasted so we gladly dug in! I also have Celiacs Disease and needed a gluten free option and the cupcakes provided were beyond incredible! I sent two photos with my vision and they executed it perfectly!! I cannot recommend Bake Works enough!!

Madeliene H.

Married on 06/20/2021

It was perfect!

My husband and I loved our wedding cake. It was beautiful and the flavors were delicious!

Maureen D.

Married on 06/20/2021

Highly recommend!

We ordered our wedding cake from BakeWorks and it was delicious. The cake we ordered was based on one we saw on the website (marbled fondant so that it looks like actual marble). The cake was beautiful and so so delicious. I am thrilled with the result, and so were our guests. My mom kept saying how delicious it was. I often find wedding cake to be underwhelming and am so glad that BakeWorks exceeded expectations. We did a "tasting" during COVID which meant that we picked up a box full of different slices of cake with various fillings and frostings. They were all really delicious and we had a hard time choosing which combination we wanted. I wish I lived closer to the bakery because this would be my new go-to for all cakes in the future. Highly recommend!

Jessica O.

Married on 05/14/2021

wedding may 2021

The Bake Works did our wedding cake this past May. It was delicious and stunning. We did not get to have a classic cake testing given COVID but the Bake works arranged a take out box with samples of about 8 or so variety of cakes. It was really fun to try different combos of cakes we typically would not have. We did end up sticking with a classic vanilla vanilla cake. IT was delicious and many of our guests enjoyed it ! Our florist did fresh flowers for it too which was stunning. Highly recommend this for our wedding cake needs (:

Emma S.

Married on 01/16/2021

Delicious!

Our cake from the Bake Works was awesome! They could not have been any easier to work with. We were able to pick up a box of about 8 different cake slices from which we could create combinations to have our own cake. We picked vanilla frosting, vanilla cake, and raspberry jam. We all absolutely loved the cake plus the decoration was exactly what we wanted. It's so difficult to leave that top layer in the freezer- we can't wait to finish it!

Emma S.

Married on 11/28/2020

A Beautiful Wedding Cake!

Bake Works did an amazing job on our wedding cake. I wanted a more naked, rustic looking cake and Amanda made that happen! I loved our cake, it was a 3 tiered cake with 3 different flavors! It was amazing! All our guests loved it!! Thank you for making our beautiful cake for our special day!

Torrie

Married on 09/18/2020

Excellent service, beautiful and delicious cake!

We absolutely loved our cake for our small micro wedding in Sea Isle. We called Bake Works and with very little notice they delivered in every sense. I sent them a photo from Pinterest and it was exactly what I had hoped for. They have several flavors which all sounded delicious. We went with cannoli and lemon blueberry which were both different and amazing. Communication was great along the way and they were even so sweet that they were able to drop off the cake at the venue! Top notch service! Thank you so much Bake Works!

Rachel

Married on 07/30/2020

Wedding Cake

AMAZING CAKE! We loved our cake tasting and was blown away by the different options. We didn't expect as many and loved all the different combos. We were super happy with what we went with and every guest loved the cake. We got tons of compliments on how good it was.

Jen

Married on 05/16/2020

Delicious cake!

Our wedding cake turned out beautiful and tasted delicious! We highly recommend the almond cake - it was so moist and flavorful! We also loved the fudge filling with the chocolate cake. The hardest part was deciding which flavors to choose, because everything was so good!

Marissa S.

Married on 11/16/2019

So many flavor choices !

The cake from bake works was included with our package at Renault . We loved our cake ! We had 3 tiers , all different flavors . Our tasting was so good that is was difficult to narrow it down to 3 . We can not wait to eat our anniversary layer .

Emily W.

Married on 11/08/2019

Delicious and Fun!

This was the least stressful part of wedding planning! The tasting was so easy and the cake was delicious! They had a big book of ideas that we could choose from. We got many compliments about our cake!

Caitlyn L.

Married on 10/26/2019

Keep it Simple

I wanted a good cake, a pretty cake but did not want to spend a lot of time and/or money on this aspect of our wedding. BakeWorks website had a lot of beautiful designs to choose from make it super simple to communicate my choice (although they are happy to customize). After a short phone call everything was set up and taken care of. They we gracious and offered to have us in for a tasting and make the process as involved as we would like but were not pushy with the fact that we wanted to keep this aspect simple. They were a breeze to work with and delivered a beautiful cake to the venue day of.

Danielle N.

Married on 09/28/2019

Incredible Cake!!!

Amanda from Bake Works was amazing! I sent her a picture of what I wanted my cake to look like and everything came out perfectly! I was nervous that we had not allotted time for cake tasing, but Bake Works did not disappoint! Our cakes was delicious! Many of our guests said it was the best wedding cake they ever had. They made the cake large enough so we could take the entire top tier home. It was so big, we only froze 1/2 of it and got to enjoy a few more slices of our wedding cake the days after.

Julia A.

Married on 09/27/2019

Gorgeous and delicious

The cake was a total focal point at our wedding and was absolutely gorgeous! They worked with me to figure out how to add more layers, even though the cake would have to travel far for the wedding and it could not have turned out better! They also made my bridal shower cake - equally as beautiful! Thank you!!

Kelly

Married on 09/21/2019

Incredibly tasty and picture perfect!

We could not have asked for a better or TASTIER experience than what we had with The Bake Works! They really listened to us at our consultation, and the cake on our wedding day was just as we imagined plus more! The cannoli cake flavor is INCREDIBLE!! The cake even tastes just as good after being in the freezer for 2 months, as we had cut our topper into 12 slices. We can't wait to enjoy a slice every month until our one year anniversary!
Are you interested?
Send a message