24 Reviews
Recommended by 100% of couples
Quality of service

5 out of 5 rating

Average response time

5 out of 5 rating

Professionalism

5 out of 5 rating

Value

5 out of 5 rating

Flexibility

5 out of 5 rating
18 User photos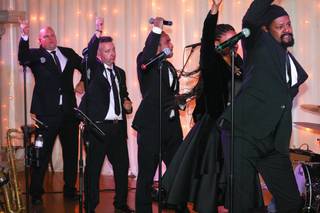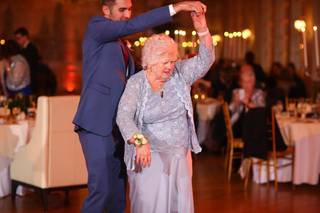 + 14

photos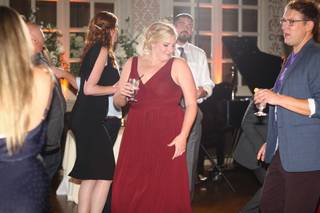 Sabrina T.

Married on 09/10/2022

Guests are still raving!

We are so grateful that the Accents were available to provide the entertainment for our wedding reception! Our guests are STILL raving about how amazing they were. Our guests were dancing from start to finish, and almost didn't want to stop for dinner! The Accents playlist had such variety, and Joe was so easy to get in touch with with any questions. All of the musicians were so tight all of the vocalists sounded so incredible together! They looked great, sounded great, and truly made our party unforgettable!

Elizabeth I.

Married on 11/05/2021

Amazing! Book them now!

During COVID, finding a wedding band was not an easy task. We spent a lot of time researching each band and finding videos on YouTube. We cannot express how happy we were with our decision to book The Accents. They are hands down the best wedding band in the Capital Region! Their energy was contagious and they kept both young and old on the dance floor all night long! We received SO many compliments from guests about how much they LOVED the band. The planning processes with Joe was easy and seamless. We cannot sing their praises enough. They made our wedding night so memorable for all. I highly recommend The Accents for anyone looking for a band, and if you have not caught them at one of their public performances, you should do that as well! To The Accents, THANK YOU! We look forward to catching another performance soon!

+ 7

photos

Marissa R.

Married on 09/17/2021

Most Amazing Wedding Band

After hearing the Accents years ago at another wedding, I knew I wanted to hire them for my own wedding... and I am so happy I did! Every single person in the band is so talented and so fun! Their energy is contagious and they know how to keep a party on the dance floor! We ended up extending our time because everyone was having so much fun.

HIRE this band. You will not regret it.

Thank you for making our wedding day so much fun!

Are you interested?

Send a message

Isabel M.

Married on 08/29/2020

Amazing Wedding Band!

The Accents made our wedding night one of the most memorable days of our lives. From start to finish, every song was a hit and got people onto the dance floor. They truly knew how to read a crowd and played songs that had people dancing for 4 hours straight. Our guests continue to rave about The Accents and how amazing they sounded. With three lead singers they were able to execute all genres of songs! We would highly recommend them to anyone who wants to bring extra energy to their wedding night and anyone who just loves GREAT music!

Michael

Married on 11/10/2019

Can we give a higher review?!

Wow. We struggle to find the words to tell you how amazing The Accents were at our wedding. Pure perfection. As a couple from Long Island/New York City, with the groom having a musical background, we wanted to ensure our wedding band met our very high expectations and The Accents exceeded them. The planning process with Joe was seamless and coordinating the flow of the night was easy as well. Joe and his group learned our wedding song, as well as special dances for several parent dances. From the moment cocktail hour ended, our dance floor was PACKED. The Accents played a perfect mix of everything to keep the crowd entertained, on their feet, and dancing all night long. Coming from a family of musicians and having a lot of music educators in the audience, there was not a single bad note that The Accents played the entire night. The sounds you heard, coupled with their on-stage choreography and presence, made them the perfect group for our wedding. We could not have imagined our wedding any other way. Guests, days and weeks after the wedding, have continued to rave about how amazing this band sounded at our wedding! We highly recommend The Accents for any event you have in the future and I know two of our wedding guests already want to book them for their wedding next year.

Kate

Married on 09/06/2019

Dancing Shoes are a MUST!

The Accents were ABSOLUTELY FANTASTIC! My husband and I were set on having live music at our wedding, we 100% made the right call by hiring The Accents. They played hit after hit and we all danced the night away. Never have I ever been to a wedding, where the band had to stop playing and tell everyone to go sit to eat their dinners! Happy it happened at mine. The Accents DID NOT disappoint! Would hire again in a heart beat!

Amanda A.

Married on 06/28/2019

The BEST wedding band EVER

From the day I started planning my wedding I knew I wanted a band and The Accents were the one! I have seen them throughout the Capital Region at numerous events and they always have the crowds attention. My wedding was no different, they made the night! All of my guest have said what an awesome time they had and can't wait to catch them again this summer! Joe was amazing to work with he was always super responsive and made me feel at ease. Joe helped plan the ceremony and cocktail hour music as well. This was a great plus because it was one less vendor to work with Joe and the Accents did it all! Everyone of the band members helped celebrate Drew and I in the most memorable way! They are all very talented, professional, personable and amazing performers! They interacted with our guest and made sure they were out of their seats at all times! I couldn't have asked for anything better! Thank you so much, we will forever be your groupies!

+ 2

photos

Andrea

Married on 05/18/2019

5/18/19 Wedding

If you haven't booked a wedding band stop what you are doing and book The Accents. They not only blew away my husband and I they blew away all of our guest! They put on a non-stop show our entire reception. They were engaging with the crowd and go everyone out of their seats dancing. I can't recommend them enough. I still have people asking me for their information and talking about how amazing they were!

Karissa

Married on 07/14/2018

At first my husband and I were very skeptical about hiring a band for our wedding for multiple reasons. However, my mom really really wanted one, so she begged us to go hear the accents play at Johnny's in Schenectady. This was by far one of the best decisions we made, because both of us were instantly IN LOVE with them!!! I couldn't get over how incredibly talented they were! I loved their spunk and ability to capture a crowd. At our wedding they played music that appealed to all ages and all of our guests couldn't stop talking about how talented they were. They kept the dance floor packed all night long and thats all we could have asked for. Now, I feel like I am their biggest groupie, and I am constantly stalking their calendar, so I can go to their shows! I would highly recommend them to anyone. Even if you don't think you are looking for a band, you should go hear them perform! I can't say enough good things about them!!!

Meghan

Married on 06/16/2018

Hiring The Accents was hands down the best decision we made for our wedding. Our guests were dancing all night and months later are still talking about how amazing they are. One of my guests (who plays for the New York Philharmonic) could not believe that they were a local Capital Region band and how affordable they were in comparison to some other local bands. They really made our wedding memorable and I would highly recommend them to anyone!

Meghan

Married on 10/07/2017

The Accents were so professional and easy to work with. Joe was very flexible and quick to respond back if you had any concerns. Band was absolutely amazing and made our wedding the perfect night! Our guests continue to call days after the reception to tell us how much they loved the band and what a great night it was because of the music! I highly recommend the Accents to everyone! C&M

Emily

Married on 04/01/2017

Call them right away before they are already booked! There are not enough good things to say about this amazing band. There was not one point during our wedding where the dance floor was empty. We received more rave reviews about this band than anything else at our wedding. We even had another couple book them after seeing them at our wedding. They played such a wide array of music that appealed to every guest. We even had people saying our dance floor was too small because everyone was on their feet. They had a great set up of music during their breaks as well so it felt like the party never stopped even for a moment. We had people up and dancing before dinner was even served. As the evening was coming to an end we decided to paid extra to extend the band an extra hour because everyone was still going strong. We could not have been happier with the Accents!!!

Jessica

Married on 12/31/2016

Words cannot describe how wonderful & talented The Accents are! They made our wedding - all of our friends and family cannot stop talking about them! From the moment we were introduced until the second encore The Accents packed the dance floor. Not one person was sitting! The Accents are so talented and also amazing to work with - from willing to learn the wedding song we chose to making sure every song, introduction and part of our wedding was perfect The Accents made our wedding! We cannot say enough wonderful things about this band - if you are planning your wedding and looking for the best band in the Capitol District and beyond be sure to contact Joe and book The Accents. It was the best decision we made while planning our wedding!

Chanel

Married on 09/02/2016

The Accents were amazing!!! Joe was great to deal with! We had an amazing time! They had all of our guests dancing on the dance floor all night! Before all of the guests entered the ballroom at Glen Sanders Mansion my husband and I came in to see how it looked and went to the center of the dance floor and started practicing our first dance without even asking them they immediately started to play our song. They played all of our songs live from our first dance "The way you look tonight" to "Simple Man" the mother-son dance! They were amazing! We didn't want them to stop they were so lively and every member sang! They barely took any rest breaks only during dinner- Other than that they were playing for us! They made our wedding night perfect!

Kelly

Married on 06/27/2015

I cannot express how happy we were that we booked with The Accents. They were so full of energy, the only guest complaint I heard all night was that there was no good time to sit and rest her feet because the music was too much fun! Having the horn section in the band truly makes a huge difference and took the overall party tone of the wedding to another level! Joe was great to work with from the very beginning and made everything so easy for us. One thing we were slightly concerned about was the loud volume in our reception space. After relaying this concern to Joe before the wedding, he assured me that they would make necessary adjustments for the to sound great in any space, and everything was perfect! I cannot even tell you how many times we've heard "Your wedding was one of the best we've been to... That BAND, though! Where did you find them?!" Thank you so much to Joe and the rest of the band for helping to make our wedding such an amazing experience for us and our guests!

THESE GUYS ROCK! Our guests danced all night long and could not stop talking about how great the music was and the diversity of the songs. They even learned some Bruce songs for our big NJ crowd and sounded amazing! They interacted with everyone on the dance floor and made our big day amazing for everyone. Thanks Joe and the rest of the Accents, you guys were above and beyond our expectations!

Sorry for the lateness of this review. This band is the best I have ever seen, and they did not disappoint on our big day. They kept the dance floor packed all night. We could not have asked for a better band on our wedding day. Thanks to Joe for working with us every step of the way, and to the other Joe for MCing the night and dealing with all of the last minute changes we threw his way. Class act and great music! Do yourself a favor and book the Accents!!

Robert

Married on 09/13/2014

Thank you for a remarkable and unforgettable wedding night. I wish I could share with each of you every Facebook comment/text Heather and I received as to this being the best wedding anyone has ever attended, You guys/gal rocked and kept everyone on the dance floor the entire night ...... Also thank you very much for taking the time and effort to learn the song for our first dance and a great mix of music in general ..... We so appreciate you making our evening an unforgettable one, your truly the best

Maureen

Married on 09/06/2014

The accents are amazing! Seriously the best band! When we were planning on our wedding, we knew we wanted a band. So off we went to find one. We saw a couple bands play before we saw The Accents. Let me tell you , none of the bands compared to the Accents. They are a 9 piece band full of fun and energy. Joe was always very sweet and always answered all my emails and phone calls promptly! They had everyone, and I mean everyone out on the dance floor dancing all night . People were up dancing before salads even came out. The singers and trumpet players would come out on to the dance floor and interact with all our guest. EVERYONE loved the band. I had so many phone calls, texts and emails about how awesome the band was and they wanted The Accents contact info for their next event! People are still talking about the band!! We couldn't have asked for anything more. The Accent are to thank for making our reception so much fun and such a success! Thank you so much!!!! You guys are the best!

Jillian

Married on 05/10/2014

The Accents know how to get people moving! The dance floor was never empty and everyone at the wedding had nothing but nice things to say about them. Their music is perfect for any occasion and generation. They really made our day special!

These guys are AMAZING. They have energy and made our party explode with music. Our guests were dancing al night! We made some special requests and they learned our music and played it flawlessly. With nine performers including two excellent singers, they were fabulous.

Alyssa

Married on 11/08/2013

Best Band EVER!! They rocked our wedding and took care of all the music for our ceremony! They went above and beyond to put on the best show ever at our wedding! They are a band that has energy that gets your guests out of their seats and onto the dance floor. They also made sure to mix up the music styles to get all age groups and all music lovers up and out on the floor. They are one of the best bands I have seen!

Karen

Married on 10/01/2017

They were incredible for our wedding on October 1, 2017 at The Inn at Erlowest! The best music ever! Everyone loved them, they keep people on the dance floor.

Laura

Married on 05/21/2016

We are so happy we booked The Accents to play our wedding at Jimbos Club on Brant Lake. Wow, they kept the dance floor packed all night with a great variety of songs, something for every wedding guest to dance to. People asked us all night how we found them! Definitely recommend them!
Are you interested?
Send a message